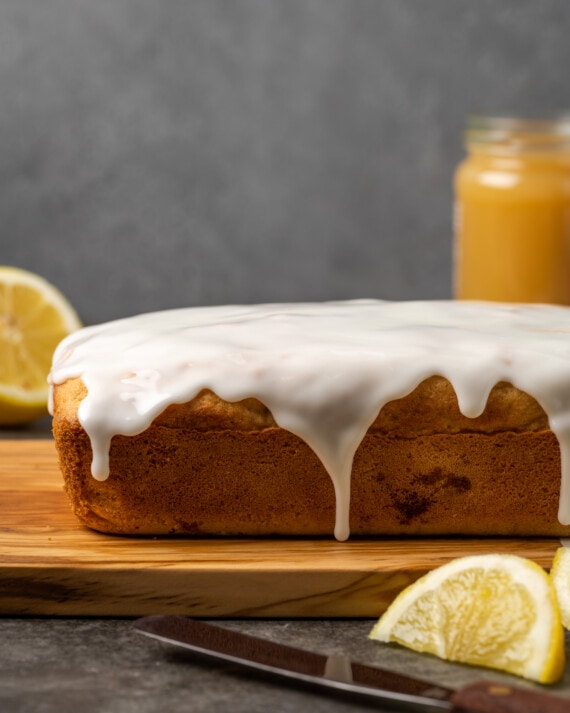 This Lemon Pound Cake recipe is rich, tangy, and bursting with the flavor of real fresh lemons. Topped with an easy lemon glaze whipped up with limoncello liqueur, this lemon cake is the ultimate summer treat.
If you love this recipe for homemade pound cake with a citrus twist, give my Orange Pound Cake a try, too!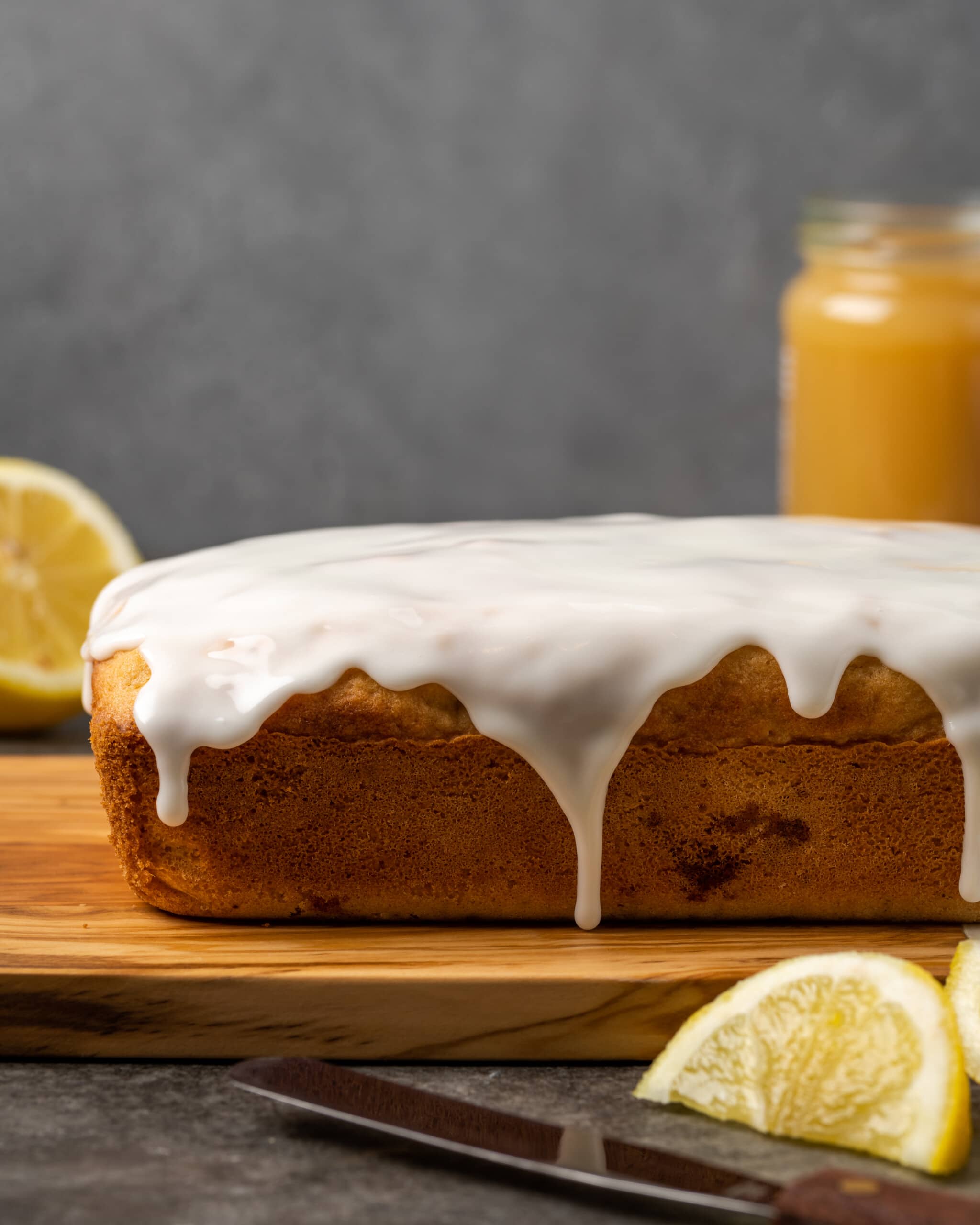 Moist Lemon Pound Cake With Lemon Glaze
My lemon pound cake is moist and tangy, with all the sweet flavors of a Starbucks lemon loaf, only better. This easy lemon cake recipe is swirled with homemade lemon curd throughout and bursting with the flavor of real lemon zest.
In true pound cake fashion, this cake is rich and dense, yet perfectly balanced with the brightness of the citrus. I top my moist lemon loaf with creamy limoncello glaze. It's one of my favorite treats to enjoy in the afternoon with coffee or tea, or for dessert (and let's be honest, sometimes both).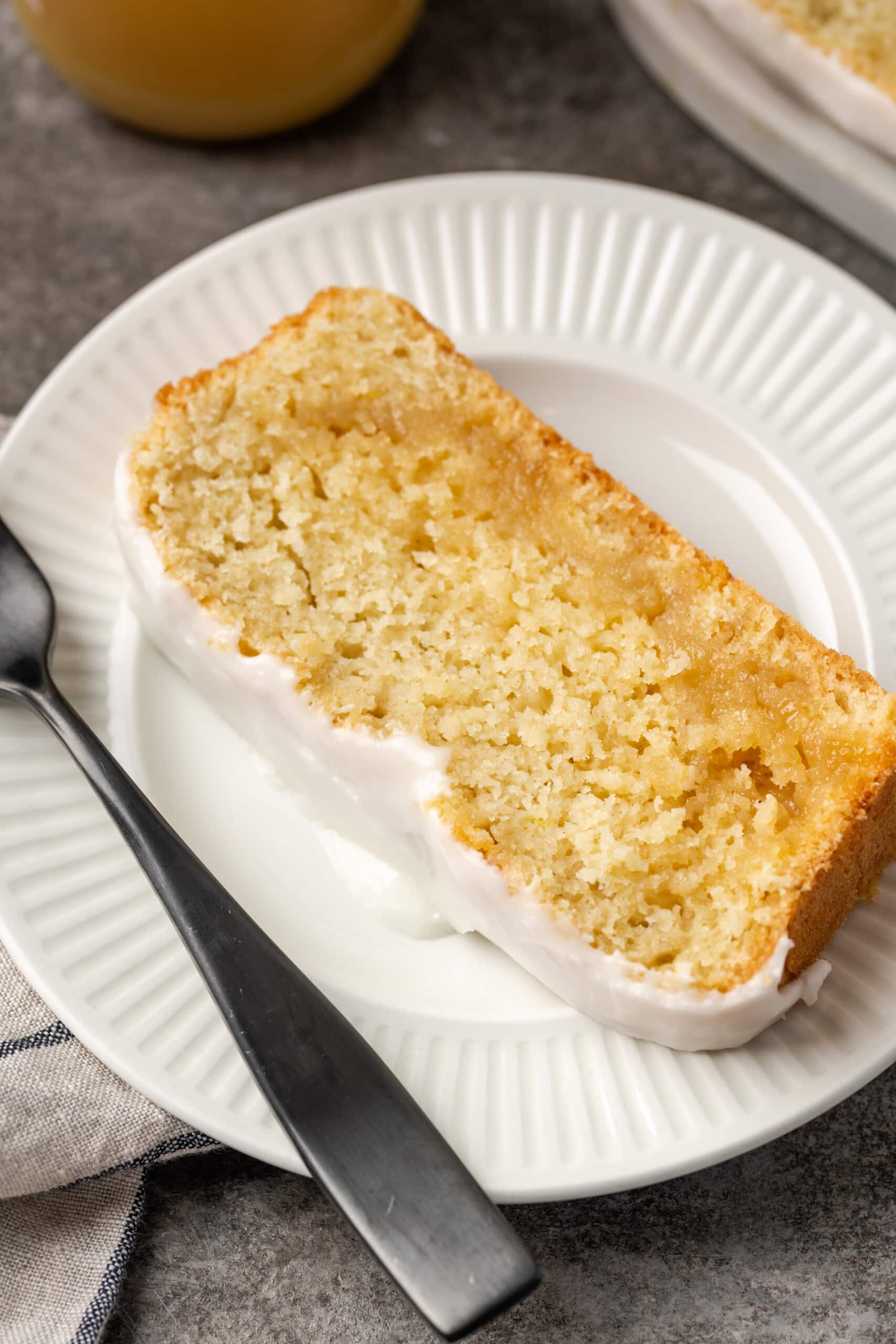 Why You'll Love This Pound Cake Recipe
If you love lemon desserts as much as I do, prepare to be hooked by this luscious lemon pound cake! Here are just a few reasons to love it:
Homemade lemon curd. This pound cake is swirled with ribbons of my homemade lemon curd recipe throughout a soft, buttery lemon crumb. It's surprisingly easy to make your own lemon curd from scratch!
Limoncello glaze. I make a super simple lemon glaze for this pound cake by combining powdered sugar with limoncello liqueur. It's a delicious, adult twist with loads of sweet, lemony flavor. Of course, you can opt to make a lemon glaze sans alcohol if you prefer.
Perfect for brunch or dessert. This pound cake is versatile enough to make for a light afternoon treat, a sweet addition at brunch, or an easy dessert to take along to any occasion.
Why Is It Called Pound Cake?
Pound Cake dates back to the early 1700s and it's named after how the recipe was originally made: with one pound each of flour, butter, sugar, and eggs. Traditionally, pound cakes are baked in either a loaf pan, like in this recipe, or in a bundt pan, like my 7UP Pound Cake.
People sometimes confuse pound cake with sponge cake. And it's true, both recipes have many ingredients in common. One main difference is that sponge cakes call for whipping the eggs in the recipe separately, resulting in the cake's "spongy" texture.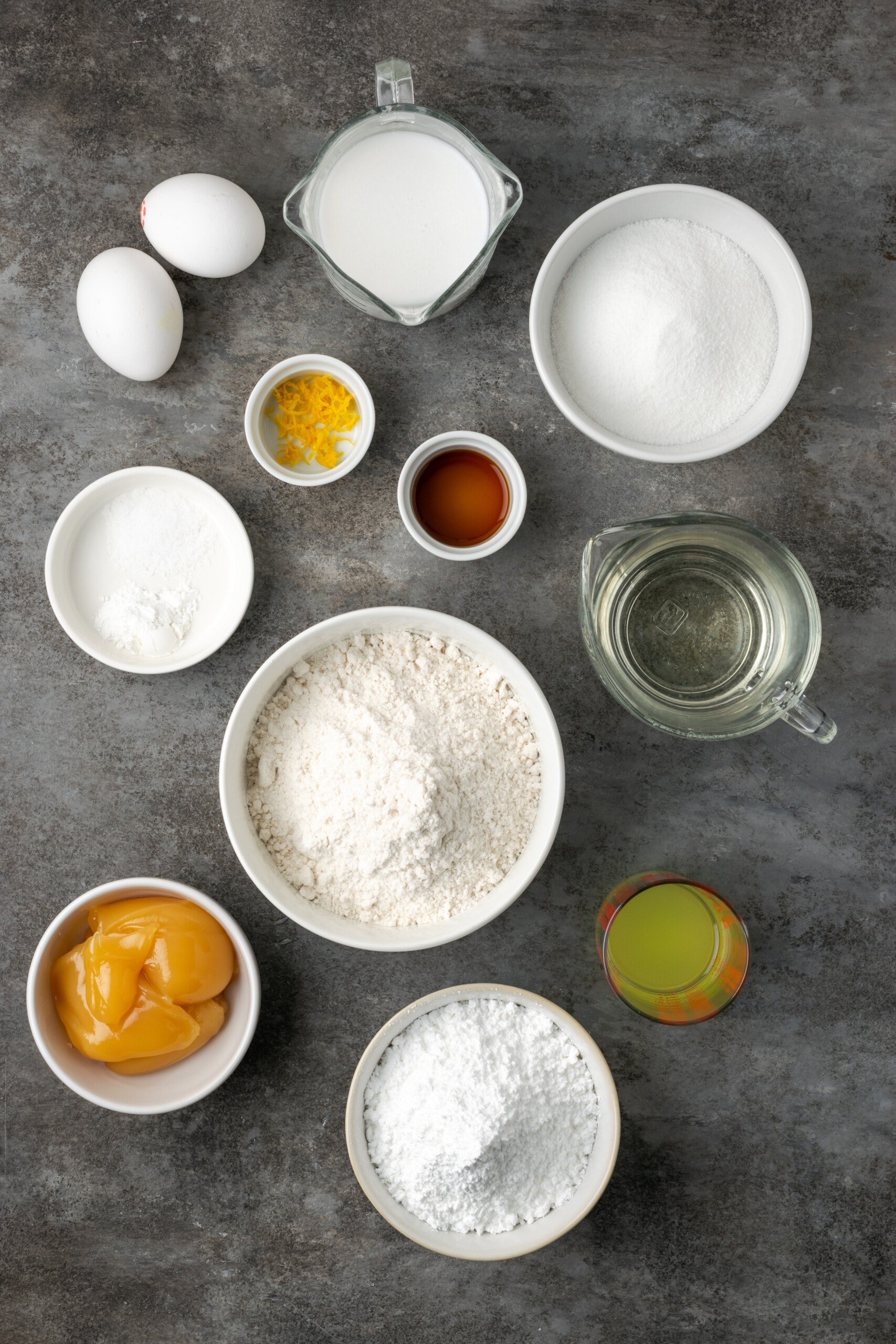 What You'll Need
I buck tradition with this lemon pound cake recipe. Rather than add a full pound of each ingredient, I've adapted things a little, with awesome results (if I do say so myself). Below is a short overview of the ingredients you'll need, with the full recipe details available in the recipe card.
Eggs: For structure and richness in the cake.
Milk: You can use whole milk or 2% milk in this recipe, either one is fine.
Sugar: For the most consistent results, use regular granulated sugar.
Lemon Zest: Fresh lemon zest is a must! You'll get the best flavor from lemons when they're in season.
Vanilla: Skip using imitation vanilla and use real vanilla extract. The flavor is so much better!
Oil: I add liquid coconut oil to my cake batter, though another type of oil, like vegetable oil, will also work. Adding oil in place of butter yields a lighter, more tender cake crumb.
Baking Powder and Salt: For leavening and to balance the sweetness.
Flour: I recommend using all-purpose flour.
Lemon Curd: I use my recipe for easy Homemade Lemon Curd and swirl it all throughout the pound cake. So dreamy! If you're pressed for time, you can also use your favorite brand of store-bought lemon curd.
Powdered Sugar: You'll whip together an easy glaze using powdered sugar, also called confectioner's sugar, combined with lemon liqueur.
Limoncello: This is an Italian lemon liqueur made from lemon zest and sugar with a sweet, intense lemon flavor. You'll find Limoncello in most liquor stores throughout the US. If you don't have it or aren't a fan, use a bit of fresh lemon juice and/or zest instead to amp up the lemon flavor in the glaze.
How to Make Lemon Pound Cake
While the oven preheats to 350ºF, grease and line your loaf pan. I recommend lining it with a piece of parchment paper cut to fit into the bottom of the pan, long enough so that the edges hang over each end. This makes it easy to lift the pound cake from the pan once it's baked. Next, you'll whip up the easy lemon pound cake batter: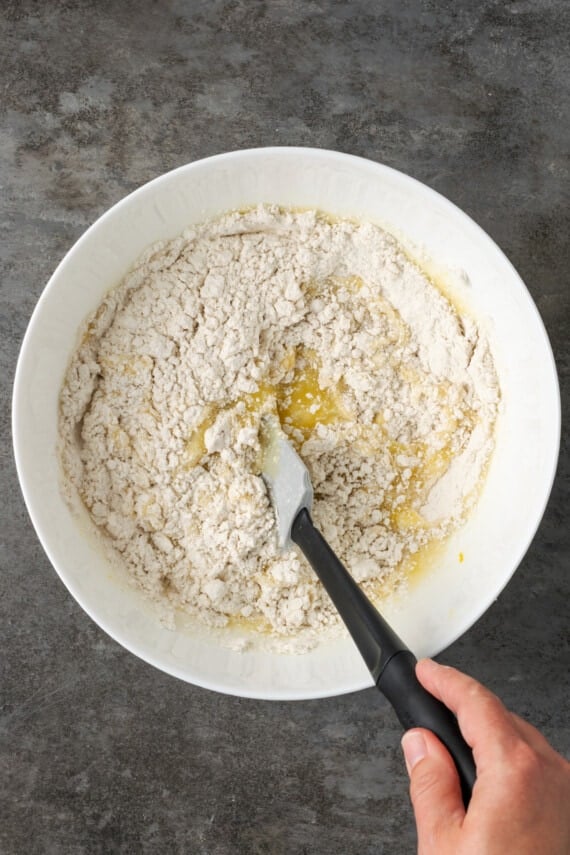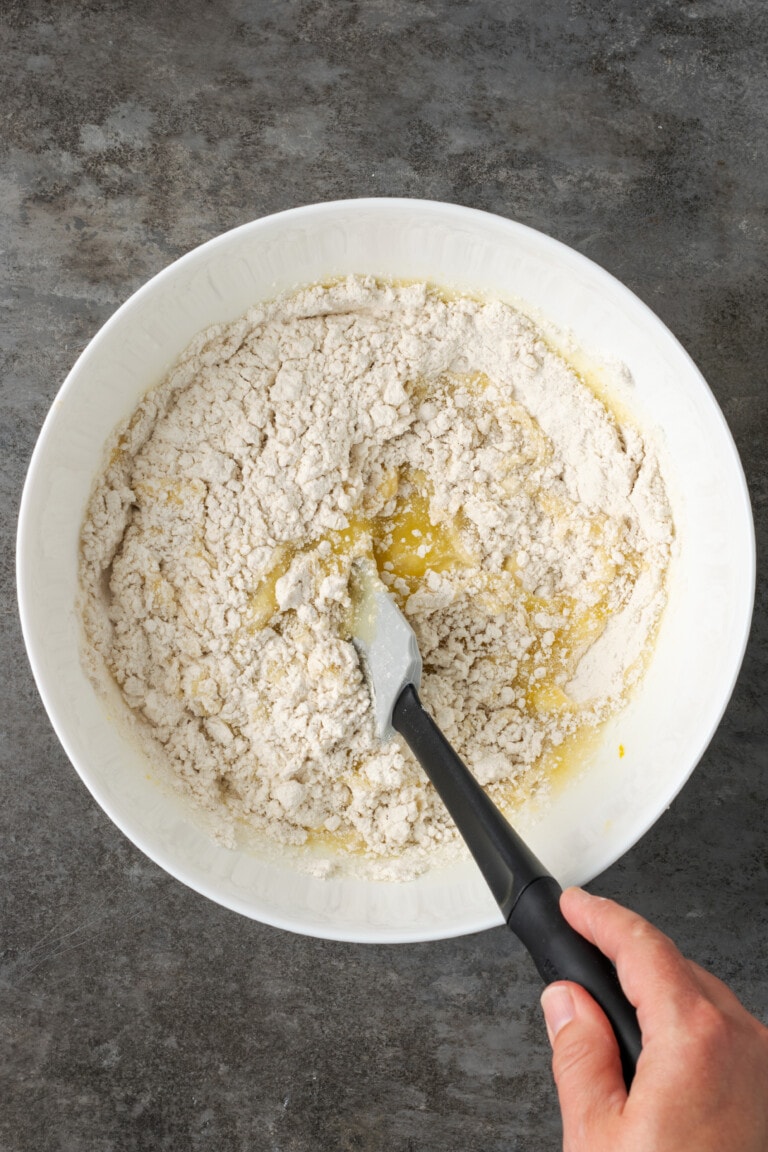 Combine the Ingredients: First, whisk together the eggs, milk, sugar, lemon zest, and vanilla into a smooth batter. Next, stream in the coconut oil while continuing to whisk, followed by the baking powder and salt. Lastly, stir in your flour. It's fine if your batter looks a bit lumpy, be careful that you don't overmix!
Fill the Pan: Add about 3/4 of the cake batter to your prepared pan, drizzle the top with half of your lemon curd, and then add the remaining batter and another drizzle of curd. Take care that the curd doesn't touch the edges of the pan, as the sugar will burn if it bakes against the hot sides.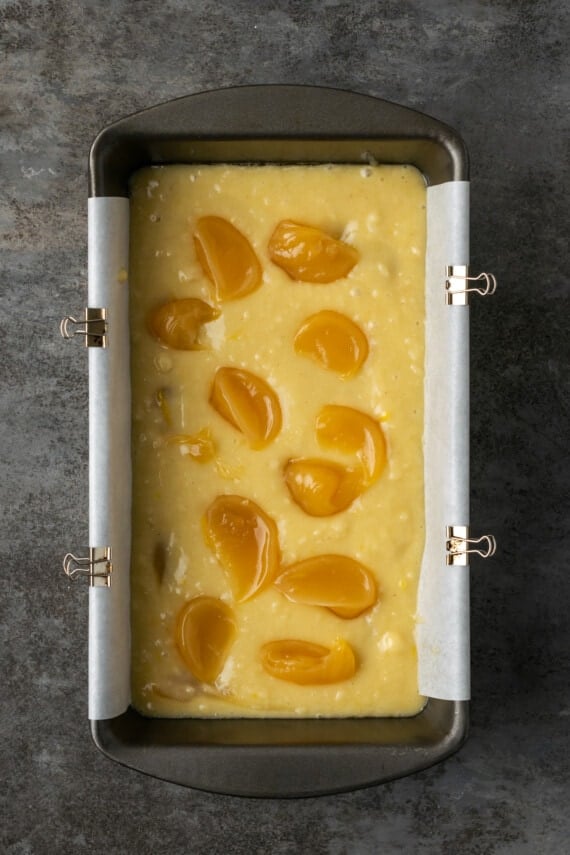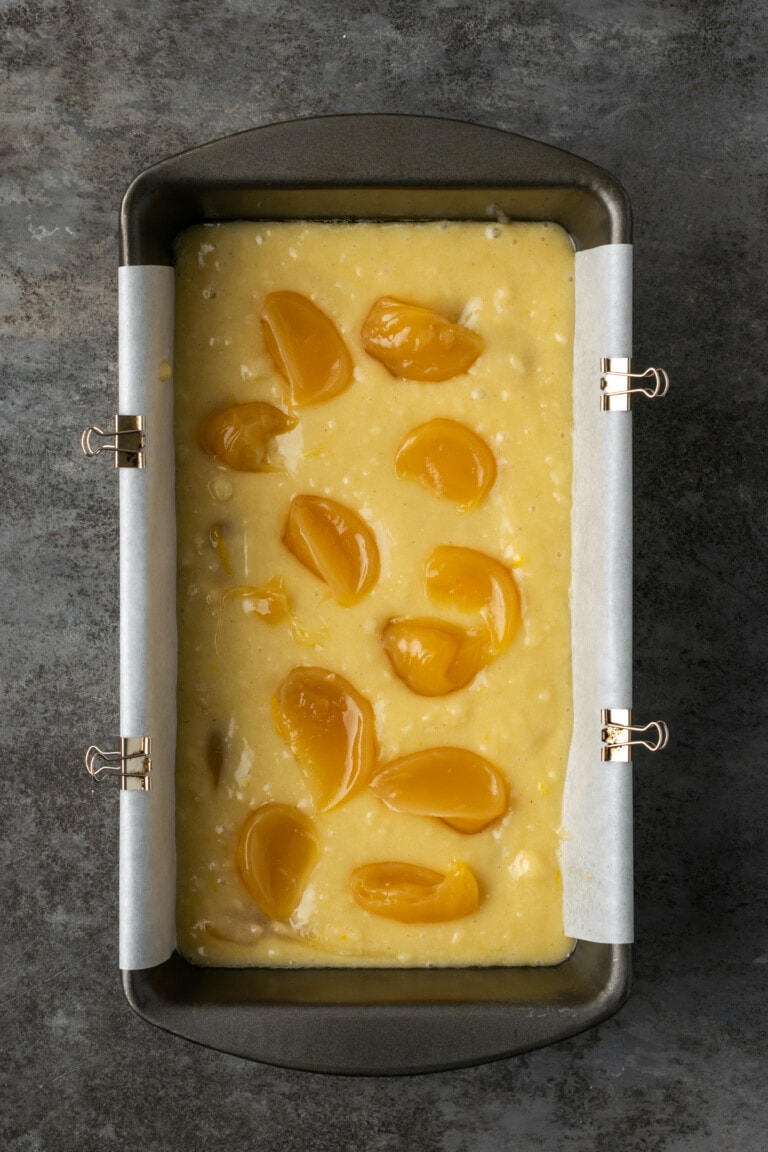 Swirl and Bake: Use a butter knife to swirl the lemon curd lightly through the batter. Bake your lemon pound cake at 350ºF for 50-55 minutes, then leave it to cool in the pan for 10 minutes. Afterward, lift the cake out of the pan and place it on a wire rack.
Prepare the Glaze: Make a quick lemon glaze by combining powdered sugar with a couple of spoonfuls of limoncello. Whisk until you reach a smooth consistency.
Glaze and Cool: Finally, pour the glaze over the pound cake while the cake is still slightly warm. Let the cake finish cooling before slicing and serving. See below for some of my favorite serving ideas.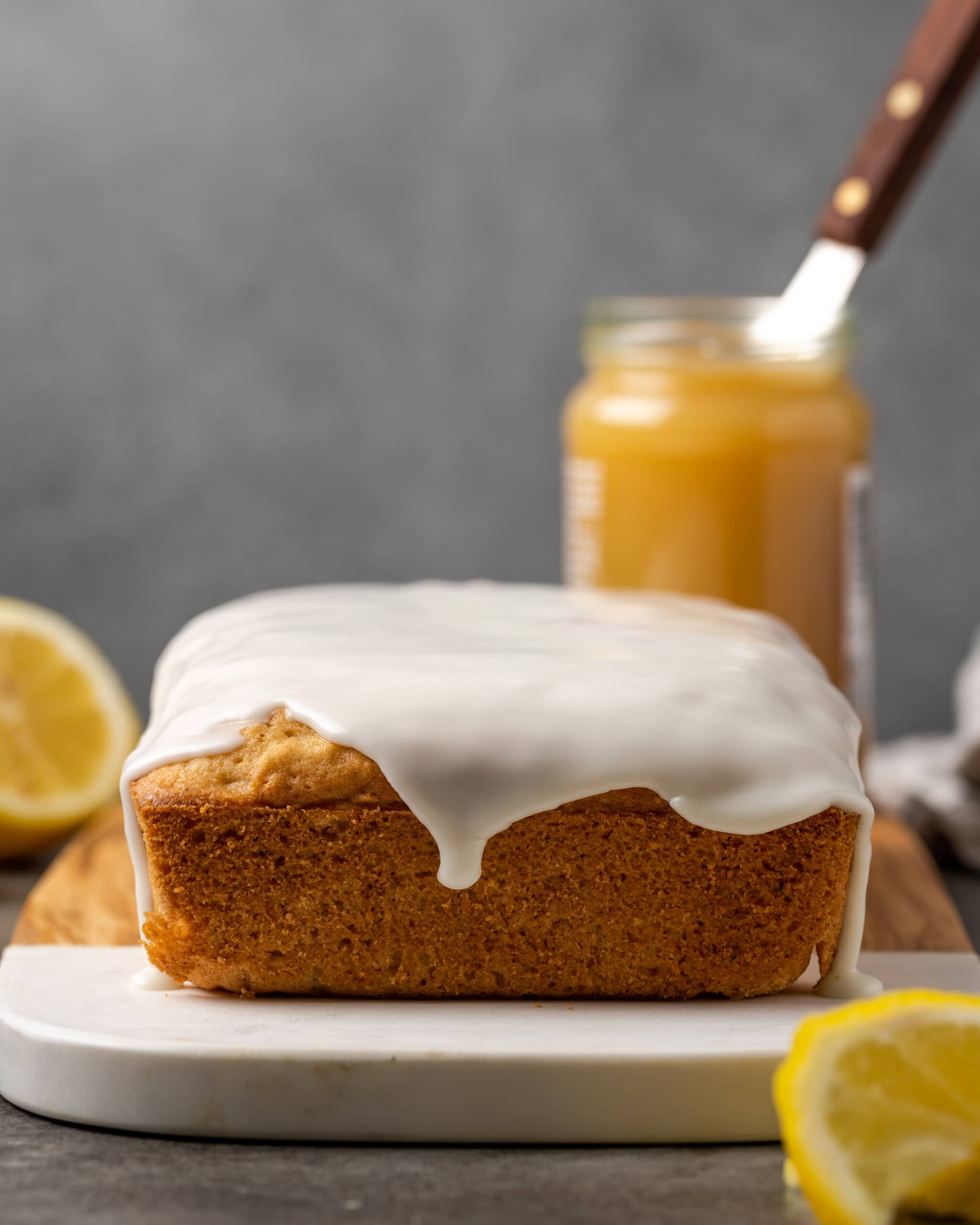 Tips for the Best Pound Cake
Follow these final tips for the best homemade lemon pound cake:
You can make this pound cake in a bundt pan. Be sure to generously grease and flour the pan so that your lemon bundt cake pops out easily.
Use fresh lemon juice. I'm talking freshly squeezed. Don't use bottled lemon juice as the flavor just won't be the same. And while you're at it, don't skip the lemon zest!
Keep the curd away from the edges of the pan. I mention it earlier, but try your best to not let the lemon curd touch the sides of the pan when you're swirling it in. This way the sugars won't burn.
If the lemon glaze for your pound cake is too thin, whisk in additional powdered sugar a little at a time to thicken it. If it's too thick, add more Limoncello to get it to a pourable consistency.
Pound cake is meant to be a little dense. However, it shouldn't be dry or heavy. If your pound cake is dry, this could be the result of overbaking, or because you added too much flour.
On that note, make sure to measure the ingredients correctly. If you don't have a kitchen scale, I recommend the spoon-and-sweep method where you spoon ingredients like flour into your measuring cup and use the back of a knife to level it off.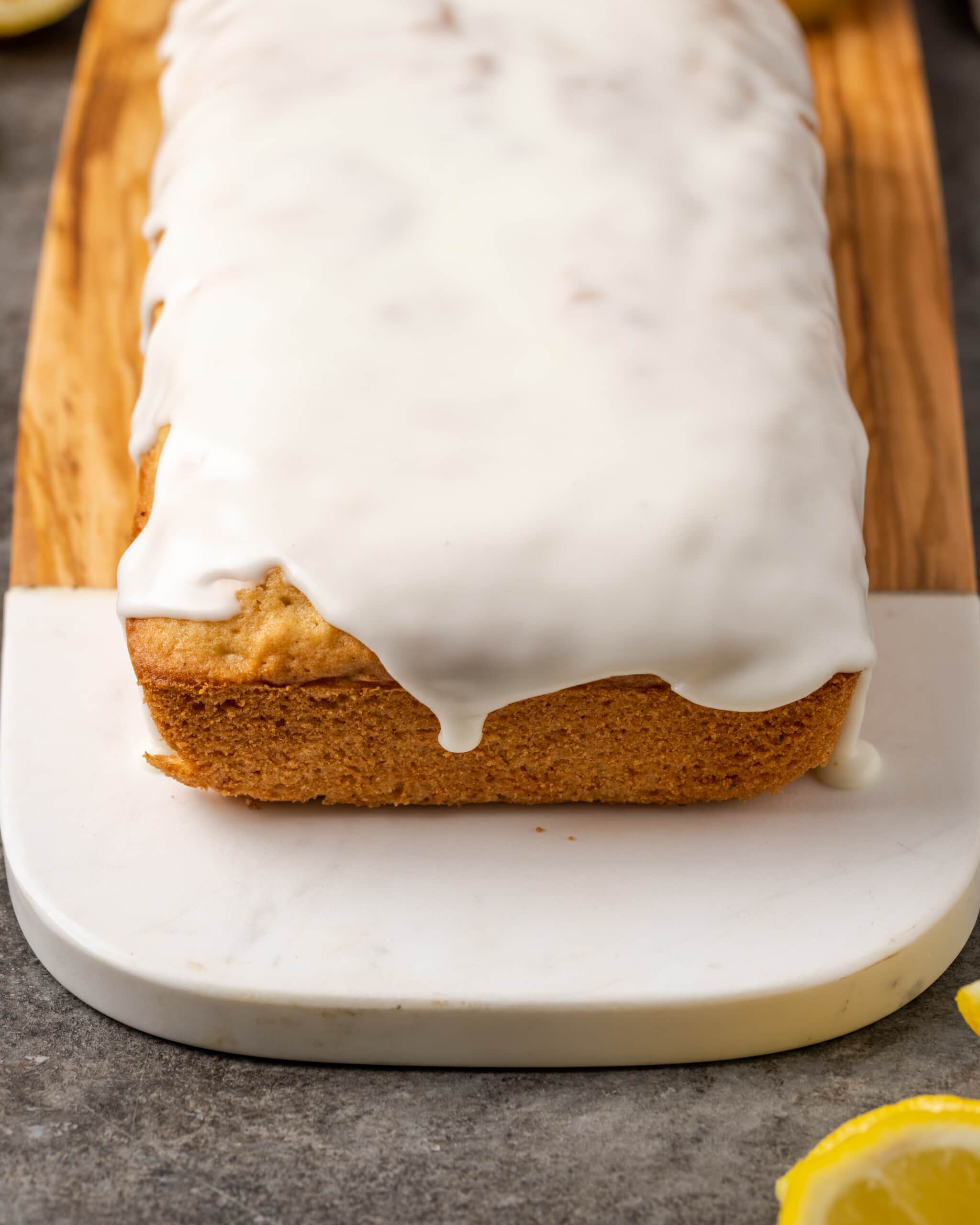 Variation Ideas
Looking to change things up with your lemon pound cake? Try these easy recipe variations:
Substitute the Lemon Curd: If you're looking to substitute the lemon curd in this recipe, try lemon pie filling or lemon marmalade instead.
Different Fruit Preserves: You can also replace the lemon filling altogether with fruit jam or preserves like strawberry jam, or raspberry jam for a lemon raspberry cake.
Add Berries: For even more summery vibes, add fresh seasonal blueberries for an easy lemon blueberry pound cake. Tossing your berries in flour before folding them into the batter will help to keep them from settling at the bottom of the cake.
Add Poppy Seeds: Stir in poppy seeds for a variation of my Lemon Poppy Seed Pound Cake.
Skip the Glaze: If you'd prefer to leave your pound cake unglazed, you can always dust the top with powdered sugar instead.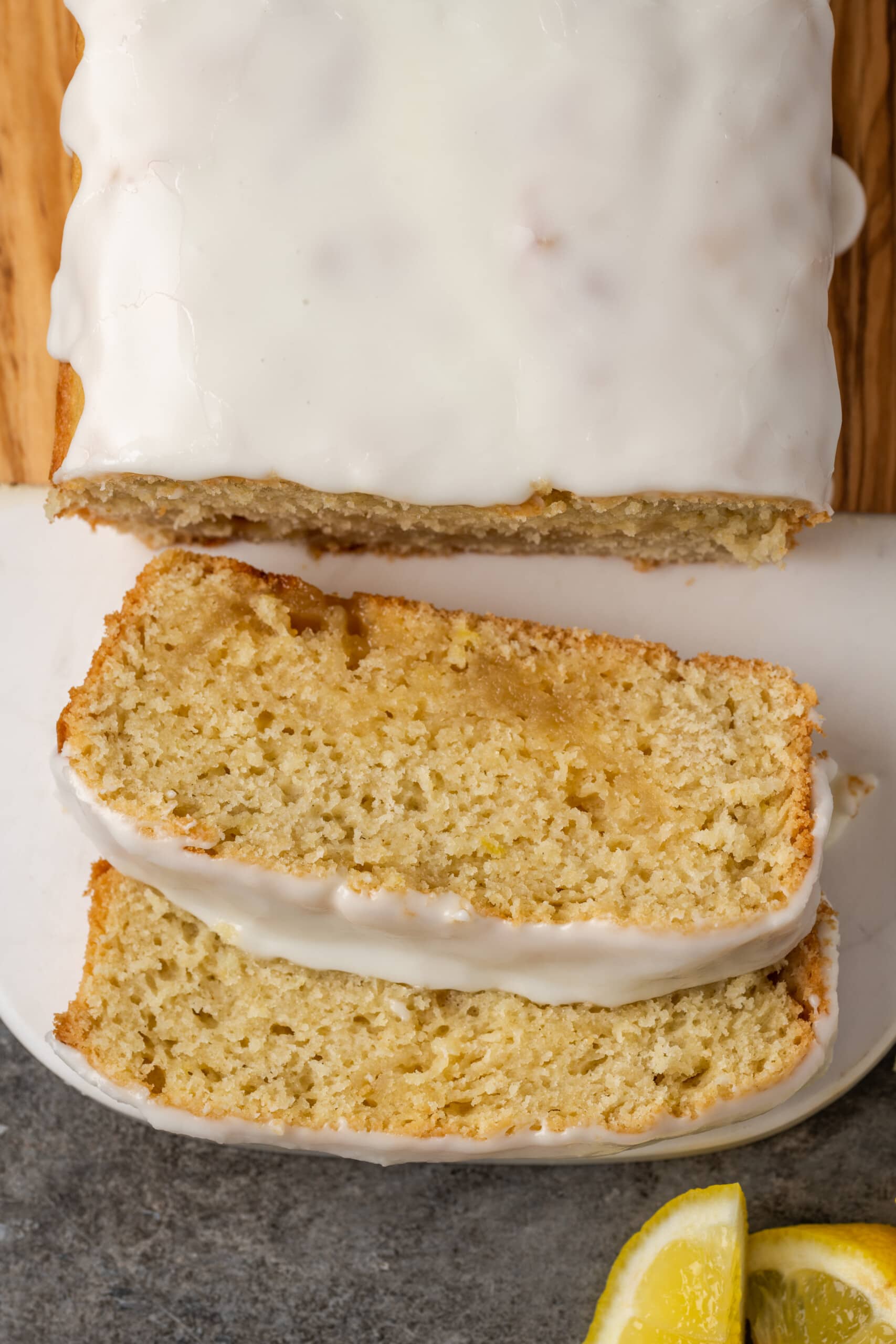 Serving Suggestions
This is a fun and easy cake recipe to make for brunch or as a light dessert. We'll enjoy a slice of zesty lemon pound cake in the summertime with a scoop of vanilla ice cream. So delicious! I'll even double up on the fruity flavors with a drizzle of Strawberry Syrup. It's the perfect summer dessert to bring to Fourth of July BBQs and picnics.
Serve your lemon pound cake for Easter brunch alongside other homemade treats like Cinnamon Rolls and Hot Cross Buns. Or, do as I do, and simply tuck into a slice while passing through the kitchen. It's really the best dessert for any occasion!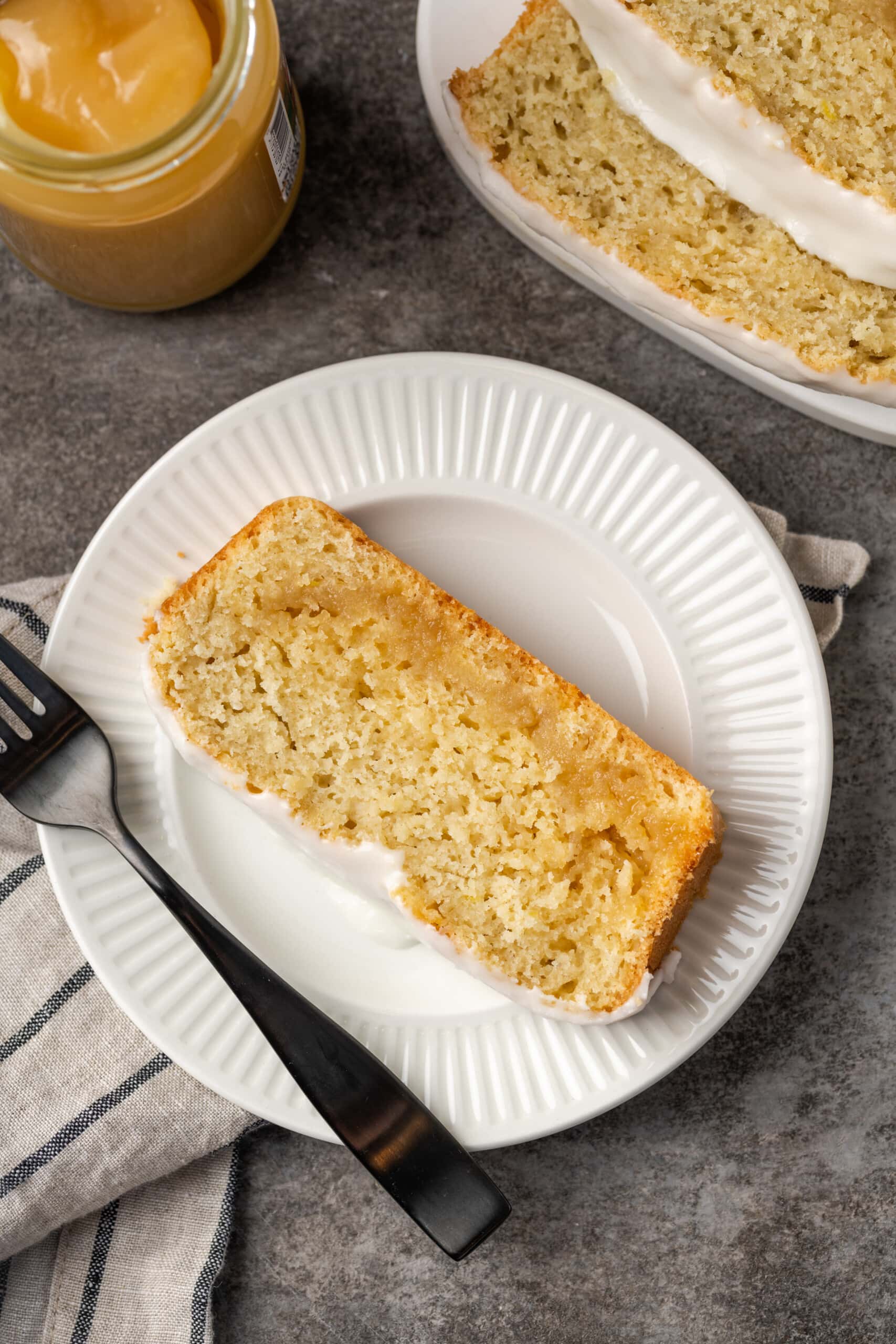 How to Store Lemon Pound Cake
Keep your lemon pound cake airtight at room temperature for up to 4 days. Pound cake has a tendency to dry out when stored in the fridge.
Can I Freeze Pound Cake?
Yes, once the glazed cake is completely cooled, wrap your pound cake tightly in plastic wrap, plus a layer of foil. You can freeze this cake whole or in easy grab-and-go slices. Freeze it for up to 3 months, and defrost the cake at room temperature before serving.
More Lemon Desserts to Try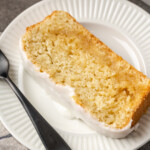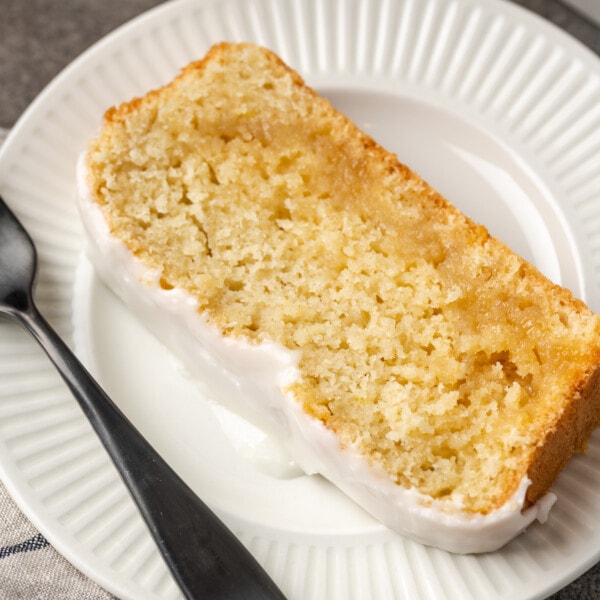 Lemon Pound Cake

Author:

Prep Time:

10 minutes


Cook Time:

55 minutes


Total Time:

1 hour 5 minutes


Yield:

6

servings

1

x

Category:

Cake


Method:

Oven


Cuisine:

American
---
Description
This fluffy Lemon Pound Cake recipe is filled with fresh lemon flavor and ribbons of tangy lemon curd. Topped with a sweet lemon glaze made with limoncello liqueur!
---
2

large eggs

3/4 cup

milk

3/4 cup

granulated sugar

1 teaspoon

grated lemon zest

1 teaspoon

vanilla extract

1/2 cup

coconut oil, in liquid state

3/4 teaspoon

baking powder

1/2 teaspoon

kosher salt

1 3/4 cups

all-purpose flour

1/2 cup

lemon curd
Limoncello Glaze
1 cup

powdered sugar

3 tablespoons

Limoncello (or fresh lemon juice)
---
Instructions
Lemon Pound Cake: Preheat your oven to 350°F/175°C
Spray a 9×5 loaf pan with nonstick spray. Lay a strip cut to fit the bottom of the pan with parchment paper, so the paper hangs over the ends. Spray the parchment paper with nonstick spray. Set the pan aside.
In a large bowl whisk together the eggs, milk, sugar, zest and vanilla until smooth and combined.
Slowly stream in the coconut oil, whisking consistently until combined.
Add in the baking powder and salt and whisk until combined.
Finally stir in the flour until just incorporated. The batter will be slightly lumpy.
Spread 3/4 of the batter into the prepared pan. Drizzle 1/2 of the lemon curd on top of the batter, keeping it away from the edges.. Top with the remaining batter and then the remaining curd, also being careful not to let the curd touch the edges of the pan. The curd will burn if it's exposed to the edge of the pan.
Using a butter knife swirl the curd into the batter.
Bake for 50-55 minutes until a tooth pick inserted into the center comes out clean.
Allow the cake to cool in the pan for 10 minutes and then transfer to a wire rack to glaze.
Limoncello Glaze: To prepare the glaze whisk the powdered sugar and Limoncello together until smooth. Pour this on your warm cake.
Allow the glaze to set before slicing.
---
Keywords: lemon pound cake, lemon pound cake recipe, lemon cake recipe
Want To Save This Recipe?
Find more recipes like this: