Two IKEA Pantry Designs that Add Style and Maximize Storage
These customers upgraded their IKEA kitchens with our functional, upscale pantry designs.
If you've ever tried living in a home without a pantry, you know the struggle. Cereal is on sale: buy four for $6! But your cabinets are full, and you barely have room to prep dinner on your kitchen counter because it's also acting as food storage. If you have a large family, multiply that struggle by ten.
Considering you're here to ogle these beautiful IKEA pantry designs, you probably have a small or non-existent pantry of your own, and you're ready to change that. These customers transformed non-pantry space into pantry space, and you may be able to do the same. If you have a closet or alcove, you probably have a pantry.
Can't quite imagine it? You've come to the right place for inspiration and a designer that can take you from inspiration to reality.
Personalized IKEA Kitchen Designs
Created by Certified Designers
IKEA Pantry Design #1: Butler Pantry with Open Storage
When Stella and Geordie had their third child, they needed a pantry. The home was designed with a sizeable laundry room off the kitchen, and they were willing to move the washer and dryer into the garage if it meant having more food storage. This decision gave them 120 square feet of space for their new IKEA pantry.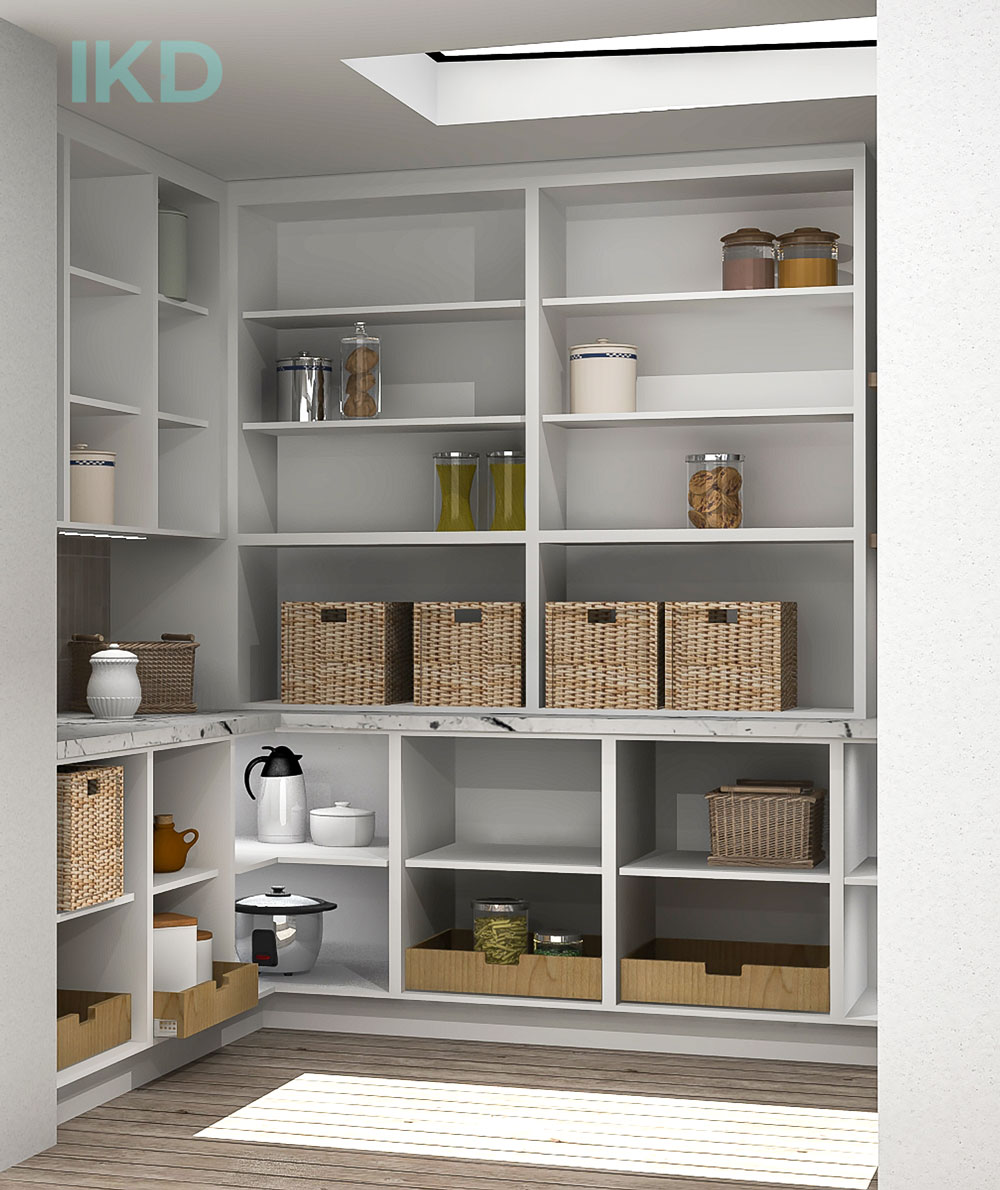 "Stella told us she makes her own baby food and wanted a separate space for that. We came up with this butler's pantry design. Using IKEA SEKTION cabinets and drawers, we focused solely on open storage. The base cabinets are 30" tall and create a 36" tall work surface with the countertops included. The 24" deep cabinets offer a plethora of storage, and the counter below the window is free for baby food prep.

This, of course, can be converted into a prep space for anything as the kids grow and the family's needs change. We maximized wall storage using 40" tall SEKTION wall cabinets, combined with 20" tall cabinets in some areas to create counter-to-ceiling shelving. To make the storage on the very bottom more accessible, we incorporated four pullout shelves from Rev-A-Shelf with a maple finish and one wire-frame pullout shelf from Rev-A-Shelf." –Florence, IKD designer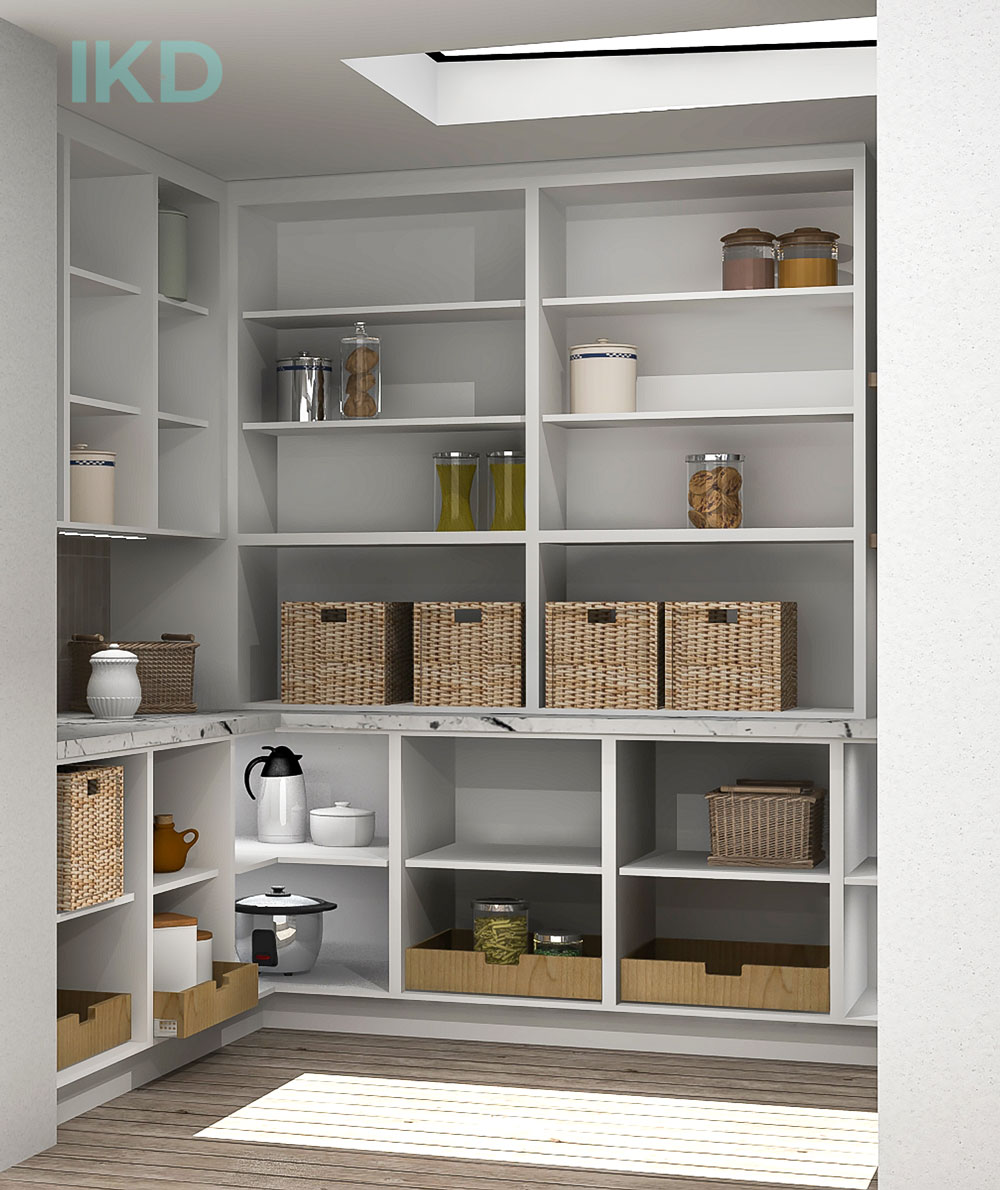 "I love [the new pantry]. I spent a lot of time browsing Pinterest, and I knew amazing things could be done with IKEA products. I just didn't know how to do it! I thought I could design a pantry myself on IKEA's website, but we have three kids under the age of five at home, and I didn't need another task on my plate. It was more complicated than I thought it would be. So, I found Inspired Kitchen Design on Pinterest. My husband agreed their design was a great deal, and we have zero regrets. They gave us everything we asked for." –Stella, IKD customer
Total IKEA material cost: $2,472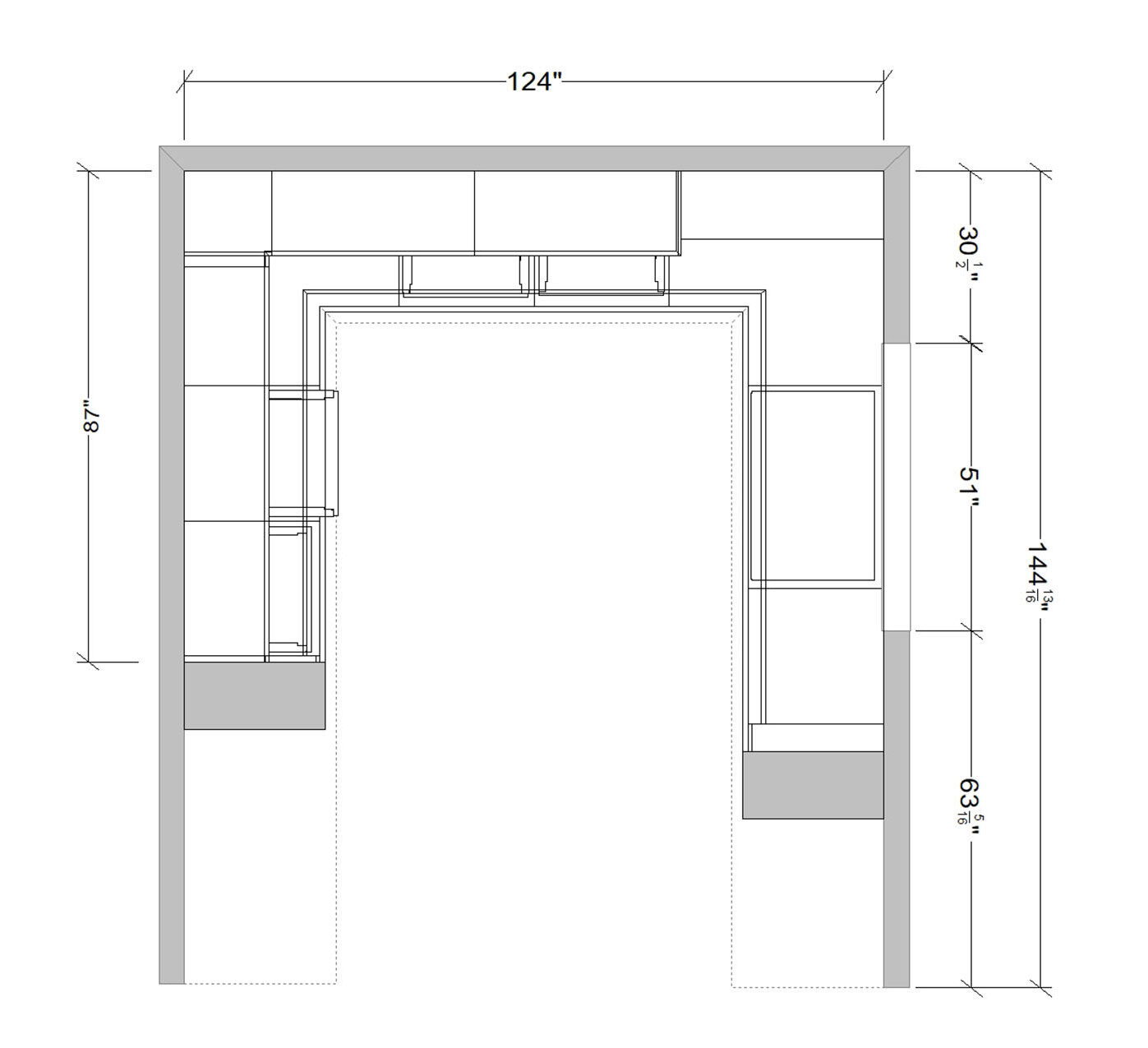 IKEA Pantry Design #2: A Luxe Pantry on Display
Raysheeta and her wife love to cook in their bright, roomy IKEA kitchen. As roomy as the floorspace might be, they lacked storage. They decided to borrow forty-five square feet from the oversized mud room nearby, which they intended to use to house smaller kitchen appliances and rarely used ingredients.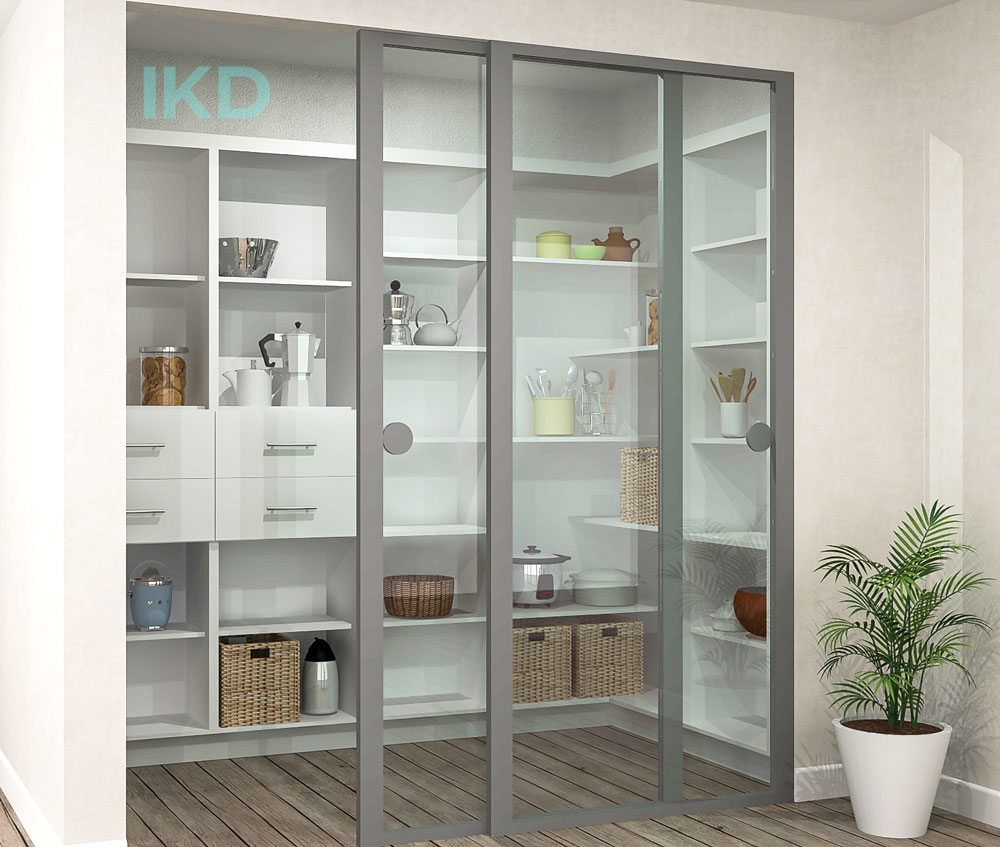 However, they needed help when it came time to organize the space.
They contacted IKD for a solution that matched the luxury of their modern, white kitchen with its white quartz countertops. Since the pantry wouldn't be adjacent to the kitchen, they wanted to add a cohesive element that didn't interfere with the mudroom aesthetic.
"When Raysheeta and Diane spoke about their love of light, I suggested using glass doors for the pantry and making it a focal point rather than trying to hide it. This also made it more clear to guests that this section of the mud room was no longer used for hats and coats. Their pantry would be about 9' x 5', and the modern glass doors brought an upscale aspect to the small room. I designed the interior to echo the kitchen, with white SEKTION cabinets and VEDDINGE white drawer fronts. Most of the storage space is open shelving with four drawers to hide anything that doesn't match the aesthetic.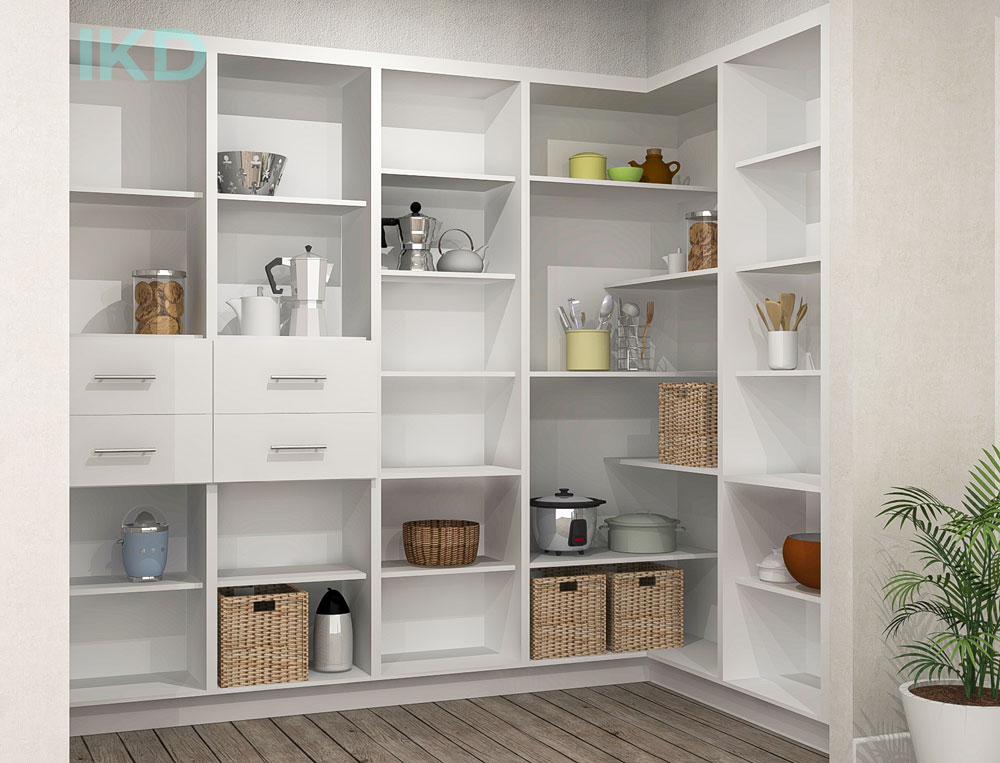 The goal here was to maximize storage, so I had to get creative with the corner storage (often the case). I used an IKEA hack where fridge panels create the frame for a unique stagger of 36″ wide shelves. The rest of the storage uses 15" deep SEKTION cabinet boxes stacked to a height of 84". The spacing between the shelves is perfect to fit IKEA's 12.5" tall BRANAS storage baskets. A soffit along the top gives the pantry a built-in look." –Frank, IKD designer
"We could never have designed something like this on our own. We knew we wanted something from IKEA because Diane used to work there and gets a discount. We love their products, anyway. It's like if Walmart had decent home product designers.

We've worked with IKD before, and we knew they would use what we liked from IKEA in a creative way and add elements, like those rockin' doors, that we can't find at IKEA. We have a KitchenAid mixer, and we use one of the drawers for all the accessories. In another, we've got cookie cutters. The baskets are for storing boxes of pasta and dog treats. We use [the pantry] to store things like the martini set we use twice a year and the serving plate we use at Christmas.

We didn't mind sacrificing the mudroom because it's just the two of us. We bought one of those entryway furniture pieces that has coat racks and cubbies built in to replace the storage we lost, and that's all we need." –Raysheeta, IKD customer
Total IKEA material cost: $1,891
Key Takeaway
Inspired Kitchen Design can help you maximize kitchen storage with a luxury design on an IKEA budget. If you have a lot of extra space, like these customers, or only a small amount of space, there is a creative storage solution for you. Sometimes, it just takes the eye of a professional designer to find it.
Get a Professional IKEA Kitchen Design – All Online
Work with our certified kitchen designers to get a personalized kitchen designed around your needs and vision. If you're interested in learning more about our service, make sure to check out our IKEA Kitchen Design Services.