The $40 Outdoor Gadget That Instantly Transformed Our Patio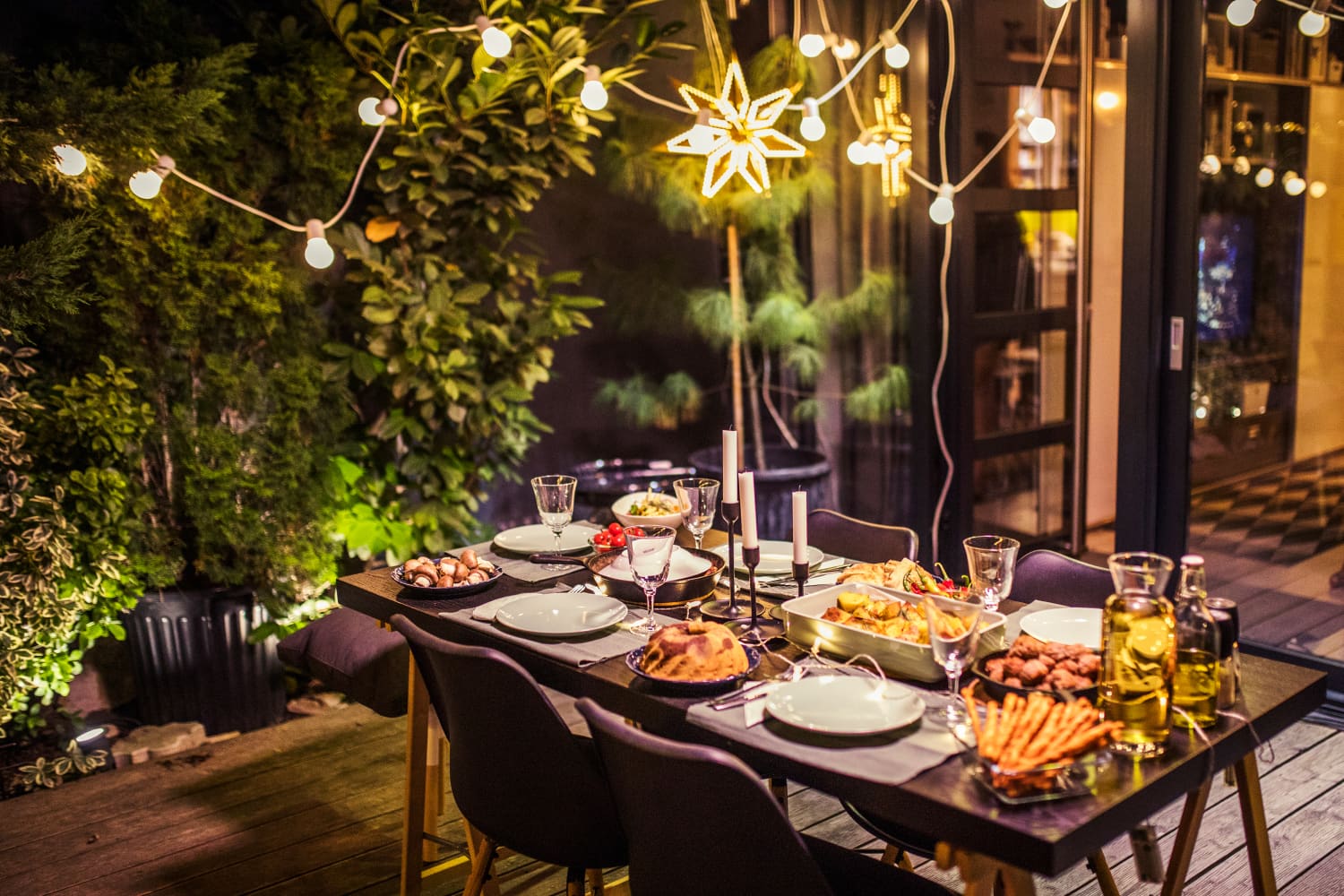 We independently select these products—if you buy from one of our links, we may earn a commission. All prices were accurate at the time of publishing.
If the weather's nice, as it often is in the Arizona desert, you'll catch me sitting outside for as many meals as possible. Now that we've officially entered my favorite time of year when the days hit a high of around 100°F and the nights are warm, but not too hot, enjoying dinner at dusk on my back patio has become the norm.
You'd think that an al fresco moment in jacket-free weather couldn't get any more perfect. However, I recently came across the Colsen Tabletop Fire Pit, a sturdy, freestanding pit that puts out a pretty flickering flame, and my nights somehow got even better.
What's So Great About the Colsen Tabletop Fire Pit?
The tiny-but-mighty concrete fire pit helps set the mood during our outdoor evenings, adding a touch more light and a nice glow whenever my husband and I sit down to eat. And even when we're not dining, it's a small feature that adds the perfect touch of ambience and makes evenings spent outside feel more cozy.
The Colsen fire pit is a nice size at about five inches in diameter and just under four inches tall, so it doesn't take up too much real estate or put off too much heat. What sets it apart from other tabletop fires I've seen is that it doesn't use propane gas, which can be a little smelly, is often more expensive, and can be tricky to light.
Instead of propane, you pour basic rubbing alcohol into the center of the pit and then light it on fire with a long lighter. When the pit is filled about halfway, we get about 45 minutes of flickering fire, which is often plenty. And if we want it to go longer, we'll just refill and relight. Cost-wise, it's the equivalent of about $1 per 45 minutes. The ease and cost savings is really nice, in my opinion. However, if you prefer a set-it-and-forget-it tabletop fire, then maybe a propane hookup is going to be more your speed.
The fire itself stays very contained within the hefty cement vessel, and the flame it produces is thick and pretty. One pro tip to make sure it doesn't extinguish in the wind is to not fill the interior completely with the alcohol. The halfway point will keep the wind from inadvertently blowing it out like you'd experience with a typical candle outdoors.
Speaking of candles, there's a major bonus I've really come to appreciate: It produces zero smell! In my opinion, that's a must for dining. Cloying fragrance and a nice salmon dinner just don't go hand in hand in our household.
What's also nice about the Colsen tabletop fire pit is that you can use it indoors. It's compact and contained enough to not be a fire hazard, although it does get pretty hot, so make sure not to touch it during or just after using, and use the accompanying cork heat pad to protect your surfaces.
At the end of the day (or should I say night?), this little fire pit provides a big bang for your buck — it adds instant ambiance to any outdoor or indoor setting, and it's safe and easy to use. And at this price, I'm about to grab a second one for even more cozy vibes.
Buy: Colsen Tabletop Outdoor Fire Pit, $39.96 (originally $100)