Martha Stewart's Under-$100 Dutch Oven Is the Kitchen Workhorse I Didn't Know I Needed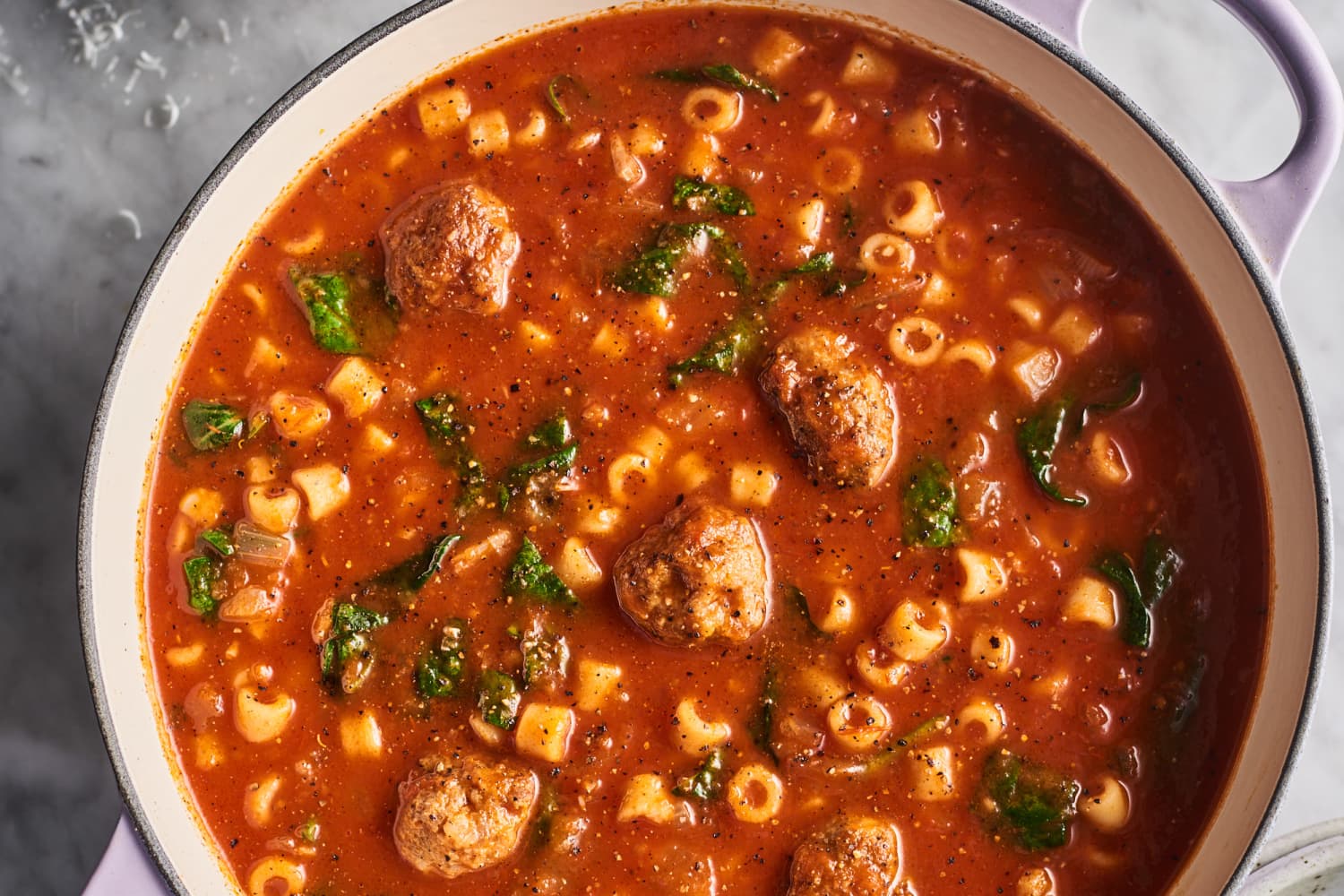 There are many reasons why this Dutch oven is a reliable, sturdy workhorse, so I think it's best to break down each of its qualities individually.
Overall appearance: Dutch ovens are usually quite colorful, which is a departure from most other types of cookware that look much more functional than stylish. Martha Stewart's version comes in 16 different colors, including Pink, Red, and Lavender, as well as Emerald Ombre and Black Matte. Some shades have a sleek gold knob on the lid, while others have a modern silver version — and all are pretty. As for me, I tested the Martha Blue shade.
Size: It can be a little challenging to decide which Dutch oven size is best for you — especially because everyone's home life is different. As a single young adult who typically only cooks for myself, I initially thought that the 7-quart capacity would be a bit large for me. But after preparing a bunch of meals in the pot, I'd argue that the 7-quart capacity is a happy medium for most people. The pot can cook a large amount of food and, if you're making something that requires boiling or simmering, you don't have to worry about splattering on or around the pot or stove at all — the high sides act as a guard against splashing. Plus, I love having hearty, flavorful leftovers that last an entire week.
Weight: The pot is made of cast iron so it has some weight to it at 17.36 pounds. Some people who have trouble carrying heavy items may need help maneuvering this pot. I've held much heavier pots of similar size, so this wasn't a big issue for me. I don't recommend storing it on a high or out-of-reach shelf or cabinet, though — trying to grab it wouldn't be the easiest thing in the world.
Heat distribution and retention: The tomato soup and pinto beans I made in the Dutch oven (separately!) cooked evenly and stayed warm long after the cooking was done. This is a fantastic characteristic — especially if you cook for a crowd and want to make sure the food stays hot for a while without having to keep the stove on constantly. If you're making chili for a sports-viewing party or keeping beef bourguignon warm for a fancy dinner, you'll have no trouble making sure guests will enjoy a warm, filling meal. Oh, and the Dutch oven is oven-safe up to 500˚F, so making anything from a boule of bread to baked pasta is an option, too.
Self-basting lid: You'll notice lots of little bumps on the underside of the lid — this isn't just for show. The bumps are meant to mimic the act of basting foods that are in the pot while it's covered. While not every thing you make in this Dutch oven will need basting, many dishes would benefit from the self-basting feature. When making something like a large pork roast, you want to make sure the meat doesn't dry out over the long cook time. While you can lift the lid and spoon the juices back yourself, you can also let the lid do some of the work by letting the juice under the lid drip back into the pot.
Smooth, scratch-resistant interior: Like many other Dutch ovens, the Martha Stewart Gatwick 7-Quart Enamel Cast-Iron Dutch Oven has a nonstick light beige enameled interior. The nonstick finish helped give meat, poultry, and fish a nice sear, and helped create delicious fond that I definitely deglazed. I also used an immersion blender to finish off my tomato soup directly in the Dutch oven itself and didn't see a single scratch in the interior — whew!
Super-easy cleanup: While I prepared tomato soup and pinto beans in this Dutch oven simply because I love both of those foods, I was also strategic about choosing them. Both tomato sauce and stewed beans tend to stick to the sides and bottom of a pot — and, in some cases, burn — because they need to simmer for substantial amounts of time, and tomato-based foods also tend to subtly stain pots, so these dishes were to help determine how easy (or hard) cleaning would be.
Well, I'm happy to report that these weren't issues! While the tomato sauce and beans stuck a bit to the sides of the pot as I'd expected, it wasn't difficult to clean in the sink at all. With a couple scrubs of a sponge, the bits quickly came off. I even used a rough-textured sponge and, although I was wary, it didn't leave any scratches on the smooth interior.