Mango Salad Recipe (With Unripe Green Mangoes)
Call it as Mango Salad Recipe, Raw Mango Salad or Green Mango Salad – the fact that doesn't change with the name is that this salad is all things tangy, spicy and really, really sumptuous! Other than the hero ingredient 'raw mango,' there's onion in it. So, the sour mangoes complement the slight pungency and sweetness of the onions. It is refreshing, vegan, gluten-free too.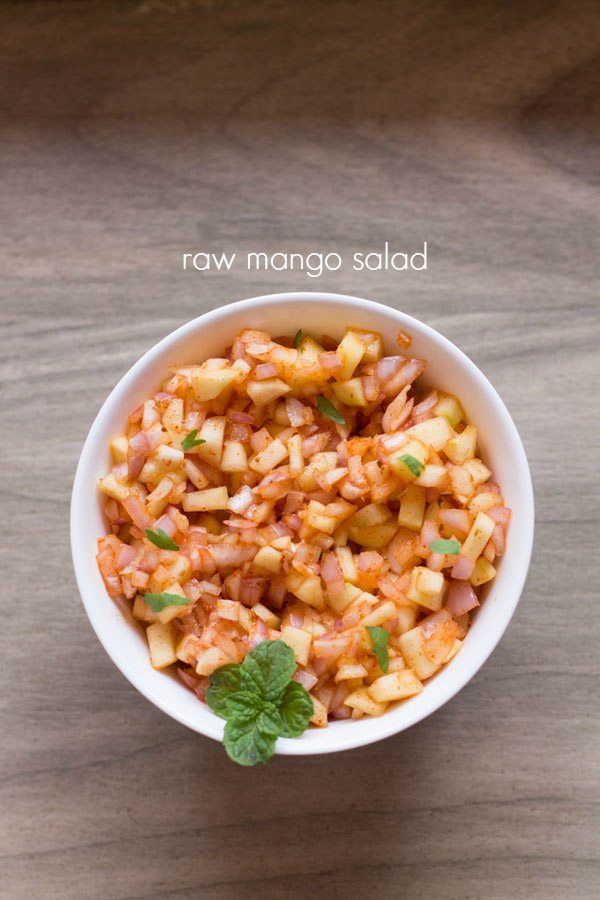 About Mango Salad
I have learnt this Mango Salad from one of my Gujarati friends. This is a family heirloom recipe which is very close to her heart too.
It is an amazing thing, how food from different regions and communities bring us a certain joy, and slowly we too make those a part of our routines.
This Raw Mango Salad is not just tart, but has some sweetness due to the sugar added in it. Spices like red chili powder and roasted cumin powder also perk up the flavors, and you can toss this salad in less than 20 minutes. Try it!
Generally, the mango season has me pickling raw mangoes to begin with. But as the season progresses, I also make a variety of other preparations with raw mangoes including this Green Mango Salad.
Don't forget to read till the end, as I am going to talk about all those amazing dishes that I make with raw mangoes.
Raw mangoes are great as souring agents in dishes. So, I make many curries and lentil preparations too with it. Other Regional Indian cuisines also use fresh unripe or dried mango slices to sour their curries and lentils.
The recipe of this Green Mango Salad is very simple, yet packed with flavors. Goes extremely well with pulao, dal-rice and khichdi. If you want to have it as a side with plain or aloo paratha, you can do that too.
My love for Raw Mangoes
According to my personal observation, I really feel that the number of raw mango lovers is almost equal, if not more, to the number of ripe mango lovers. And why shouldn't it be? Mango in any form, whether green or ripe, is just a marvelous fruit to work with.
A personal favorite way of eating unripe mangoes since years has been: nice, long wedges of mango sprinkled with red chili powder and black/regular salt. I mean, I am literally salivating while writing about this. This is a popular pan Indian snack, from ages.
Apart from this crunchy munchy Raw Mango Salad, I've also created many recipes that have used green mangoes to their best of capacity. These preparations may not be new to you, but certainly are done in a signature style by me at home.
Step-by-Step Guide
How to make Mango Salad
Prepare Mangoes
1. Rinse 2 small raw mangoes and then dry them with a clean kitchen towel.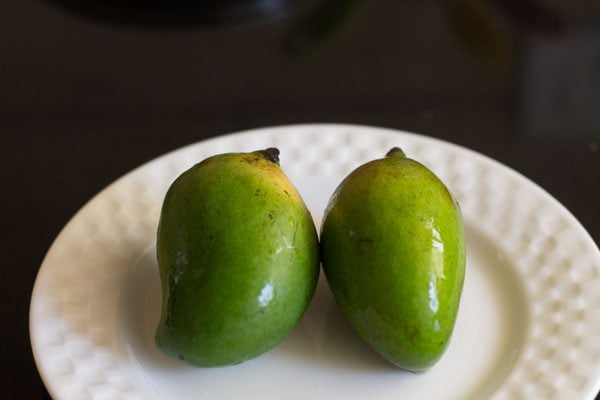 2. Use a sharp knife to peel the raw mangoes and start chopping them. Be careful while chopping the raw mangoes.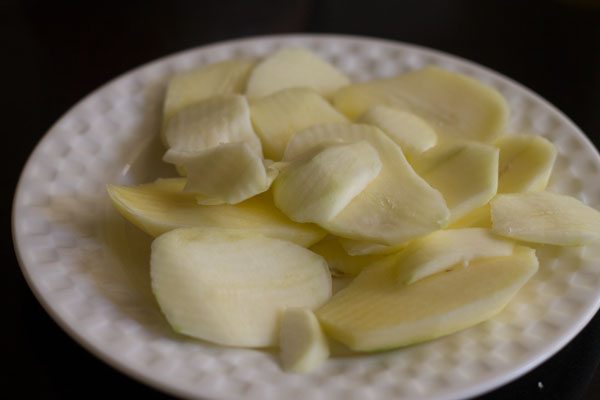 3. Chop the raw mangoes into cubes. The chopped raw mangoes should be about 1 cup.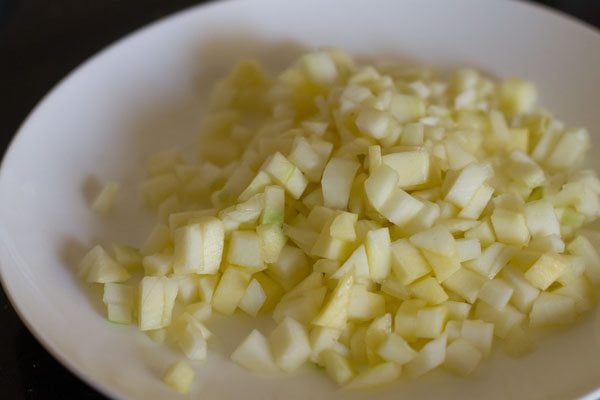 4. This is an optional step and only if you do not have roasted cumin powder. To make the roasted cumin powder, roast ½ teaspoon cumin seeds on medium heat till they are fragrant.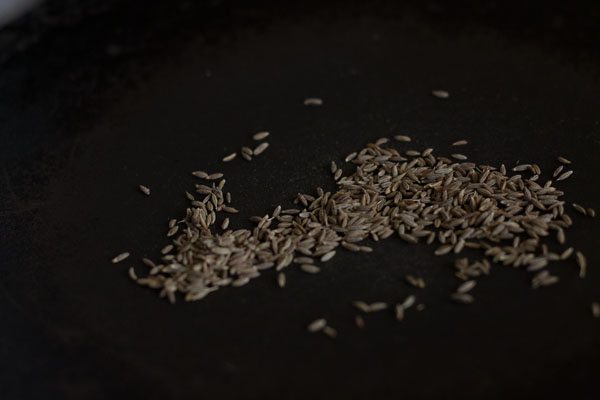 5. Switch off the heat. Transfer the roasted cumin seeds in a mortar. Crush with the pestle to a coarse powder.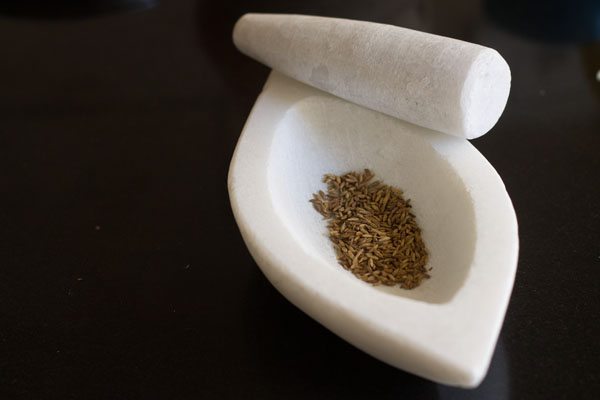 6. Keep all the ingredients ready for making the salad – ½ teaspoon Kashmiri red chili powder or paprika, 2 teaspoons sugar, ½ teaspoon roasted and crushed cumin powder and salt as per taste.
Tip: Instead of sugar, you can also add jaggery.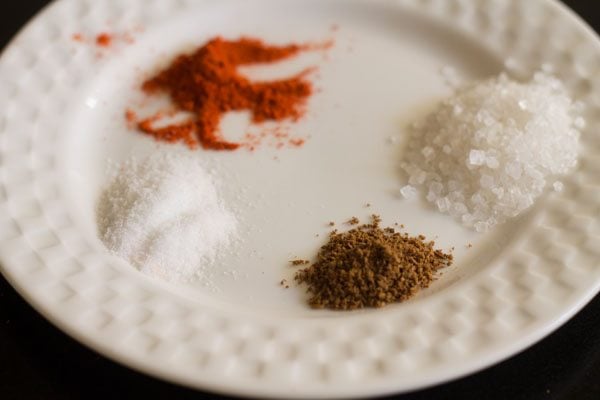 Assemble and Make Mango Salad
7. Place the chopped mangoes in a mixing bowl or wide dish. Add ¼ cup finely chopped onions.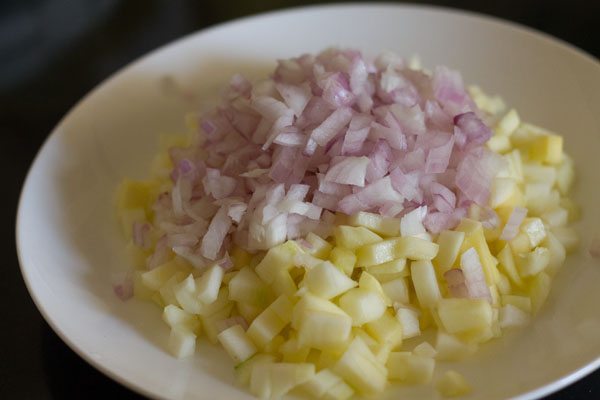 8. Sprinkle Kashmiri red chili powder or paprika, roasted cumin powder, sugar and salt on the chopped mangoes.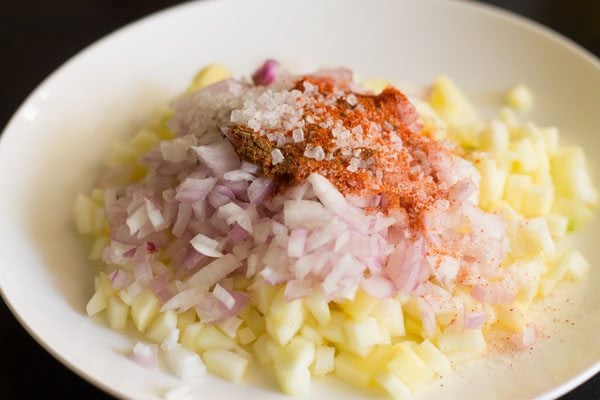 9. Mix nicely with a spoon.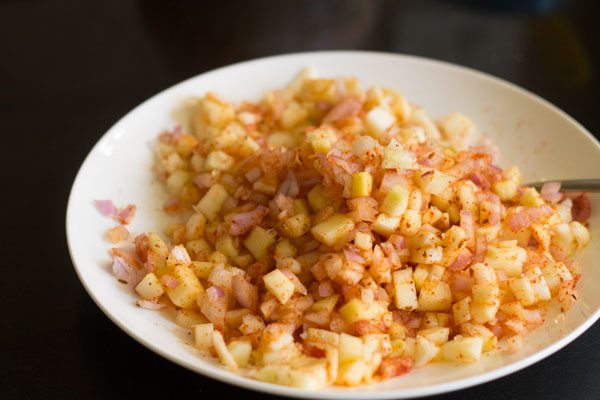 10. Cover and allow the mixture to rest for 10 to 12 minutes.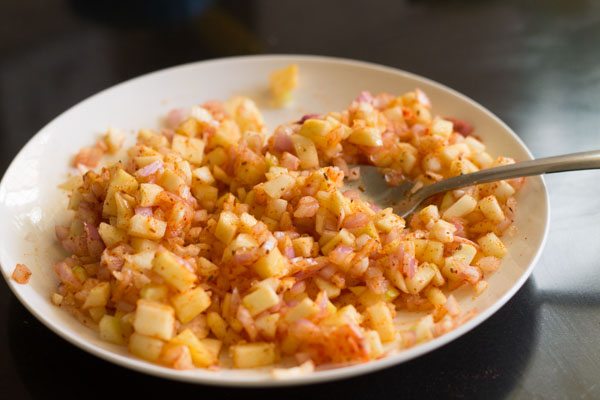 11. After some time, the mango salad will leave moisture.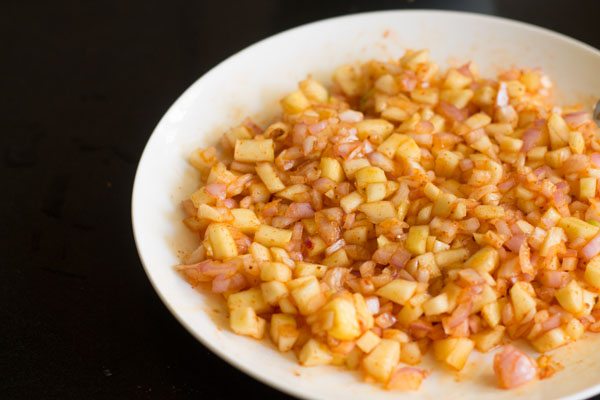 12. Serve Raw Mango Salad as a side dish with dal-rice, veg pulao or as a side to perk your meals. The leftover salad can be refrigerated for a few hours.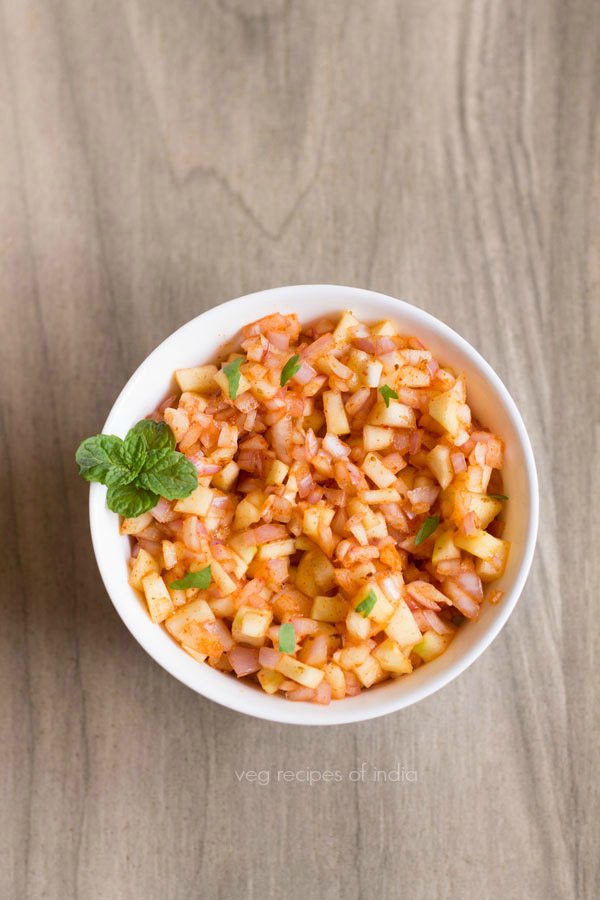 Raw Mango Specials
Trust me, you cannot miss any of these because all these are just so good! Read and know about these dishes a bit better, then try them at your home too.
Beverage – No other drink perfectly describes summers in India as the Aam Panna does. It has many regional names like 'aam jhora,' 'kairi panna,' 'aam pora shorbot,' and is a super refreshing and cooling beverage. Don't also forget to try my recipes of Mango Lassi and Mango Shake made with ripe sweet mangoes.
Snack – You can make this really tangy and scrumptious raw Mango Chaat or bhel with ease at home. In the mood to experiment? Go ahead, and add your choice of toppings and garnishes to this and enjoy.
Dal – Mamidikaya Pappu is an Andhra style preparation made with raw mangoes and tur dal (pigeon pea lentils). It is well balanced by the addition of other ingredients like onion, garlic, green chilies, curry leaves and spices. 'Tauk dal' is a similar raw mango lentil preparation in Bengali cuisine.
Rice – Rice cooked with a rustic spiced and coconuty raw mango paste and tempered with lentils, spices and curry leaves – isn't this Mango Rice simply comfort in a bowl? Pair it with fried papad or chips, and thank me later!
Accompaniment – You can't talk about raw mangoes without mentioning the quintessential pickles, chutneys and preserves made with it. Some chosen ones are Punjabi Mango Pickle, Andhra Avakaya, Gujarati Aam Chunda, Raw Mango Chutney and Aam Ka Murabba.
Please be sure to rate the recipe in the recipe card or leave a comment below if you have made it. For more veetarian inspirations, Sign Up for my emails or follow me on Instagram, Youtube, Facebook, Pinterest or Twitter.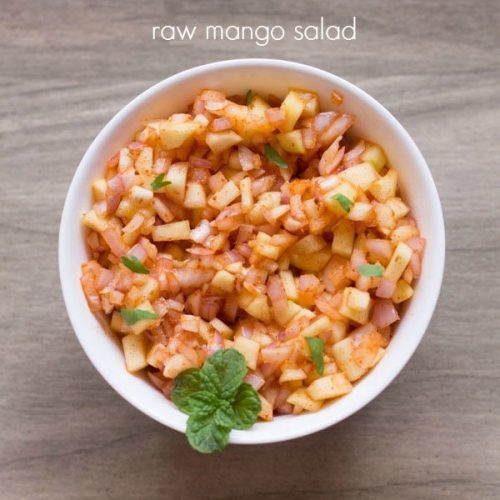 Mango Salad Recipe
This Mango Salad recipe is sour, spiced and lightly sweet tasting salad made with unripe green tangy mangoes, chopped onions and spices.
Prep Time 15 mins
Cook Time 0 mins
Total Time 15 mins
Preparation
Making mango salad
Place chopped mangoes in a mixing bowl or wide dish. Add finely chopped onions.

Sprinkle Kashmiri red chili powder, roasted and crushed cumin powder, sugar and salt as per taste.

Mix everything nicely with a spoon.

Cover and allow the mixture to rest for 10 to 12 minutes.

After some time the salad will leave moisture.

Serve Raw Mango Salad as a side dish with dal-rice, pulao or with your meals. You can garnish with some chopped coriander or mint leaves.
If you like your salads chilled, place this salad too in the refrigerator.
Add spices and seasonings as per your preference.
If you don't have roasted cumin powder or cumin seeds, then add simple plain cumin powder instead.
As a variation you can try making this salad with semi-ripe or sweet and tangy mangoes.
Nutrition Facts
Mango Salad Recipe
Amount Per Serving
Calories 31 Calories from Fat 9
% Daily Value*
Fat 1g2%
Saturated Fat 1g6%
Polyunsaturated Fat 1g
Monounsaturated Fat 1g
Sodium 237mg10%
Potassium 76mg2%
Carbohydrates 7g2%
Fiber 1g4%
Sugar 6g7%
Protein 1g2%
Vitamin A 424IU8%
Vitamin B1 (Thiamine) 1mg67%
Vitamin B2 (Riboflavin) 1mg59%
Vitamin B3 (Niacin) 1mg5%
Vitamin B6 1mg50%
Vitamin C 13mg16%
Vitamin E 1mg7%
Vitamin K 2µg2%
Calcium 8mg1%
Vitamin B9 (Folate) 16µg4%
Iron 1mg6%
Magnesium 5mg1%
Phosphorus 9mg1%
Zinc 1mg7%
* Percent Daily Values are based on a 2000 calorie diet.
This Mango Salad recipe post from the archives first published in June 2016 has been updated and republished on April 2023.