I Tried the Recipe for Thomas Keller's Viral Zucchini, and It's the Perfect Side Dish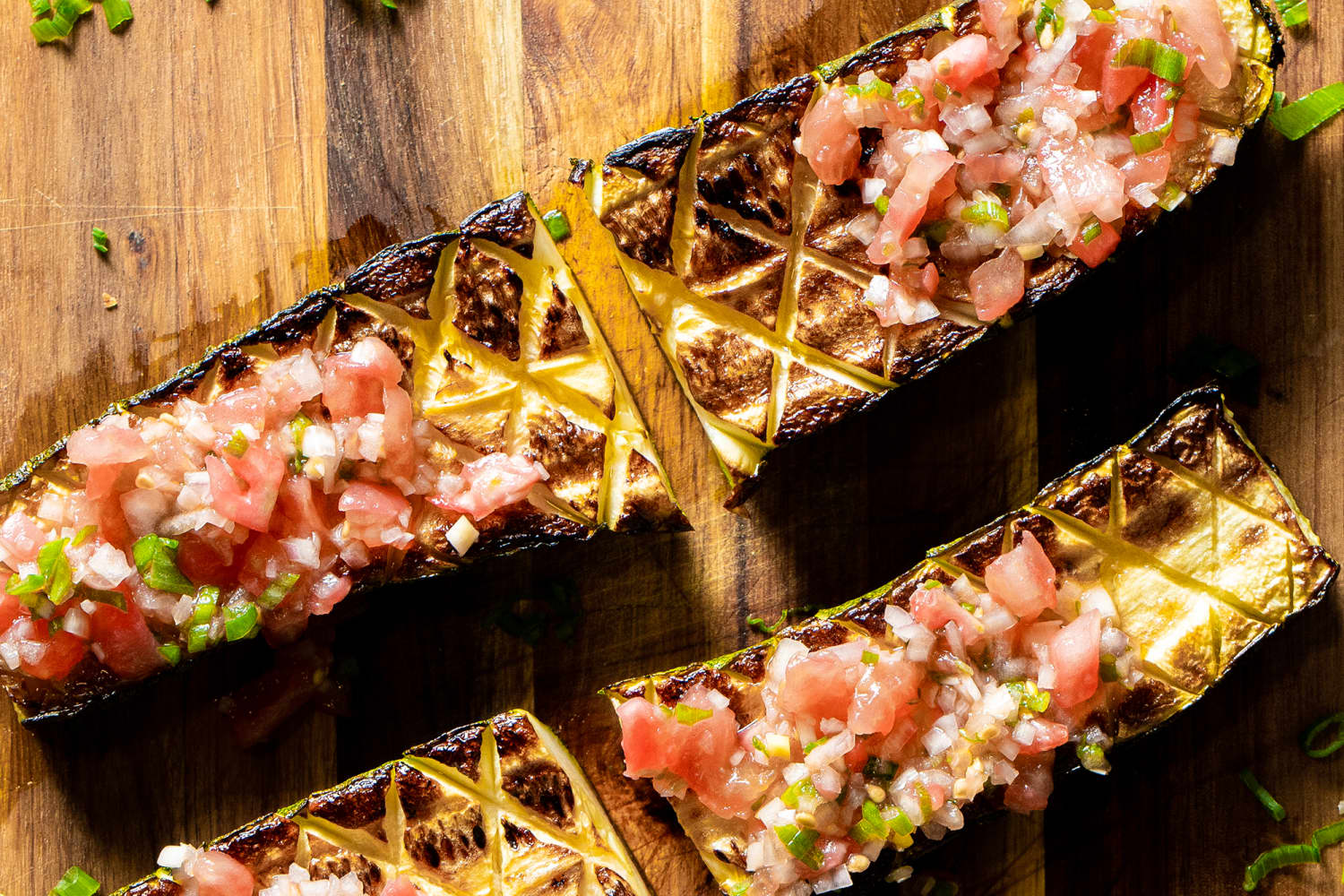 We independently select these products—if you buy from one of our links, we may earn a commission. All prices were accurate at the time of publishing.
This may be a hot take, but I could happily live the rest of my life never eating zucchini or squash again. Unfortunately, I grew up a very picky eater, and it has taken me more adult years than I'd like to admit to reverse my bad habits. While I've since learned to enjoy a ton of foods that I would have otherwise never touched as a kid, there are some foods that I still can't seem to get past for one reason or another — zucchini included. The main culprit being that my number-one issue lies within the texture, and some things with a mushy consistency just don't do it for me.
So when I came across Corre Larkin on TikTok and her video showcasing the viral method for roasting zucchini, the new non-picky eater in me was very intrigued. Here we have a method for preparing zucchini that promises a crunchy texture, and that was something I could totally get behind.
The now viral method was introduced by none other than world-renowned chef Thomas Keller, and I was beyond excited to see if this could change my opinion of zucchini once and for all. I was prepared to have an open mind and was hopeful that I could knock out yet another old eating habit to claim a victory against my old ways.
How to Make Thomas Keller's Viral Zucchini
Start by cutting off the ends of the zucchini and then proceed to cut each one in half lengthwise. Using a sharp knife, score the open face of each zucchini half and aggressively add salt to help absorb the moisture. Lay each half face down on a prepared paper towel to let drain for at least half an hour.
While you wait for the zucchini to drain, finely chop a shallot and throw that into a bowl. Add salt, and the juice of half a lemon, then mix together. Skin a single tomato, dice it up, and add to the bowl as well. Mix everything together and let it steep for a few minutes. If necessary, strain out any extra liquid before adding a little olive oil and mixing well. Finally, chop up a small bunch of chives and add to the mix. Preheat your oven to 450°F, then move on to the fun part.
In a pan set to high heat, add canola oil and lay the zucchini cut-side down into the oil. Cook the zucchini for about 3 minutes, enjoy the authentic sizzling sounds, and then flip before removing from heat entirely. When ready, transfer to the oven and bake for about 15 to 25 minutes. Garnish accordingly with your prepared relish mix and enjoy!
My Honest Opinion of Thomas Keller's Viral Zucchini
I'm a tough critic when it comes to squash and zucchini. I've never really been a fan, and despite giving different recipes a shot from time to time, I have yet to be impressed by either of the two. This recipe, while I did not reach the intended crunch level I was hoping for, did however give me a reason to try it again.
The recipe is perfect for any get-together — especially if you need a good vegan option that anyone can eat. It's all in the preparation, and Thomas Keller hit the nail on the head with this one. The tomato and shallot relish is an amazing garnish on top of the already magnificent-looking roasted zucchini and I'm honestly kicking myself for not achieving the crunch factor I was looking for. Now, it's back to the grocery store for me, as I'm truly in need of a little redemption.
All in all, I won't be jumping at the opportunity to eat zucchini now, but I will bust out this recipe periodically in hopes of perfecting it and giving my taste buds something different for a change.
3 Tips for Making Thomas Keller's Viral Zucchini