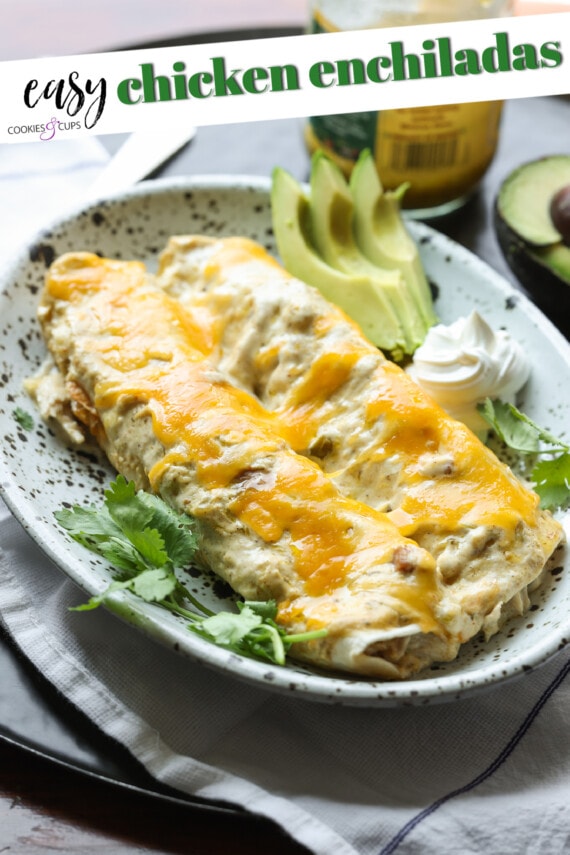 This cheesy chicken enchilada recipe is prepped in minutes and stuffed with creamy shredded chicken. This is a family favorite dinner idea!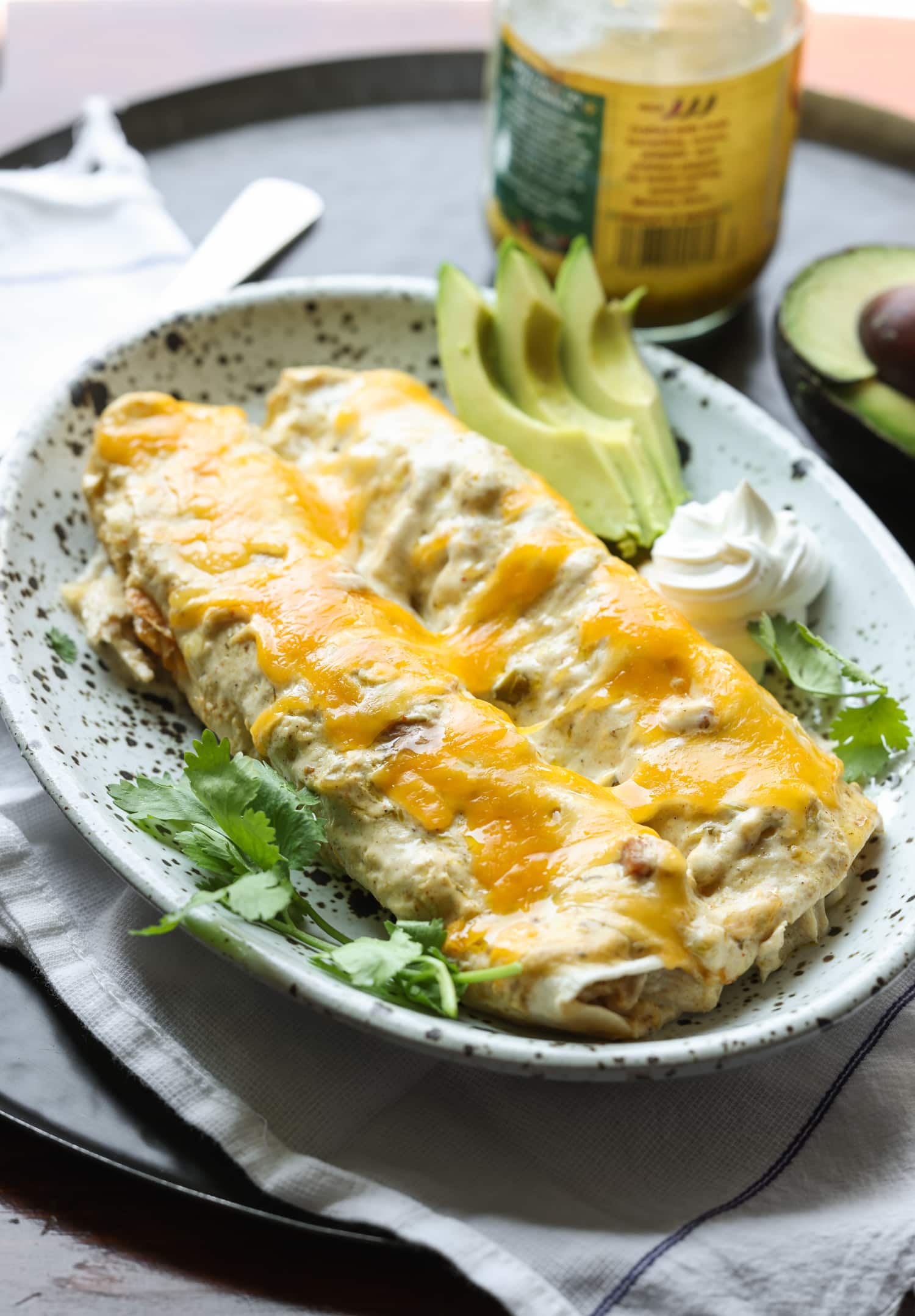 Chicken Enchiladas
Chicken Enchiladas are one of those dinner recipes that my family absolutely loves. I have been making versions of this easy recipe for years, changing it up with whatever I have in my pantry at the time. It's such a quick meal to make on weeknights, can be doubled or tripled to feed a crowd, and easily be prepped ahead.
I am going to show you the simple steps and give you tons of variation ideas along the way. This Tex-Mex dish is pretty foolproof!
Chicken Enchilada Recipe Ingredients
The full recipe is at the bottom of this post in the recipe card. You can print it out, or follow along while you're cooking, but here's what you need to prep ahead of time:
Shredded Chicken. Use homemade shredded chicken or rotisserie chicken. You will need about 3 cups, but don't worry about being too exact. A small rotisserie chicken will give you between 3 – 4 cups of shredded chicken. This is fine, your enchiladas will just be a little meatier…IT'S FINE!
Cream of Chicken Soup. You can use really any "cream of" soup here: cream of mushroom, cream of celery…
Sour Cream. This is a big part of your filling mixture, but if you really don't like sour cream, you can use Greek Yogurt instead, or use more Cream of Chicken Soup.
Salsa Verde. I love the combo of salsa verde and chicken, but you can use regular tomato salsa instead here if you prefer. You can also use a can of Rotel, pico de gallo, or simply a can of enchilada sauce!
Taco Seasoning. This is a personal preference for easy seasoning. You can also use just some chili powder, or a blend of chili powder, cumin, salt, and onion powder. The extra seasoning just gives it a little more flavor!
Cheddar Cheese. I like to use fresh grated cheddar instead of the pre-grated cheese, as I find it just blend creamier. But your enchiladas will be fine if you use pre-grated, trust me!
Flour tortillas. Buy the "taco" sized tortillas, they are 8- inches in diameter. 8 of these fit perfect in your 9×13 casserole dish.
Optional Garnishes: chopped cilantro, diced or sliced avocado (or guacamole), chopped tomatoes, sour cream, and/or crushed tortilla chips
How To Make Shredded Chicken For Enchiladas:
You can easily use a store-bought rotisserie chicken in this chicken enchilada recipe, but I have a super easy Shredded Chicken Recipe already made for you here on my site. Don't worry about slow cooking the chicken, you can have chicken breasts cooked and shredded in under 30 minutes. Simply saute the chicken in a skillet until browned on each side, add some chicken broth, cover the skillet and cook until the chicken reaches 165°F. Pop the chicken into your stand mixer fitted with the paddle attachment and mix, which shreds it in seconds! Voila!
My Instant Pot Salsa Verde Chicken would also be amazing in this recipe. Another layer of flavor!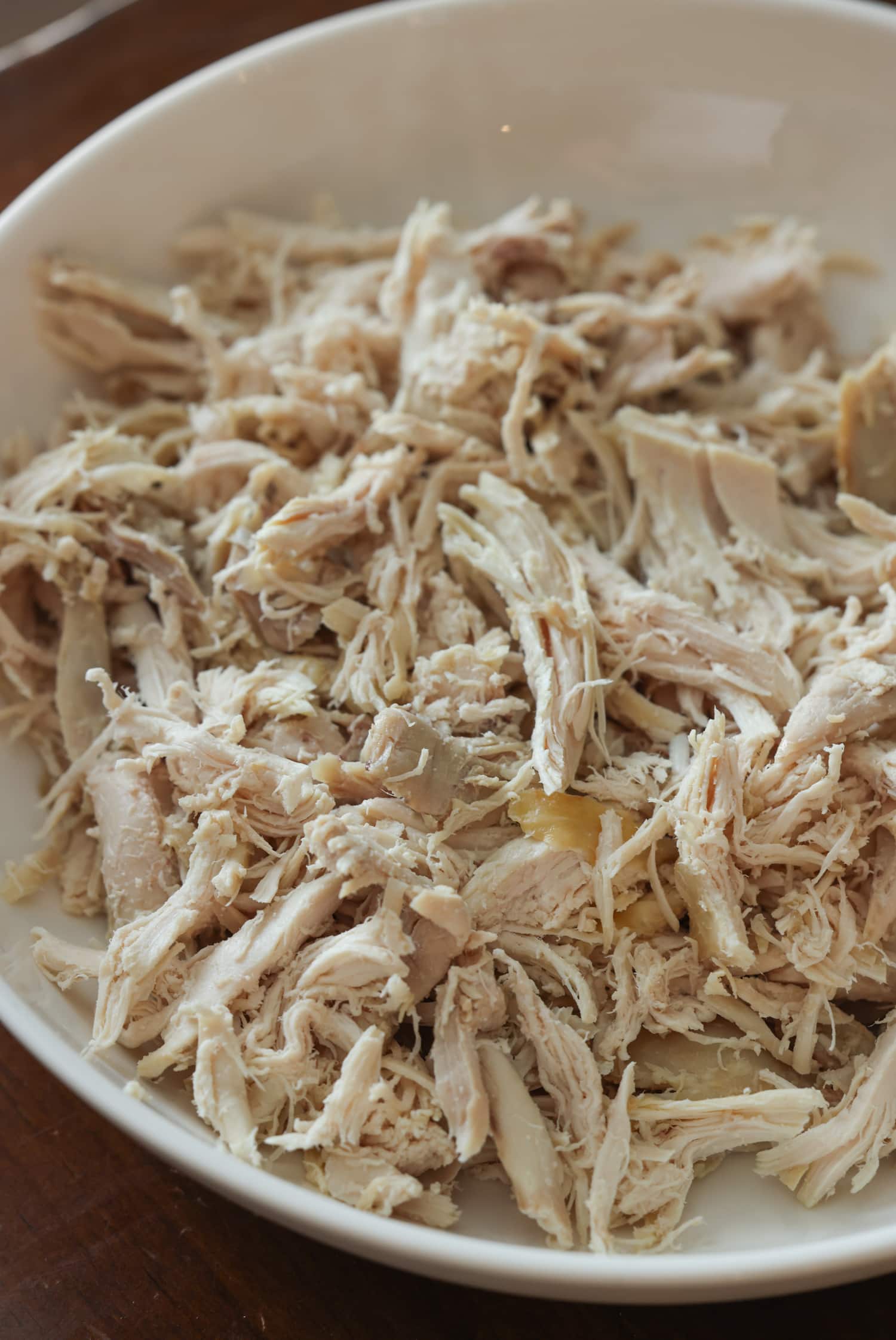 How to Make Chicken Enchiladas
Mix your sour cream, cream of chicken soup, salsa verde, and taco seasoning together.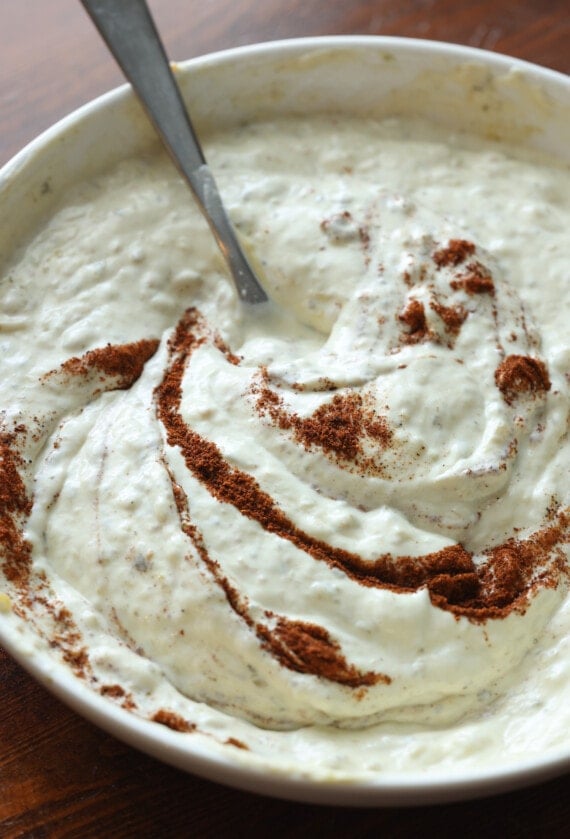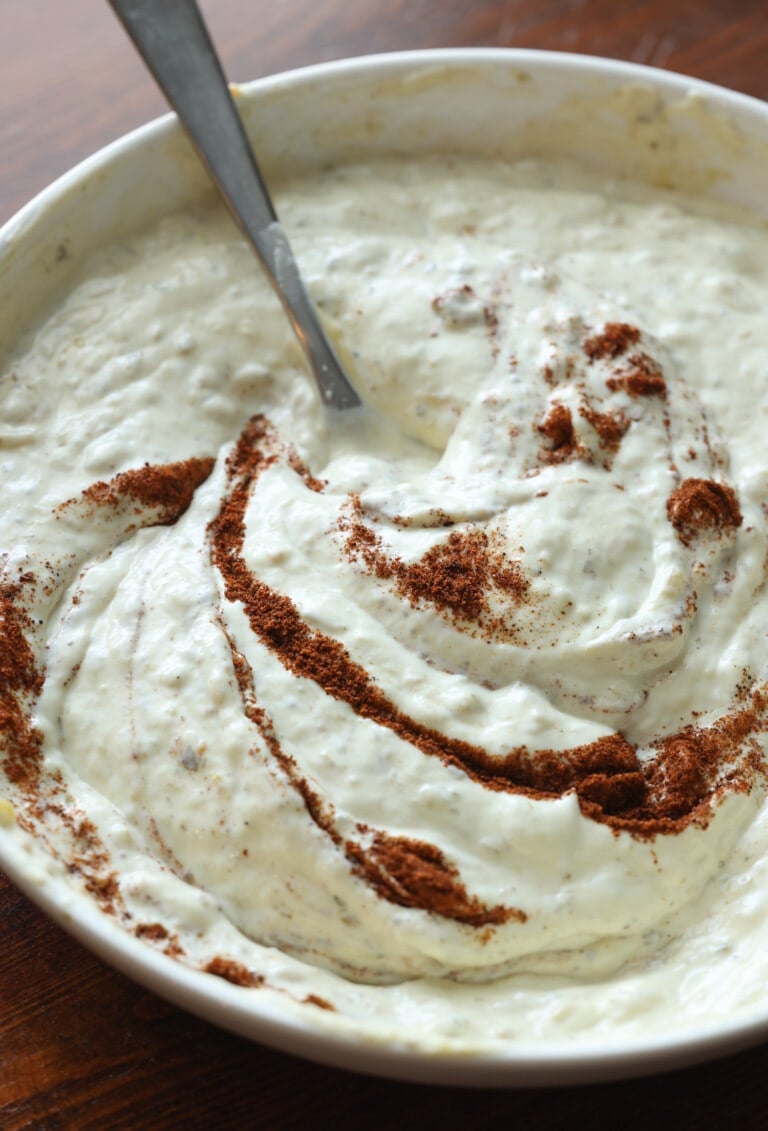 Spread 1/2 cup of that mixture into the bottom of a 9×13 baking dish and mix 1 cup of the mixture into the chicken. Reserve the rest.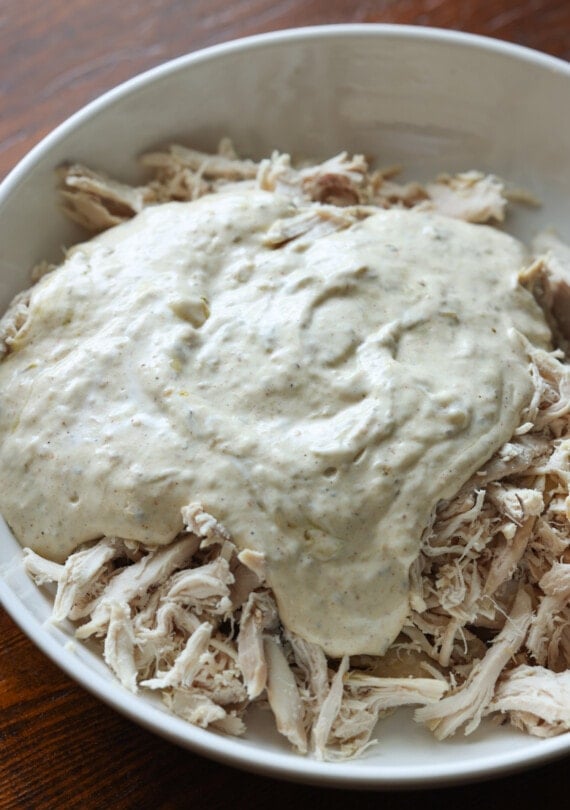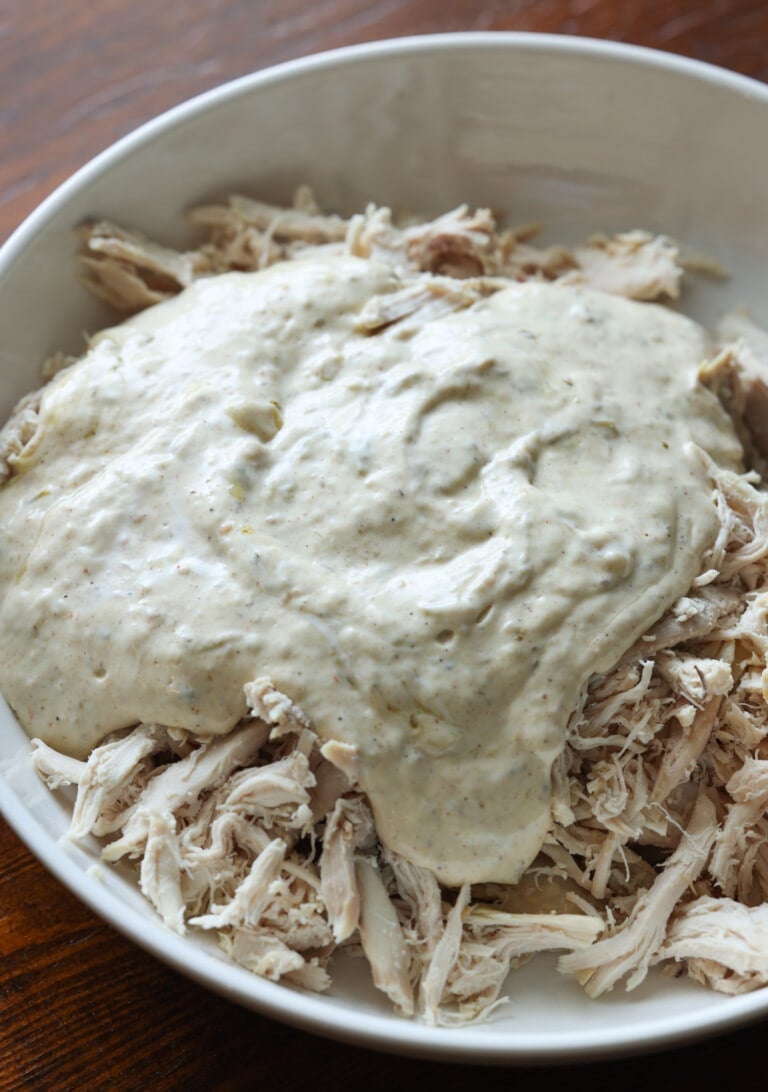 Fill each tortilla with about 1/3 cup of the chicken mixture by spreading it down the middle of each tortilla. Roll the tortillas up tightly and place them seam side down in your baking dish.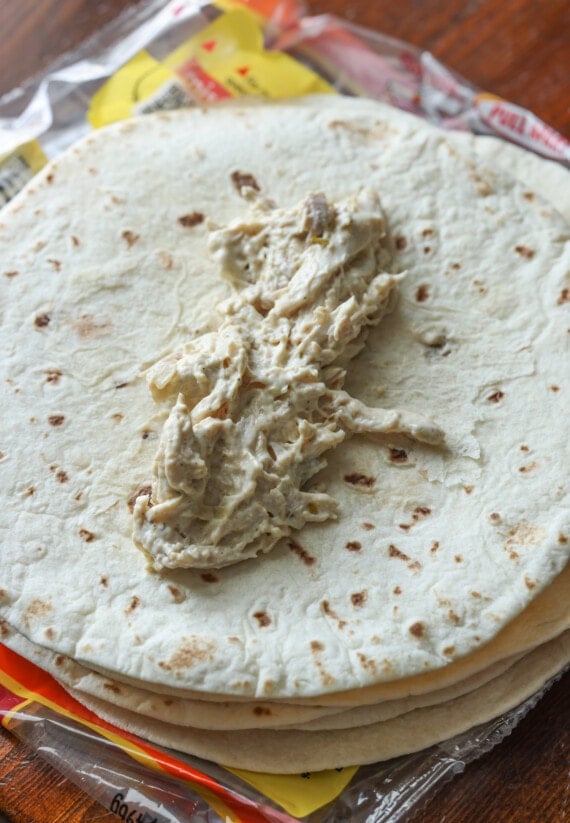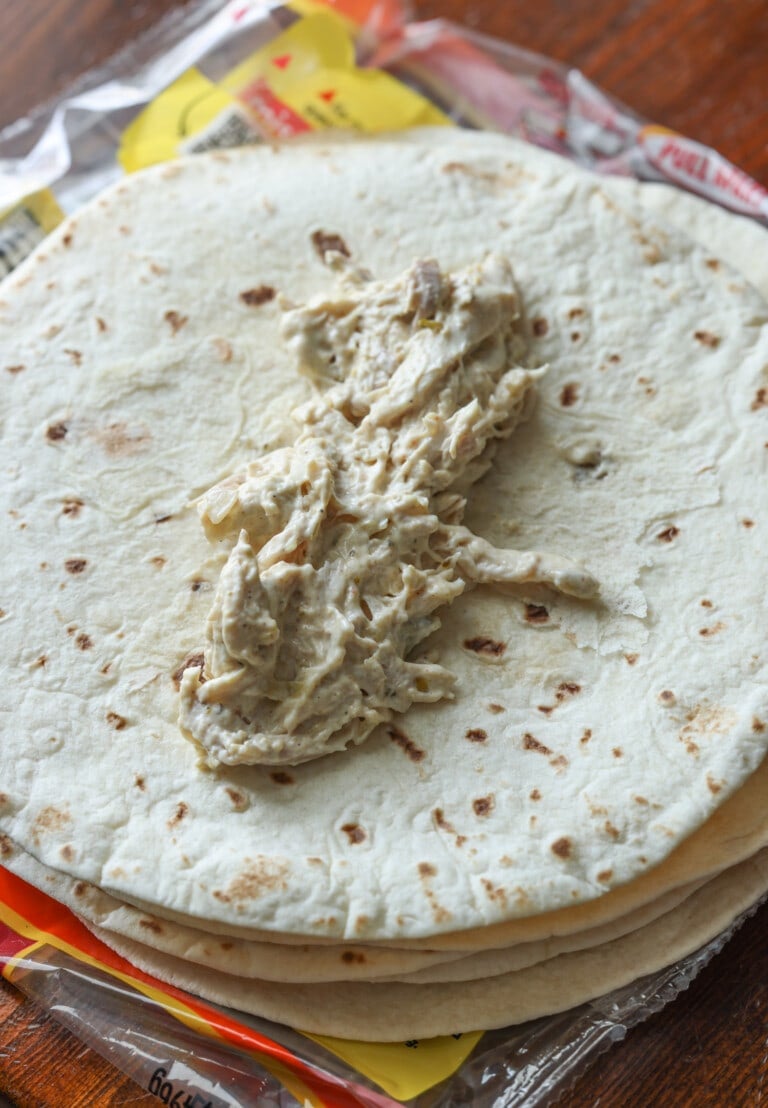 Top them with the remaining sour cream mixture and then sprinkle on the grated cheese.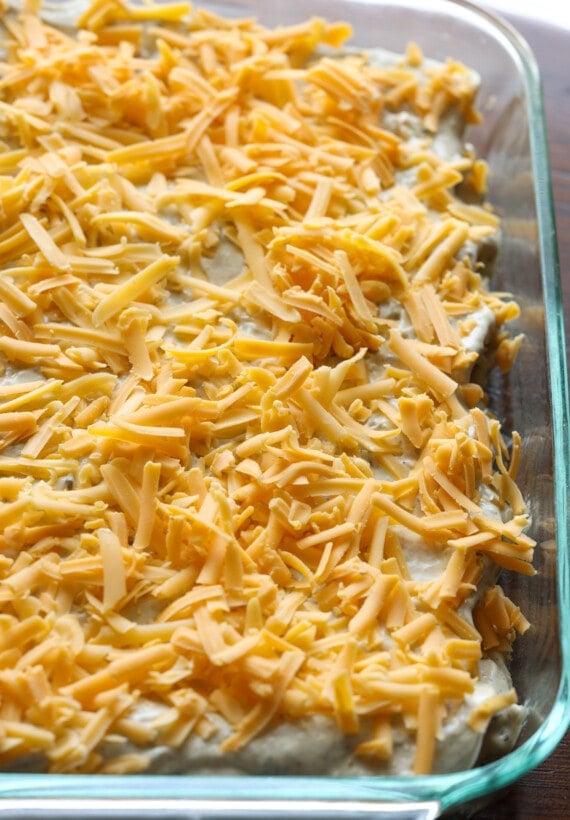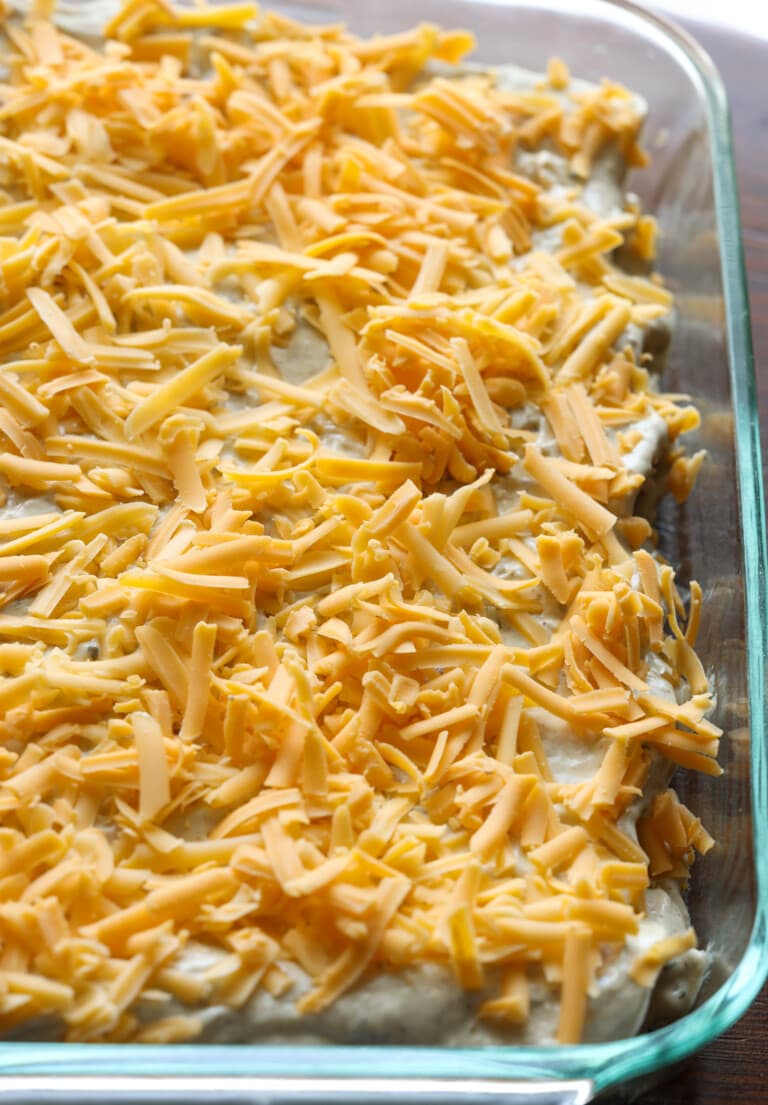 Bake the enchiladas for about 20 – 25 minutes until bubbly and all the cheese is melted.
You can garnish your enchiladas how you like, but my Avocado Salsa is delish drizzled on top!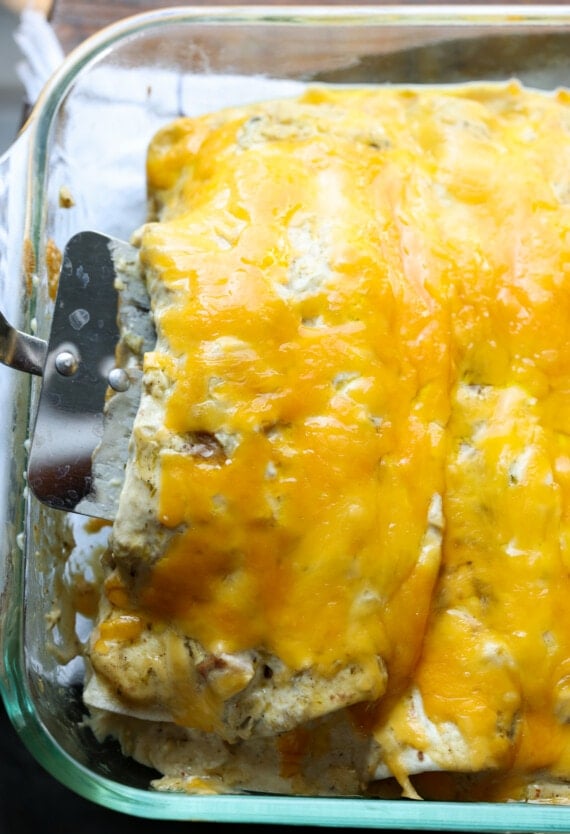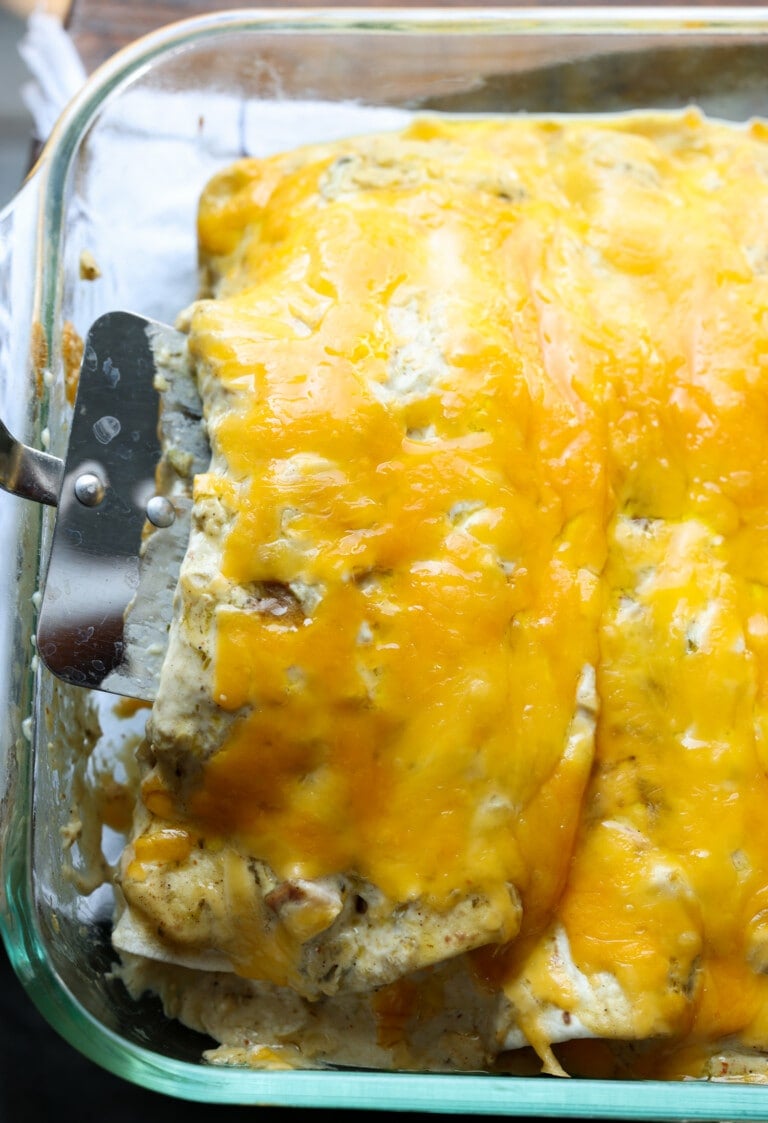 What Should I Put In My Enchiladas?
This Chicken Enchilada Recipe is one of those adaptable recipes that you can really get creative with. You can add grated cheese if you prefer a cheesier enchilada, or you can use less sauce if you don't like too much creaminess.
Go ahead and make these beef enchiladas instead of chicken and use some taco meat, or sliced steak!
Sauteed onions, green bell pepper, jalapenos, red bell peppers, or green chiles would be delicious too mixed in with the chicken.
Corn, black beans, or diced tomatoes would also be tasty. There are no rules!
What To Serve With Chicken Enchiladas
Chicken Enchiladas are meal on their own, but to round it out here are a few ideas:
Refried Beans or Black Beans
Mexican rice, yellow rice, or even white rice
Chips and guacamole!
My spicy Frito Corn Salad would be SO good with these enchiladas!
Should I Use Corn Tortillas or Flour Tortillas?
Corn tortillas are traditional for enchiladas, however, flour tortillas are perfectly acceptable and equally delicious. I find flour tortillas are better for this easy enchilada recipe because they don't require any extra work. You don't need to fry them or dip them in enchilada sauce before rolling, both which are authentic enchilada prep.
Disclaimer: I don't claim that is a is a classic enchilada recipe, this is an EASY and quick enchilada recipe!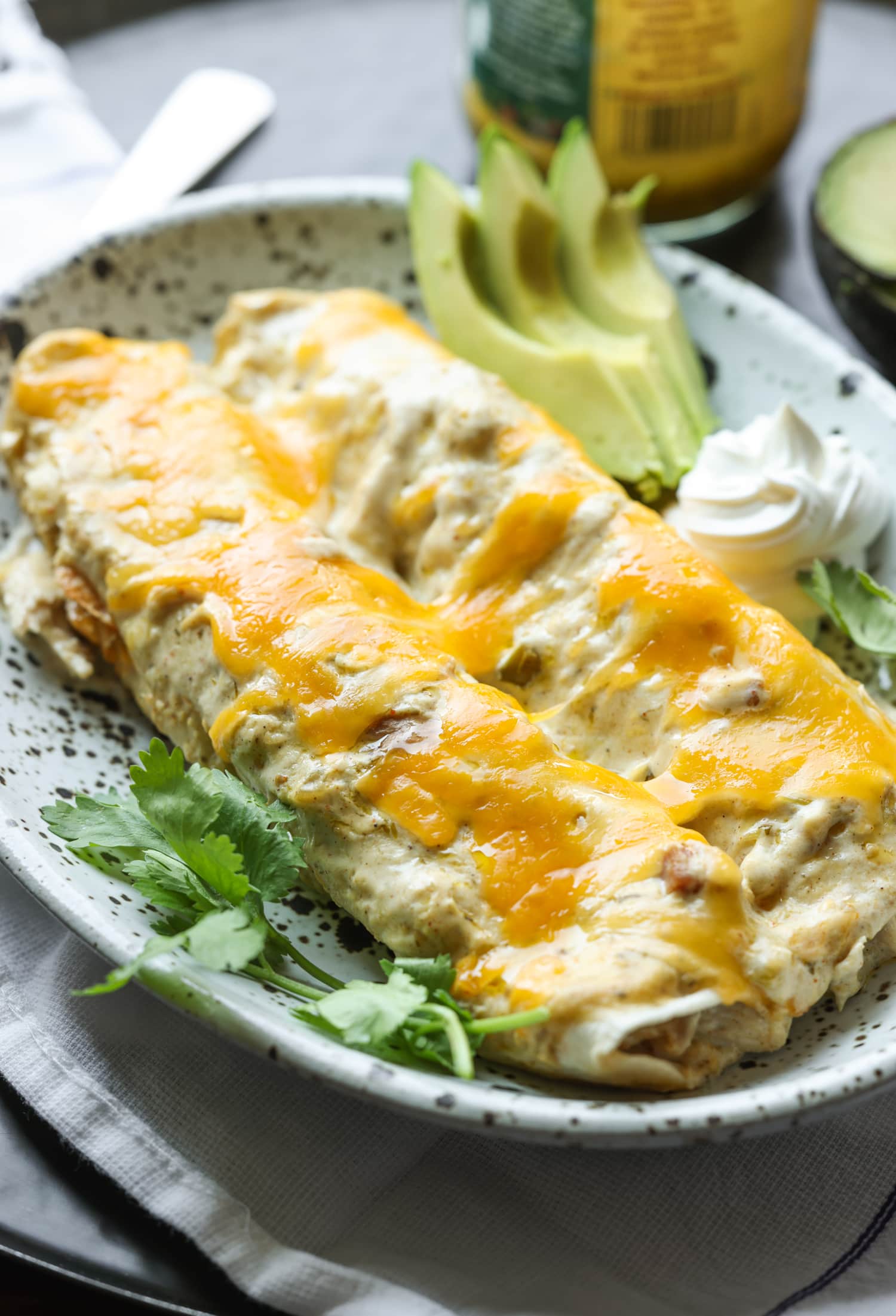 Can You Make This Chicken Enchilada Recipe Ahead of Time?
These easy Chicken Enchiladas are one of those great recipes that are great for a quick dinner, but can also be prepped way in advance. Simply assemble the enchiladas as the recipe states, and cover the pan with aluminum foil and refrigerate until ready to bake. You will need to add a few extra minutes to the bake time if you're baking these cold, straight from the fridge, but just 5 – 7 minutes more will do it!
Storage and Freezer Instructions:
Store any leftovers airtight in the refrigerator for up to 3 days. You can also freeze baked or unbaked enchiladas for up to 2 months. Thaw them in the refrigerator and then bake!
FAQs
What is the secret to good enchiladas?
Using ingredients and flavors you enjoy is the best way to make good enchiladas. Make sure to use plenty of filling, but don't over-stuff your tortillas, as well as use enough enchilada sauce to cover the tortillas before baking so they don't turn out dry. And when in doubt, add more cheese!
Are chicken enchiladas healthy?
Chicken enchiladas can be made as healthy, or unhealthy as you prefer. Use less cheese and lower fat sour cream for a lighter option. You can also use red or green enchilada sauce instead of a cream sauce to achieve a lower calorie dish. Try a cotija cheese or low fat cheese instead of a full fat cheddar or Monterey Jack cheese.
Are chicken enchiladas spicy?
Enchiladas are not a traditionally spicy dish, although you can add spices in you like. Diced jalapeno, or chipotle peppers are an easy way to achieve heat.
Are chicken enchiladas Mexican?
Enchiladas are a traditional Mexican dish. They have a long history and history says they were actually a dish created by the Aztecs. This chicken enchilada recipe that I have shared is a very Americanized Tex-Mex version of enchiladas.
More Tex Mex Inspired Dinner Ideas: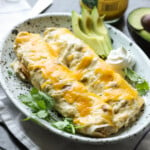 Chicken Enchilada Recipe

Author:

Prep Time:

10 minutes


Cook Time:

20 minutes


Total Time:

30 minutes


Yield:

serves 4


Category:

Dinner


Method:

Oven


Cuisine:

Mexican
---
Description
Chicken enchiladas are a family favorite recipe. Quick and easy, this easy dinner idea can easily be prepped ahead, or thrown together in just minutes. Grab a rotisserie chicken at the store and you're set!
---
3 cups

of cooked and shredded chicken (like rotisserie)

1 cup

sour cream

1

(10.5- ounce) can cream of chicken soup

1 cup

salsa verde (*see note)

1 tablespoon

taco seasoning

8

(8- inch, taco style) flour tortillas

1 1/2 cups

mild cheddar cheese
optional garnishes – chopped cilantro, sour cream, avocado
---
Instructions
Preheat the oven to 350°F. Coat a 9×13 pan lightly with nonstick spray and set aside.
Place chicken in a large bowl, set aside.
In another large bowl mix together the sour cream, cream of chicken soup, salsa, and taco seasoning until combined.
Spread 1/2 cup of the sour cream mixture into the bottom of the pan. Mix 1 cup of the sour cream mixture into the shredded chicken and stir to coat evenly. Set aside the remaining sour cream mixture.
Spread 1/3 cup of the chicken mixture down the center of each tortilla. Roll the tortillas up tightly, and place them seam-side down in the pan. Spread the remaining sour cream mixture on top of the enchiladas. Sprinkle the grated cheese all over the top.
Bake for 20 – 25 minutes until bubbly and the cheese is melted.
---
Notes
*You can use any type of sale you prefer, it doesn't have to be salsa verde, that's just what I like.
Store airtight in the refrigerator for up to 3 days.
Keywords: cookies and cups, enchiladas, chicken enchiladas, dinner idea
Want To Save This Recipe?
Find more recipes like this:
PIN for later: