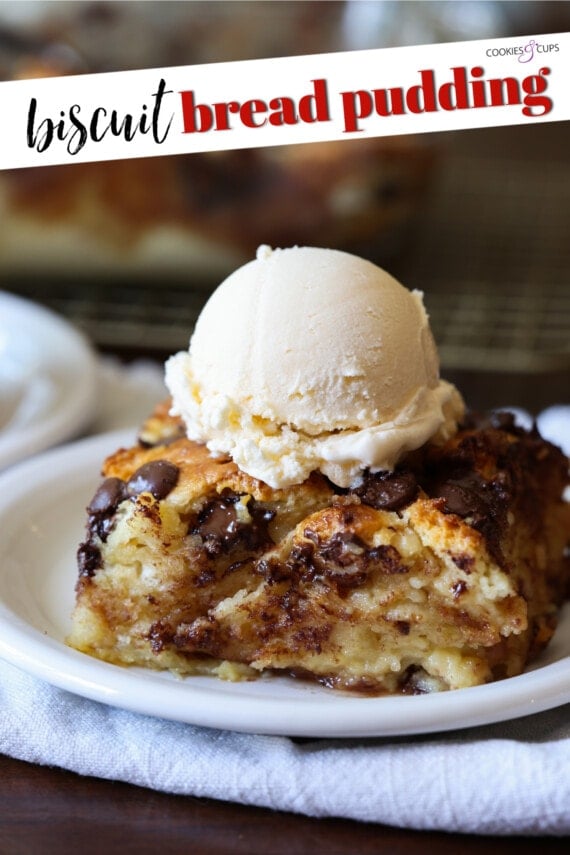 This Biscuit Bread Pudding recipe is a spin on classic bread pudding. It's comforting, rich, and delicious. Use up leftover biscuits in this easy dessert recipe.
I partnered with Imperial Sugar on this bread pudding, so CLICK HERE for the full recipe.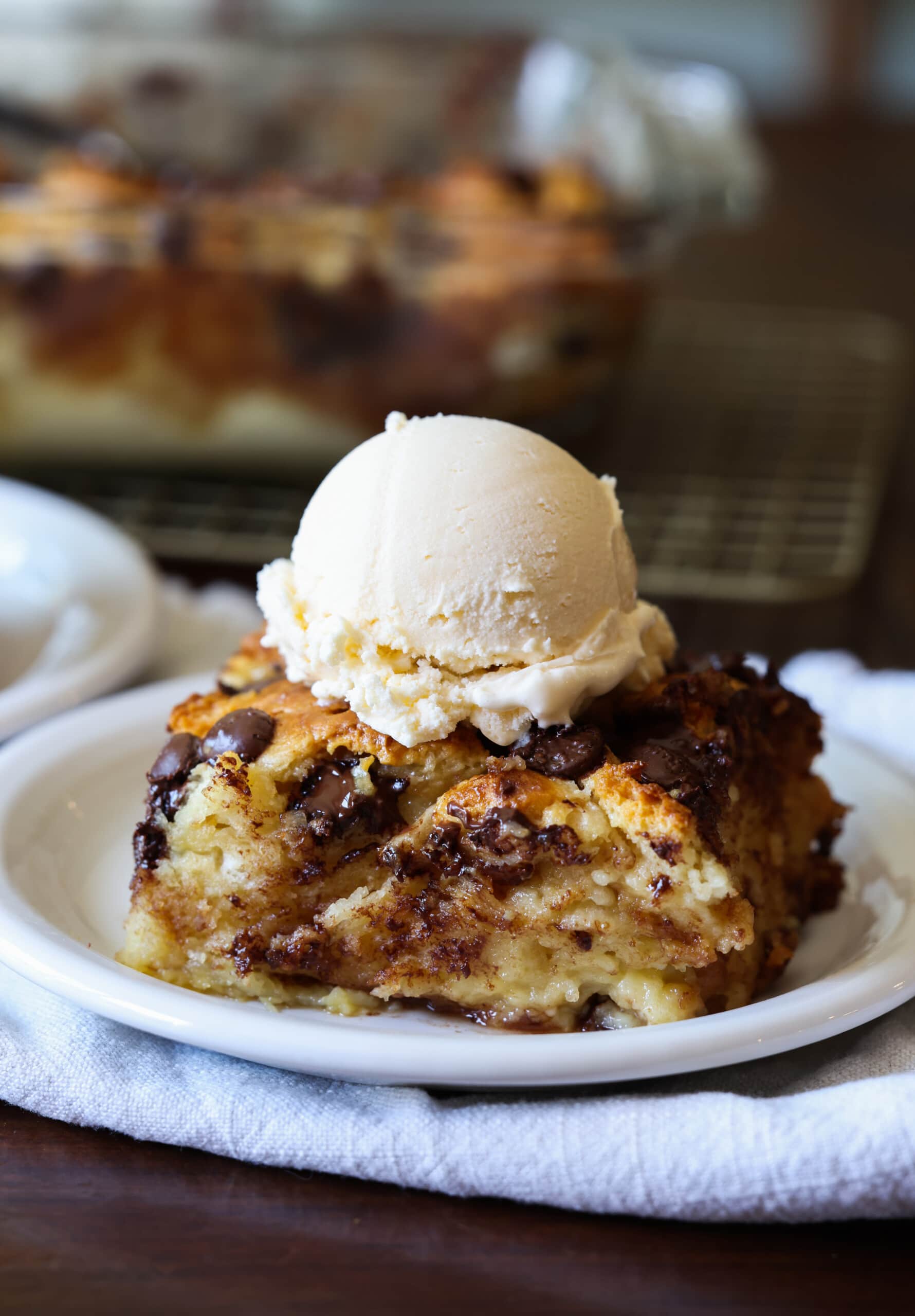 Can You Make Bread Pudding With Biscuits?
Yes! And it's absolutely delicious. You simple use biscuits in place of any other stale or day-old bread. The recipe isn't much different at all, but the outcome is a little more dense, but a little more buttery and rich, which makes it perfect for dessert! But of course if you don't have biscuits, check out my recipe for classic Bread Pudding!
What makes this recipe truly special is the simple yet perfect combination of soft biscuits soaked in a quick custard mixture. The biscuits absorb the flavors of the custard, resulting in an indulgent dessert that is perfect for any occasion.
Elements Of Old- Fashioned Biscuit Pudding:
Biscuits. The great thing about any bread pudding or in this case biscuit pudding, is it uses day-old bread. Of course you can make biscuits especially for this recipe, but let them sit out so they dry out a bit. This is what will absorb the custard. If your biscuits are too fresh, your pudding will be too soggy.
Custard. The custard element to this recipe is SO easy. It's only eggs, milk, cream and vanilla extract. You can also use half and half instead of the mixture of whole milk and heavy cream.
Add-Ins. I add in chocolate chips to my Biscuit pudding, but you can omit them or get creative with the favors you add.
Toppings. I love topping my warm Biscuit Bread Pudding with vanilla ice cream, but you can sprinkle on some powdered sugar, top it with whipped cream, or enjoy it plain.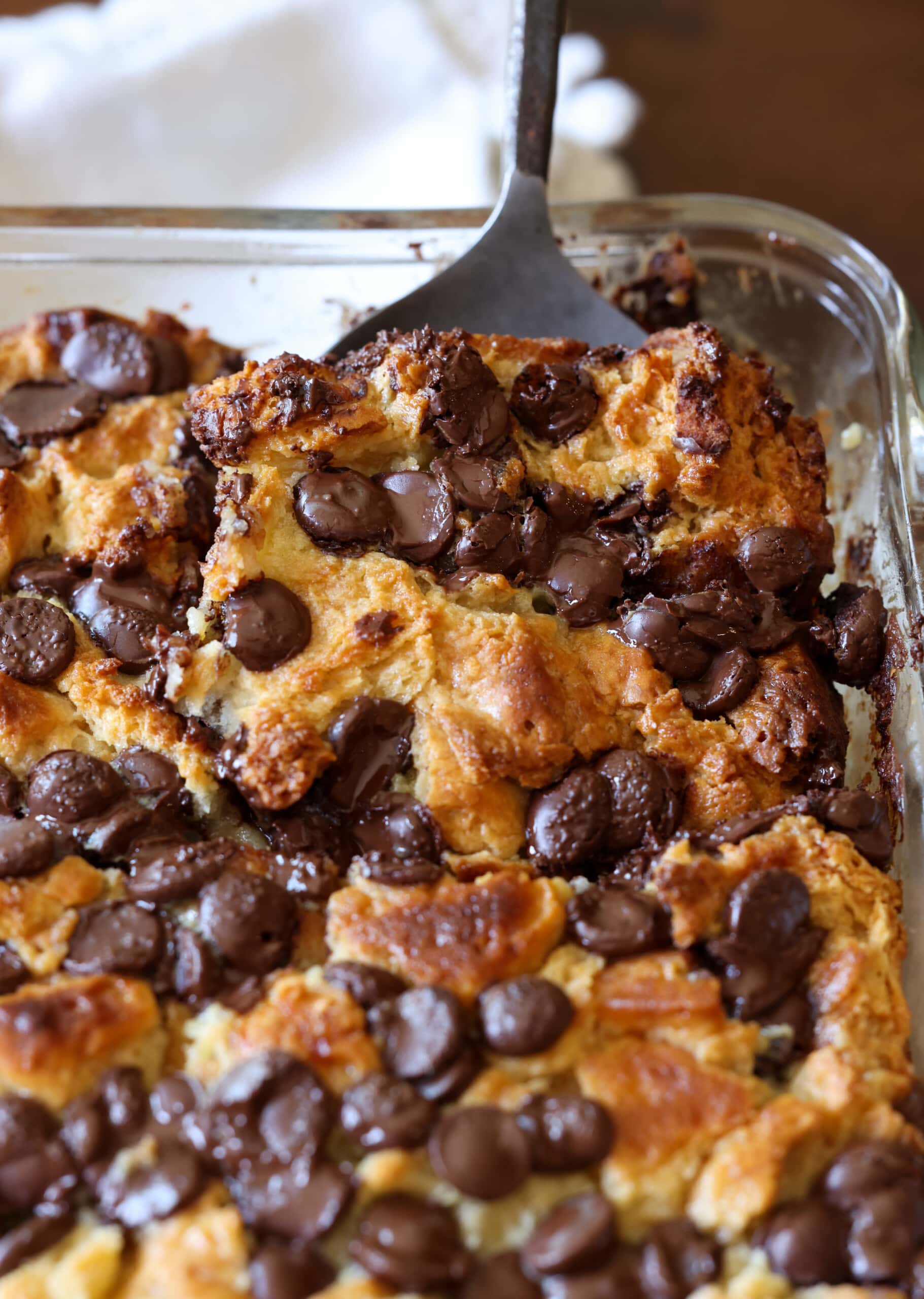 Ingredients:
The full ingredients list and recipe can be found HERE. I partnered with Imperial Sugar for this recipe.
Whole milk
Heavy cream
Large eggs. Make sure they aren't extra large as that will change the consistency of the custard.
Vanilla extract. You could even use vanilla beans in this along with a teaspoon of vanilla as a real flavor booster!
Granulated sugar
Day-old biscuits
Semi-sweet chocolate chips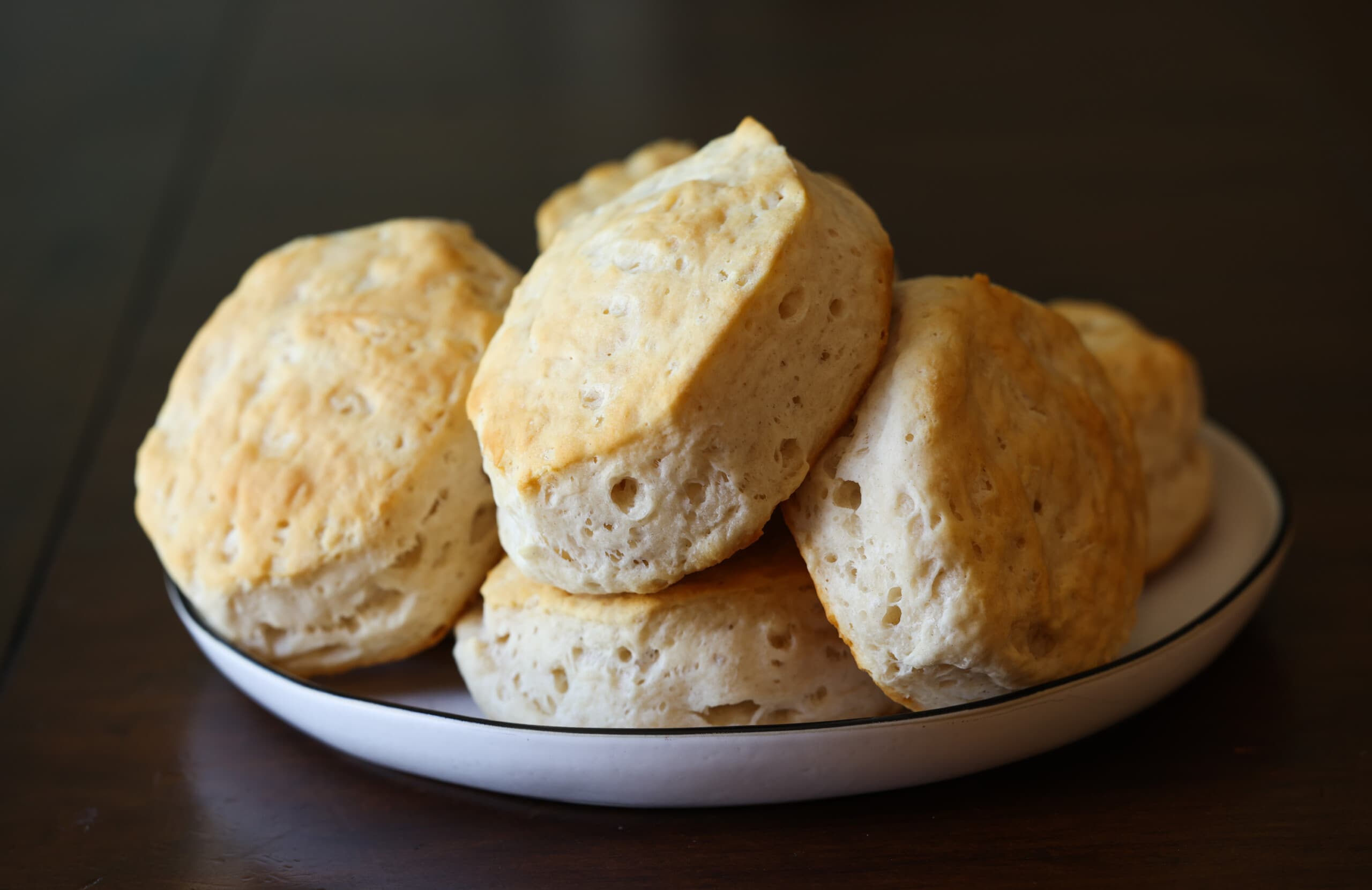 What Kind Of Biscuits Do You Use For Bread Pudding?
Any kind! You can use homemade biscuits, canned biscuits, frozen biscuits…any biscuit works as long as it's baked and less than fresh. I avoid the "flaky layers" style biscuits, because I find classics biscuits just absorb more liquid, but if that's what you have, they will work!
How to Make Biscuit Bread Pudding
I made a video that I shared on both TikTok and Instagram, so be sure to check that out. But the steps are really easy!
Step 1: Cut, tear or crumble the biscuits into bite-sized pieces (1/2- inch-ish in size). Place the pieces into a 8×8 baking dish coated with nonstick spray. You want the pan to be filled 3/4 of the way full. The number of biscuits you use will depend on their size. I typically use between 6 and 7 biscuits.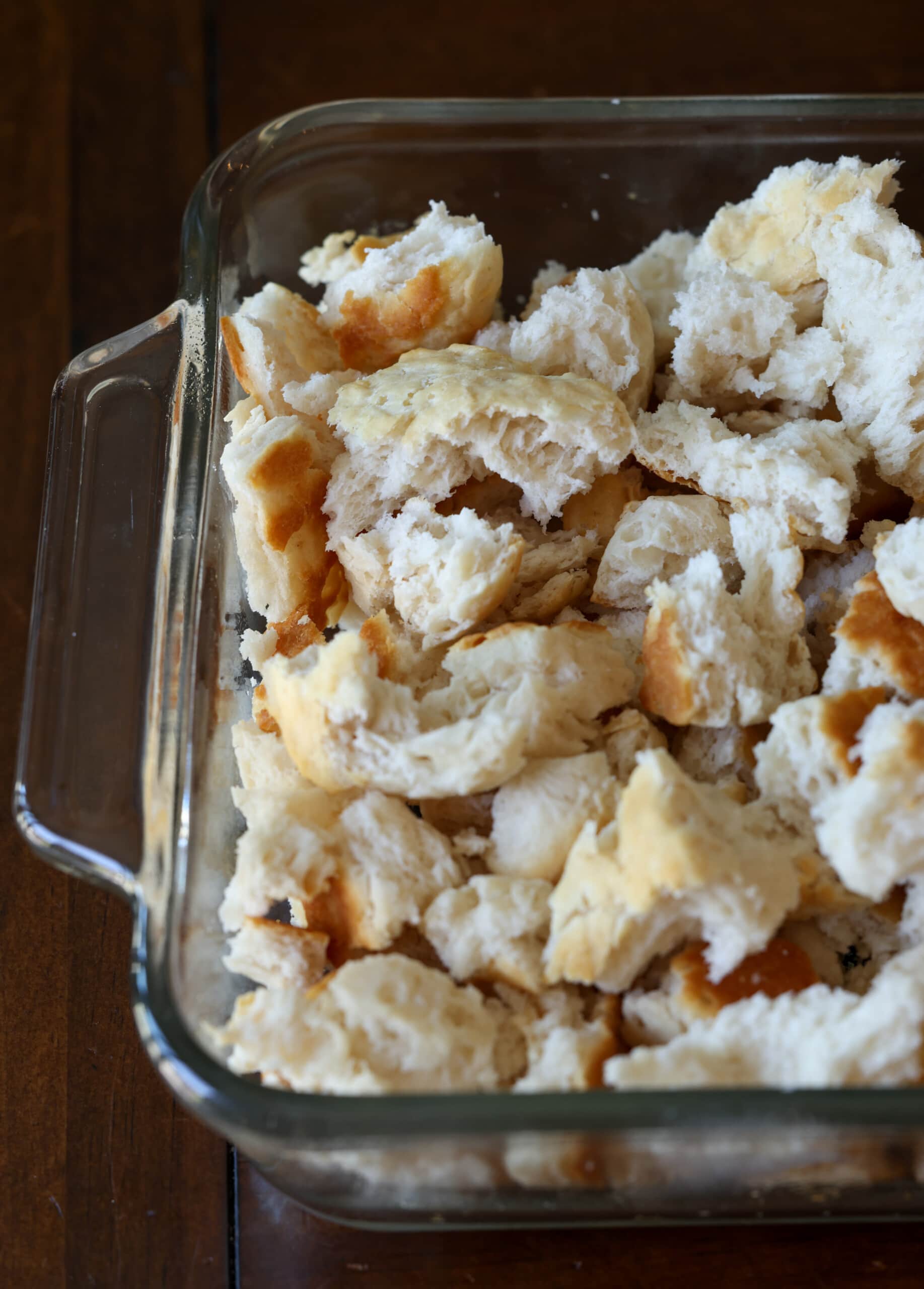 Step 2: Whisk together the milk, cream, eggs, and vanilla.
Step 3: Pour the milk mixture evenly on top of the biscuits and press them down into the mixture, so the pieces all get absorbed with milk. If there are too many biscuits or you skip this step you will end up with dry bites as well as places where there is too much custard.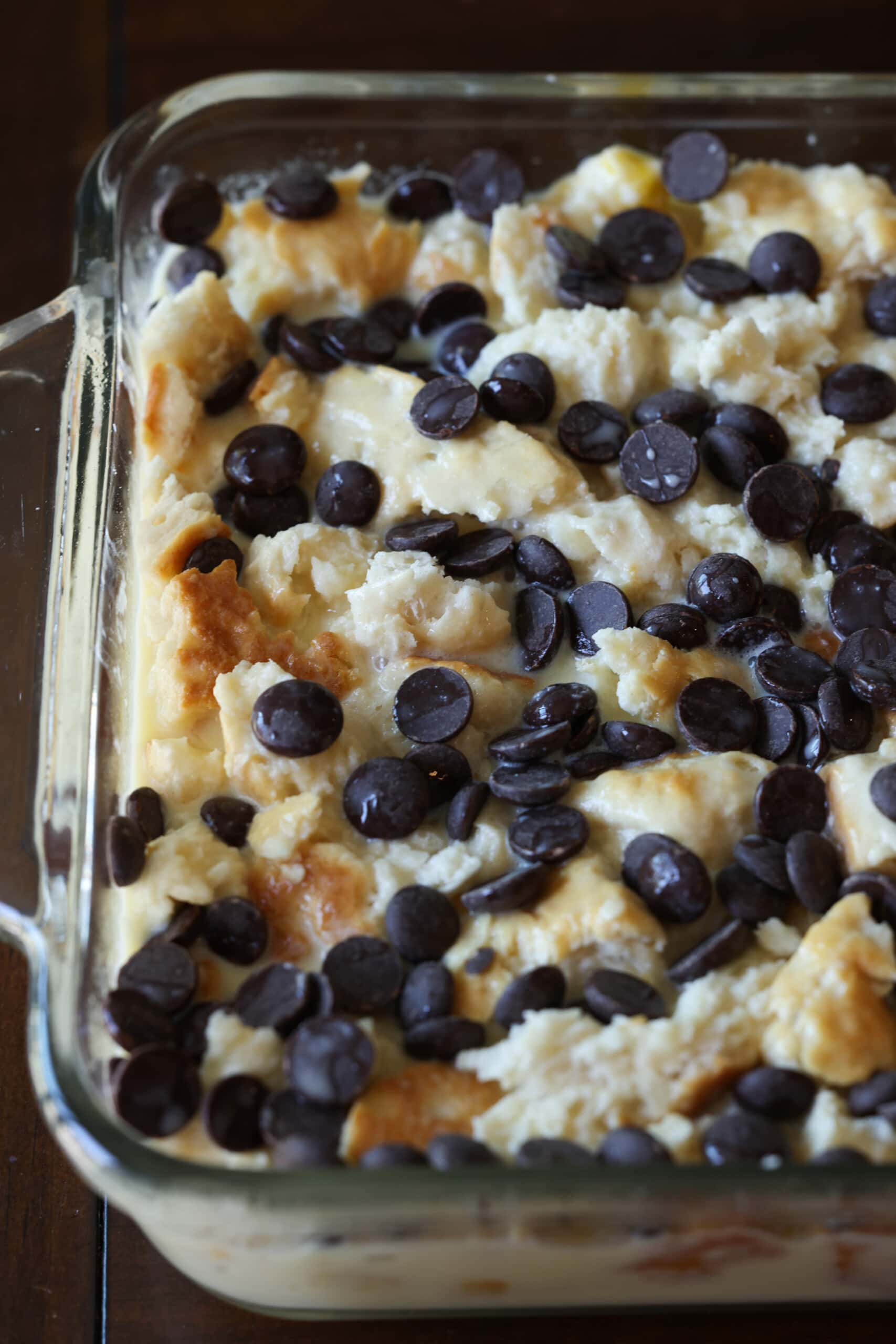 Step 4: Sprinkle the chocolate chips all over the top evenly, pressing them down into the mixture.
Step 5: Let it rest. You will need to allow the unbaked biscuit pudding to sit for 20 minutes before baking. This gives all the biscuits plenty of time to absorb all that custard mixture. Use this time to preheat your oven.
Step 6: Bake the biscuit pudding for 45 minutes, until a toothpick come out clean when inserted in to the center.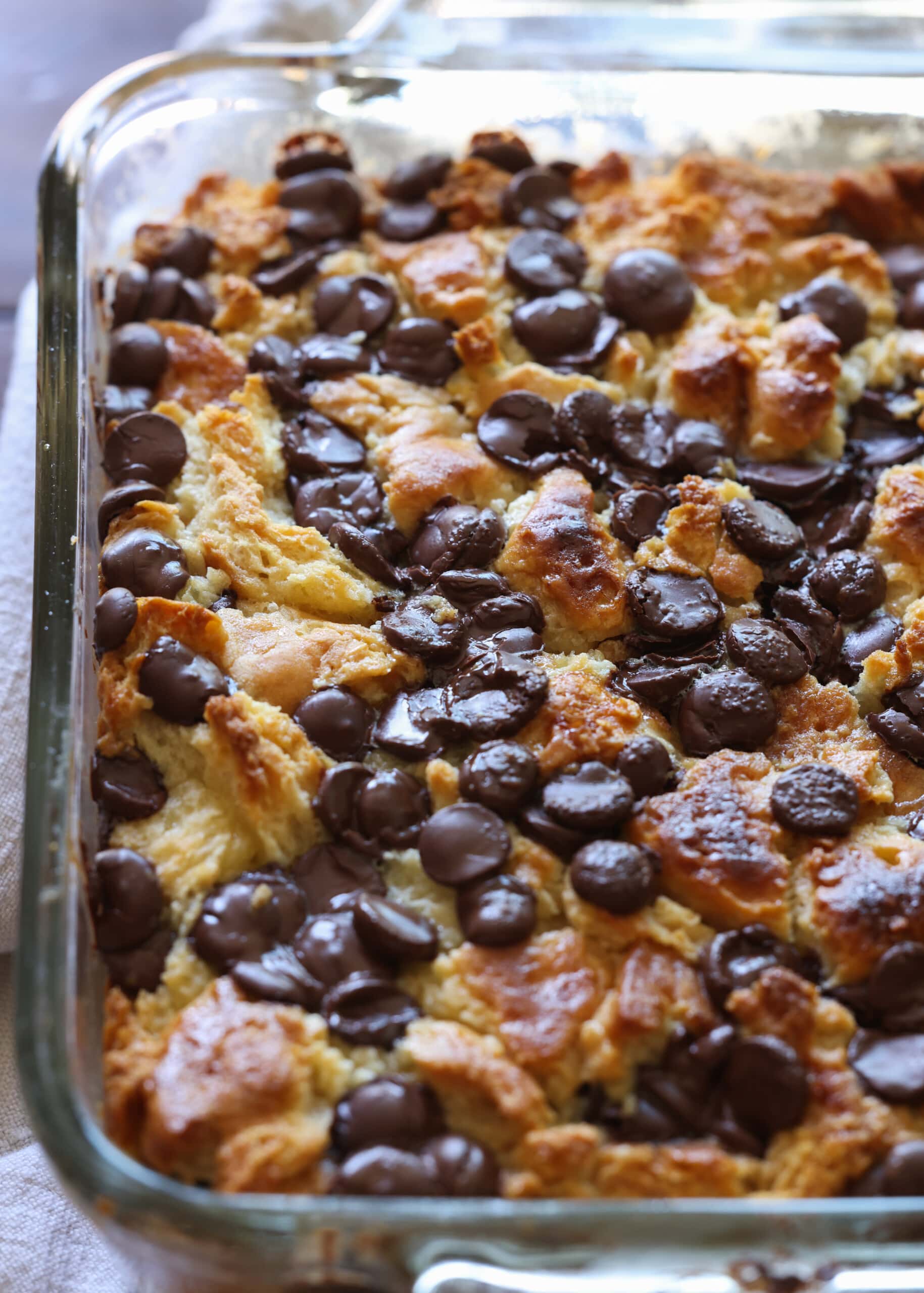 Step 7: Let it cool for 10 minutes before serving in a bowl or on a plate with your topping of choice!
Recipe Variations:
This is a great base recipe that you can really make your own. Here are a few ideas on how to change the flavor profile:
Flavor adjustments: You can add in some cinnamon or a pinch of nutmeg to the custard mixture or even pumpkin pie spice. This can make Biscuit pudding a fantastic fall dessert.
Add Ins: You can swap out the chocolate chips for dried fruit, like raisins, dried cranberries, or dried cherries to name a few. Chopped nuts are another great option, or even use white chocolate instead of semi-sweet.
Toppings: Like I mentioned Ice cream is my go-to topping, but you can also drizzle on some hot fudge/chocolate sauce, caramel sauce, or a fruit sauce too. Wet walnuts are a delicious and unique option on biscuit pudding as well.
Skip the topping and melt 1/4 cup of butter in the microwave. Drizzle the melted butter on top of the biscuit pudding for a real old-fashioned spin. A little honey on top makes it even better!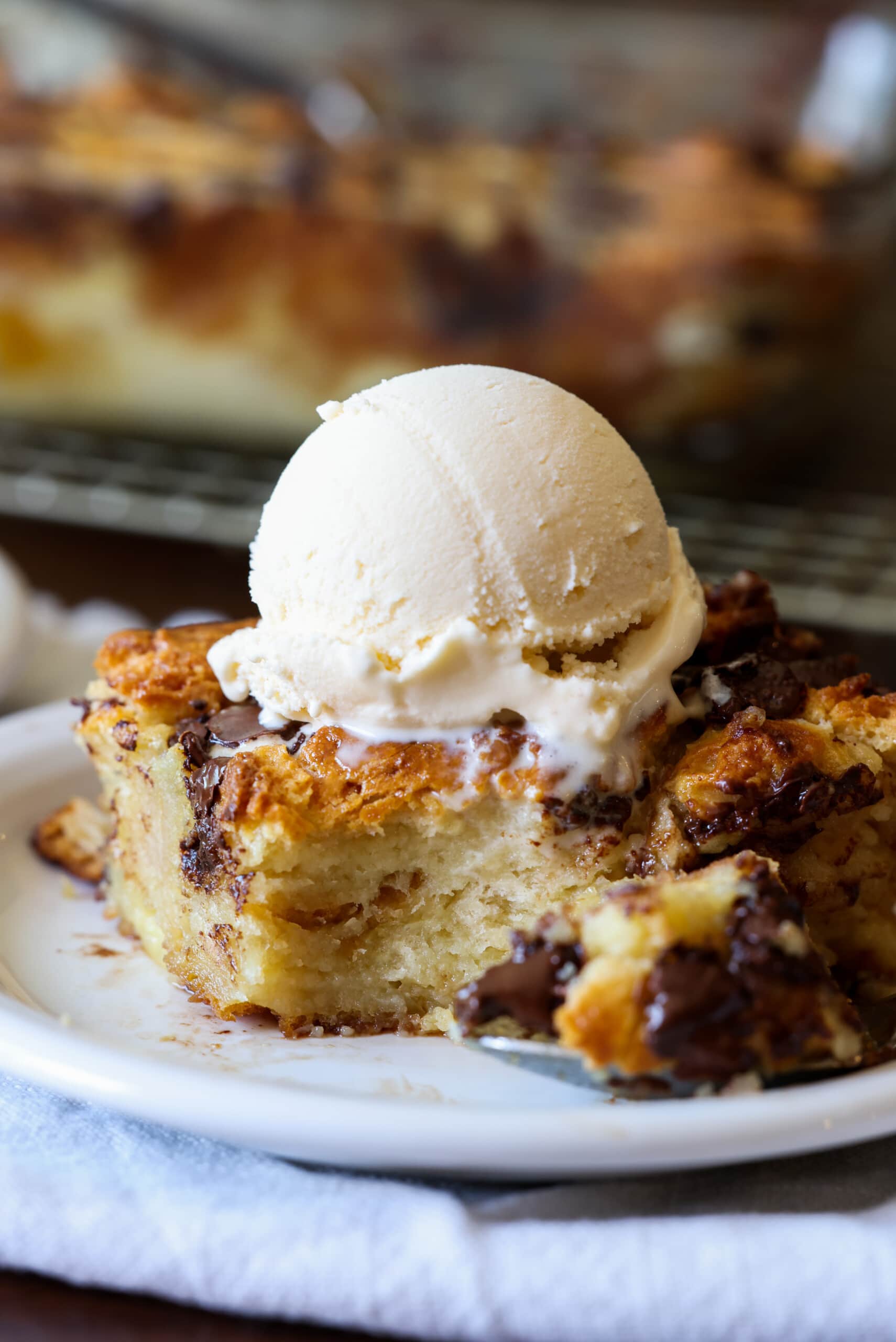 Storage Instructions
Store this biscuit bread pudding covered airtight in the refrigerator for up to 3 days, or in the freezer for up to 30 days for best freshness. Thaw it out in the refrigerator before serving.
To reheat: Use the microwave for a single serving, or cover the pan with foil and heat at 350°F for 10 – 15 minutes.
CLICK HERE FOR THE FULL RECIPE!