Bhune Pyaz Ka Gosht Recipe – Mutton Curry With Roasted Onion & Spices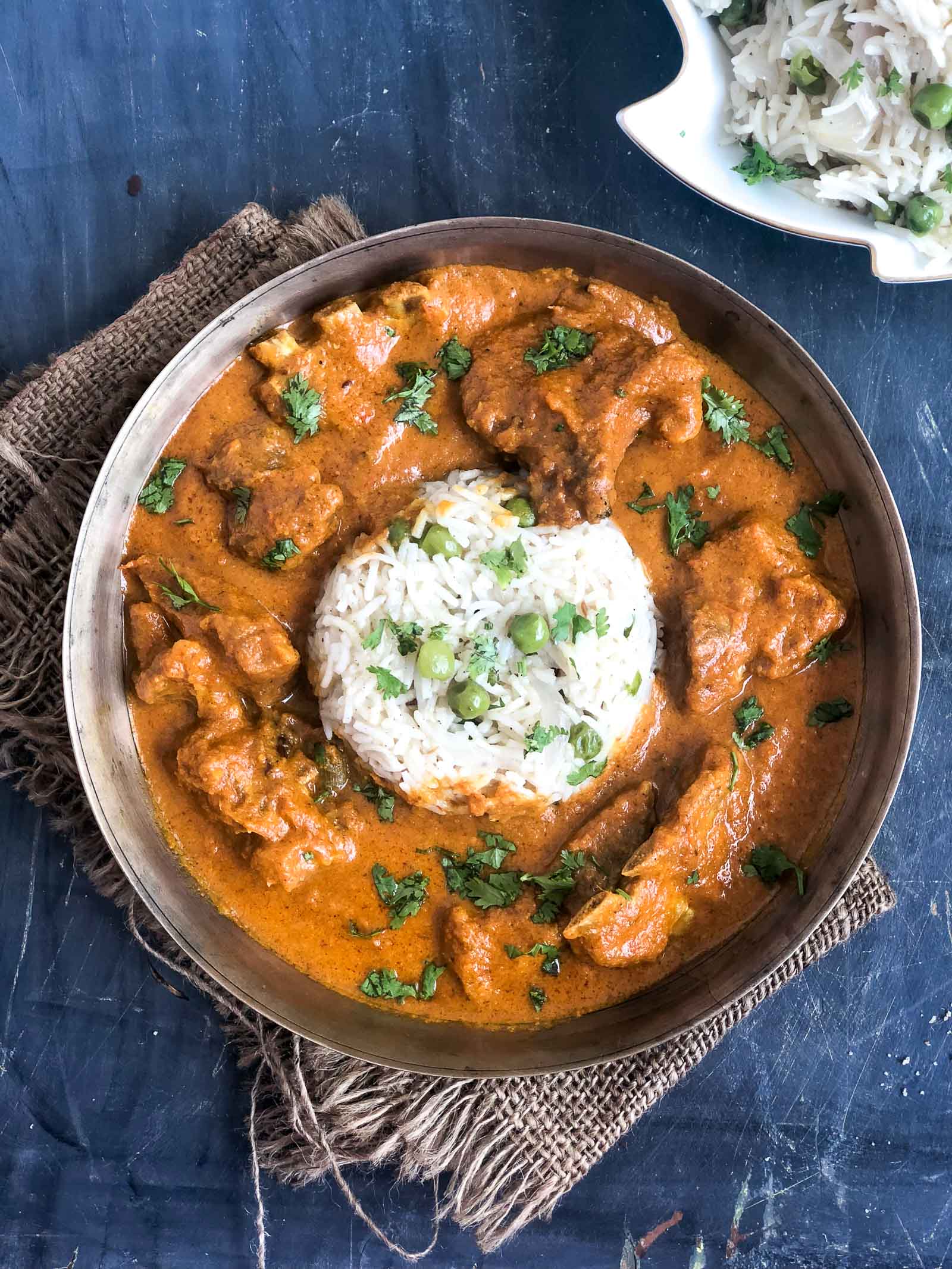 Heat a pan with oil on medium heat, to this add the cinnamon stick, clove, cardamom and cumin seeds.
Once the whole spices have begun to sizzle add the sliced onions and salt, and fry until it turns into a light brown colour.
This will take about 3-4 minutes on medium heat.
When the onions have just about turned brown, add in the ginger, green chilli and garlic.
Continue to fry, stirring continuously, until the onions turn into a deep brown colour.
At this stage add in the dry spice powders – red chilli powder, cumin powder and coriander powder.
Give it a good mix and add in the tomato puree. Cook the Bhune Pyaz masala for about a minute or two and turn off the flame.
Allow the Bhune Pyaz Masala to come to room temperature.
Transfer the Bhune Pyaz Masala to a mixer-jar and grind into a smooth paste using some water. Ensure your mixture is thick.
Heat a pressure cooker with ghee on medium flame, into the cooker add the in cinnamon, bay leaf, cardamom and cloves.
To this add the marinated mutton along with the marinade and continue to cook for a good 10 minutes.
After 10 minutes of cooking the mutton in its own juices, add the freshly ground Bhune Pyaz Masala and the nutmeg and garam masala powder.
Add 1/2 cup of water, cover the pressure cooker and cook for 3 whistles. Turn off the heat and allow the pressure to release naturally.
Open the pressure cooker, give the Bhune Pyaz Ka Gosht a stir, check the salt and spices and adjust according to taste.
Transfer the Bhune Pyaz Ka Gosht to a serving bowl and serve hot.
Serve Bhune Pyaz Ka Gosht Recipe along with Cheese Garlic Naan Recipe, Mint Coriander Spice Pulao Recipe, Pickled Onions, and Handi Biryani Recipe With Chicken. Serve Thandai Kulfi Recipe – Holi Recipe as dessert.