Before and After: I Gave My Dated Galley Kitchen a Modern, Functional Overhaul for $8,000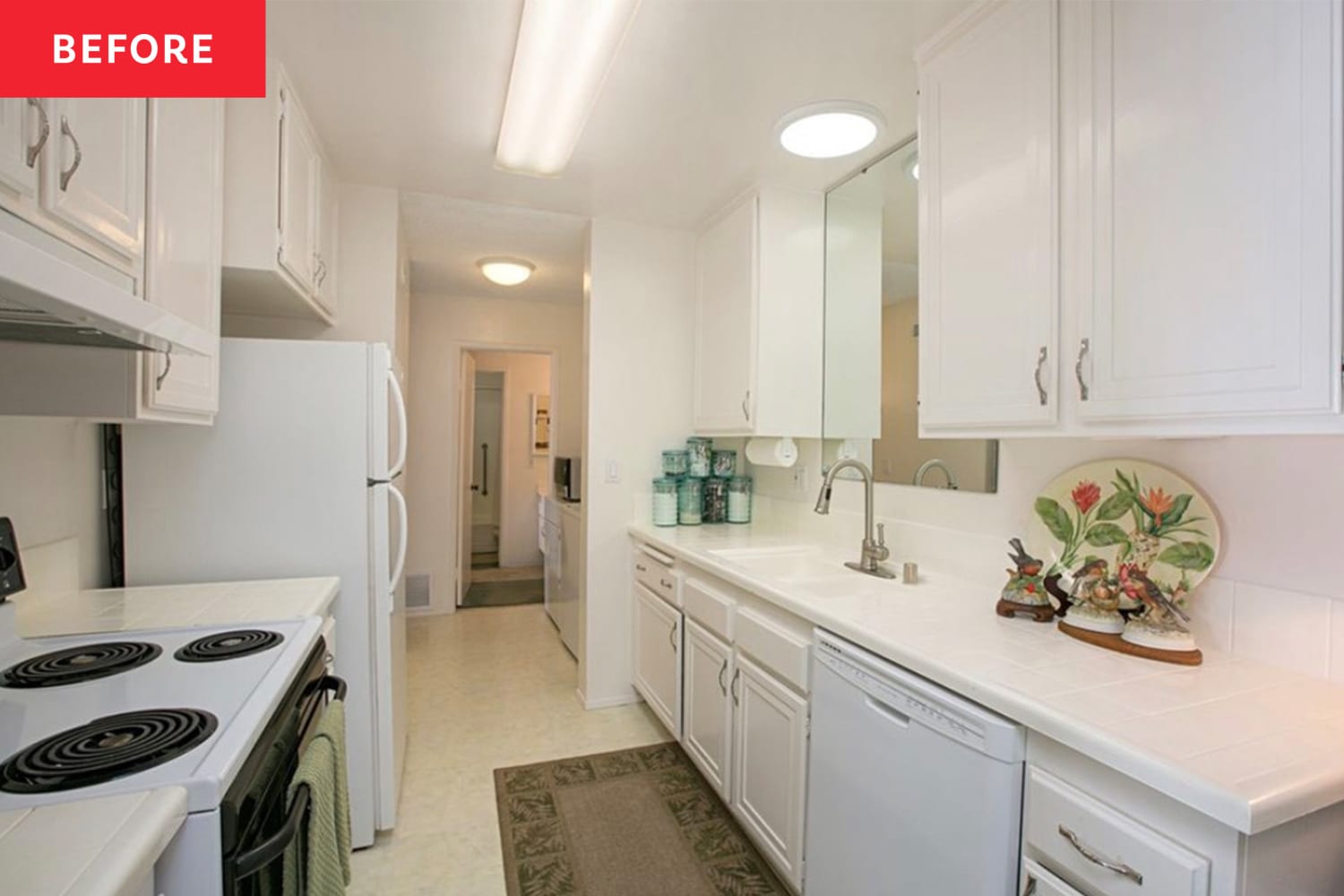 We independently select these products—if you buy from one of our links, we may earn a commission. All prices were accurate at the time of publishing.
When my husband and I bought our condo, our kitchen was at the top of my renovation wish list — but it was actually the last room I touched because of the scope and sheer cost of a kitchen reno. It's a small kitchen, so I wanted to maximize space and storage without compromising style; I also wanted to DIY most of the reno to save money wherever I could.
The kitchen's galley layout was pretty well-designed, leading from the dining area straight back to the laundry room and bathroom. But a wall separated the living space, making an already-crammed 900-square-foot floor plan feel even tighter.
Some elements of the kitchen worked for us, like the locations of the appliance hookups and the solid wood cabinets that went all the way up to the ceiling. Other pieces, though, were in serious need of updating: Everything was painted and repainted in various shades of white that didn't match, and the previous owner had coated the tiled countertop in a white enamel that was impossible to keep clean. And despite the white paint, white countertops, and white laminate flooring, the kitchen didn't feel bright and airy — rather, it felt dingy and lifeless.
My main goal in the renovation was to create a bright, open concept kitchen with personality — not to mention, storage. I started by making a list of what I felt comfortable DIYing and what I needed a professional to help with. I knew from my previous bathroom renovation that I could handle things like tiling, drywall, and any cabinet upgrades I wanted to make. I also knew I needed to budget for some big-ticket items like new appliances and a more durable countertop replacement.
I started the renovation with a few days of heavy demo, which included removing a 5-foot section of wall (and cabinetry) between the kitchen and living room. In every renovation, there's always a scary point of no return; removing a wall is probably the epitome of that.
Once that wall was gone, the space felt like it had almost doubled in size. This was great, but I had also just eliminated four cabinets' worth of storage! To gain back some pantry storage, I ended up designing and installing floor-to-ceiling built-in cabinets along the dining room wall. Two floating shelves connect them to the kitchen to make it all feel like one big space.
I had already created custom built-ins for my laundry room revamp, so I had some experience that helped me build these in a weekend. Since you're basically just constructing large plywood boxes, it can go surprisingly fast once you have all your measurements worked out. Wood trim helped hide the plywood edges, giving the cabinets a finished look. After adding doors, I painted the whole assembly using a durable cabinet paint in a creamy beige (Valspar's Oyster Shoal).
For the floating shelves, I ended up sourcing a solid white oak hardwood from a local lumber supply that I hung using floating shelf brackets. I loved the look of the raw wood, so I decided on a colorless sealant to maintain that coloring but protect the wood from damage. My absolute favorite feature in the built-ins is the new hideaway drawer for the trash and recycling cans; now, they are completely out of sight, which is nice in a small space.
After the storage along the wall was complete, I focused on the backsplash and counters in the kitchen. We live by the coast in a San Diego surf town, and I knew I wanted a breezy, light feel. I always gravitate toward choosing neutrals for larger, more permanent materials — it gives me the flexibility of adding pops of color with artwork and decor that I can change out more frequently.
I came across Moroccan zellige tiles scrolling on Instagram and knew I wanted to use them. The handmade tiles come in all different colors and finishes, so I decided to mix and match unglazed natural with glazed white tiles for the backsplash. That gave me the neutral color palette I was looking for, but added in some interesting variation. And since I tackled the tile installation myself, there was room in the budget to splurge a little on my counters.
For those, I ended up going with a gray-veined white quartz. I loved the look of marble, but not the required maintenance (or the price). Quartz gave me a similar look, but was durable, easy to clean, no-maintenance, and cheaper than marble.
The kitchen's cabinet boxes were in pretty decent shape, so I just needed to focus on the doors. There are plenty of door-making tutorials online, but a surprisingly cost-effective (and much easier) option is to order online from a custom cabinet door maker. I chose Shaker-style doors for a modern look that balances well with the beautiful handmade tile backsplash. Fresh paint helped everything look brand new; I used the same cabinet paint as the built-ins for the lower cabinets (Valspar's Oyster Shoal) but chose Valspar's Bistro White for the upper cabinets. Choosing black appliances and a black sink helped to tie in the new dark herringbone tiled floor I selected and installed.
New brass touches — including cabinet hardware — finished the look. A friend of mine introduced me to unlacquered brass knobs, which were a great pick here. Without a protective finish, unlacquered brass develops a beautiful patina over time that gives it a vintage, lived-in look. But if you get tired of that, you can always polish the patina away to bring the hardware's shine back.
The renovation took me about six months and $8,000 to pull off. Yes, if I had hired a contractor for the entire renovation, it would have been faster — but also twice or maybe even three times as expensive! While DIY can be intimidating, picking things I knew I could do gave me some extra flexibility. The DIYs might have been challenging at times, but they helped me allot more of my budget toward the big stuff (like new appliances and higher-end materials). It's a great feeling to kick back at the end of the day and admire your hard work!