An IKEA Kitchen Remodel for an 1870s Farmhouse: Part 1
How one homeowner said goodbye to years of kitchen dissatisfaction thanks to a modern IKEA kitchen design from IKD.
Old farmhouses are charming, but they often have little quirks that just don't fit with modern home design. One of these common culprits is a small kitchen. It wasn't so long ago that people were just excited to have indoor plumbing and a way to cook without stoking a flame.
In short, old farmhouse kitchens valued function over form, and as new kitchen gadgets and appliances became the norm, even functionality began to diminish.
This is the issue homeowner Thomas has struggled with since the day he bought his Maryland farmhouse. Over the years, he tried several minor DIY renovations to improve his small kitchen. He ripped out the upper cabinets intending to install open shelving—which never happened. He also repainted the kitchen green, hoping to brighten it up.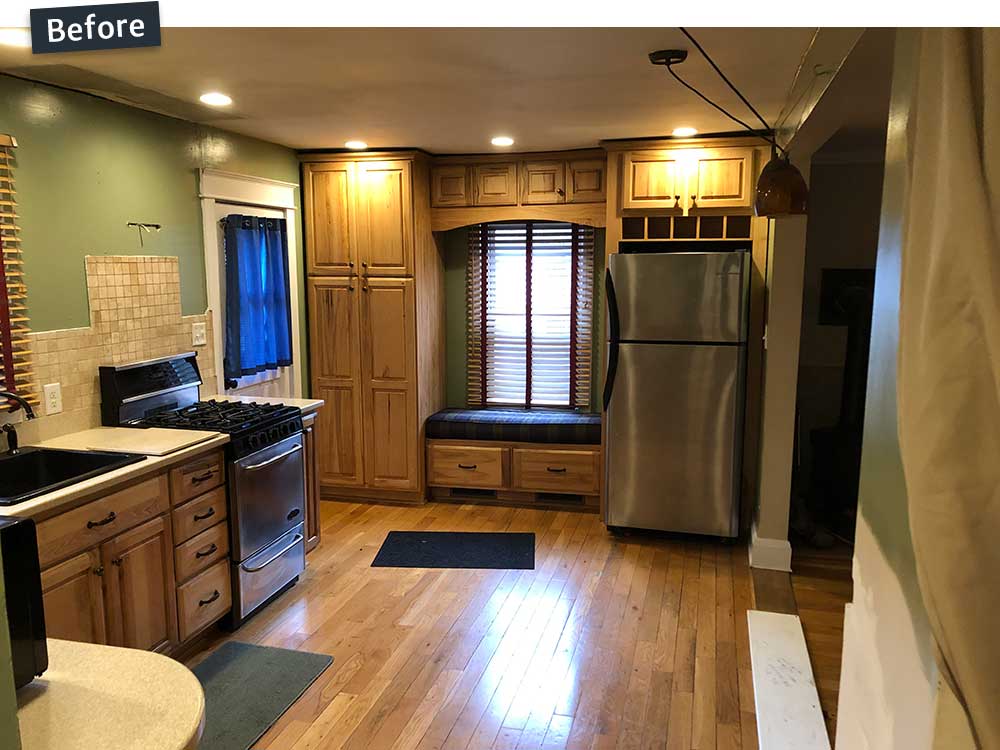 The turning point for Thomas was when he decided to sell the home. He knew he had to do something to make the kitchen appealing to buyers, and he turned to his realtor (who also happens to be a retired IKEA co-worker), Baltimore Betsy, for help.
Replacing upper cabinets became a full IKEA kitchen makeover.
Thomas intended to replace the upper cabinets and call it a day. When he and Betsy spoke with the original cabinet supplier, Home Depot, they discovered that Kraft Maid had discontinued the Hickory fronts in 2010. Of course, they offered alternative solutions:
Replace the wall cabinets with a similar Hickory front for $4,800.
Replace the wall cabinets with an off-white solution for $5,600.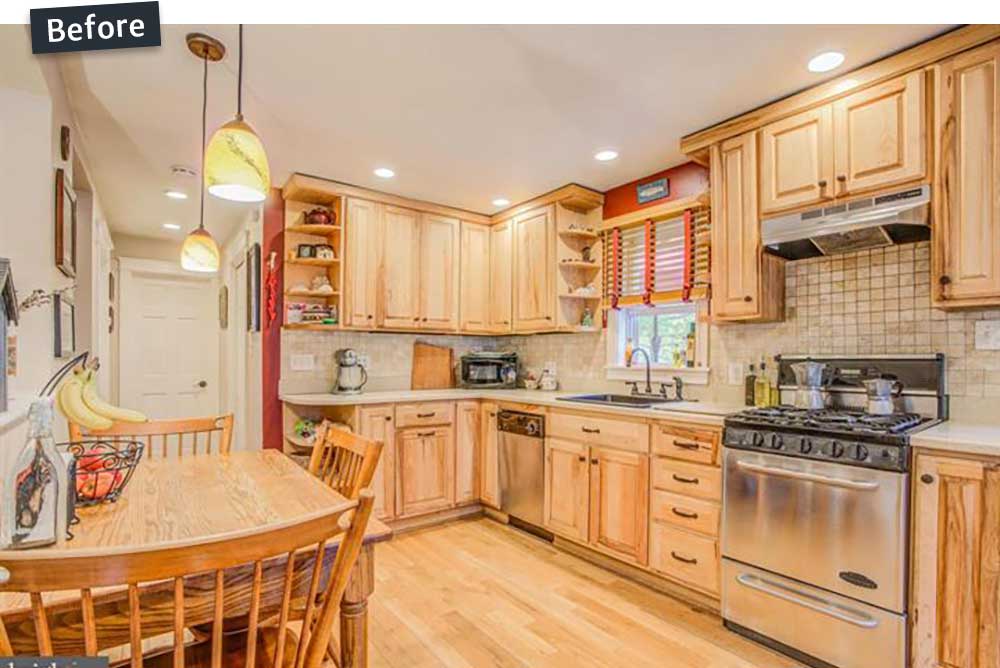 Betsy knew he could get a similar look to the off-white cabinets for much less with the IKEA BODBYN cabinets. By her estimate, the upper cabinets would only cost about $2,200. Thomas agreed to her plan, and they met at IKEA to make the purchase.
Then, the stars aligned.
At that time, IKEA was running a special for current and retired employees that allowed friends and family to take advantage of their discount. On the spot, this homeowner decided he couldn't resist such a good deal and decided to replace everything.
Personalized IKEA Kitchen Designs
Created by Certified Designers
This former IKEA co-worker knew where to turn for a kitchen designer with a quick turnaround.
A new goal of the kitchen renovation became making it more spacious, which they planned to achieve by removing a half-wall and replacing it with a seating area and custom countertop. Betsy's first instinct was to use the online IKEA planner, but she quickly realized its limitations wouldn't allow her to design with the new seating area, planned window seat, or microwave.
Betsy, who has worked with IKD before, recommended our services because she knew we could design a BODBYN IKEA kitchen quickly and accurately. They had to act fast, or they would lose that extra discount.
"I recommended IKD because they're familiar with IKEA kitchen installations, and I knew we would get a professional plan with elevations." – Betsy A.
Within a few days, IKD had a design and an itemized shopping list ready for Thomas.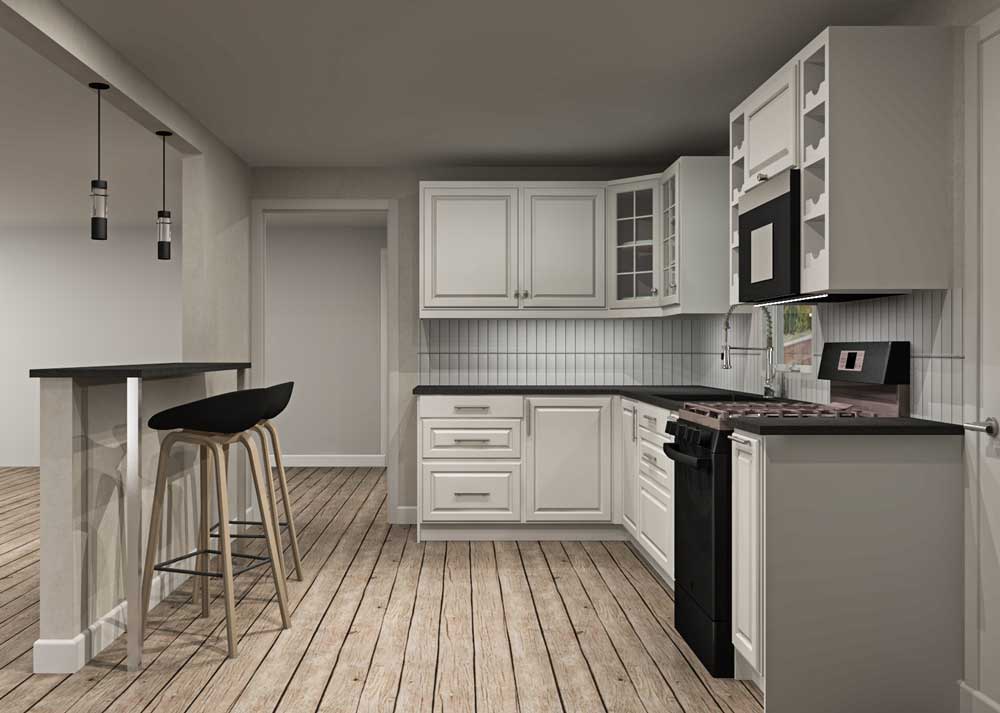 Backorders weren't a problem at the Baltimore IKEA.
The next step was to meet back at the IKEA Baltimore Store and buy the parts for Thomas's new kitchen. They walked through the showroom together, and Thomas selected fronts, countertops, handles, a sink, and a faucet.
He signed up for the IKEA Projekt Card, which let him purchase everything with 0% financing for two years, and the IKEA Family Card, which offers 5% off purchases and a 90-day price protection. After Betsy's friends & family discount, the total cost of in-store items was $7,400—including custom quartz countertops! They also stopped in to the As-Is department and found two SEKTION base cabinets for 50% off. Some things they needed for the BODBYN kitchen were unavailable in-store, so they spent an additional $1,200 ordering from the IKEA distribution center.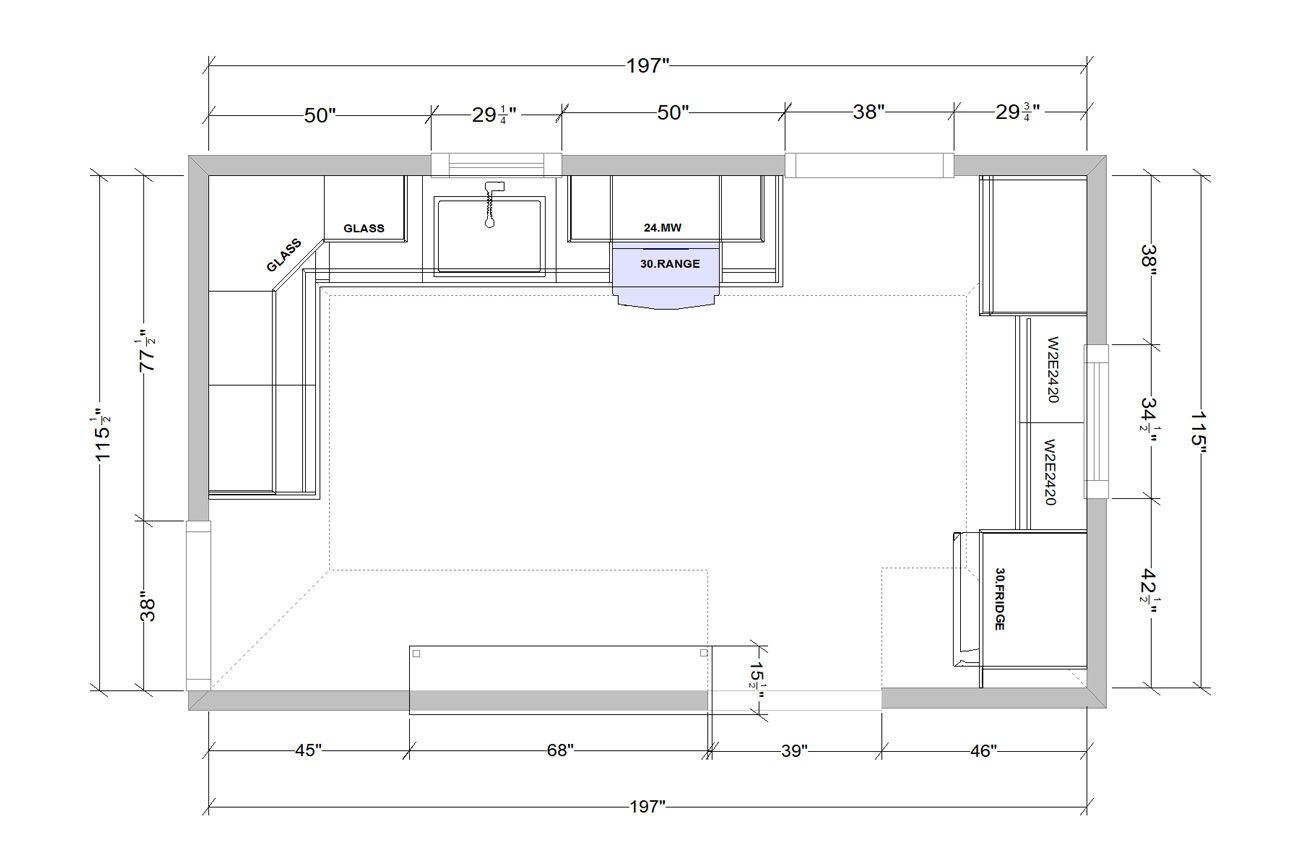 Still, all the items they needed were delivered within two weeks. Betsy and her client experienced no problems with item availability at IKEA.
The new IKEA kitchen will be this old farmhouse's main selling point.
Thomas recognized an opportunity to help potential homebuyers look past the number of baths and bedrooms in his farmhouse and focus on cooking and gathering in the spacious, modern kitchen. Skilled design ensures that the updated kitchen will still look like it belongs with the rest of the dated home—think modern farmhouse—while IKEA products help the homeowner complete this update at an amazing value.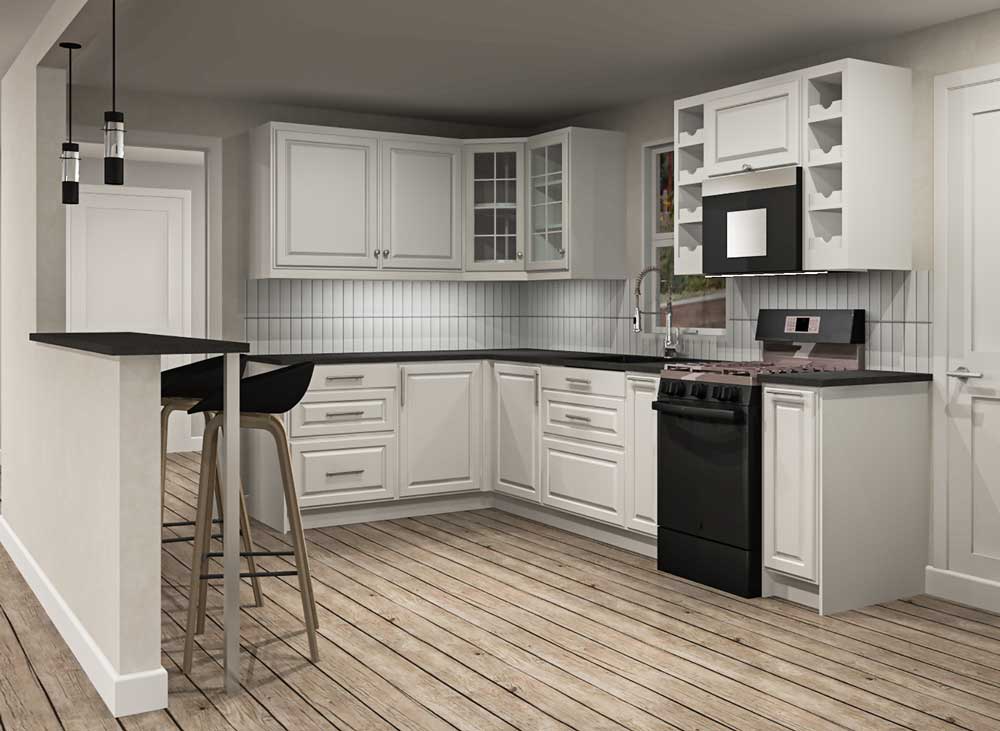 Thomas lucked out when he discovered he could take advantage of Betsy's discount. However, the numbers don't lie: He would have saved $3,400 by choosing BODBYN cabinets even if he had stuck with his original plan of replacing the upper cabinets at full price.
Stay tuned for updates on this IKEA kitchen renovation!
Over the next month or so, we'll follow Baltimore Betsy's 1870s farmhouse renovation project for her client, Thomas, and you'll see how a knowledgeable IKEA installer executes an IKD kitchen design from start to finish.
Get a Professional IKEA Kitchen Design – All Online
Work with our certified kitchen designers to get a personalized kitchen designed around your needs and vision. If you're interested in learning more about our service, make sure to check out our IKEA Kitchen Design Services.