A 'Full-Blown' Maryland Contractor and IKEA Kitchen Installer shares some great tips
"The smaller the kitchen, the more challenging it becomes."
If you're an IKEA customer new to the remodeling and cabinet installation process, you probably have questions. One of those questions is likely whether you can assemble and install your IKEA cabinets yourself. We understand. Perhaps you're looking to save money or you've done research of IKEA kitchens online. Or you've had some experience with DIY kitchen projects and feel like you're up to the task.

However, many IKEA customers also quickly realize one thing about cabinet installation: They don't know what they don't know! That's the sentiments of Bill Shipley, owner of TGB Contracting in Bowie, MD, a full-blown general contractor who offers IKEA kitchen cabinet (and other room) installation services as well as HVAC services; design services (if required); trim carpentry and custom modifications of cabinetry and millwork, among other services. Not only is Bill's business veteran-owned but he also estimates that his firm has installed well over 3,000 IKEA kitchens over the past 10 years. So he knows his stuff!
We had the chance to sit down with Bill recently and he shared his insights into
the IKEA kitchen cabinet installation process; how his company operates; the importance of a solid kitchen design plan and steps homeowners can take to reduce their stress — and costs — whether using IKEA cabinets or third-party custom cabinet fronts from Semihandmade (SHM), for example, for their kitchen remodel.
Let's hear from Bill!
Personalized IKEA Kitchen Designs
Created by Certified Designers
IKD: So how did your company get started working with IKEA?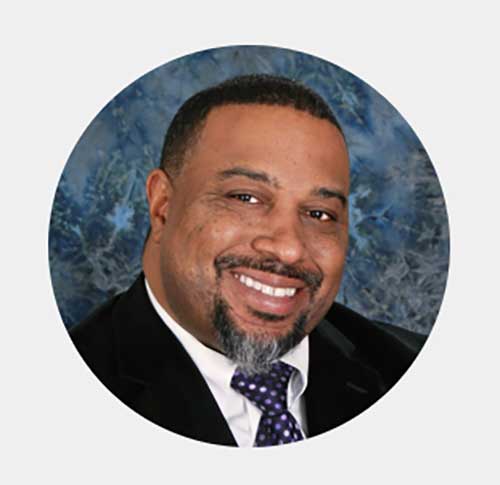 Bill: I've been dealing with IKEA products probably for a good 10 to 15 years. I had cut my teeth with a company called Birch Associates here in Maryland, and I served as a kitchen designer. That was really my introduction to IKEA. I worked there for a few years and then we had an opportunity to go with a company called Osprey Bay Building and Development, that was much larger. That was how I got into hands-on doing the cabinets — going from conceptual and dealing with the client, to actually swinging the hammer in the field. When they went out of business I decided to hang my own shingle. So I've been a general contractor consistently for the last 10 years and we really focus on the IKEA product.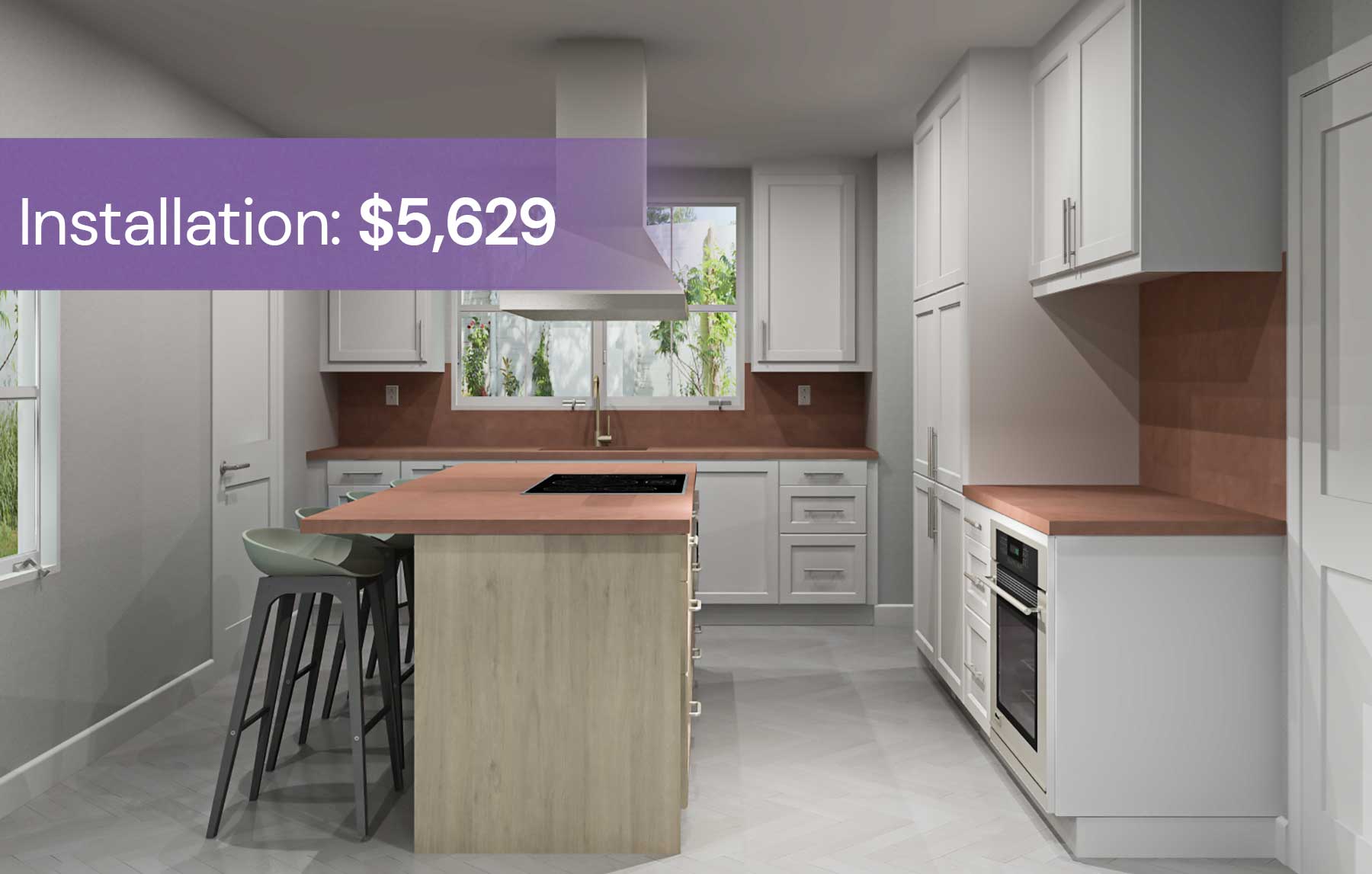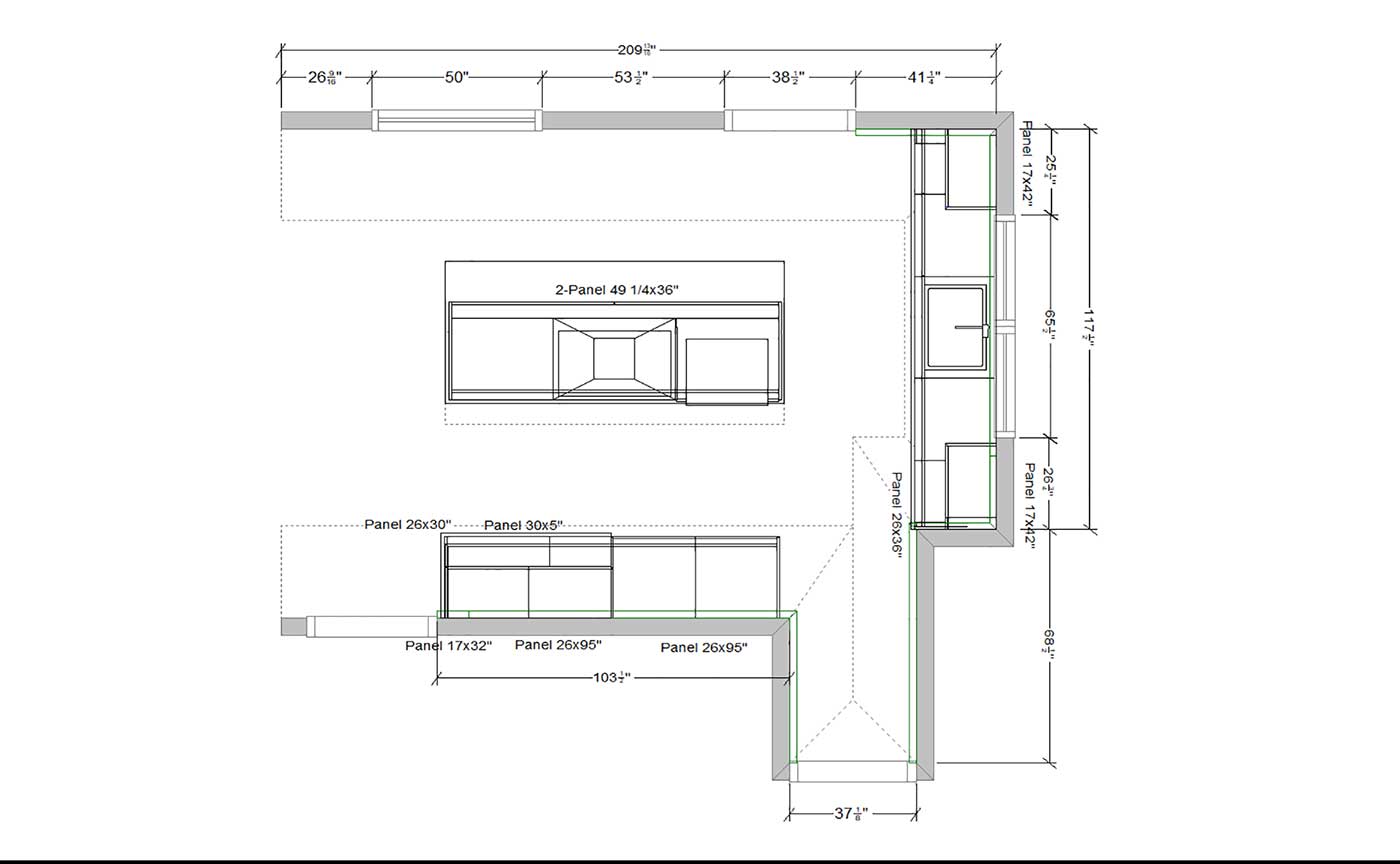 IKD: How do your customers usually find you?
Bill: Right now we use three different paid services; one is Thumbtack, the other is The Marketing Guild and then we do ads. We do normal ads on Facebook and ads through LinkedIn. Referrals always work well too.
IKD: What is the geographic radius of the area you serve?
Bill: We are located in Bowie, Maryland, which sits in between Baltimore and Washington, D.C. We cover the whole state of Maryland for the most part. We'll go as far as Cumberland County, which is at the western part of Maryland, all the way out to Ocean City and the eastern shore.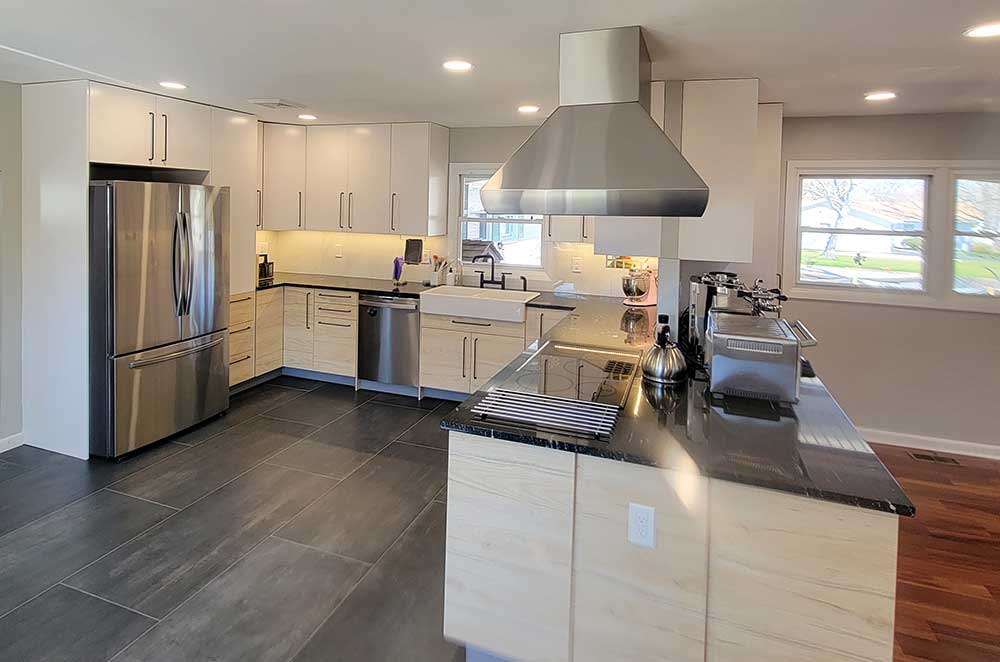 IKD: Have you ever had occasion to go outside the state?
Bill: Yes, so we're licensed in D.C. So we do work in D.C. on a case-by-case scenario. It is not fun to do work in Washington. There's no parking and you can't put a dumpster anywhere. So it tends to be kind of a hassle, but we have done lots of projects in Washington D.C.
IKD: And what services does your company provide?
Bill: We're a full-blown general contractor. We offer installation services, we offer electrical, plumbing, and HVAC services. We also offer design services if that's required. And then for our larger jobs, we also get into trim carpentry where we get into the higher-end custom and custom modifications of cabinetry and millwork.
IKD: So you do cabinet hacks? Can you talk a little about that?
Bill: When we really got into cabinet hacks we didn't have a choice. You think the smaller the kitchen, the easier it is. But it is exactly the opposite. The smaller the kitchen, the more challenging it becomes. So we were able to really learn how we can modify the IKEA frame without messing with the structural integrity. If we're going to shorten the height or shorten the depth we'll come up with custom blind cabinets to make it happen. Those are some of the basic hacks that we would do. We also do Semihandmade (SHM) doors. We have one gentleman whose a cabinet maker and he will make his own custom doors to accommodate a customer.
IKD: Do you have any favorite hacks that you've done over the years?
Bill: The ones that really have been received the best have been ones that require like six inches of filler. We won't give you six inches of filler, instead we'll create a custom frame for you. We'll customize that because on the IKEA side the smallest drawer front is five inches. We'll customize that and give them that so it matches on both the wall and the base. Those are the most appreciated hacks that we've done.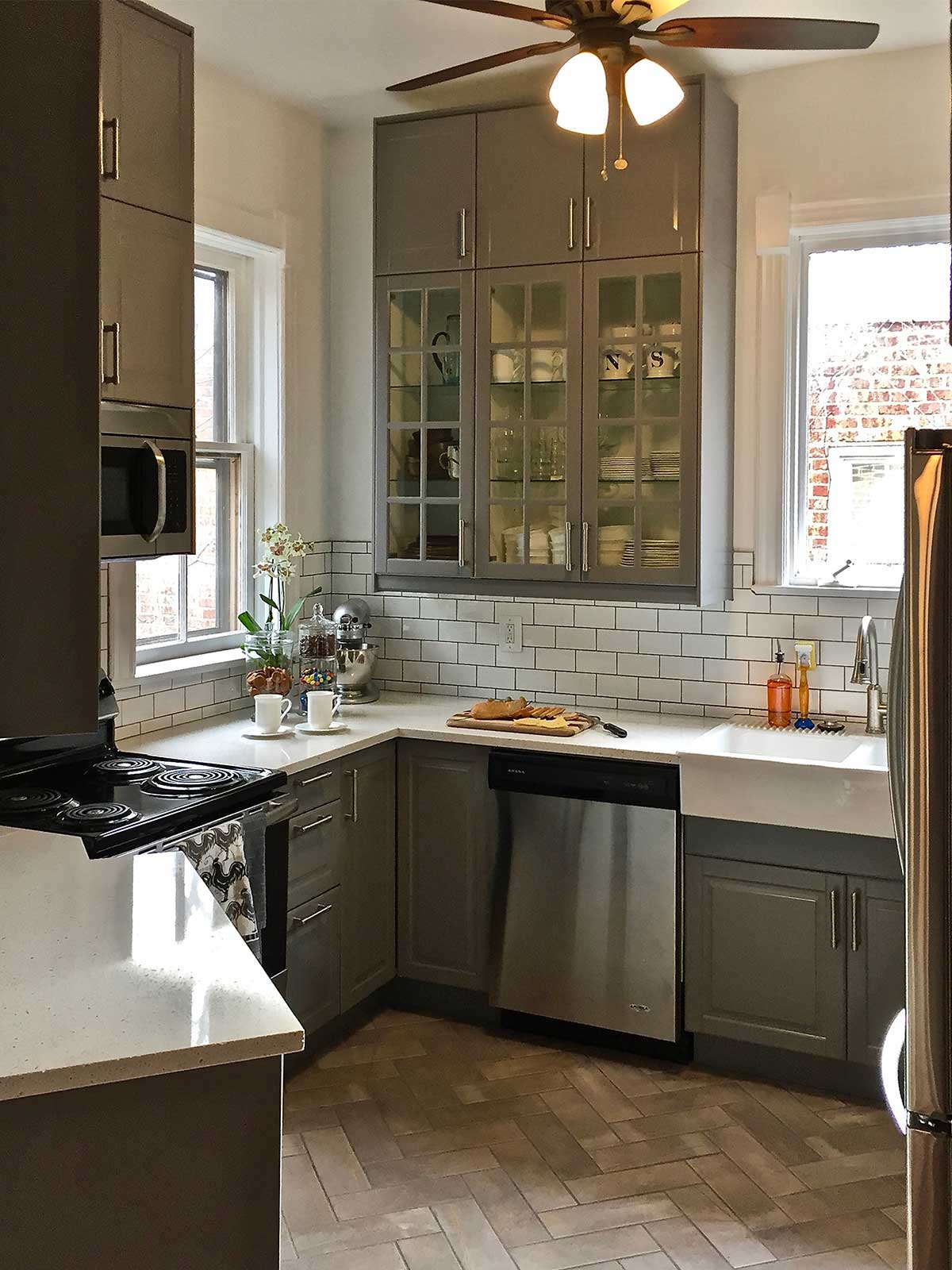 IKD: How about Rev-a-Shelf internal organizers and things like that?
Bill: We have used many third-party interior mechanisms. We use Rev-a-Shelf and other third-party accoutrements all the time and we have that conversation during planning and we'll look at functionality and what they want within their new kitchen. So if it's something that they want from Rev-a-Shelf then we have a relationship with them or an account (and can order what they need).
IKD: How do you charge for your hacks?
Bill: Any custom modification of the frame has a standard upcharge. It's a standard $75. It doesn't matter what it is.
IKD: Do you do demolition?
Bill: Yes, we are a turnkey solution for them. Our team is pretty loyal. As long as we keep them moving, they have been loyal with us. When there's been down times, we have a program that's set up for them where we take X amount of money out of their projects and put it into a rainy day fund.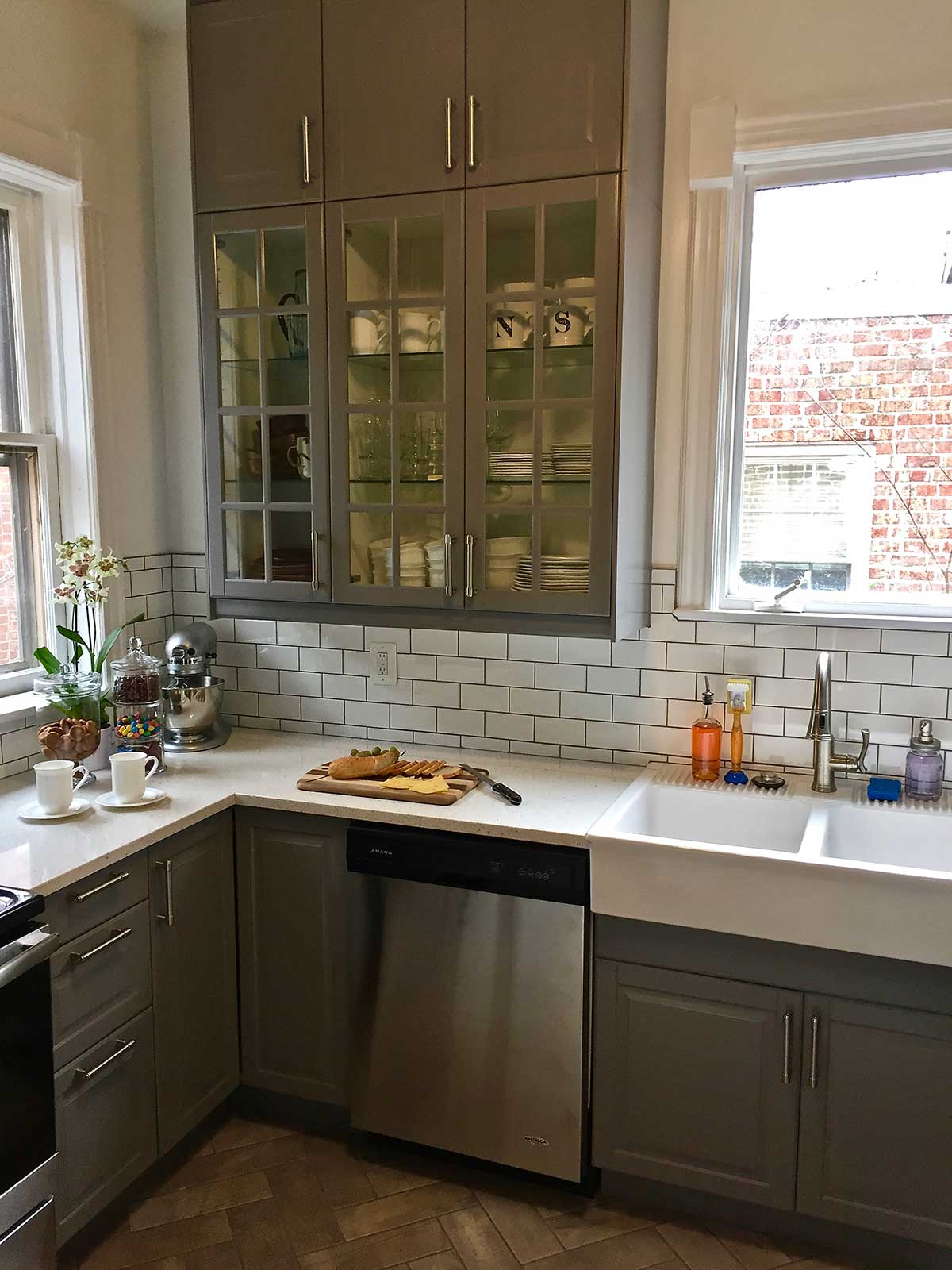 IKD: Can you walk us through your installation process and explain each phase?
Bill: Typically 48 to 72 hours prior to day one, we do a final walkthrough. That's when the project manager actually takes the drawing and walks with the homeowner one last time. We'll pop the lines and make sure everything fits properly. Assuming that all works out well, we then go into a cabinet inspection where we start looking at the material to make sure nothing's damaged and make sure everything is there on site. We do that at 48 to 72 hours to give us a little bit of fudge factor to adjust if we have to. It's not unreasonable for us to find something missing and then we'll hit three of the four IKEA stores in our market. There's been times when we've driven up to Philadelphia — which is the farthest north I'd be willing to go — to make sure that we have the parts. We always try to make sure everything is on site prior to starting a remodel project.
So on day one, we come in and it's basically the project manager and the lead installer. We walk the project. We put up the walls, discuss the plan and the schedule as well as all the contact information with the different stakeholders, (including the project manager, the lead installer, the plumber, myself, and the electrician). Then day one and day two is demo and disposal. Day two typically is wall repair. Day three, we start assembly and installation. We typically run about eight to nine cabinets per day.
Once we get the cabinets and frames in place and they're nice and level, then we have our countertop folks come in and template. Once they're done templating, we wait for them to come back and fabricate. We have three fabricators that we deal with locally, so we're able to get our turnaround times in about three days.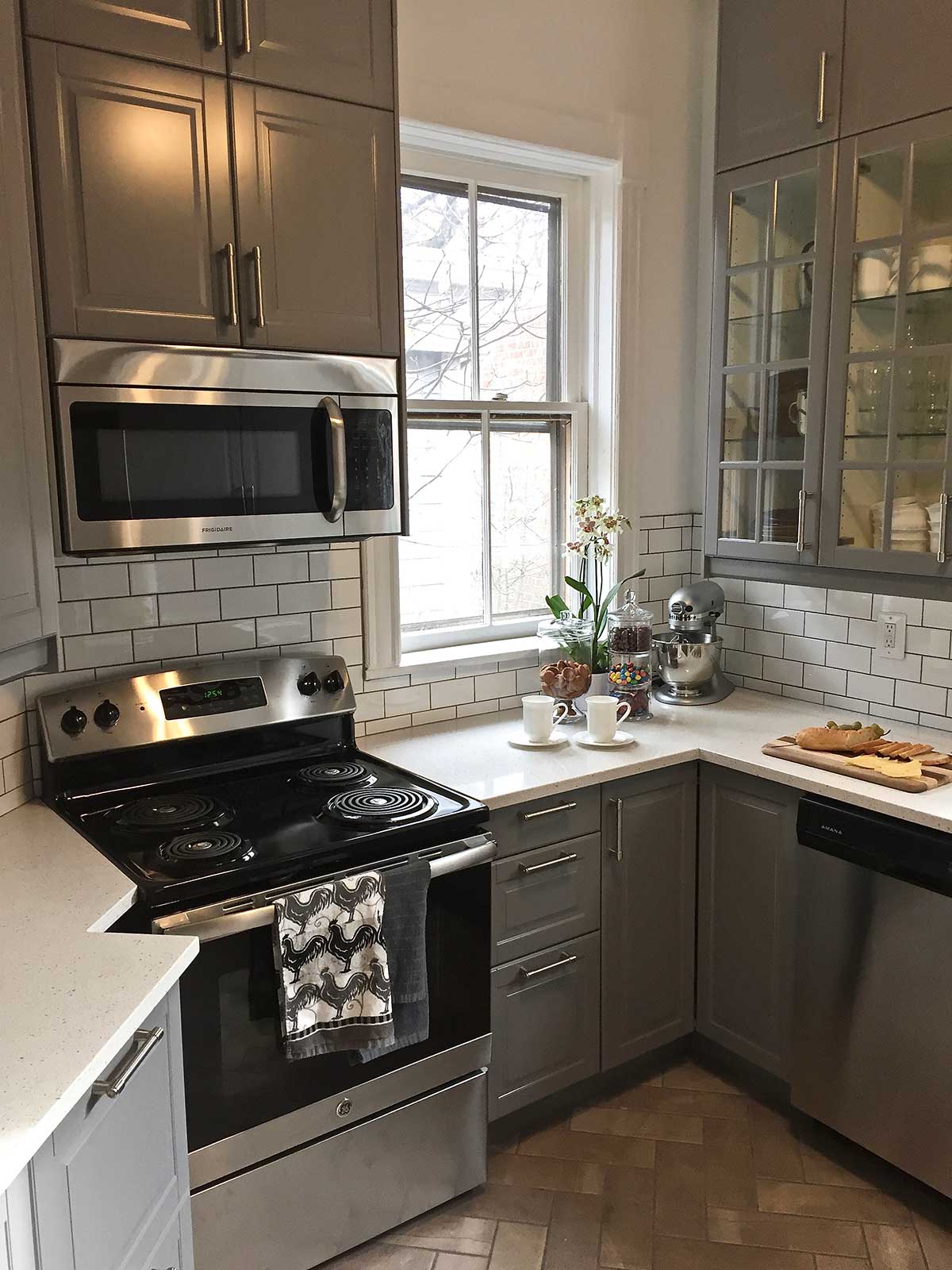 IKD: Do you pay the fabricators or do the customer pay the fabricators?
Bill: It's attached to our contract. We have our customers meet us over at the MSI showroom, which is the big provider in this region, and we pick up our stuff. That's how it works. We've also had clients who already have their countertops. That's fine too. You just tell us who it is and we coordinate with them to come out and attend. Once countertops are in, then assuming if there's a back splash, then we come back in and do the back splash part. Once the back splash is done we get into substantial completion, walk through, punch list, and usually wrap things up. I forgot to mention that on day one and two is when we're doing our demo and disposal. We also have rough in work at that point. That's when our trades come in and do their thing. If we are required to pull permits, we have that in alignment as well, along with our inspections and then close out inspections and move on. If we have all the material that's in place, we're able to close out a project in 10 days.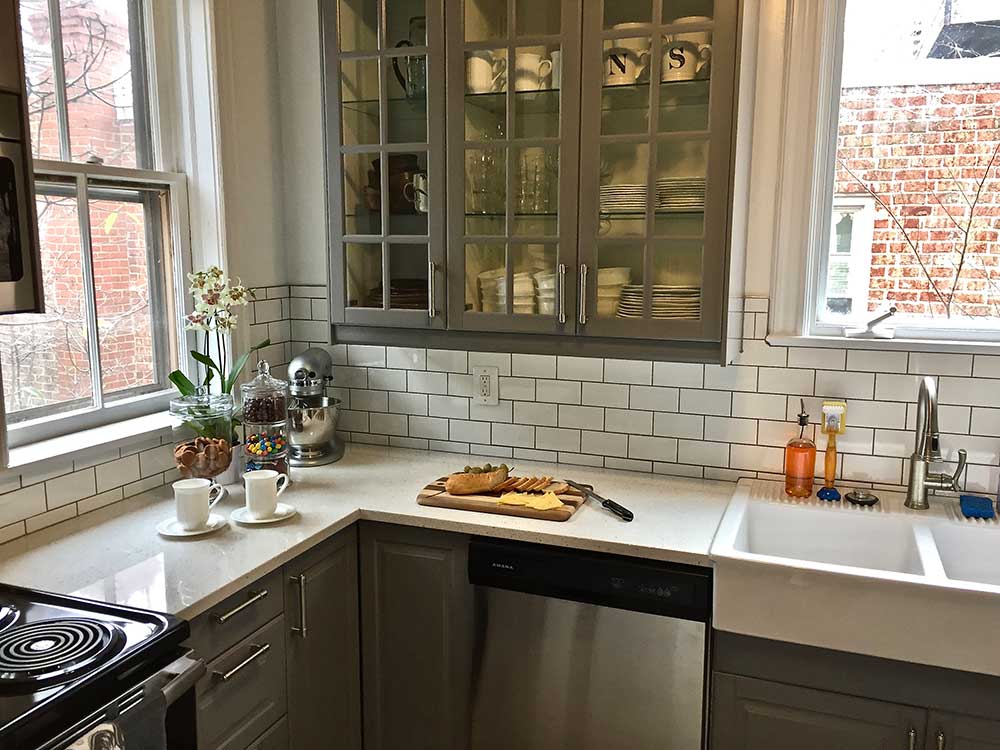 IKD: Wow. And do you install appliances?
Bill: Yep, we install appliances, and what we do is basically install and set them to make sure that they fit. So if we know that in our base cabinet run we have a dishwasher to the left or the right, we're then going to put in a base cabinet, then put in the dishwasher, then put in the next cabinet. We'll set them, level them, and make sure they're installed properly. But depending on the jurisdiction, we'll determine if we're going to connect it to the supply lines or to the electrical.
IKD: How have you dealt with IKEA back orders and supply chain issues?
Bill: We've been pretty fortunate. We have a running rule. We kind of set the expectation that we don't really want to start unless everything is there. There are some exceptions to the rule. Like we have one job where we were missing all the shelves for the list. That's not a showstopper for us. What we'll do is just go to a Home Depot or Lowe's and buy the wood and create our own shelves for them. It just doesn't make sense to tear out somebody's home and leave them with nothing. I would say the biggest challenge we have has been for homeowners who have used IKEA as their countertop service provider and we're all done and they're backlogged waiting. How we've addressed that is to put in a temporary countertop so it's functional and then push out their job based upon the service providers timeline. Then we come back and tie everything back in once it's in.
IKD: Do you pick up the customer's order and take inventory too?
Bill: We have a VIP service or white glove service where if you're design plan has been solidified and finalized that we will go pick it up for you. Once it's delivered we will inventory everything to make sure it's there but that is an additional service.
IKD: How much would you charge for that?
Bill: It's a $250 charge.
IKD: Do your customers submit their designs to you with the IKEA Home Planner?
Bill: Yes, that is a requirement. Once they've decided they're going to move forward with us, we sit down and go through everything just to make sure it's correct. Like who did the plan? Did you do it or did an IKEA planner do it? It kind of falls on us to make sure that we don't have any snafus in the field. So we have what we call project review every Wednesday. That's when all the team leads come into the office, along with myself, the other project managers, and the trades people. We look at every single job. the pictures and the measurements, and we just nitpick everything to make sure it's all there.
One of the things we find more often than not is that the homeowners do it themselves. Just for easy math, they have 100 inches on the wall, they will quite literally build it out to 100 inches. But the fridge is now not going to fit because you didn't allocate at least three quarters of an inch all the way around so the fridge can slide in and out properly. Or you didn't know that you shouldn't bring your countertop all the way to the end because now when you come into that room it's going to snag your shirt. Now it's not a good design principle because now you have no landing on both sides so we go through all of that and make suggestions before the final product has been ordered.
IKD: Are most of the designs made by homeowners or done by IKEA planners?
Bill: The great majority have been homeowners. Most couldn't accept the timelines that IKEA gave them. They want to move forward and get it done. The problem is you want to do a design, but you have to hurry up and wait, or you got to come into the store. And it's just not convenient for them. So they just do it. I bet a lot of them, don't know about a company such as IKD. Nobody likes working with that Home Planner. Myself included. They work with IKEA and the latest iteration of their Home Planner has stuff missing. Unless you know what you're doing, it's very difficult to get a complete package form the IKEA Home Planner. That's why we do the project review.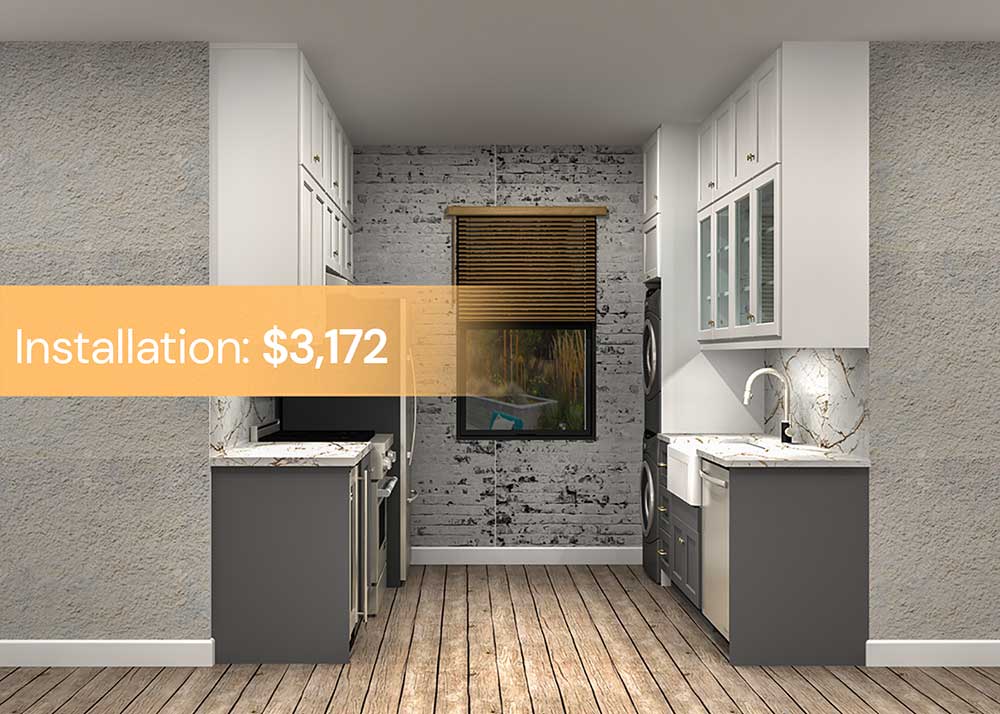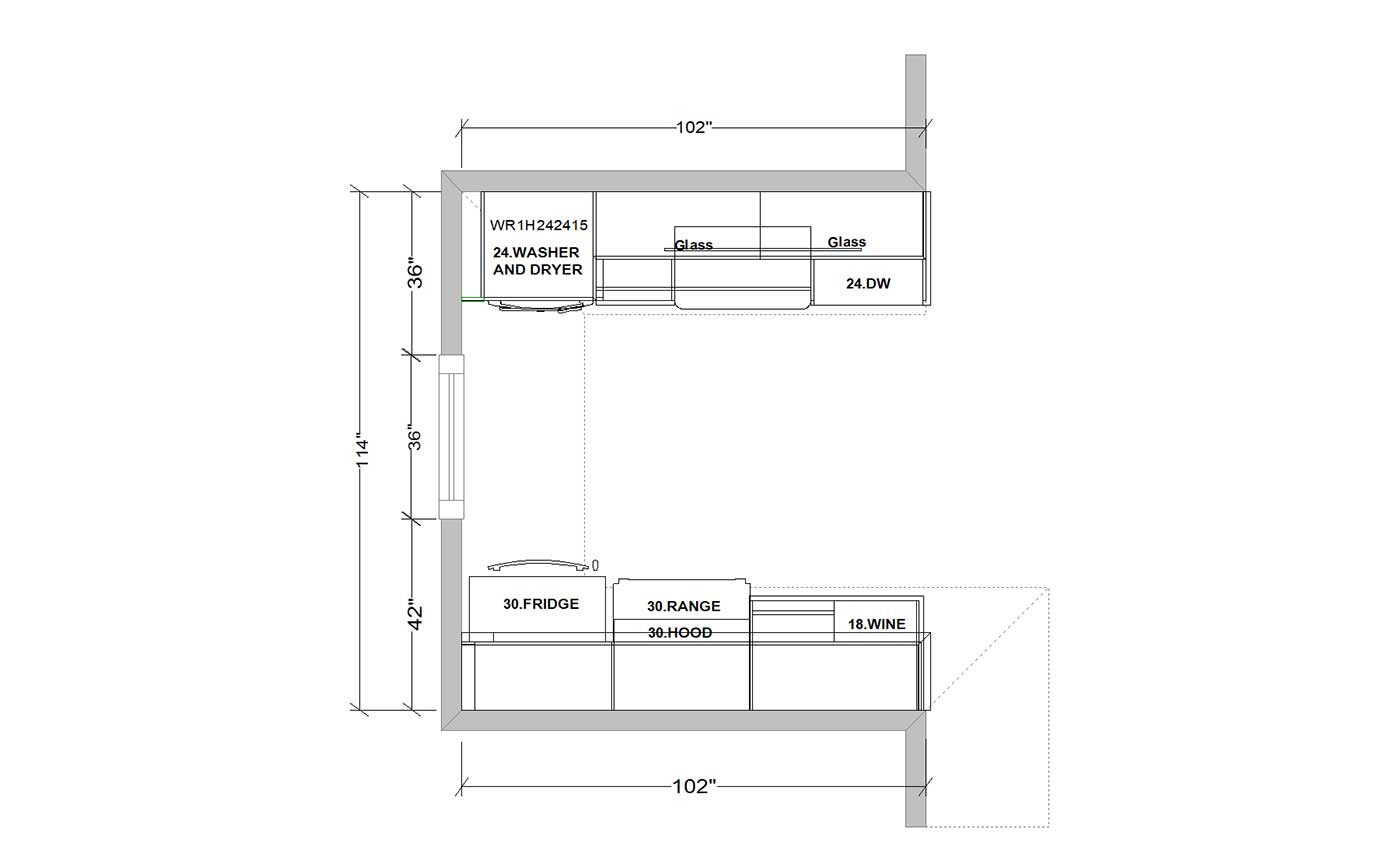 IKD: If you could talk a little bit about what some of the benefits are to using a professional design as an installer?
Bill: So from a guy who swings a hammer it's crucial to have solid measurements because it's an awkward conversation to have with the homeowner to tell them the design is not going to work right. It's a night and day difference when you have a well-annotated plan. If you know you have to make cuts and modifications and all that and have it laid out for you it's a big difference. Being off a quarter of an inch doesn't sound like a big deal to a homeowner but it can ruin everything. Having plans that are highly annotated and accurate makes everything go much smoother. With a professional design I can put my plans on the wall; I can pop my lines and determine which cabinets need a custom cut. Even when we're training our new guys, we try to keep it simple, right?
When I was in the military, one of my best friends was a pilot, and he flew thousands and thousands of hours, but he still did his checklist every single time, right? So it's kind of how we do it. We have our checklists. We go through every single time to try to catch as much as we can, because human beings are human beings. Having a solid plan, and then looking at the IKD plan, like IKD sets the best practice. We've worked with IKD before and when we started our company, we realized we needed to make our plans look like this.
If you don't have a solid plan and you're willing to go ahead and spend all this money on cabinetry it tells me there's a flaw in the process. They just don't want to pay a $400 (design fee). I wonder why they are willing to spend all this money but not willing to do the right prep work ahead of time to make sure that there are no surprises.
Folks like myself have to find a solution. So we try to be as proactive as possible. We try to get in front of as many problems as possible. So when we say day one, that's how I know it takes 10 days, right? Because it's a system. But it starts with correct measurements and a thorough plan.
IKD: What can a homeowner do to better prepare for the installation process?
Bill: So when we do that initial pre-walk we have to allocate space, right? So we decide where are we going to put staging. Because you're going with an IKEA kitchen, it's flat packed, so it's going to take up quite a bit of space. So we kind of walk them through that. We also try to level set and say tell them this is going to be inconvenient for you. I know you're excited about it but it will get on your nerves come day three.
We also send out a 'What To Expect' package and most people don't like to read so we make it nice pretty pictures on the PowerPoint. Every day the homeowner gets a phone call from our project manager to explain what was done each day and what's going to happen tomorrow. The lead installer has a checklist. Every day, he or she would have to sign off on them before they leave the workplace. So when the homeowner comes in, it's already been established. It's really about setting expectations. It's about letting them know we're here to help them, but also to let them know that we're all human beings and chances are something's going to happen. But nobody on our team points fingers. We explain the problem and our solution. So we set the tone up front. There's also things that we might not see until we do the demo. We spend a solid two hours with them setting expectations and walking through their project.
IKD: Are there ever really difficult customers?
Bill: I've never had a client that was impossible to work with. But what I will say is, is that over the years I have developed a kind of a radar to say money is good money. So if I have red flags right from the front door, then I have no problem saying this might not be a good fit. I don't play with gas and electrical. I had one potential client who was upset that we wanted to run permits. So it caused extra time for their project and extra money. I declined the job because I didn't want a phone call that gas is leaking in the house. So when you tell me you don't want to follow basic rules and common sense standards, I'll just decline the job.
IKD: What are some of the limits and challenges associated with the home planner?
Bill: Well it doesn't add everything. You go in and it instantly puts the fillers in, but it doesn't always give you the correct material on the back end, right? So now you have to go back in and see what's missing. They also do things like automatically put in IKEA under cabinet lighting. I hate that. So if you're not aware of it maybe you've already had the electrician come in and do their own under cabinet lighting. So now you've got to return materials and explain things. The worst part is that they don't tell us what's missing. We'll do a complete plan, we'll print it out, and then they'll go to the store and buy it — but again, the plan doesn't tell them which part is out. It's up to the person at the store to recognize what is out of stock.
You might be looking for an open face base cabinet but it's not there. Or, you're looking for appliance cabinets that you could put on top of the countertop. They're not in the planner. So you have to use your creative juices, if you will, to show them what it's going to look like.
IKD: How do you determine your pricing? Do we have set pricing, right?
Bill: We have pricing for assembly and installation, and we have pricing for handles and knobs. We also have pricing for tall cabinets. Our base and wall cabinets are pretty much the same pricing, but tall pantries and oven cabinets are a different price point. As it relates to the IKEA material, it's a set price point for installation, because we've come across clients who ask if we can assemble it for them. We've kind of broken out that way. For all the other services, such as demo, disposal, flooring, painting, wall repair, lighting, and electrical, they all have set standards, but it scales depending on the work and the material. So if you wanted us to do standard tile backsplash, it may be at $18 a square foot. But if you come back in and say this backsplash has metal and glass in it and it has an intricate design, then that's a different price point.
IKD: Is there a difference in the pricing between working with third-party fronts like Semihandmade (SHM) versus IKEA?
Bill: The doors are fronts associated with Semihandmade (SHM) so it's just an added charge to it.
IKD: And how would you say your installation differs compared to the homeowner doing it themselves?
Bill: Our installation process is based on experience. We've probably done over 3,500 kitchens since we've been in business so there's much that we haven't seen. That allows us to be able to be proactive and get in front of things when we see it. It allows us to address things on the fly that a homeowner might not know what to do. And ultimately it's a system, right? We have a system. Our system typically keeps us on the straight and narrow with minimal headaches whereas a homeowner might not have a reference or The wherewithal to think about it that way.
IKD: What can a homeowner do to lower your quotes?
Bill: A lot of folks do demo and disposal. If you can get everything out of the kitchen space and let us just come in and make sure the walls are ready to repair and accept cabinetry, it saves a ton of money. If you find yourself to be mechanical you could do your own assembly. Then we can just come in and install. So it's almost like we give you a la carte options, if you will. You can have the full turnkey where you just sit down and wait until everything is complete or you can be as involved as you want. And if have your own vendors — you have your own plumber, you have your own electrician, and you have your own countertop folks, we'll coordinate with them. What we're really good at is we know the IKEA product.
IKD: And you said you're seeing most everything in stock these days?
Bill: Yes, in stock but maybe at different stores. Just today I had to go to three stores to get two 15″ x 30″ IKEA RINGHULT white high gloss doors. They had one at the College Park store and one at the Woodbridge store. But it's getting better though. A lot better.
IKD: What do you see as your customer's biggest motivation to buy IKEA?
Bill: Price point. One of the biggest challenges too is that they think that because the price point is a little bit more reasonable, labor follows that same notion. But that's not the case. You're paying for the knowledge and expertise. Plus you save money by getting the IKEA product. But it's an interesting conversation to hear what they think because IKEA has a discounted price point, so aren't your services discounted? Well, they're not!
IKD: Do you feel that IKEA cabinets are as good or better than other types of higher price point cabinets?
Bill: I have an IKEA kitchen in my home. I also have IKEA kitchens in my rental properties. They have the greatest warranty that you can find in the industry. And as long as you take care of it, it's fine. I haven't had any problems. For the price point, I don't think there's any other cabinets that I've come across that's as good and gives you as many customization options that IKEA gives you. That's really the biggest difference. You can probably find something comparable, but you're not going to be able to get the customization and the flexibility of the modular setup that IKEA has.
IKD: Are there any specialized tools that you're fond of using during installations?
Bill: No, there's no special tools or anything that we use to do our kitchens.
IKD: And how about installations in other rooms, like media rooms, mud rooms, pantry rooms, basements and garages?
Bill: We've done custom closets using the IKEA products. So if you want it, we can do it.
IKD: what would you say is your favorite part of your job? Is it talking with the customers? Is it the finished product? What gives you joy?
Bill: My favorite part is when I get to sit down and just listen to what they envision and then come back to them and show them that we can do it. This type of sale to me is a fun sale. This is what you want to do. I'm not making you. This is something the homeowner has decided to do. I deal with a lot of investors and they never consider IKEA. So when I show my investors that they can get an outstanding kitchen that is a little bit cheaper — with more customization — I really like that.
Get a Professional IKEA Kitchen Design – All Online
Work with our certified kitchen designers to get a personalized kitchen designed around your needs and vision. If you're interested in learning more about our service, make sure to check out our IKEA Kitchen Design Services.