Vietnamese Style Vegetarian Spring Rolls Recipe With Peanut Dipping Sauce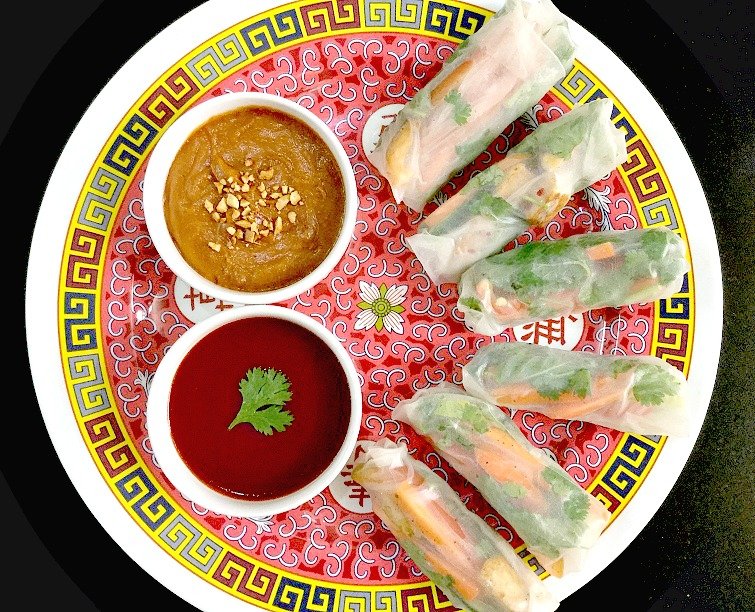 To begin making Vietnamese Style Vegetarian Spring Rolls Recipe With Peanut Dipping Sauce, wash and clean cilantro and mint leaves well. Pick the mint leaves off the stems; discard the stems. Roughly chop the cilantro. Julienne all the veggies and tofu/paneer.
If you like, you can sprinkle some salt and pepper on the carrots, cucumbers and bell peppers and mix gently; I avoided them as I love the freshness and taste of these raw vegetables.
Now, to prepare the tofu/paneer stuffing, in a mixing bowl, mix tofu/paneer strips with soy sauce, chilli flakes and salt to taste (only if adding). Marinate for about 10 to 15 minutes. Meanwhile when the tofu/paneer is marinating, you can proceed with making the peanut dipping sauce and keep it ready to serve with the spring rolls.
Once the tofu/paneer is marinated, in a small nonstick saucepan, heat a teaspoon of oil.
Add marinated tofu/paneer. Stir fry on high heat for 1 to 2 minutes. Take care not to break the tofu/paneer strips. Remove from heat and let it cool. This high heat stir fry/ searing helps in bringing in a smoky flavour to the absorbed spices.
Work with one rice paper at a time. Soften the rice paper sheet according to the instructions on the packet. (The rice paper I used just needed to be dipped in water for about 20 to 25 seconds, and then placed on a towel to drain excess water). You will want them soft but still firm and pliable.
Place the wet sheet on a flat plate or chopping board.
Gently place few strips of carrots, bell pepper, cucumbers, a small tablespoon of cilantro and some mint leaves in the center of the wet rice paper sheet.
Place a few strips of stir fried marinated tofu/paneer along with the veggies. (Do not over fill since it will be difficult to make rolls)
Now, the bring sides over to the center over the filling. Next, starting from the bottom, bring up and start rolling to bring them to rolls.
Roll up the filled rice paper to form a cylindrical roll; like a burrito. Seal the edges; the rice paper will instantly stick as it is moist. You want a fairly tight roll so that the vegetable fillings do not fall out.
Continue doing the same with rest of the rice paper sheets. (While you are working with each roll, cover the prepared rolls with a wet cloth).