The Best Places to Buy Cast-Iron Cookware (That Won't Break the Bank)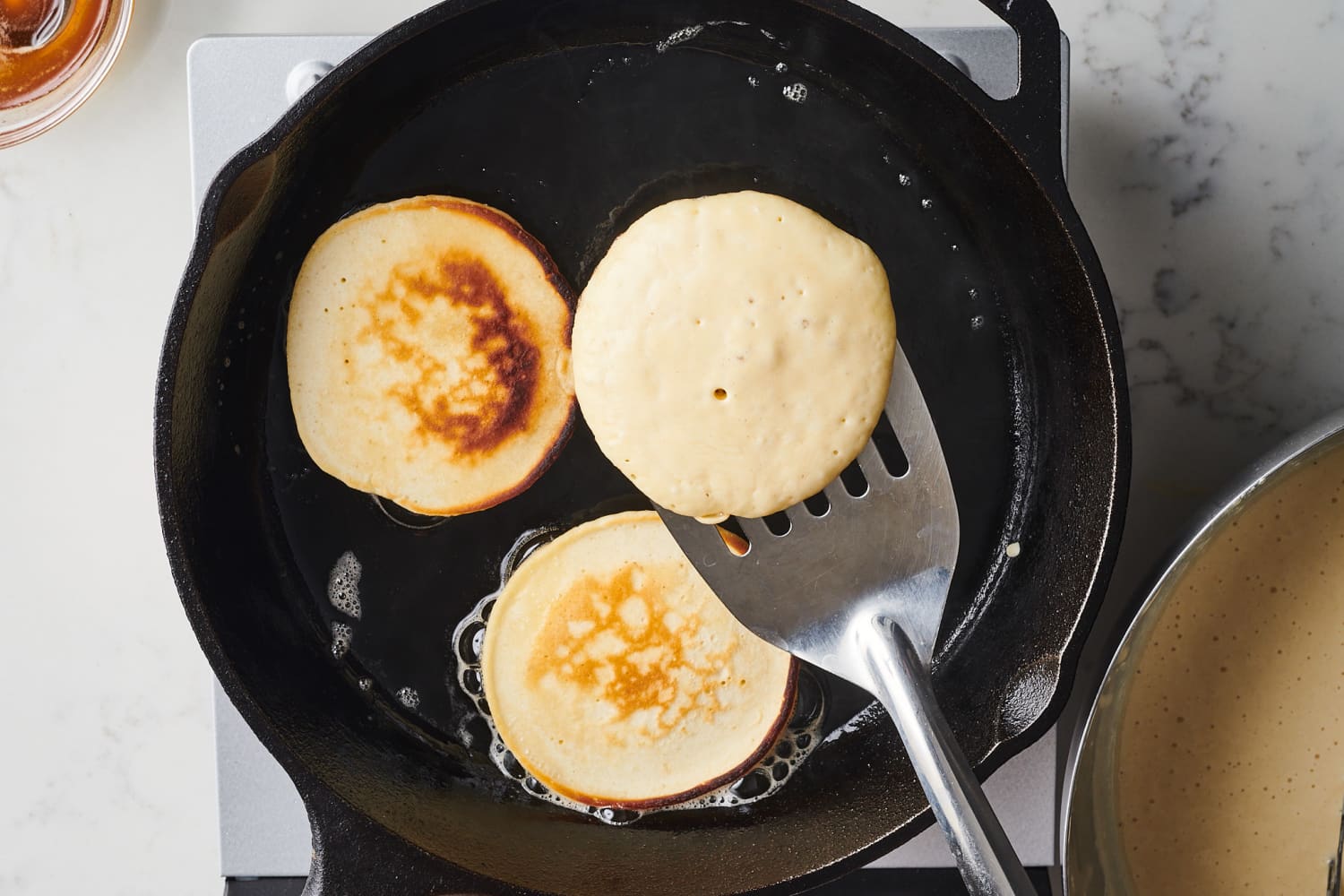 We independently select these products—if you buy from one of our links, we may earn a commission. All prices were accurate at the time of publishing.
I'll be honest — I didn't always see the appeal of cast iron. It's what we used to serve appetizers in when I worked at a restaurant, and all I remember is that the hot, heavy dishes turned table bussing into a huge pain. But even though cast iron isn't always practical in commercial settings, it's actually one of the most useful materials you can have in your kitchen at home. It retains heat like nobody's business and distributes it evenly throughout the entire surface (and walls!) of a pot or pan. As a result, whatever you cook inside will be free of overly hot or cold spots. And, it'll be ready in a fraction of the time compared to if you were to prepare it in a regular aluminum or steel piece of cookware. After seeing my colleagues here at Kitchn rave about all their favorite cast-iron pieces, I've done a full 180 and am even coveting my own Dutch oven or fast-heating skillet. If you find yourself in the same mindspace, keep reading to see our editors' top places to shop for this unbeatable material.
Okay, you probably weren't expecting to see Amazon listed as one of our top destinations for quality cast iron, but it's really not that surprising that the retailer who carries it all also has lots of high-end (and affordable!) cookware picks. Plus, it's home to Martha Stewart's relatively new home and kitchen storefront, where you can find this durable 5-quart Dutch oven. The roomy pot comes in three sizes, not to mention a slew of stunning colors. At just $50, this specific pot is incredibly budget-friendly but works just as well as pricey alternatives. Additionally, Dutch ovens are the ultimate versatile cookware pick, great for heating everything from pasta to short ribs to stew.
It'll come as no shock that Le Creuset is one of our go-to brands for all things cast iron, whether we're talking bread ovens, grill pans, or mini cocottes. Among their wide selection, our editors especially love the braiser, which is available in three sizes. Its cast-iron construction, coupled with its shallow and wide silhouette, makes this the perfect piece for browning and searing meats and letting sauces simmer to perfection on the stove. Contributor Riddley loves her own braiser and says it's one of the most versatile items you could possibly invest in. "It can brown more food at once than a Dutch oven, and its wide surface area encourages liquid to evaporate at a steady rate," she wrote. Although the braiser is a bit of a splurge, you can rest assured that it'll last you years without declining in quality.
A number of our favorite retailers carry Staub, but Zwilling is one of our favorite places to buy their cast-iron pieces because they frequently go on sale. What's more, Staub is a go-to brand for professional chefs everywhere because their products work masterfully and are compatible with multiple different heat sources. At Zwilling, you'll find multifunctional pieces such as this round baking dish, which is perfect for quick, individual meals, elaborate baked desserts, and everything in-between. The pre-seasoned material also lets you cook without a lot of additional grease or fat and churns out unbelievably flavorful eats. And how cool does that matte-black finish look?
Another beloved brand, Lodge is behind one of the best cast-iron skillets you can buy, according to our comprehensive list. Many of their products, including this one, are surprisingly lightweight as far as cast iron goes, so you might check them out if you want to spare yourself the heavy lifting. Additionally, Lodge's cookware sports convenient details that make meal prep so much easier, including this skillet's easy-pour side spouts and curved walls for hassle-free stirring. You can get it at Williams Sonoma, which also carries other editor-favorite brands, such as Le Creuset, Staub, and more. But for effortless breakfasts and other simple stovetop meals, the Lodge triple-seasoned skillet is a must-have item.
Our Place isn't what you might consider a major cast-iron cookware vendor, but when they relaunched their world-famous Always Pan in the material, it was bound to be a hit. This pan can sauté, steam, boil, and pan-fry just as well as its predecessor can, but its cast-iron interior also allows it to braise, roast, and bake a variety of meals. Of course, as important as the quality of the pan's construction is, Our Place wouldn't be nearly as revered among Kitchn readers and editors alike if not for special additions, such as the pan's glass lid, beechwood spatula, and included silicone trivets. They've really thought of everything for this special release, which is why Our Place has ranked among our favorites.
Much of the appeal with most of the aforementioned brands also lies in how beautiful their products are, as well as the numerous pretty colors they come in. But if you're after a no-frills, industrial-style option, Field Company is sure to strike your fancy. Our editors are particularly obsessed with their skillets, but you can also shop other items you're unlikely to find anywhere else. Namely, this round cast iron griddle, which is truly genius in its design. Whether you're flipping pancakes or searing steak, you'll have no problem serving them onto a plate thanks to the griddle's nearly flat perimeter. The griddle is also nonstick — another major benefit of high-quality cast iron — and fairly light at just 4 pounds. Field Company's cast-iron cookware pieces also come with their own cleaning kits, helping you maintain their effectiveness even after daily use.