Small Kitchen Designs Inspired by Large IKEA Showroom Displays
Making IKEA's BODBYN and SEKTION products work for a small kitchen.
IKD Customer Esther walked through IKEA's showrooms and fell in love with the BODBYN kitchen. The showroom had off-white BODBYN drawer and door fronts on SEKTION cabinets, a white quartz countertop, a double sink, tons of storage, and an island with a butcher block countertop.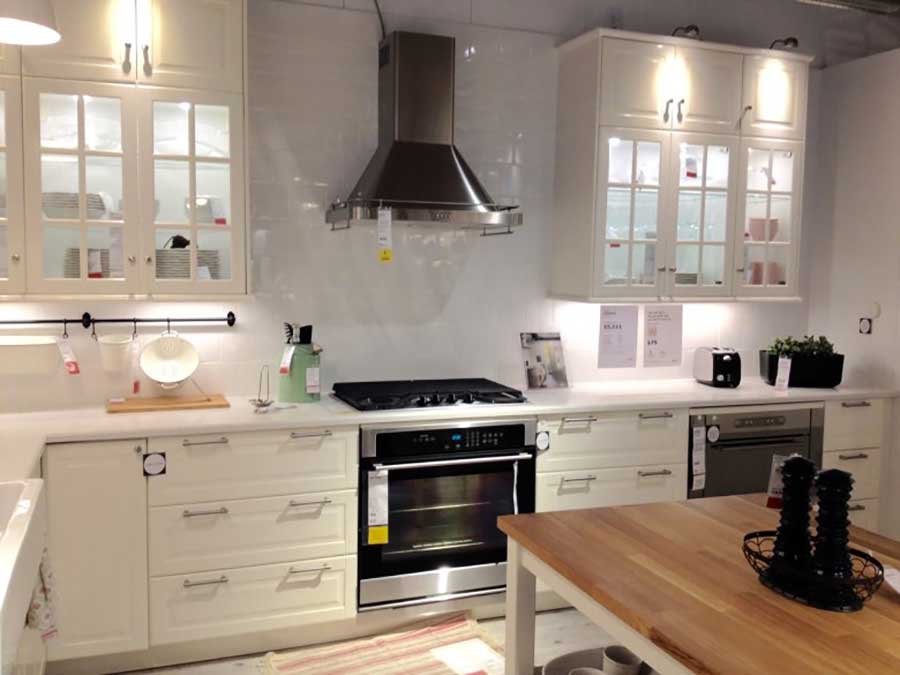 However, Esther's kitchen was only 90 square feet, and she struggled with cooking, storage, and workspace. Could the IKEA products she was seeing help solve her problems and upgrade the look at the same time?
With the right design, any look is possible—even in a kitchen that's 90 square feet or less.
Those with roomy, open-concept homes may be able to walk into a showroom and say, "I'll take it!"with only a few minor adjustments. It's more complicated for customers with small homes and kitchens. However, with a clever design, they can have a kitchen that's just as lovely—and functional, too!
"Homeowners with small kitchens need to be choosier when it comes to their IKEA kitchen design. It takes just one-tenth of a second for someone to decide on a first impression. These homeowners must ask themselves: What did they see in that one-tenth of a second? It wasn't the whole kitchen. They saw certain elements. By focusing on what took their breath away in those first moments of stepping into the showroom, and thinking about needs vs. wants, homeowners can downsize a huge kitchen to work in a smaller space."–Albert, IKD designer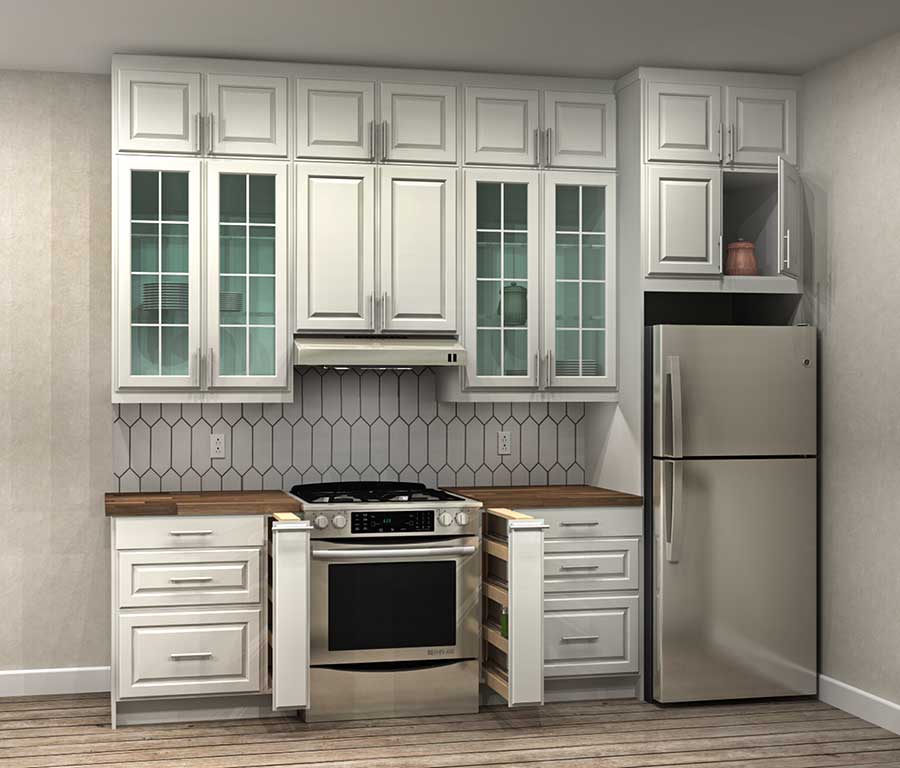 We provide clarity for your IKEA Kitchen design journey
Decide what you want out of your kitchen remodel.
The first step to getting the kitchen you want is deciding what you don't want. You work in your kitchen every day. What do you love about your small kitchen? What do you want to change?
Esther wanted a brighter room with a large workspace — and she wanted to get it without sacrificing storage.
"My kitchen has a four-foot walkway between cabinets and appliances and a window at the far wall. I planned to tear out the old, dark cabinets and replace them with something brighter to reflect that natural light. I also planned to purchase new stainless-steel appliances." –Esther, IKD customer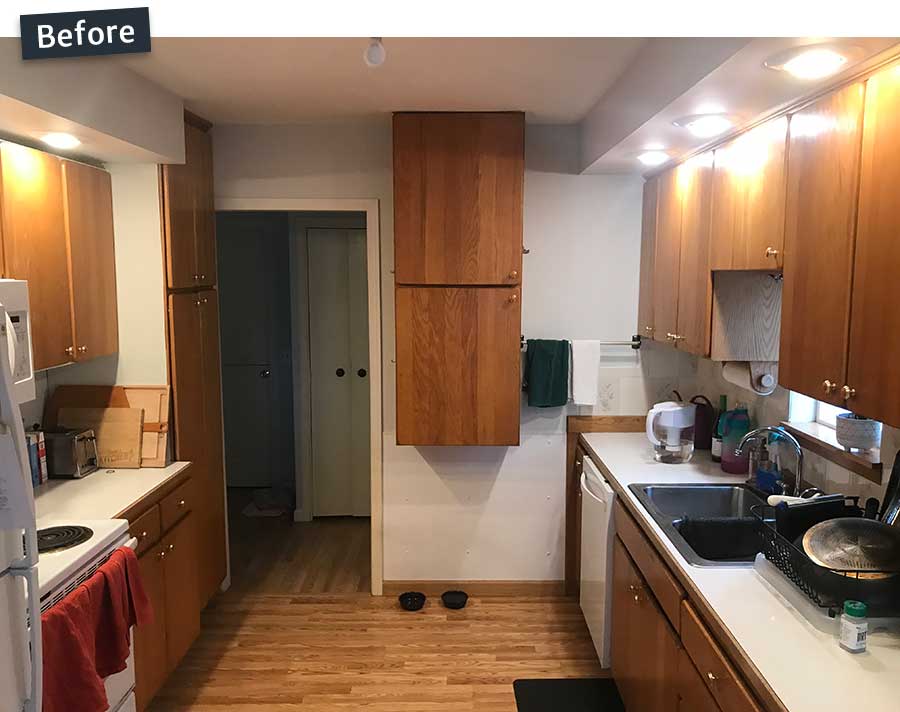 Since Esther lived alone, smaller appliances made sense for her. She opted for a 24" W stainless steel fridge/freezer combo, an 18" W dishwasher, and the compact 23" W CIRKULERA range from IKEA. However, she decided to keep the space for the fridge and range large enough for standard-sized appliances if she ever decided to sell her home or grow her family.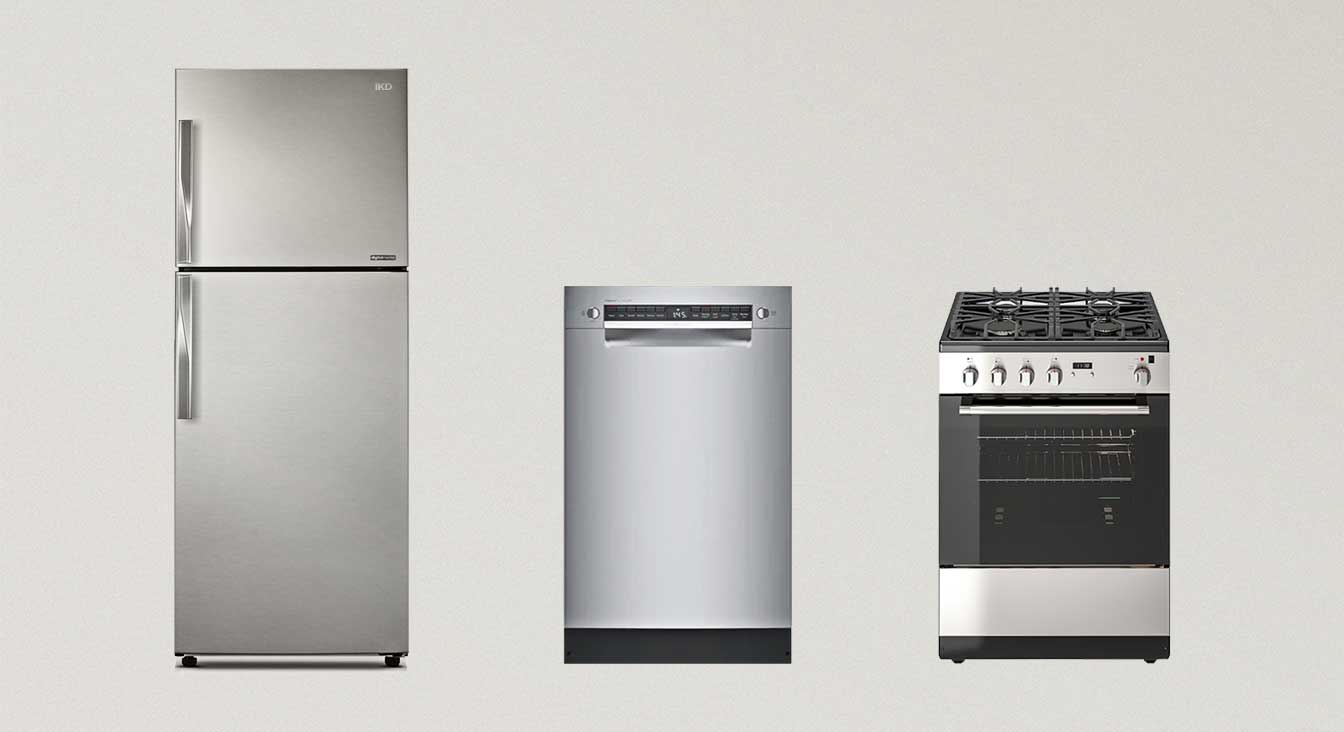 Designer Albert filled the gaps with useful storage options from Rev-a-Shelf, which provide more storage but can be removed easily in the future (more details below). He also managed to add that extra workspace Esther wanted without sacrificing storage.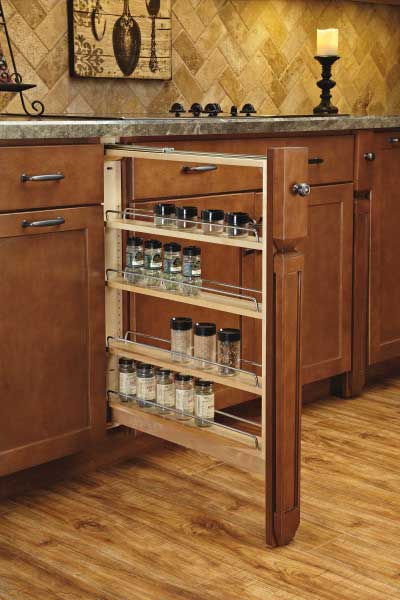 "Esther's kitchen consisted of two straight runs, meaning she didn't have blind corner cabinets. The original designer took full advantage of this by cramming as many cabinets as possible into the side with the fridge and the oven, leaving her with a sliver of workspace. By stacking SEKTION cabinets next to the fridge, we were able to keep most of the storage and open up counter space. We designed it to look seamless, which isn't something the other design achieved." –Albert, IKD designer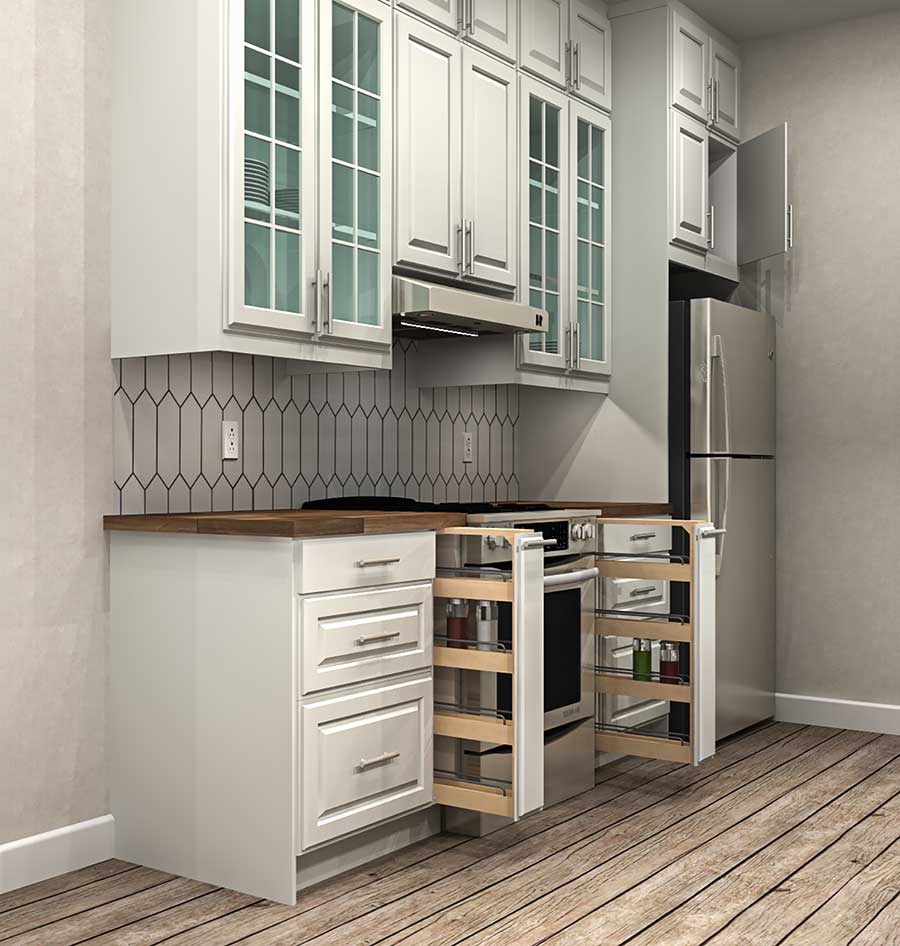 Focus on the most important elements of the kitchen you want.
Esther visited IKEA on her lunch break to get an idea of their products and how they looked in a finished setting. She wanted to speak with an associate about her small kitchen design, but three people were on the list ahead of her.
"I had to get back to work. Plus, it looked like they were just using the IKEA home planner, so I figured I could do that at home," says Esther. "I basically designed it in my head while I was driving back to work. I didn't have room for an island, but I loved the wood top on the one in the showroom. I wanted glass-front cabinets, and I liked the bottom trim. My existing upper cabinets didn't have that, and I thought it really took the style to the next level."
When she got home, she realized the planner was more challenging than she'd hoped.
"The home planner had a huge learning curve, and it would have taken me hours to get the kitchen exactly the way I wanted it. I just wanted to ask a designer: "Can you make this space look like this?", then hire a contractor and make it happen. I'm glad I went on Google and found IKD before I wasted the day trying to do it myself." –Esther, IKD customer
Use creative design to make your small kitchen beautiful and functional.
If you have a small kitchen, you may feel that you can have storage space or counterspace—but never both.
This is where creative design comes in. Albert was able to give Esther more workspace, solve her storage problems, and incorporate the design elements she wanted. He even solved one of Esther's major pet peeves, the location of the trashcan, by using a cabinet trash bin.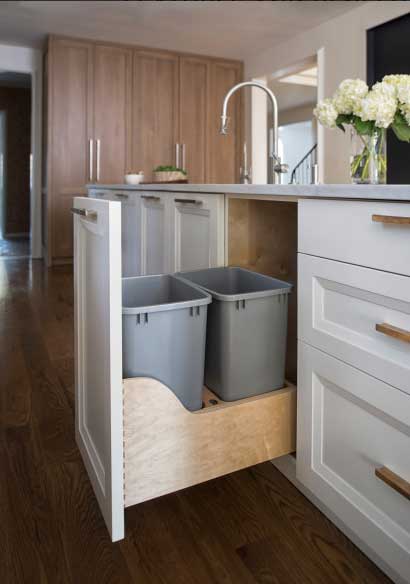 Albert used a few key techniques when designing Esther's kitchen:
1. He added end caps to the lower cabinets to provide additional storage.
"By extending the counter just 9 inches, we were able to add a 9×14 5/8×30 TORNVIKEN open cabinet facing out from the kitchen on both base cabinets, creating storage end caps."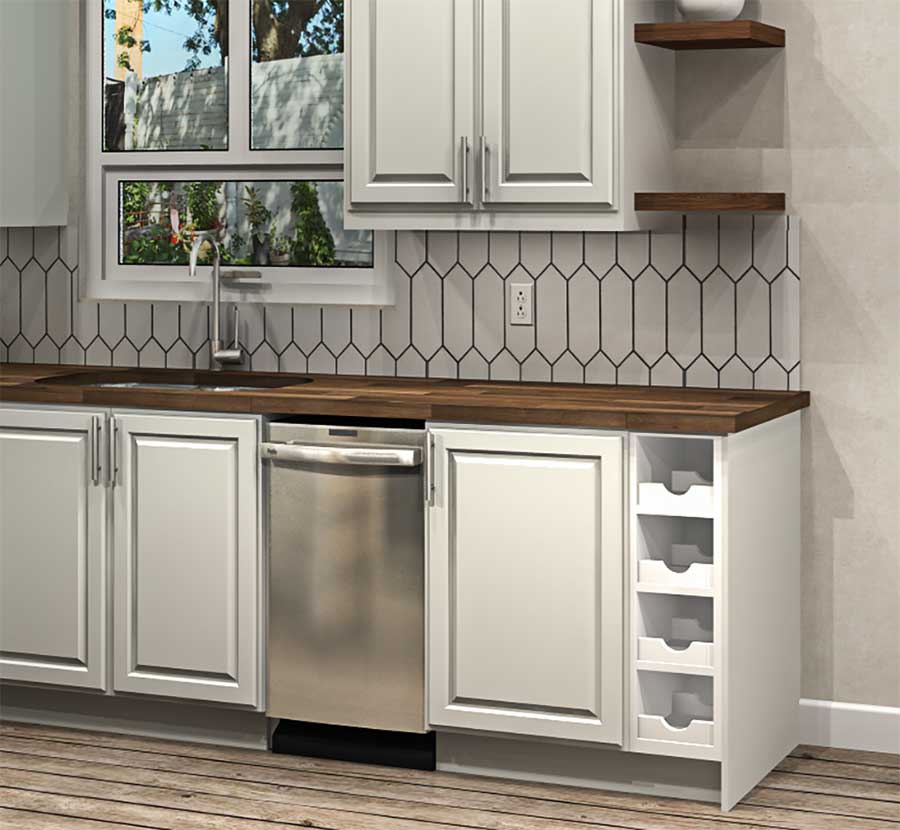 2. He made use of vacant space with pullout racks from Rev-a-Shelf.
"We saw the opportunity to fill a 6" gap between Esther's oven and a base cabinet with one of Rev-a-Shelf's Pullout Wood Base Cabinet Organizers. It's the perfect size for storing spices and other small items. We used a similar technique in the vacant space by the fridge, using the Wood Pantry Pullout."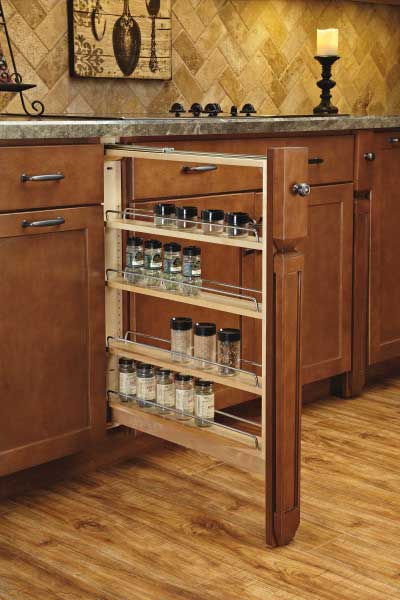 3. He gave Esther wooden countertops.
"Esther knew she couldn't have an island with a wood top, but I pointed out that she could use IKEA's KARLBY pre-cut laminate butcher block countertops and achieve the same look throughout her small kitchen. We designed with KARLBY 98" oak veneer."
4. He improved Esther's work triangle.
"Work triangles are falling out of fashion, but they're often necessary in small kitchens. In the original design, the cooktop and oven were across from the fridge; ideally they are across from the sink with plenty of workspace nearby. We placed her new stainless-steel oven across from the sink and added a longer counter, giving her a well-designed setup for food prep and placement."
5. He made the space brighter.
"We provided even more light by adding IKEA's MITTLED lighting system to the interior of the glass-front cabinets and the underside of the wall cabinets. Light always helps a small room look bigger, especially if it has reflective surfaces."
Focusing on key elements and creative storage solutions makes it possible to have a small IKEA kitchen that is both functional and beautiful.
A skilled designer will know how to combine and customize products that make even the smallest kitchens easy to work in, with plenty of storage for food, utensils, and cookware.
Get a Professional IKEA Kitchen Design – All Online
Work with our certified kitchen designers to get a personalized kitchen designed around your needs and vision. If you're interested in learning more about our service, make sure to check out our IKEA Kitchen Design Services.