Paneer 65 is a versatile dish that is prepared several different ways, depending on the region or restaurant. It's made with cubes of paneer cheese that are marinated in spices and pan fried to perfection. My version makes for crispy paneer cubes tossed with a savory spiced mixture of aromatics and pairs well with any number of sides. Here you'll find step-by-step photos and instructions for making my favorite Paneer 65 recipe at home.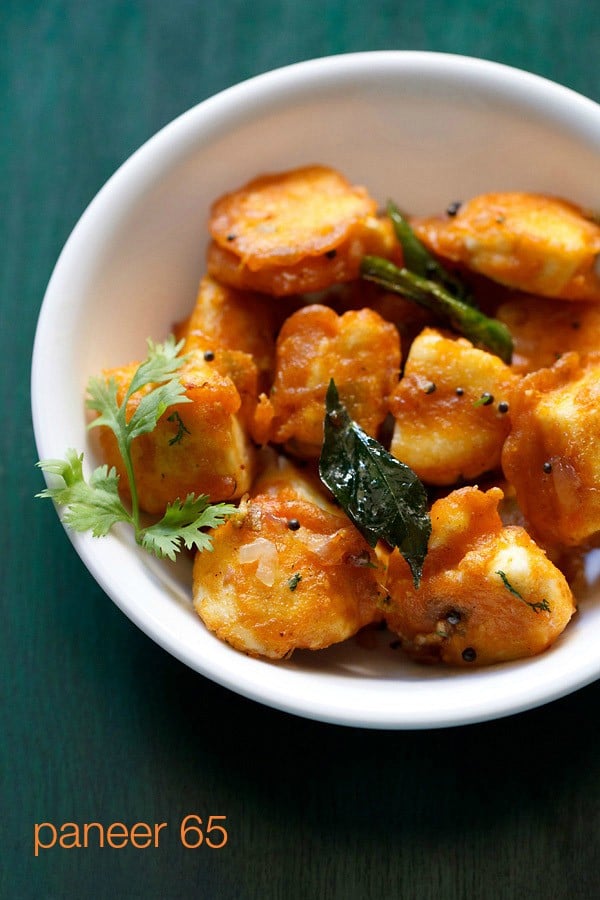 More on Paneer 65 Recipe
Clearly, the name of this paneer starter snack is quite unusual. So, what exactly does the number in Paneer 65 mean or refer to? There are many theories behind this concept.
Some say that the name originated at a restaurant in Hyderabad, India, where the spiced fried chicken was the 65th dish on a menu. Others insist that the first recipe had 65 types of spices, while still many insist that the snack was invented in the year 1965. Now that's really astonishing, isn't it?
Paneer 65 is a popular Hyderabadi dish that's often prepared at home and served at many Indian restaurants. Like most "65" recipes, it is debated where the name of the dish originated. But nearly all versions include lots of vibrant spices and use a light frying method to prepare.
Here are just a few other vegetarian 65 dishes that you can make:
Aloo 65 – Crispy fried batter coated potatoes flavored with a tempered mix of spices and herbs.
Gobi 65 – Tender, spiced and crunchy cauliflower florets.
Mushroom 65 – Meaty and succulent crispy fried button mushrooms.
This recipe is a simple homestyle version of paneer 65, made with cubes of fresh paneer cheese.
When I've had paneer 65 in restaurants I always got a taste of soy sauce and/or chili sauce. However, this homemade dish does not include either of these ingredients, and instead uses wholesome aromatics to get the best, boldest flavor.
Usually in paneer 65, there is no gravy. It's most often served as a dry dish with sauces on the side to dip.
In my opinion the dry crispy version makes the recipe much better and more enjoyable to have not only with any chutney or dips but also with classic side dishes like rice and roti.
Step-by-Step Guide
How to Make Paneer 65
Make the Batter To Coat Paneer
1. Add 3 tablespoons of rice flour, 1 tablespoon besan (gram flour) and 2 tablespoon cornstarch in a mixing bowl.
You can also use finely ground corn meal or maize flour (makki ka atta) instead of corn starch.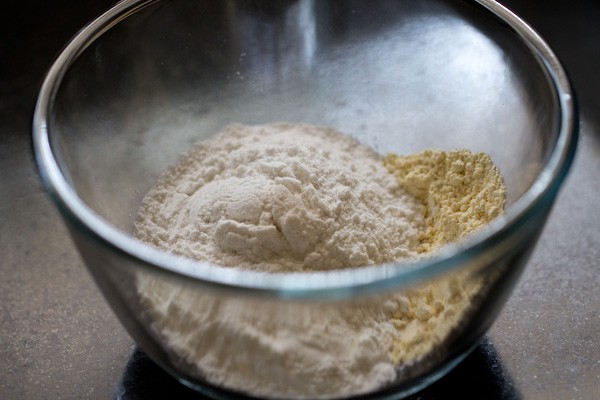 2. Then to the same mixing bowl add the following ingredients:
1 teaspoon green chili paste
1 teaspoon garlic paste
1 teaspoon ginger paste
½ teaspoon red chili powder
¼ to ½ teaspoon garam masala powder
¼ teaspoon lime juice
salt as required to taste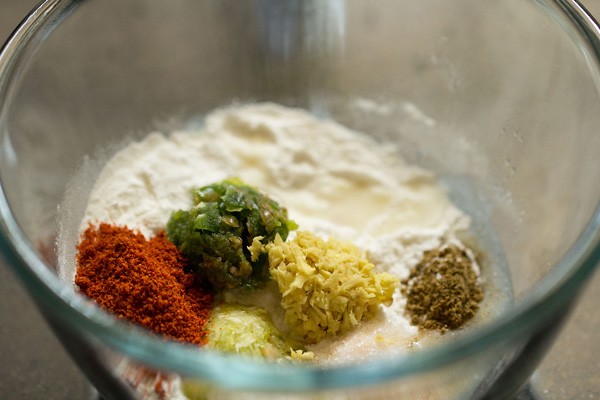 3. Now add 4 tablespoons water.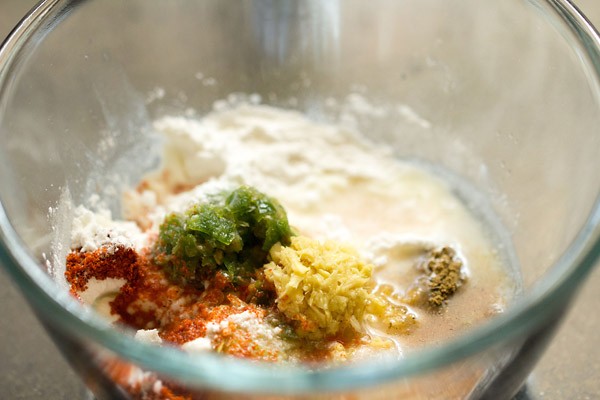 4. Whisk into a smooth, slightly thick batter. If the batter looks a bit too thin, and a sprinkle of rice flour.
For a brightly-colored dish you can also add a few drop of natural food color. Here I use a bit of orange natural color extract.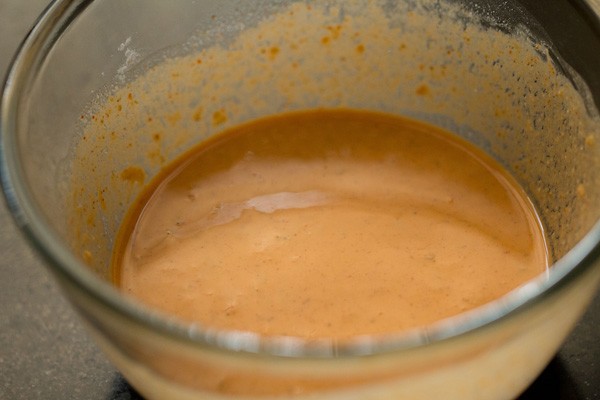 5. Add 200 grams (1 cup) of chopped paneer cubes.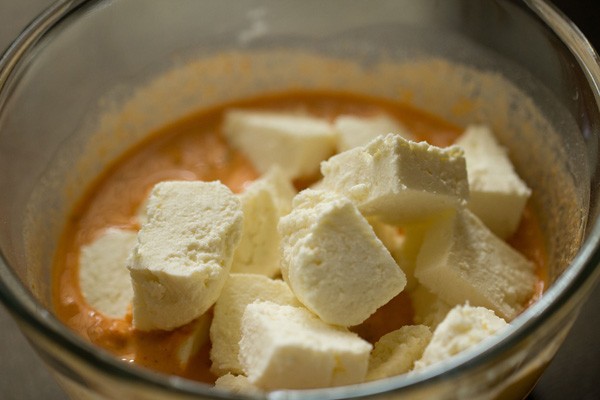 6. Gently mix the paneer cubes with the batter. Be careful to not break the chunks apart. Cover and marinate the cheese for about 15 to 20 minutes at room temperature.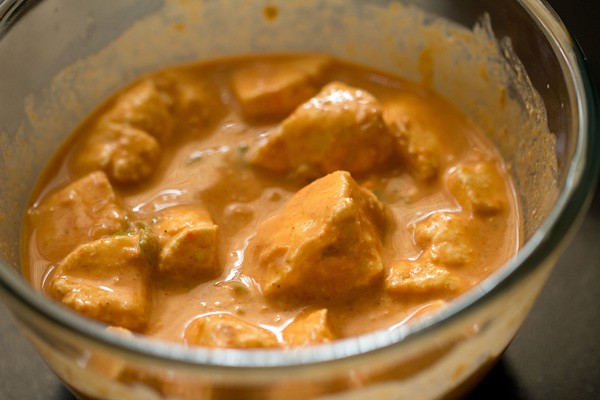 Fry Paneer
7. Now heat 5 tablespoons of oil in a deep pan over medium heat. For a dish with less fat and calories, only use 2 to 3 tablespoons of oil. But note that your paneer 65 won't be quite as crispy.
You can turn the heat down to low as you fry the paneer if they get too hot. One at a time add the marinated paneer cubes to the hot oil.
Be sure to leave a bit of space between the pieces of cheese so that they don't stick. Fry for a couple of minutes, until the base of the paneer becomes cooked and slightly browned. If you need to, work in batches.
You can also choose to deep fry the paneer if you prefer.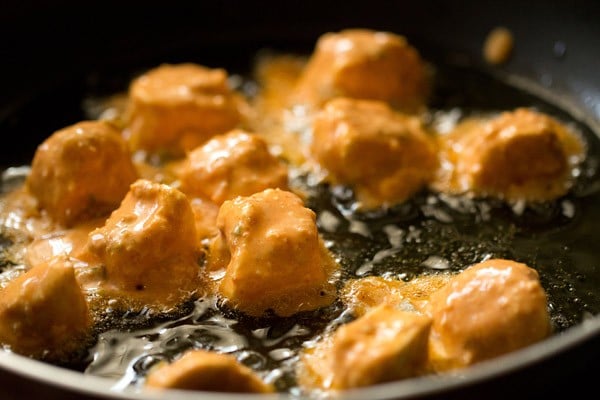 8. Once the bottom is done, flip and fry the other side. Continue to flip and fry the cubes back and forth a few times, until they are crisp on all sides.
But be careful to not overcook them, or the paneer cubes will become dry and dense.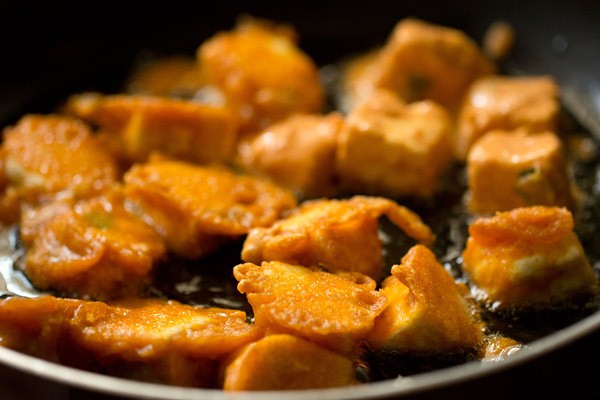 9. Drain the fried paneer cubes on kitchen paper towels to remove any excess oil. Again, fry the cheese in batches if needed to not overcrowd the pan.
Make Paneer 65
10. Once the cheese has all been fried, in the same pan heat 2 teaspoons of oil over medium-low heat. (If there is an excess of oil left in the pan from frying the paneer, there is no need to add this extra oil.)
Then add ½ teaspoon mustard seeds, if you like. However feel free to leave out the mustard seeds if you prefer.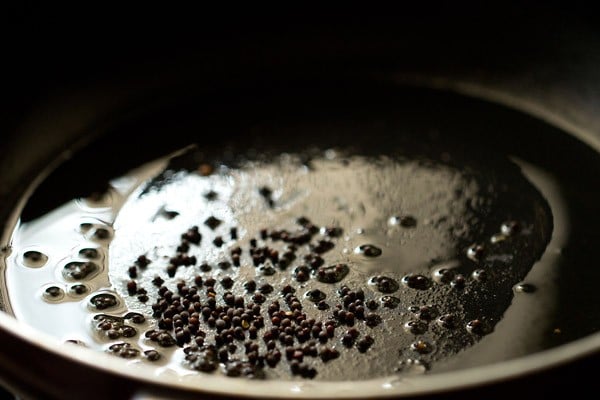 11. Fry the mustard seeds for a moment or two, until they crackle and become fragrant. Then add the below listed spices and herbs:
½ teaspoon chopped ginger
½ teaspoon chopped garlic
2 to 3 green chilies chopped diagonally
1 to 2 dry red chilies
6 to 7 curry leaves
Stir to mix well.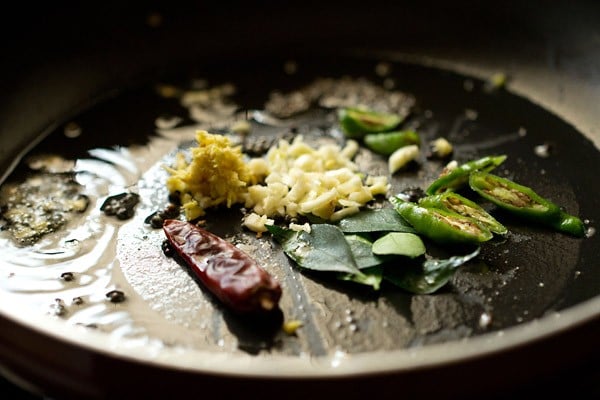 12. Then add 3 tablespoons chopped red or white onions.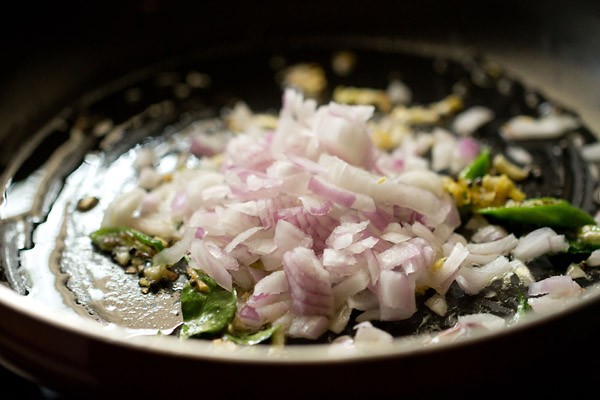 13. Stir and saute the onions until they become translucent.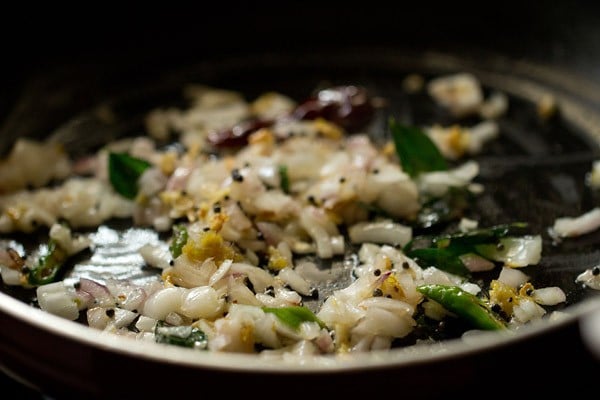 14. Next add 2 to 3 pinches of salt and ¼ teaspoon sugar. I like to add the sugar to help balance out the spiciness of the paneer 65 dish, but feel free to skip if you want.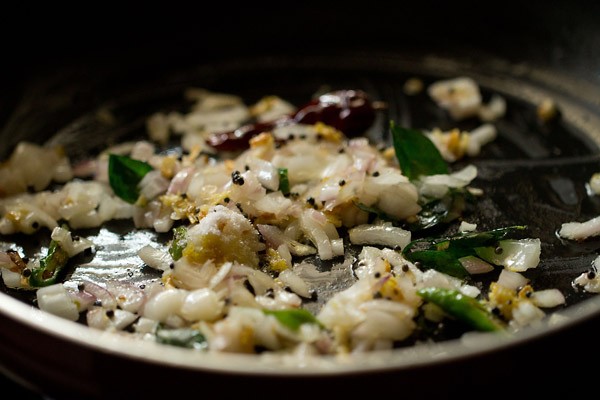 15. Stir again to combine.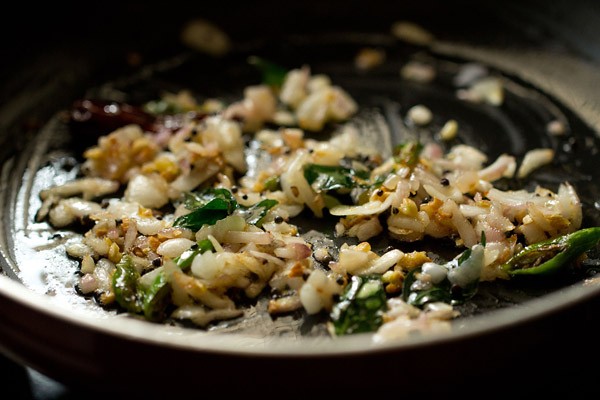 16. Add the fried paneer cubes to the pan.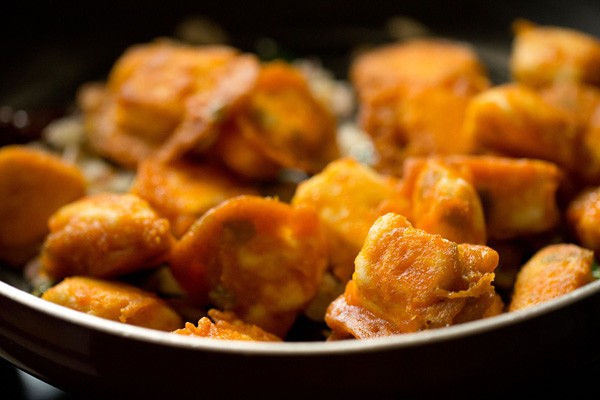 17. Mix and gently toss the paneer cubes with the rest of the sauteed ingredients. Taste, and add a pinch more salt, sugar, or chopped green chilies.
Turn off the stove and remove the pan from the heat.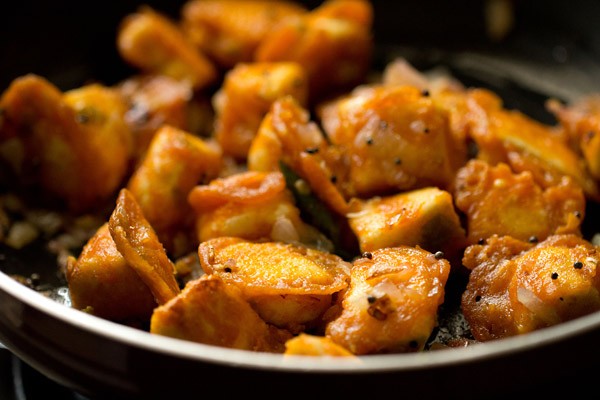 18. Lastly, add chopped coriander leaves (cilantro). Stir. Drizzle some lemon juice if you prefer.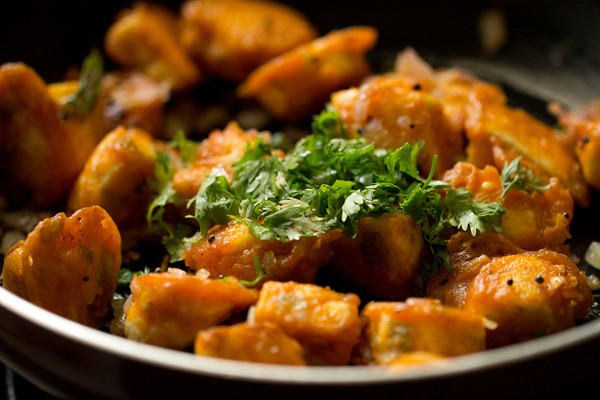 19. Serve paneer 65 hot as is or with a dipping sauce or mint chutney.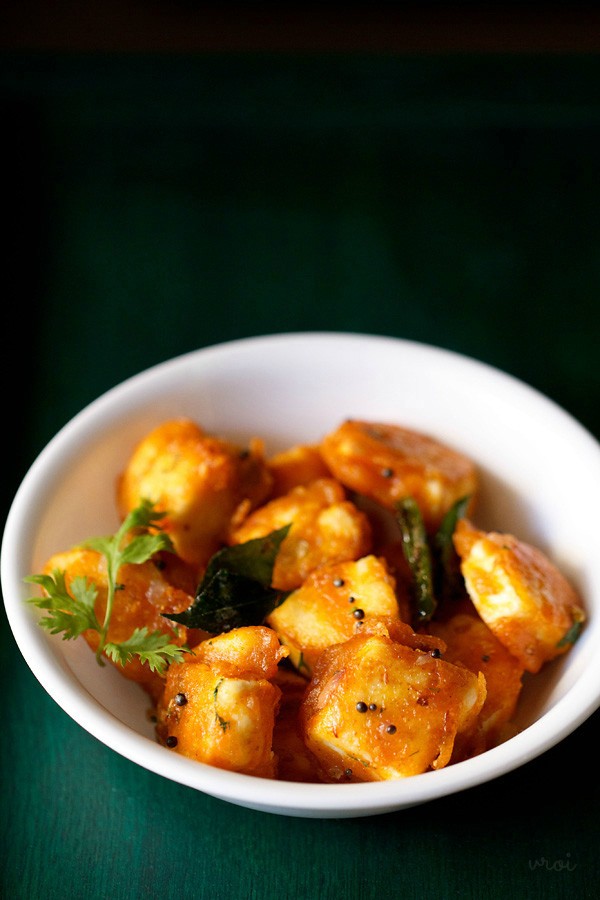 FAQs
How can I make this a vegan dish?
Easily prepare this as tofu 65 for a vegan-friendly meal. Swap the paneer for firm tofu, and press well to remove the moisture before frying.
How do I make this paneer 65 recipe more or less spicy?
For a more spicy version, increase the number of green and red chilies by one each. To prepare as a more mild dish, reduce the number of red and green chilies to just one of each.
What should I serve with paneer 65?
Enjoy as a snack or starter by itself. Or serve the paneer 65 as part of a complete meal with some chapati, Naan or Tandoori Roti, or your favorite bread.
More Paneer Snack Recipes To Try!
Please be sure to rate this recipe in the recipe card below if you have made it. For more vegetarian inspirations, Sign Up for my emails or follow me on Instagram, Youtube, Facebook, Pinterest or Twitter.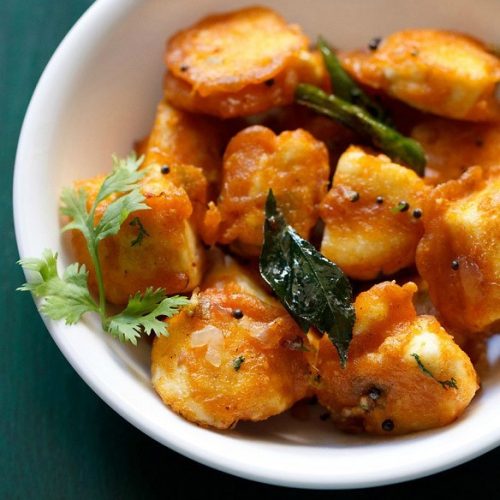 Paneer 65 Recipe
This is a spicy and tasty Paneer 65 recipe from the Hyderabadi cuisine. This recipe makes for a crispy version where batter coated and fried paneer cubes are tossed in a savory spiced mixture of onions, herbs and spices.
Prep Time 30 mins
Cook Time 25 mins
Total Time 55 mins
Marination
Take rice flour, gram flour and cornstarch in a mixing bowl.

Add the following spices & herbs – green chili paste, garlic paste, ginger paste, red chili powder, garam masala powder and lemon juice. Also add salt as required.

Add 4 tablespoons water. Whisk to a smooth paste. You can also add a few drops of natural color. I have used orange natural color extract.

Add the paneer cubes.

Gently mix the paneer cubes with the batter. Cover and allow to marinate for about 15 to 20 minutes at room temperature.
Frying paneer
Heat 5 tablespoons oil in a pan. The oil should be medium-hot. Coat the paneer cubes with the batter evenly and add them to the hot oil.

Keep some space between the paneer cubes so that they don't stick.

Once the base is done, flip and fry the other side.

Flip for a couple of times all the paneer cubes and fry till the outsides become crisp and golden. Remember not to over fry the paneer cubes as then they become dense.

If you prefer, you can opt to deep fry the batter coated paneer cubes.

Place the fried paneer cubes on kitchen paper towels to remove excess oil.
Making paneer 65
In the same pan, heat 2 teaspoons oil on low to medium-low heat.

But note that if there is any extra oil left in the pan from frying the paneer, then there is no need to add this 2 teaspoons of oil.

Add the mustard seeds and let them crackle.

After the mustard seeds, crackle, add chopped ginger, chopped garlic, green chilies chopped diagonally, dry red chilies and curry leaves. Stir and mix well.

Then add 3 tablespoons of chopped onions. Stir and sauté the onions till they turn translucent and soften.

Add salt and ¼ teaspoon sugar. You can skip sugar if you want. I added a bit of sugar as then the paneer dish tastes good.

Stir to combine well. Add the fried paneer cubes.

Mix and toss the paneer cubes with the rest of the sautéed ingredients. Check the taste and add more salt or green chilies if required. Switch off the the heat.

Lastly add chopped coriander leaves. Stir and mix.

Serve paneer 65 hot as a starter with a chutney or dipping sauce or with some roti, naan or bread.
Make sure to make this recipe with fresh paneer. Homemade is always better but if buying packaged paneer, make sure it is fresh and within its shelf-period.
For a more spicy taste, increase the red chilli powder, red chillies and green chillies.
Opt to deep fry the paneer cubes if you prefer.
Skip mustard seeds if you do not have these.
Sugar can also be skipped, if you do not prefer it.
The recipe can be scaled to make for a larger serving or a smaller serving.
Nutrition Facts
Paneer 65 Recipe
Amount Per Serving
Calories 505 Calories from Fat 387
% Daily Value*
Fat 43g66%
Saturated Fat 15g94%
Polyunsaturated Fat 9g
Monounsaturated Fat 12g
Cholesterol 44mg15%
Sodium 590mg26%
Potassium 66mg2%
Carbohydrates 19g6%
Fiber 2g8%
Sugar 2g2%
Protein 11g22%
Vitamin A 229IU5%
Vitamin B1 (Thiamine) 0.03mg2%
Vitamin B2 (Riboflavin) 0.02mg1%
Vitamin B3 (Niacin) 23mg115%
Vitamin B6 0.1mg5%
Vitamin C 46mg56%
Vitamin E 4mg27%
Vitamin K 1µg1%
Calcium 340mg34%
Vitamin B9 (Folate) 249µg62%
Iron 0.4mg2%
Magnesium 12mg3%
Phosphorus 28mg3%
Zinc 0.2mg1%
* Percent Daily Values are based on a 2000 calorie diet.
This Paneer 65 post from the archives first published in February 2015 has been republished and updated on 26 June 2022.