Mangalorean Manoli Curry Recipe – Indian Gherkins Curry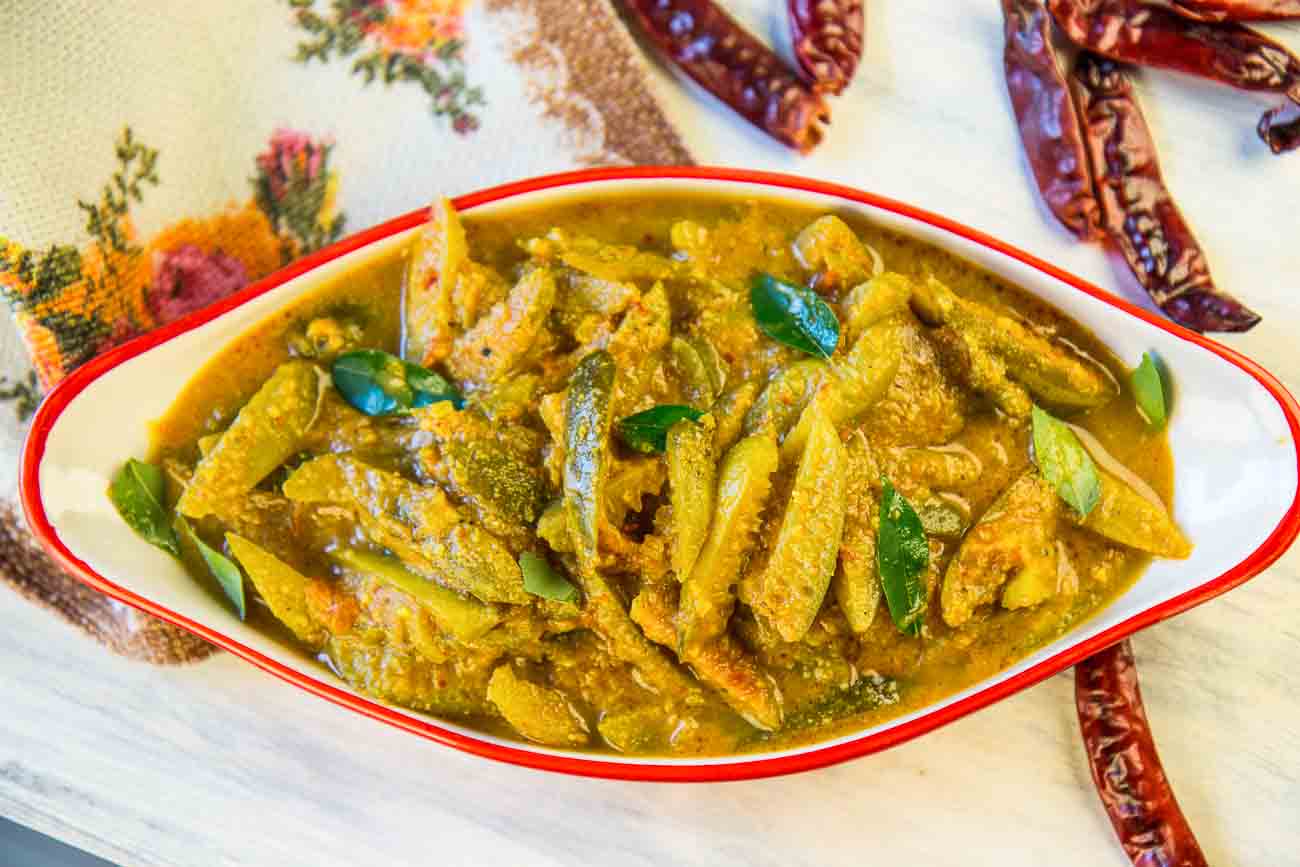 To begin making the Mangalorean Manoli Curry Recipe; we will first steam cook the Manoli. You can use a pressure cooker or a steamer to cook it. Precooking the Manoli (Indian Gherkins) makes the cooking process faster and more nutritious too.
I like to use a pressure cooker for steaming the vegetables. To do this, place the cut Manoli (Indian Gherkins) along with a pinch of salt and 2 tablespoons of water into the pressure cooker.
Cover the pan, place the weight on and allow the vegetable to cook in the pressure cooker until you hear two whistles.
After a whistle, turn off the heat and you can place the pressure cooker under running water to release the pressure immediately. Releasing the pressure immediately, helps retain the fresh green color of the Gherkins and also gives it a perfectly cooked texture.
Our next step is to make the Manoli Curry Masala.
In a small pan; roast the dry red chillies, fenugreek, coriander, cumin and black pepper until you can smell the roasted aromas. Add these to a small blender jar, along with the coconut, tamarind and turmeric powder.
Grind the spices adding very little water to make a smooth curry paste. The Manoli curry paste is now ready. Keep aside.
In the next step; heat a teaspoon of oil in a pan; add the chopped onions, and saute for a couple of minutes until the onions are soft and tender. Add the curry paste and saute for a couple of more minutes.
Stir in the steamed gherkins, salt and add about 1-1/2 to 2 cups of water. You essentially want a thick gravy for the Manoli Curry; hence add water accordingly.
Give all the ingredients a good stir. Check the salt levels and adjust to suit your taste. Give the mixture a quick boil only when you are ready to serve.
Serve the Mangalorean Manoli Curry Recipe along with Whole Wheat Lachha Paratha and Tomato Onion Cucumber Raita for an everyday meal.