Craving for soft, creamy and melt-in-mouth Malai Paneer and don't really want to step out of the house or order it online? Don't worry, this Malai Paneer is here to save you. This recipe will not only give you a restaurant style dish at the comfort of your home, but is ultra-easy without using too many ingredients and gets done within 20 minutes. Don't believe me? Well, go for it this time and know what that I'm really not kidding!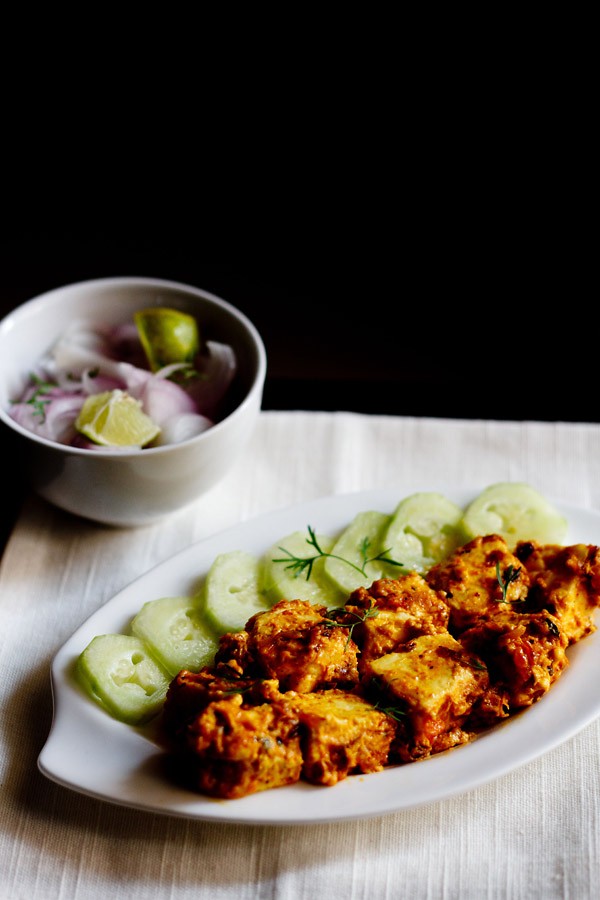 About This Malai Paneer
I have adapted this Malai Paneer from the cookbook '1000 Great Indian Recipes – The Ultimate Book of Indian Cuisine' and modified it as per me and my family's preferences.
While I was reading through the recipe in this book, it stuck with me as I felt it was too quick and easy paneer dish that came from the restaurant chefs.
The quickness and ease of this specific recipe of Malai Paneer made me try it at home, without a second thought. And I'm glad I made it and created my version of it which is actually a recipe for keeps.
I added one more signature way of making a popular dish in my kitty, which I could refer to whenever I had unexpected guests or relatives. The same goes for you too.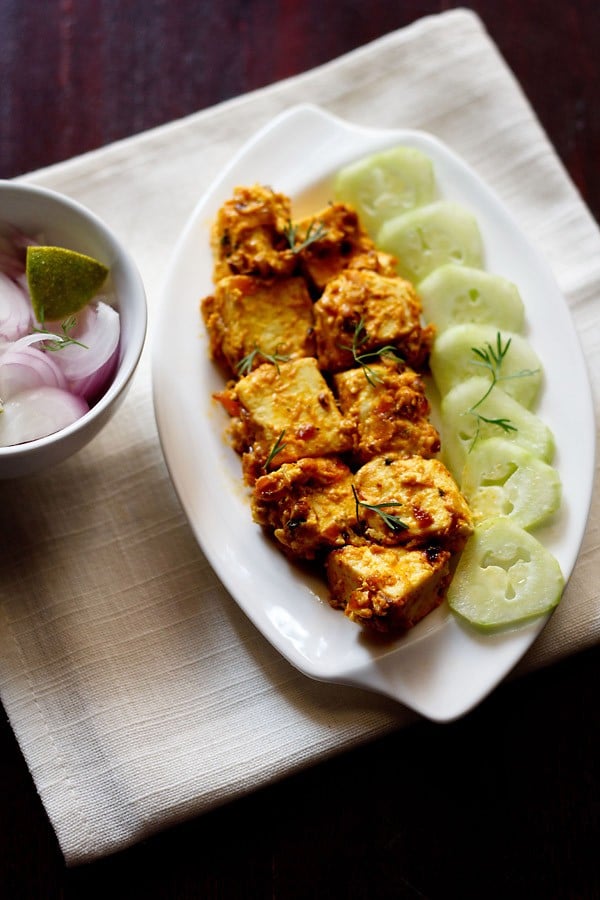 Whenever I am making a paneer dish at home, I usually make it with the paneer that is also made at home the night before. I avoid buying it from the market. Same goes for this Malai Paneer as well.
I suggest you refer to this How To Make Paneer post of mine and make it at your home too. Once you get used to homemade paneer, you too will never head out to purchase it.
For this Malai Paneer, I halved the recipe, reduced the ridiculous proportion of oil and increased the proportion of cream from what was mentioned in the cookbook.
Also, added the quantity of spices which suited us and did not make the dish unbearably hot. In the original recipe, dry fenugreek leaves were not added. However, I added it in my version to give the dish an added aroma and flavor.
More On The Recipe
The paneer cubes in this Malai Paneer have a similar taste like that of the Malai Paneer Tikka. However, this entire dish is made in a pan and in flat 20 minutes, if you have the paneer ready, unlike the tikka which is marinated and grilled.
Just add a couple of minutes, which you will require to chop the onions and crush the ginger-garlic. If you add this time as well, it's going to be a total of 25 minutes. Isn't it one of the best dishes in the quickest possible way?!
This Malai Paneer has a semi dry consistency and a nice moistness due to the cream. I have used light cream in this recipe. If you're outside India, you can use any good quality 25% to 30% fat cream.
The rest of the ingredients are easy to get, except for the dried fenugreek leaves or kasuri methi. So, if you're facing trouble in sourcing it, skip it.
The Malai Paneer is an apt choice for a sumptuous starter or mocktail/cocktail snack. Since, we at home, are mostly roti and rice people, I serve it with that only along with a side of onion-lemon salad or cucumber-carrot salad.
You can even garnish it with chopped coriander leaves before serving and relish it with phulka or naan as well. Make this dish for a large number of people by simply doubling the recipe.
Step-by-Step Guide
How to make Malai Paneer
Make Masala
1. Heat 2 tablespoons oil in a pan or a small kadai/wok. Add ¾ cup finely chopped onions.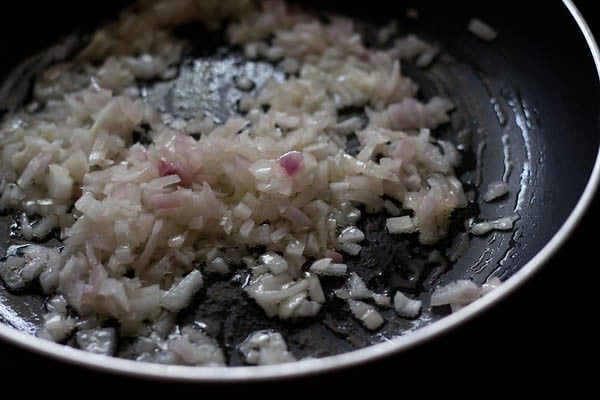 2. Sauté the onions on low or medium heat, till they start to turn golden.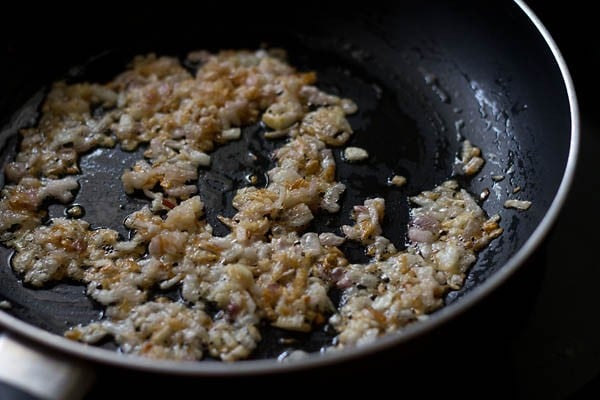 3. Then, add 1 teaspoon ginger-garlic paste and sauté for about 15 to 20 seconds or till the raw aroma of ginger-garlic goes away.
By this time all the onions would also have browned. Make sure you don't burn the onions as this will give a bitter taste in the dish.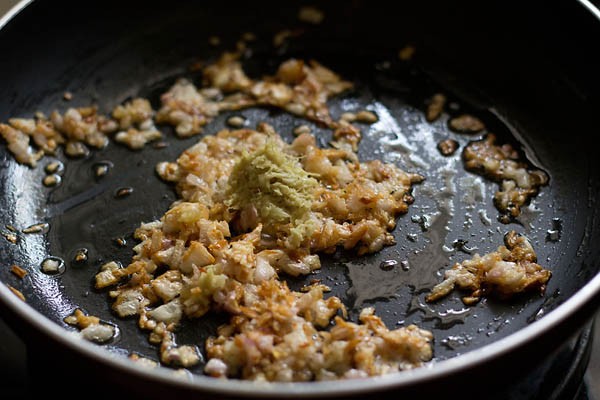 4. Lower the heat and add these spice powders:
¾ or 1 teaspoon coriander powder
½ teaspoon Kashmiri red chili powder
¼ teaspoon turmeric powder
Stir and sauté the ground spices for a couple of seconds without burning it.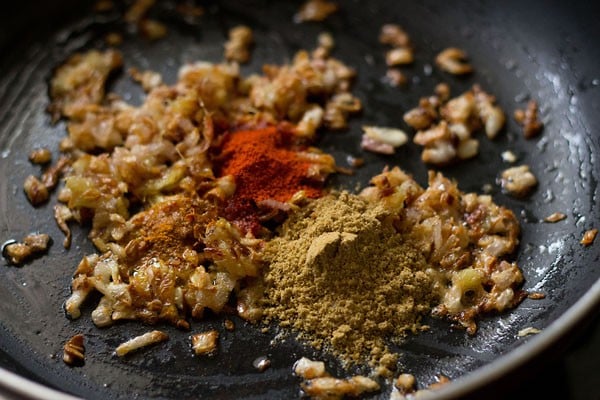 Make Malai Paneer
5. Stir well and then add 250 grams paneer, cut into cubes. On low heat stir and sauté for 1 minute till the masala coats the paneer well. Do not cook the paneer for more time at this point.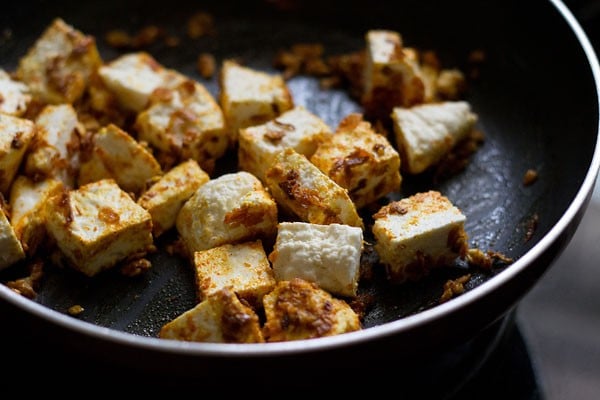 6. Add ½ cup light cream (or 25% milk fat cream). Gently stir to mix and sauté till you see fat leaving the sides or the cream has coated the paneer cubes.
Just cook for about 2 to 3 minutes after you add the cream. Also, add salt after you add the cream.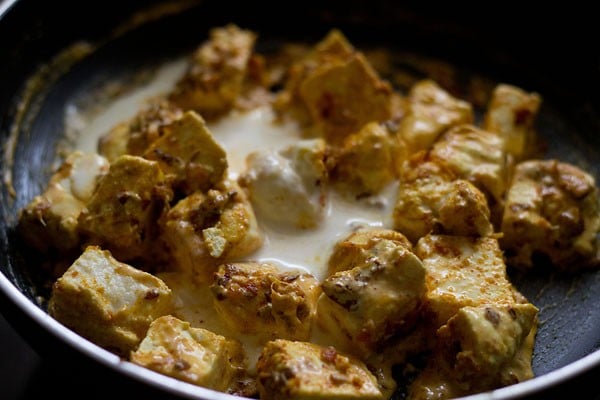 7. Switch off the heat and sprinkle ⅛ or ¼ teaspoon crushed kasuri methi and ⅛ teaspoon garam masala powder. Stir to mix gently.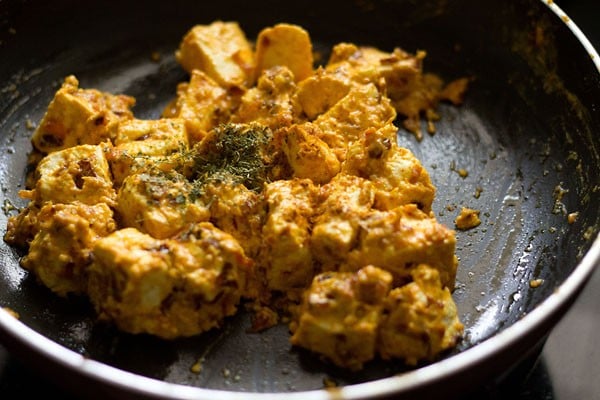 8. Serve Malai Paneer hot garnished with some chopped coriander leaves, as a starter or with phulka, roti or naan.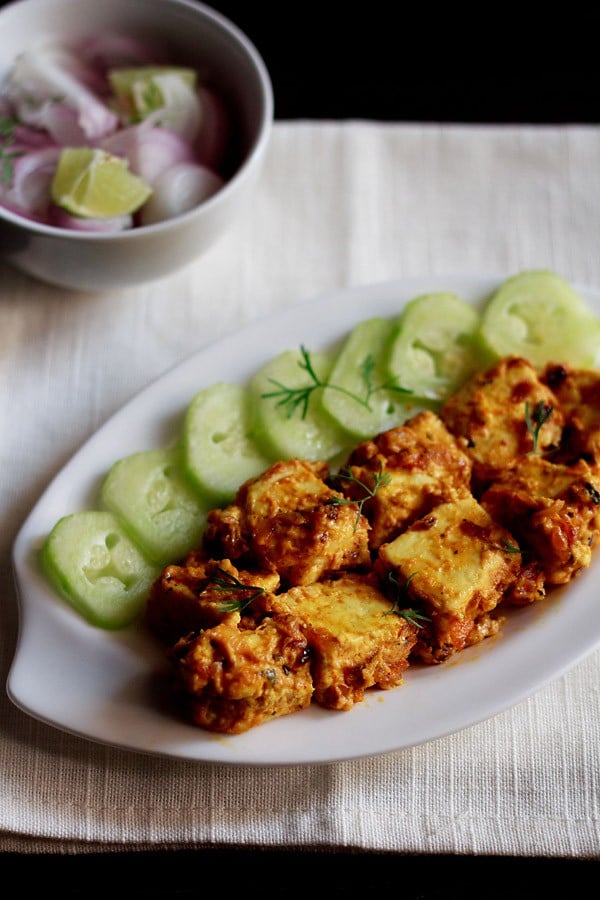 FAQs
I stay in the US. What can I use as a substitute to the malai?
In US, various types of cream like light cream, whipping cream, heavy cream or other readymade low-fat cream are available. You can use any of these. But if using heavy cream or whipping cream which has a higher proportion of milk fat, add ¼ cup.
In this recipe, is possible to use milk in place of cream?
I won't suggest adding milk, as it will alter the consistency. Instead, you can collect the clotted cream (malai) and refrigerate it for 2 to 3 days. Then, blend in a blender or mixie to a smooth cream and use it.
Can evaporated milk be used in this recipe?
Not really, as using evaporated milk might lend a sweet taste, which is not apt for this dish.
What do I do if I don't have kasuri methi?
Make the dish without it or use a pinch of fenugreek seed powder instead.
More Paneer Varieties To Try!
Please be sure to rate this recipe in the recipe card below if you have made it. For more vegetarian inspirations, Sign Up for my emails or follow me on Instagram, Youtube, Facebook, Pinterest or Twitter.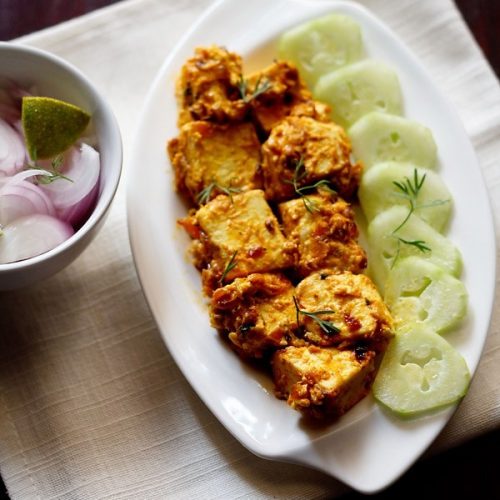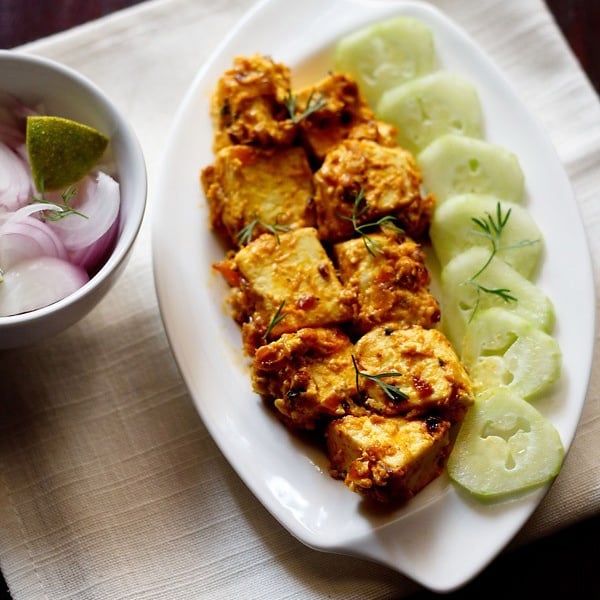 Malai Paneer
This Malai paneer is a semi-dry, creamy, mildly spiced dish made with soft paneer cubes, onions, light cream, spices and herbs. The recipe not only gives you a restaurant style dish, but is ultra-easy without using too many ingredients.
Prep Time 5 mins
Cook Time 20 mins
Total Time 25 mins
Preparation
Making malai paneer
Heat oil in a frying pan. Add the onions.

Keep on stirring while the onions are sautéing, so that there is uniform browning.

Saute till the onions start turning golden on low to medium-low heat.

Then add the ginger-garlic paste. Sauté till the raw aroma of the ginger-garlic goes away – takes about 15 to 20 seconds.

On a low heat add the coriander powder, red chili powder and turmeric powder.

Stir and saute the spice powders for a couple of seconds. Make sure you don't burn them.

Then add the paneer cubes. On a low heat gently mix, sauté and stir for one minute till the paneer cubes are coated with the masala. Do not cook the paneer too much at this step.

Add cream and and continue to gently stir till the cream coats the paneer cubes well.

On low heat, cook for about 2 to 3 minutes after adding the cream. Season with salt and stir to mix.

Lastly sprinkle crushed fenugreek leaves and garam masala. Stir to mix again gently.

Garnish with chopped coriander leaves and serve Malai Paneer hot as a starter snack or with naan, roti, chapati or bread.
Make the dish with fresh and soft paneer. If using frozen paneer, thaw them first or follow the package instructions. Best is to use homemade paneer.
For a more richer dish, you can use butter instead of oil.
I have used light cream having 25% milk fat in the recipe. If using heavy cream or whipping cream, add ¼ cup.
The proportions of spices are perfect for this recipe. Do not increase or decrease the amount of spices.
The malai paneer recipe can be halve or doubled.
Nutrition Facts
Malai Paneer
Amount Per Serving
Calories 602 Calories from Fat 495
% Daily Value*
Fat 55g85%
Saturated Fat 26g163%
Polyunsaturated Fat 1g
Monounsaturated Fat 14g
Cholesterol 116mg39%
Sodium 635mg28%
Potassium 138mg4%
Carbohydrates 10g3%
Fiber 1g4%
Sugar 3g3%
Protein 19g38%
Vitamin A 472IU9%
Vitamin B1 (Thiamine) 0.03mg2%
Vitamin B2 (Riboflavin) 0.1mg6%
Vitamin B3 (Niacin) 0.2mg1%
Vitamin B6 0.1mg5%
Vitamin B12 0.1µg2%
Vitamin C 5mg6%
Vitamin D 0.2µg1%
Vitamin E 6mg40%
Vitamin K 4µg4%
Calcium 638mg64%
Vitamin B9 (Folate) 13µg3%
Iron 0.4mg2%
Magnesium 10mg3%
Phosphorus 38mg4%
Zinc 0.2mg1%
* Percent Daily Values are based on a 2000 calorie diet.
This Malai Paneer post from the archives first published in May 2014 has been republished and updated on 24 July 2022.