Los Angeles general contractor/IKEA installer says IKD offers him clear pictures of his kitchen projects
And grumbles that IKEA's new Home Planner software doesn't do hacks or non-IKEA appliances!
You're an IKEA customer — perhaps even an experienced DIYer — who's planning a kitchen remodel using IKEA cabinets. It's an exciting time! You've made sure you've done your research; established your budget and selected the IKEA cabinets (or custom cabinets) that you plan for your design.
However you've also likely realized that there's more to a successful IKEA kitchen installation than simply assembling your cabinets and hanging them on a wall using the IKEA SEKTION kitchen system. There's much more. This includes taking accurate measurements; taking proper inventory on delivery day; navigating the IKEA Home Planner and understanding the important design details to make sure that you are working with a well-designed kitchen layout, among others. That's why using a professional IKEA cabinet installer will make a significant difference in your project.
These are the sentiments of Jake, owner of Los Angeles, CA-based JD Custom Construction, who recently sat down with IKD to discuss his company; as well as the finer points of a successful IKEA kitchen installation, including cabinet hack modifications; installing custom cabinets and how his firm has navigated IKEA's (much improved) back order delays. He even found time to share a funny story about an enthusiastic German Shepard from one of his recent projects!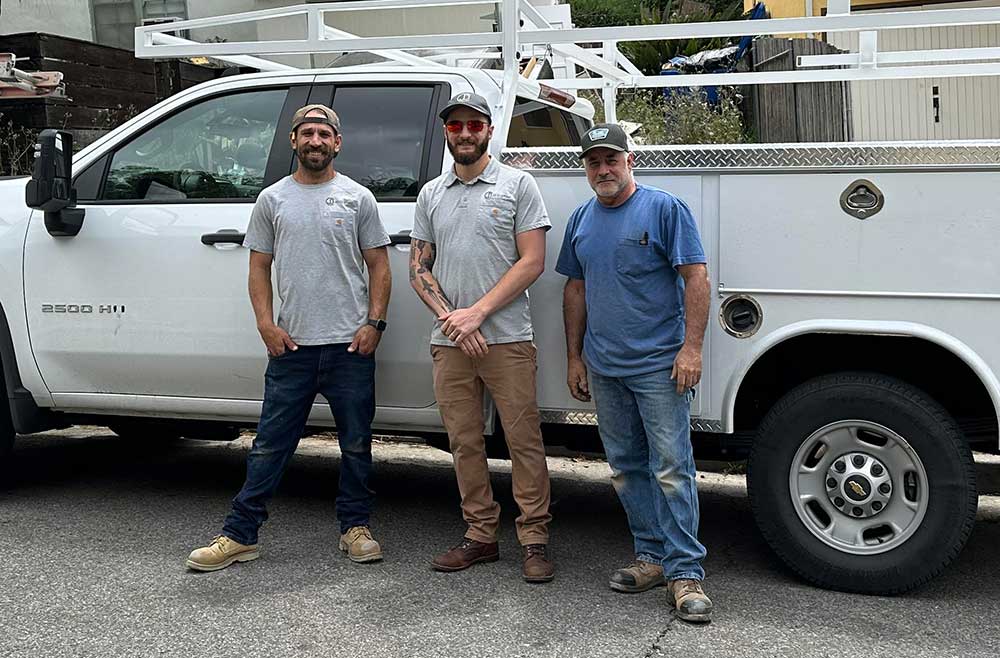 So any IKEA customers seeking some "insider info" on how to improve the look and function of their IKEA kitchen project will surely appreciate the following information.
Let's hear from Jake!
Personalized IKEA Kitchen Designs
Created by Certified Designers
IKD: Can you give us some background into how you got involved with IKEA installation?
Jake: It started around the time I moved out here from the East Coast (around 10 years ago), when I was a finish carpenter — a very good finish carpenter. I had started on the East Coast doing historical preservation. After I moved out here, I was looking for a job and ended up landing with a company that had a contract with IKEA's Traemand. I worked with them for a number of years. After getting to know people in the industry, I ended up working for another contractor that was doing similar things and had a contract with Traemand but was also doing a lot of work with (third-party custom cabinet front manufacturers) Semihandmade (SHM) and Reform. These companies were making custom cabinet fronts for IKEA, so I always called it the 'IKEA Plus Market'. That company ended up closing shop and I was looking for what to do and had always wanted to start my own business. So I started my own business and I was riding along with designers and people that I had met along the way. Typically the designers were specializing in that IKEA Plus market and doing those kinds of design plans. This was important because it's a little lacking with design plans when you use IKEA. We kind of just grew from there. We've been active going on five years now and doing pretty good. I'm a general contractor. Plus we do custom cabinets and IKEA cabinet installations. We'll do full remodels and things like that, but we're still specialists with that 'IKEA Plus' product and we still do a lot of work in that space.
IKD: Do you demolition services as well?
Jake: We'll do everything from start to finish demo all the way to final paint. We've even done a few commercial projects. We've been working with Reform quite a bit lately. They're really on that upper echelon of those kind of companies and we've been working with them for a couple of years now. They actually hired me to build their next showroom. But yeah, we'll take a job from start to finish. Of course we will handle strictly cabinet installations if that's what the client needs, and act as a subcontractor as the cabinet installer.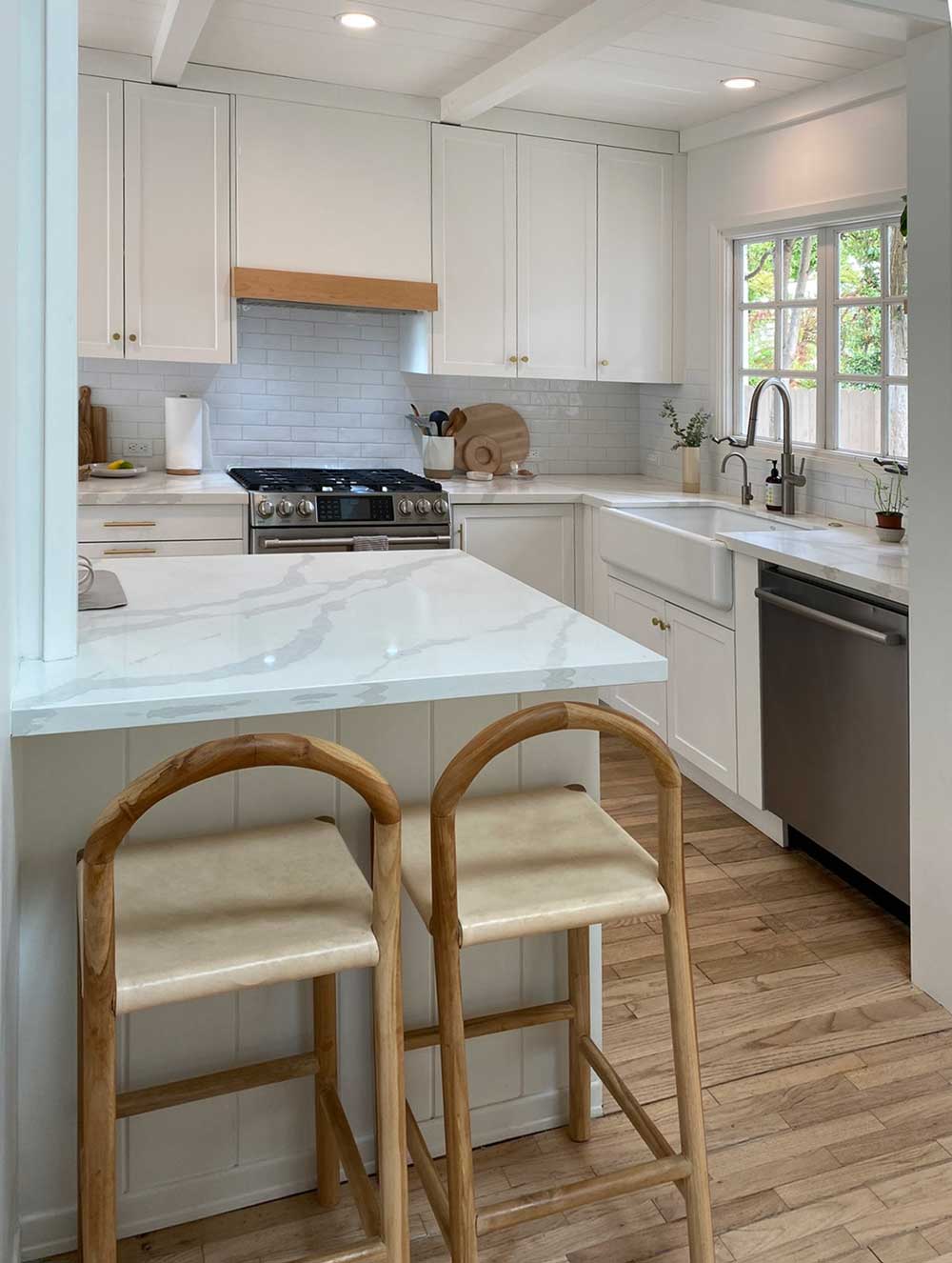 IKD: So how do customers find you?
Jake: Right now it's typically word of mouth and referrals, usually coming directly from designers like yourself. Plus we end up getting a lot of work directly from the manufacturers. We used to get a lot from Semihandmade, but they're kind of flooded with installers on their list right now. Reform sends us quite a bit of work plus some of the newer, smaller ones that have come up.
IKD: How about The Cabinet Face and companies like that? Are they doing much?
Jake: I personally like The Cabinet Face. They're a great company and really take care of their clients. Semi-handmade is kind of the big dog in that space but I would say [The Cabinet Face] is getting enough work to make money and expand.
IKD: And how many jobs do you do a year?
Jake: Right now we're strictly doing installs, so anywhere between 50 and 100 projects a year. With full general contracting projects, it depends on the size of the project. Some projects can last months and some projects are done in about a month. I would say we're doing at least 10 or so of those a year.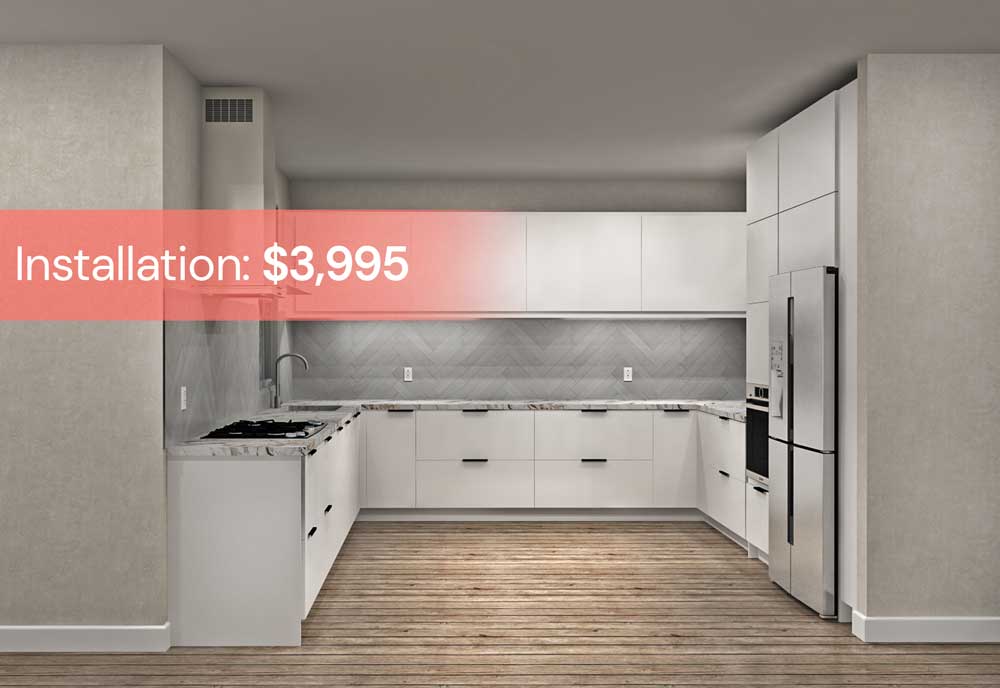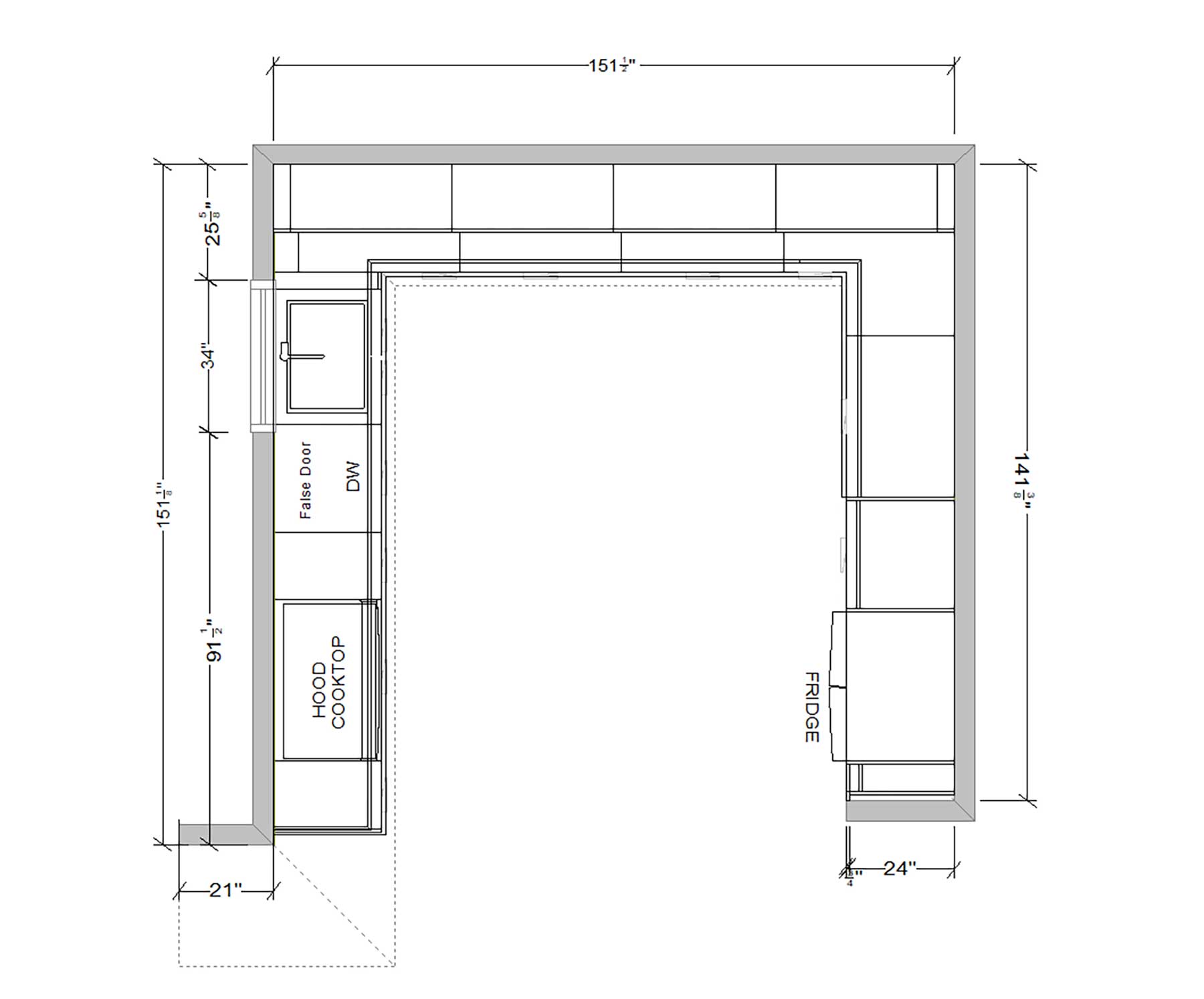 IKD: How many people do you have on your team right now?
Jake: Right now I've got about five or six. Some of them do various things. I've got two my two lead installers, a couple helpers, a guy that does a lot of my plumbing and electrical, and a couple of them kind of do more than just cabinet installs for me. I would say we're about five or six on the team right now.
IKD: What's the geographic radius that you'll work around Los Angeles?
Jake: In LA, we're talking about the Greater LA area, including Orange County and Inland Empire — which is like Riverside and San Bernardino. Obviously, San Bernardino is huge, so we stay kind of more towards the Riverside side of San Bernardino. I would say that is our core market, with LA being at the center of that. We are actively pushing for more in Orange County and Inland Empire. So LA is our core market, and then 40 to 50 miles from there.
IKD: Do customers submit plans to you through the IKEA Home Planner?
Jake: So again, a lot of my work is referral from either the manufacturers or the designers. So some of the designers are using the IKEA Planner. Obviously, the IKEA Home Planner has its limitations. I have other designers who are using more of a CAD software, kind of like what you guys are using. So it allows you to do all of the custom stuff that the IKEA Planner won't really let you do. Now with the addition of the new IKEA Planner — which I personally think is not very good — it becomes a mix for us. Sometimes we're working off architectural plans if it's a big general contracting job, so it kind of depends. I know Reform does a lot of their own planning now with their own software, so it also depends on where it's coming from. I would say we get a good mix.
IKD: Does Reform make the cabinets and doors?
Jake: Yes, for a while they were doing IKEA Plus, so they were doing just doors and stuff, but they have transitioned to making their own cabinets.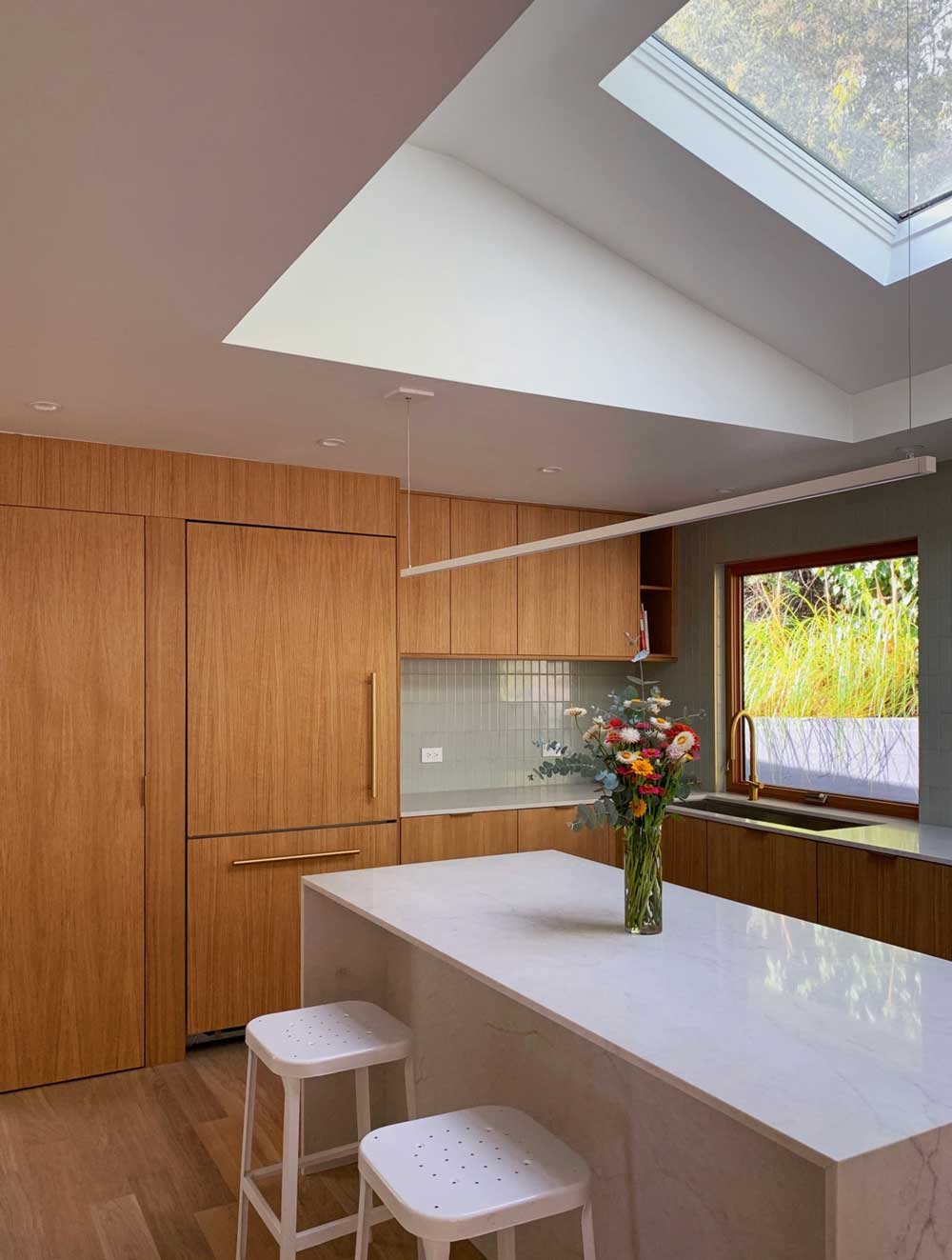 IKD: Can you speak to two or three challenges that you see consistent when dealing with the IKEA Home Planner?
Jake: Well, first off, the new IKEA Home Planner (they recently changed it for the new year), is far less detailed. You're not really seeing the colors on it anymore. It's just a lot of black and white lines. You don't really get to see what it looks like. It's kind of just data, which is fine for a very experienced installer who knows the product. You can kind of get the gist, but the 3D on it doesn't look nearly as good as it used to. It's way more basic than it used to be. That would be one thing. Another thing that comes to mind is the IKEA Home Planner will not let you do anything custom. So if you need a custom sized cabinet, say if you're going to do an IKEA cabinet hack — say you're going to cut something down to be smaller or cut a cabinet down to be shallower or you're going to build a custom cabinet out of panels that's going to be an open face to sit inside — the new IKEA Home planner is not going to let you do anything like that. Same thing with appliances. The IKEA Home Planner doesn't populate something for those. So it really limits you on being able to do anything outside of a very basic IKEA design. It seems to me that on top of IKEA not really offering installs and getting away from that, they are getting away from designing as well because with Traemond the installer was overseeing all of the planning and stuff. They were doing the measurements but it seems they're breaking away from a lot of that. They're kind of pushing people back to rely on a third party design plan, like IKD.
IKD: So talking about cabinet customizations Jake, can you talk a little bit about some of your favorite hacks?
Jake: A very common hack that comes to mind, especially with all of the backorder issues that IKEA had the past couple of years, has been to modify a cabinet to a different size. Sometimes that's because they don't have a 30" cabinet in stock, so we can buy a 36" cabinet and cut it down to 30". That's one place where I see modifications. The other is where we need a cabinet size that IKEA doesn't offer. So the client maybe needs a 10" cabinet or a 5" cabinet to put their cooking trays in. We can buy a 12" cabinet and cut it down and put a drawer front on it like a door. Or let's say the customer needs a cabinet that sits on top of the countertop and a 30" or a 40" cabinet isn't going to work — they need a 50" cabinet. We can cut one of the IKEA pantry cabinets down to that size. So the things that come to mind for the hacks is being able to modify cabinets down to a different size, especially when you're working with the 'IKEA Plus' market. So we've done that on quite a few projects. However, it has to be in the right situation. We've been able to do it on quite a few jobs now, using cover panels to create a cavity and then the cabinet. You attach the door to the cover panel and then it slides in between that cavity that you've made. That's a great one that we've seen, especially for those countertop and appliance hutch-type of cabinets. Another customization we are fond of doing is when clients want an open-faced cabinet with no door on it, but let's say that the finish that they have is walnut. Then they buy a cabinet that they don't want to put a door on, and now that cabinet is white It's an IKEA white cabinet, but that's not what they want. They want to see an open-faced walnut cabinet. So one thing that we've been able to do is order cover panels. So if they're ordering the walnut from Semihandmade then we can build them a custom cabinet on site out of those walnut panels so that it matches all of the doors. We can pull that cabinet forward so it's flush with the doors rather than flush with the cabinet frame behind it. That's something we've been able to do on site that a lot of clients have liked. So we're basically building them a custom cabinet out of panels to match everything else that they have. People want open cabinets for sure. With a professional design plan we're usually able to make it work for the customer.
IKD: So with a lot of the customizations, is that an additional charge?
Jake: Typically, yeah, and it's usually based on the situation. So some things we will have a set pricing for, like modifying a cabinet down to another size. That's pretty standard across the board. Are we cutting it to depth? Are we cutting it to width? Are we cutting it to height? The pocket door situation is where it gets a little trickier. Are we doing two doors? Or is it just one big door that opens? How big is that door? What is the hardware that we're using for that? There're different companies out there that make hardware per situation basis.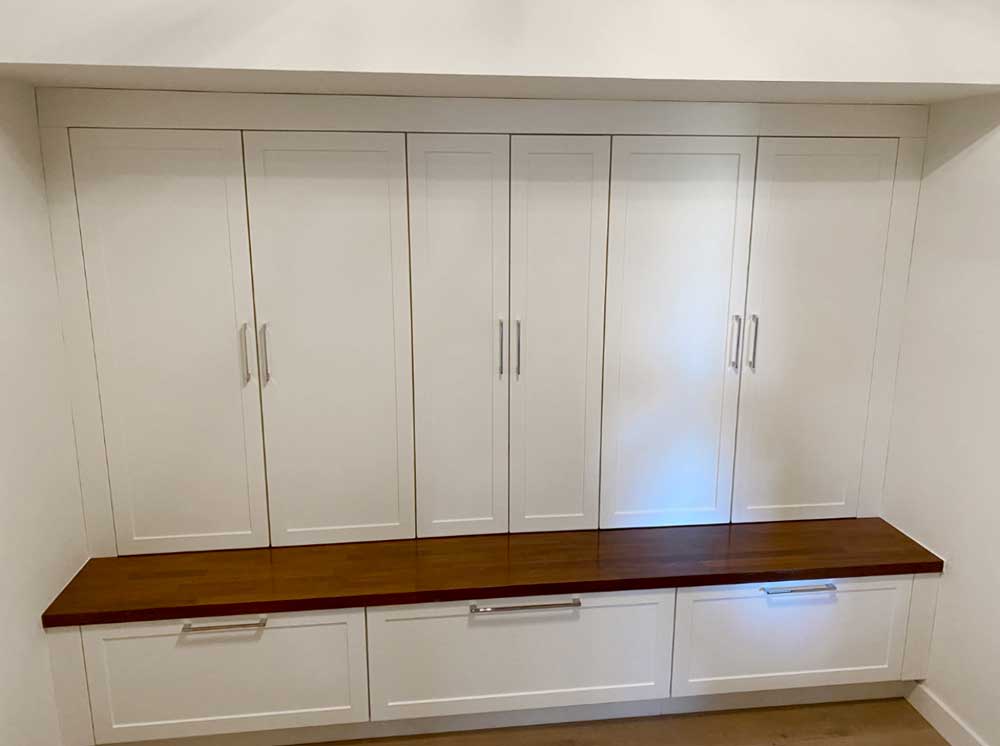 IKD: Are you charging more when using custom doors?
Jake: So we upcharge a little bit. It's not about switching from IKEA to a Semihandmade (SHM) or an IKEA Plus cabinet. We pretty much charge the same for any of them. Where I see the cost getting driven up is the cover panels. So we're not marking it up because it's custom. I guess the exception to that with IKEA is a fridge panel. Those panels come oversized, so we cut those down, so there's a charge for that. When we switch to these custom fronts, like Semihandmade, pretty much all of their cover panels come oversized and those are cut to fit, which gives it a much more custom feel. We cut those panels so that they are perfectly flush with the door, they're perfectly flush with the deco underneath and sometimes they extend up on the sides so that we have like a seamless filler up to the ceiling on the side. But all of their panels now need to be cut on a table saw or a chop saw or whatever it is before they're installed. That's typically where we see cost going up. So it's not necessarily an upcharge more than using those oversized panels creates more work.
IKD: You mentioned IKEA back orders a few minutes ago. Are you still seeing back orders? And if so, how are you handling that?
Jake: Yes, it's getting a lot better. So it's not quite like it was during COVID and coming out of COVID. We're seeing that cleared up a lot more. And if something is back ordered, it's in stock a lot sooner. For us, in order to mitigate that, it comes down to the cabinet frames That's what's really going to hold us up on a project. If we're missing a drawer or we're missing some kind of internal thing we can still build your whole kitchen. You can put countertops on it and use the kitchen until that drawer comes in — you just won't be able to use that drawer. But if we're missing cabinet frames then you're in a situation where without the sink cabinet there's no sink and there's no countertop, right? What we've found to mitigate that goes back to the customizing, where we buy a cabinet that's bigger and cut it down to fit. It allows us to proceed with the project. The other option that we have found is using companies which are making cabinet frames that essentially match the IKEA footprint. You can purchase those frames as a one-off. So you buy your whole IKEA kitchen and say you're missing a 30" cabinet. You can buy a 30" cabinet from them and drop it right in with the IKEA stuff. I believe they cost a little more because it's a custom outfit. If the drawers are back ordered or something like that, we'll do the whole project and get you a working kitchen, and then we can circle back once you have those things just to finish up.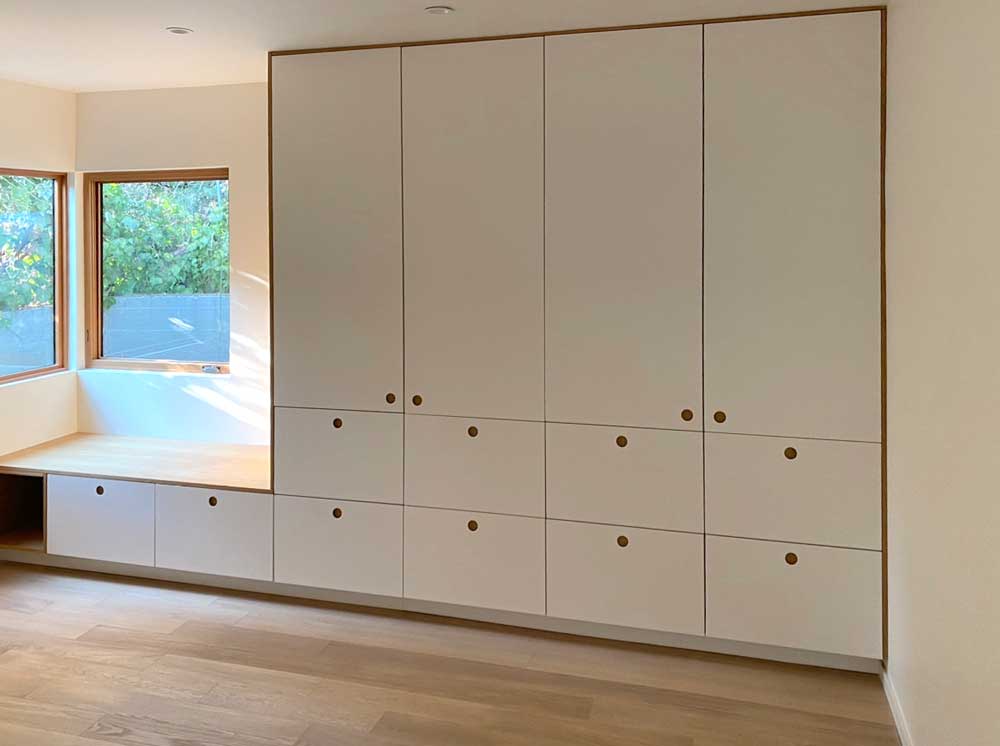 IKD: Obviously you've worked with IKD, so if you could talk a little bit about what you see as the value of having a proper design? How does that add value for you and for the customer?
Jake: The IKD plans give them a much better visual of what the end product will look like. IKD can put the actual color that they're using and can show them the custom cabinets, or floating shelves or if they want a slab backsplash. So for the customer, it gives them a much clearer picture. The customer wants to see that 3D picture so they can see what their kitchen will look like. It gives them a much better visual and expectation of what they should have at the end of their project. That's the value I see there. For the contractor, it gives us a much clearer road map to get the client's project to what they're expecting.
So unless you have very exact, proper notes written all over the plan — things like custom cabinets — you're going to miss something. The IKD plan's going to show a 12" cabinet, but maybe we really need a 10" cabinet there, and IKEA's Home Planner is not going to do that for us which then starts to throw off the dimensions. Then we're spending a lot more time deciphering a plan than we are executing it! An IKD design plan helps us save time on the project, it helps the installer make sure they're giving you what you're expecting to see and it gives everyone a clear picture of what we're trying to accomplish.
IKD: Can you point out a couple of examples of what a bad design might look like?
Jake: The biggest thing we see is that the measurements aren't correct. So we walk in expecting to install this kitchen and the wall is not the same size that the plan shows. Who knows who mismeasured it? Obviously that wasn't us because we didn't design it. But then the designer wants to start pointing fingers at the architect and the customer ends up taking the brunt of it and they just want to blame everybody. As the installer, we're then standing around knowing we can't do anything until this is figured out. That is probably the biggest problem with a bad design. Now let's say the dimensions are right, but the design is just bad. Now we have a functionality concern. So, the client won't realize that technically this fits on paper, but if I stand right here and I open this range, there's no room for me to stand behind it because there's a cabinet that I'm backed up to. So that's ergonomics. The last thing is we get out there, and the outlet's not in the right spot. We have an outlet right in the middle of two cabinets. I can cut a big notch out of the cabinet, but that's not going to look good, and what's that outlet for? Same thing with plumbing. Maybe the plumbing ends up in the cabinet next to it. Now we're cutting or routing this unit into the cabinet next to it and now their trash can cabinet doesn't close. They have to get a shallower trash can. With a bad plan, that's the stuff that I see. If it doesn't look good and the client didn't have a good visual because they used an IKEA design then this is what we would typically see with a bad design.
IKD: Can you walk us through the phases of a job and what the customer can expect from the time they drop the deposit to the last day ?
Jake: Typically for us, we try to stay about a month or so out. As long as the deposit and everything works out, then they get put on the schedule immediately. So it's a Monday that we're supposed to show up and my guys show up on Monday between eight and nine o'clock — unless discussed otherwise with the client. I would say an average IKEA kitchen install is going to take about a work week, roughly four to five days. Sometimes it'll take less if it's a smaller kitchen and sometimes longer if it's a big kitchen plus a bunch of other rooms and closets.
First, we start with a layout check. I don't like to start doing anything before we check the layout of the plan that we're using. We make sure everything's going to fit before we start assembling and installing cabinets. This way we don't get to the end of a run and find out the whole plan needs to change. With a good plan, that shouldn't happen. But we always like to check that first. From the time that we've checked that we'll bring up any issues to the client; the contractor or the designer and make any adjustments necessary. Then we'll begin assembling and installing. Ideally we have all of our parts there. At the end of the week, we're done. We take some pictures; show the client that everything is level and that they can template their countertop. Our biggest concern is to make sure that the project is counter ready. That is how they move forward with their kitchen project. So even if we're missing a few doors, or missing some drawers, or missing some non-structural cover panels, then we can at least get them to a point where their countertop guy can measure and start their fabrication. Once that is done then we can circle back and put those doors in when they arrive. At the end of the job, we'll take a progress payment if we have to break off like that and come back. Then my installer will walk it with the customer as long as they're available to make sure everything looks good. Then we'll send them their invoice that they can pay over the phone or via pay link.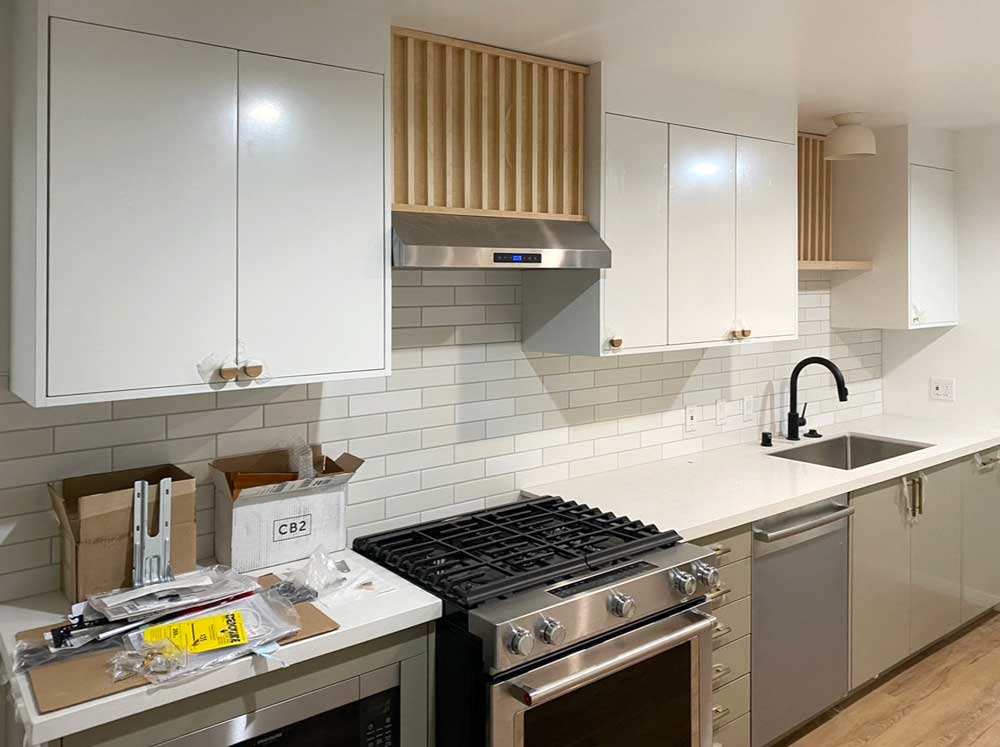 IKD: Will your guys ever take inventory and pick up the customer's order for them at IKEA?
Jake: My understanding is you can't really pick stuff up at IKEA anymore. Maybe small stuff but cabinet frames you can't even get at the store anymore. They come from the central location and they have to be delivered. We don't typically pick up material unless we're in a niche situation and we need to pick it up to finish the job. I'm not saying we won't do it, but it just typically doesn't work out that way.
Our big concern in the beginning is there's a lot of parts and there's usually not space in a lot of places to separate everything out. So, our first concern in checking inventory is making sure we have what we need to be counter ready. This means the cabinet frames; the legs; the rails and then we go from there. We get those out of the way first and then we'll start going through the inventory of the other parts. Usually by middle of the job or by the second day we'll have a list that we'll put together that we'll send directly to the designer so that they can order the remaining parts that are missing. I also have a pretty good relationship with most of the manufacturers that we work with so I can just call and tell them we're missing these pieces and give them that list. We'll also provide that list to the customer should they need it. So we will check inventory, but we kind of do it in two parts because we don't want to lose the whole day.
IKD: Aside from taking accurate measurements, is there anything else that the homeowner can do to prepare the job site for you?
Jake: Keeping things clean or, keeping the dog out of the way, all helps. You want to make sure that things aren't cluttered, especially when we get to something like cabinets where we have big pieces that need to move through. Another big thing is when people are taking delivery, we want the parts near the kitchen, but not in the kitchen. If they're in the kitchen, then we can't work there. We'd have to move them all back out of the kitchen. Ideally all the parts are in an adjacent room, or if the garage is nearby, in the garage. Obviously if the garage is on the other side of the house, detached in the back of the property, then that won't fly. Then we become a moving company. For me, it would be having all of the parts neatly delivered near where we're installing. That means near the kitchen or the bathroom but not in the kitchen, unless it's a very large kitchen and we just have a space that we could stage. The thing is making sure that we have somewhere we can stage in the house to assemble those cabinets and then somewhere where we can cut. That's a little further down the line. Of course, ideally we're cutting outside. We want to have a garage or a patio or somewhere we can set up the saws. It gets a little trickier when we're in a condo that's subject to whatever regulations they have there. We can't just leave tools on the street. So, hopefully there's a balcony or a room [in the condo] that's designated as a cut room.
IKD: How would you say an installation done by a professional like yourself is going to differ than if the homeowner does it themselves?
Jake: There's a whole list for that question! I always tell people that IKEA likes to market themselves as a DIY type of thing. But when it comes to the cabinets, a box is a box and it needs to be installed on the wall. There are certain tools you have to have, and things you need to know. You have to have levels and saws, and you have to be able to do that kind of math for measurements. It's not as simple as just putting furniture together and setting it in its place. Everything has to be done correctly. Cabinets when they're assembled are not square, which causes problems down the line and if things aren't level then doors can't be adjusted. So if your doors or drawers are all doing this then they're too far out to adjust. And if the countertop guy shows up and everything is off, now he can't template. Cabinets are still a permanent fixture in your house. Regardless what kind of box it is, it is still a cabinet and it still needs to be installed correctly. And if you don't do that part right first, then you will have problems throughout the whole kitchen project. How? Well, your panels won't line up; your doors won't line up; and your cover panels won't be correct. Everybody wants to have that 'picture perfect' magazine quality kitchen and that's what we provide.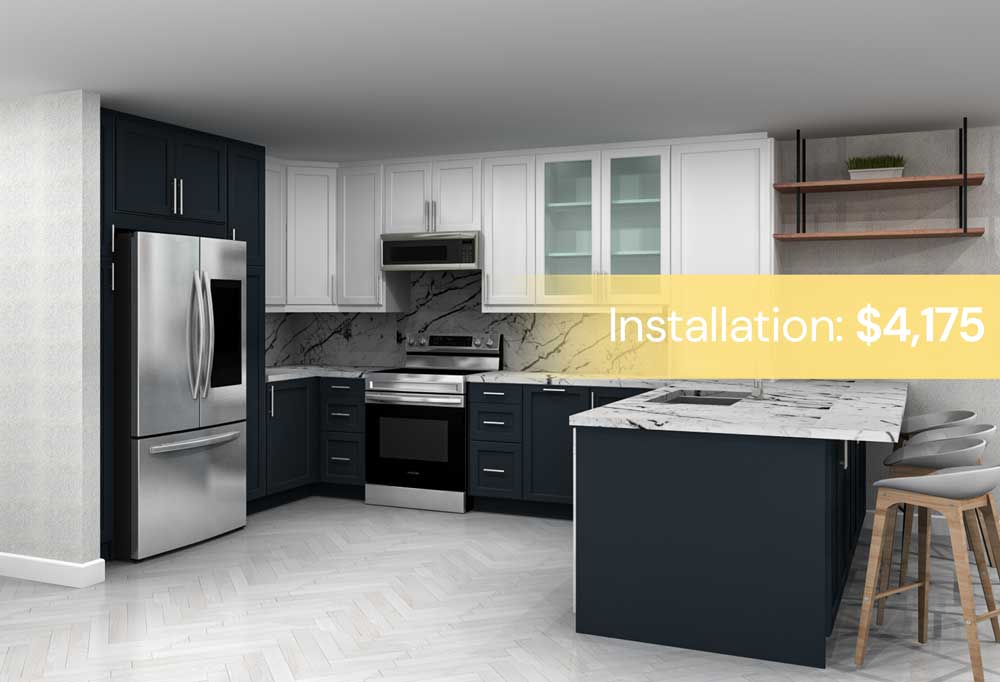 IKD: Are you doing a lot of installations in other rooms like mud rooms, media centers, laundry rooms?
Jake: I would say a lot of times those projects come as supplemental to the kitchen because that's usually where people go looking for cabinets. But we do plenty of bathrooms and laundry rooms. Sometimes we get people that want a dry bar area or a wet bar area out in their dining room. Closets is another one. IKEA has their whole other system for closets, but we end up doing a lot of those too. And we're seeing a lot of people wanting to put IKEA cabinets in their garage for extra storage. I have one guy who has a workout gym in there and he put his little desk in there so he wanted extra cabinets for storage. So in the garage it's usually storage space.
IKD: So we like to have a little fun with our questions. Do you have a funny story from a project with any quirky designs or experiences?
Jake: We had a job one time and I'm getting calls that this little hutch type of cabinet, one cabinet, would not fit. It was a shallow cabinet — it wasn't even a full-depth cabinet — and they're telling me that it doesn't fit. I ask by how much and they say an eighth of an inch. An eighth of an inch? We could get the mallet out and tap the cabinet in. But I keep getting pushback — they keep telling me it's not going to fit. It's the last cabinet we have to do. The next thing I know I get a text on my phone of the client and my installer standing inside of the cabinet trying to get it to push down into this spot and they're both standing in it and it's just stuck. It wouldn't go anywhere! That was pretty funny. Another one was more recent. I'm a very big dog person and my guys don't mind dogs either, so that's usually not an issue. So it was a general contractor project and I believe it was a Semihandmade and Kokeena project we were doing. We did the whole project, blew a wall out, put beams in and all this stuff. The guy had this German Shepherd who was very friendly with me and liked everybody. He wasn't in the way, but he always wanted to be near you. He didn't care about the nail guns. He just wanted to be where the action was. Every time we would go there, my employees would say he's waiting for me. They'd send me a picture of this dog and he's standing out on the front like he's looking for me to come. I'd give him a treat or a piece of my fry from my lunch or something. The dog started trying to go home with me! The client would see it and he would call his dog back and the dog would just follow me down to my truck, try to hop in the back and try to get in the car. It got to the point where the homeowner was like, 'I'm going to have to pay you with that dog or something because he doesn't want to leave you.' It was a cool dog that was totally happy to be right there with the construction.
Get a Professional IKEA Kitchen Design – All Online
Work with our certified kitchen designers to get a personalized kitchen designed around your needs and vision. If you're interested in learning more about our service, make sure to check out our IKEA Kitchen Design Services.