I Tried This Viral Upholstery-Cleaning Hack on My Filthy Couch — And You Have to See the Results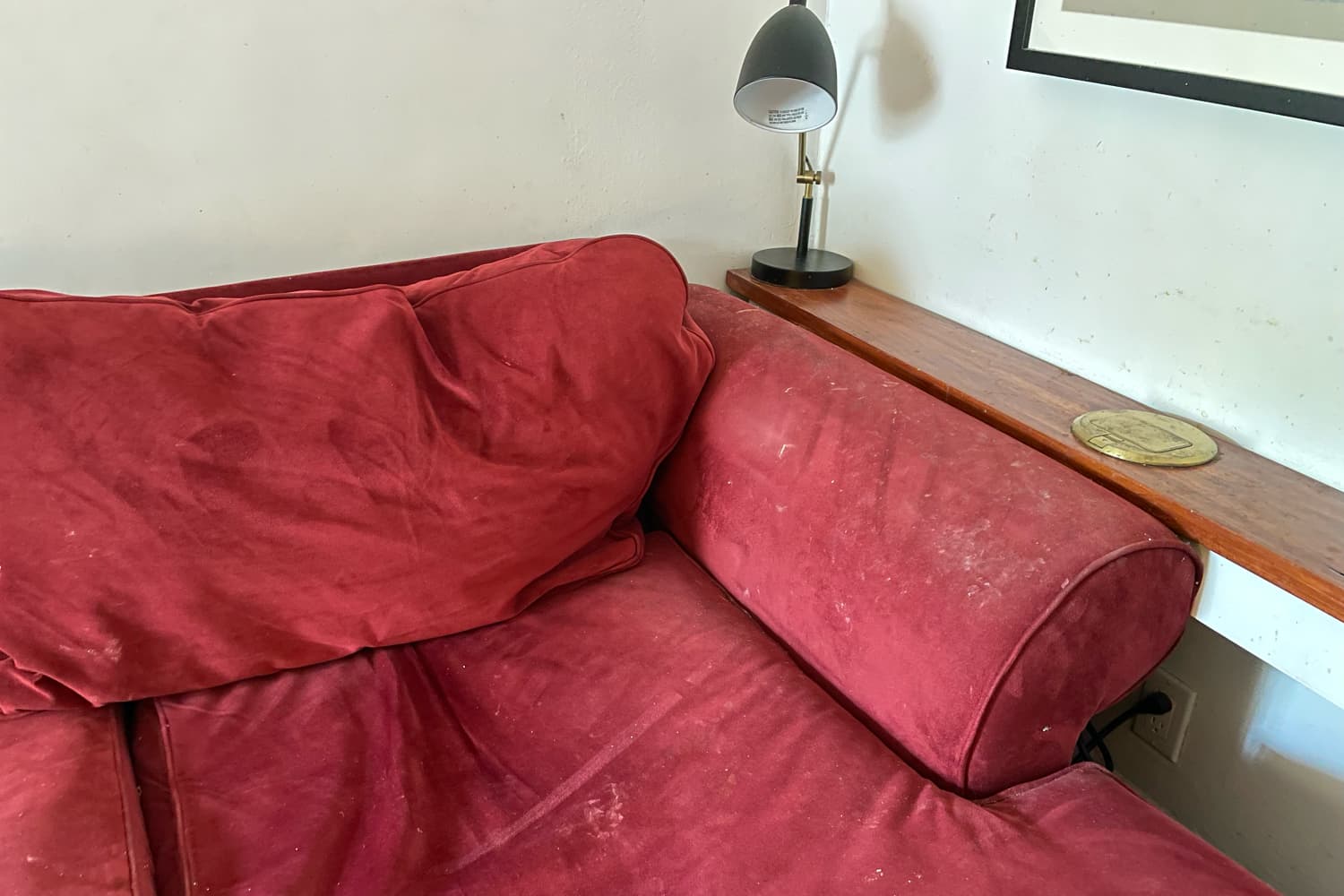 We independently select these products—if you buy from one of our links, we may earn a commission. All prices were accurate at the time of publishing.
We all have a few areas of our homes that we tend to ignore more than others when it comes to keeping them clean. (At least I hope we do! I definitely do.) A big one for me is the upholstery in the house — especially in areas where we eat. I try to vacuum crumbs and dust, bust out the Bissell every once in a great while, and hire professionals maybe once a year. All of that is to say that my couch is disgusting, and my dining room chairs could use some help. (Note: I have a child and a husband who is less than careful when he eats on the couch.)
Naturally, I was intrigued when I saw this upholstery cleaning hack going viral on TikTok, and knew I had to try it out. The supplies are simple (you probably already have them on hand), as is the process. There are slight variations on TikTok, but the principle is the same. Every video I watched showed a crazy transformation, and I knew my couch and dining room chairs were great candidates for a good cleaning.
Pour hot water over the pod to dissolve it. I saw hot water from the tap used, as well as water that was boiled. I boiled mine for maximum heat, and in fact had to wait for it to cool down to handle. Still, I'd recommend getting it as hot as you can.
Fold a microfiber cleaning cloth around a pot lid — I used a seven-inch lid — looping the cloth through the handle and tying the cloth in a knot to ensure the cloth was taut on the other side of the lid. In one TikTok I watched, it was unclear if the cloth was wrung out before it was tied around the lid. But FYI: You should definitely wring it out. Otherwise, you'll drip water everywhere and your upholstery will never dry. Then, scrub away!
I did the hack on three chairs and the most disgusting section of my couch in about an hour, and I'd say the difficulty of this hack is one out of five. There's really nothing to it.
The results on the couch were pretty remarkable. It may be because the couch is a darker color and was super gross, so the improvement is probably more striking, plus the fabric is an easy-to-clean polyester blend. (And yes, I do realize my couch is still pretty gross, but that's about me, not this hack.)
The chairs also cleaned up nicely, although not as dramatically as the couch. This is possible because the chairs are covered in a wool blend, which I'm guessing holds stains more than the couch fabric. And the improvement may be harder to see due to its light gray hue. In terms of damage to any of the fabric, I didn't see any whatsoever.
This smart hack required minimal effort (which depends on the surface area of whatever you're cleaning, of course), and only used items I already had. So, would I do this again? Absolutely. Easy, effective, satisfying, and economical. Would recommend!