I Tried Milk Bar's Newest Cookies, and It's the Bakery's Best Launch Yet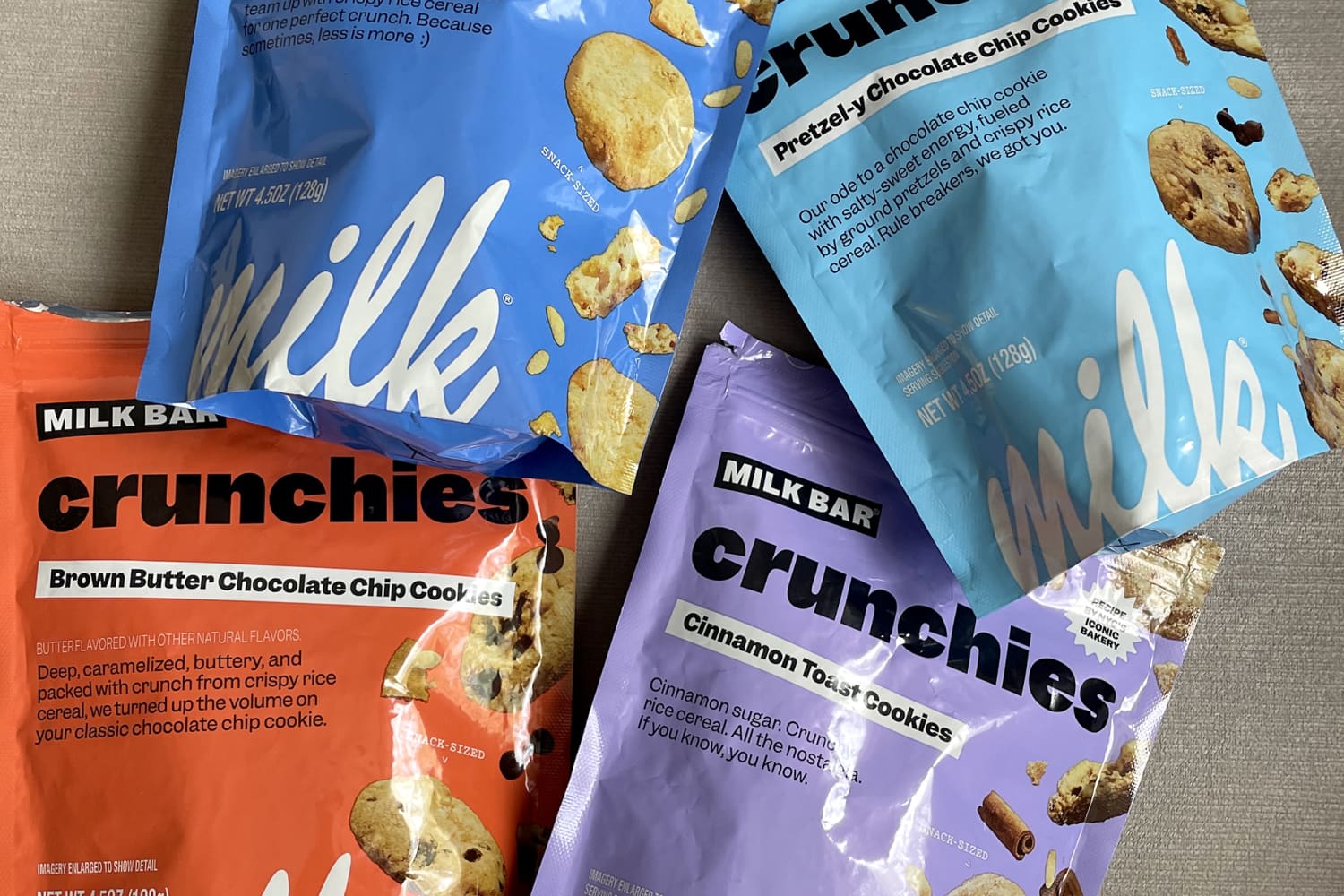 We independently select these products—if you buy from one of our links, we may earn a commission. All prices were accurate at the time of publishing.
Early last spring, Milk Bar's Christina Tosi joined forces with the folks at M&Ms to create a limited batch of crunchy cookies. At the time, they were a flash in the (baking) pan — a blink-and-you'll-miss-them partnership that I, um, blinked and missed. Cue the world's tiniest violin.
Fast forward to just over a year later (aka now), when I heard about the launch of a similarly named, yet completely different lineup of cookies from the dessert queen herself. Not one to make the same mistake twice, I immediately got my hands on the new Milk Bar Crunchies to sample.
What You Should Know About Milk Bar Crunchies
Adding to the lineup of soft-baked cookies, crumb cakes, brownie batter bites, and some of the most decadent ice cream pints on grocery shelves (looking at you, Peanut Butter Chocolate Cookie Crush), the crunchies are bite-sized and get their soon-to-be signature crunch from crispy rice. True to all existing Milk Bar grocery items, they come in bold-hued packages — in this case, plastic pouches. The crunchies are available in a (s)quad of flavors: Brown Butter Chocolate Chip, Cinnamon Toast, Pretzel-y Chocolate Chip, and Vanilla Butter Crunch. You can find them in select stores, like Whole Foods, Stop & Shop, and Giant, and online.
My Honest Review of Milk Bar Crunchies
I recruited several family members and my roommate in this cookie tasting because I rule by consensus. Plus, four bags are a lot of crunchies to go around, and I knew these fellow sweets stans would be up for the task. When I first took the cookies out of the package I was surprised at the variation in sizes. The two chocolate chip cookies (on the right) are slightly smaller and thicker than the others. All of the cookies had a crumbly exterior and you could see visible bits of chocolate chips, pretzels, and sugar granules.
I tasted the pretzel-y chocolate chip first: It had a delicate, dissolvable crunch to it and a nice balance of sweetness, followed by a hint of salt. The lingering effect was a surprise and delight. Less of a surprise — these ended up being my mom's favorite of the bunch.
From there, I moved onto the brown butter chocolate chip (or the BB, as we now call them), vanilla butter, and cinnamon toast. The BBs had a rich caramel flavor with a deeper nuttiness than its pretzel-y cousin — Brown butter FTW — and captivated my brother-in-law's taste buds. The rest of us were split between the final two.
My sister campaigned hard for the vanilla butter, which, as the name clearly states, is vanilla-y and butter-y, like a really great shortbread should be. (She likened it to a cross between a rice cereal treat and a vanilla wafer.)
My roommate and I, however, were all about the cinnamon toast. We could smell the melding of the flavors when I opened the bag. It too boasted vanilla undertones and when layered with the cinnamon sugar, which credit to Tosi is truly harmonious, it was simultaneously unlike anything I've ever had, but oddly familiar. To me, that is Tosi's sweet spot and why Milk Bar has been iconic since its 2008 launch in the East Village.
That each flavor had its own champion (or two!) felt very apropos. They all have major road-trip energy, and I could very easily see my co-pilots passing any one of these bags around when the call for "something sweet" inevitably occurs.
Have you tried the new Milk Bar Crunchies? Tell us about it in the comments below!