Hyderabadi Shahi Mixed Vegetable Curry Recipe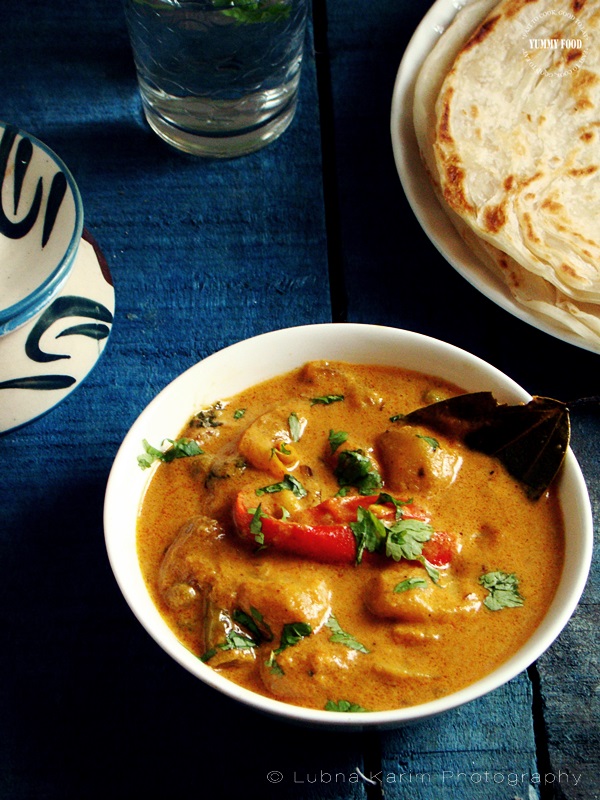 To begin making the Hyderabadi Shahi Mixed Vegetable Curry Recipe, we will first prepare the vegetables for the curry.
Boil the potatoes, either in water or in the pressure cooker for about 3 whistles until just about cooked. Once cooked allow the potatoes to cool a bit, peel the skin and dice the baby potatoes. Keep this aside.
Steam the remaining vegetables in a steamer until just about cooked through. Take care to not over cook them. The steamer takes just about 5 minutes to cook the vegetables on high heat. Once cooked keep aside.
Heat couple of teaspoons of oil in a heavy bottomed pan, add the onions, ginger and garlic and saute until soft and lightly browned and the raw smell has gone away. Turn off the heat and allow it cool. Once cooled, make a paste of the onion ginger and garlic – keep this aside.
Make the tomato puree according to the recipe on the link and keep aside.
Make a paste of the cashew nuts adding little water to make a smooth cream like paste. Keep this cashew nut paste aside.
The next step is to begin cooking the Shahi Vegetable Curry.
In the same heavy bottomed pan we cooked the onion, add a teaspoon of oil. Add the red and yellow bell peppers and stir fry them until they are softened and well roasted.
Add the onion garlic paste, bay leaf and turmeric powder. Saute the onion mixture until the paste is cooked and comes together and leaves oil around the edges.
Next, add tomato puree along with red chili powder, bay leaf, coriander powder, cumin powder, salt and garam masala. Stir until everything is completely combined.
Give the Shahi Curry mixture a brisk boil and add in the cooked potatoes and steamed vegetables. Turn the heat to low, add a little water, cover the pan and simmer the Hyderabadi Shahi Mixed Vegetable Curry for about 5 minutes until all the vegetables get the flavors of the masala.
Finally stir in the cashew nut cream and the fresh cream into the Shahi Curry and simmer for another 3 to 4 minutes. Turn off the heat. Check the salt and spice levels and adjust to suit your taste.
Stir in the chopped coriander leaves and serve.
Serve the Shahi Mixed Vegetable Curry along with Whole Wheat Lachha Paratha Recipe, Palak Raita and Pickle for a weeknight dinner or even as a main course for a party.