How Celestial Seasonings Tea Tags Helped Me Recover from an Eating Disorder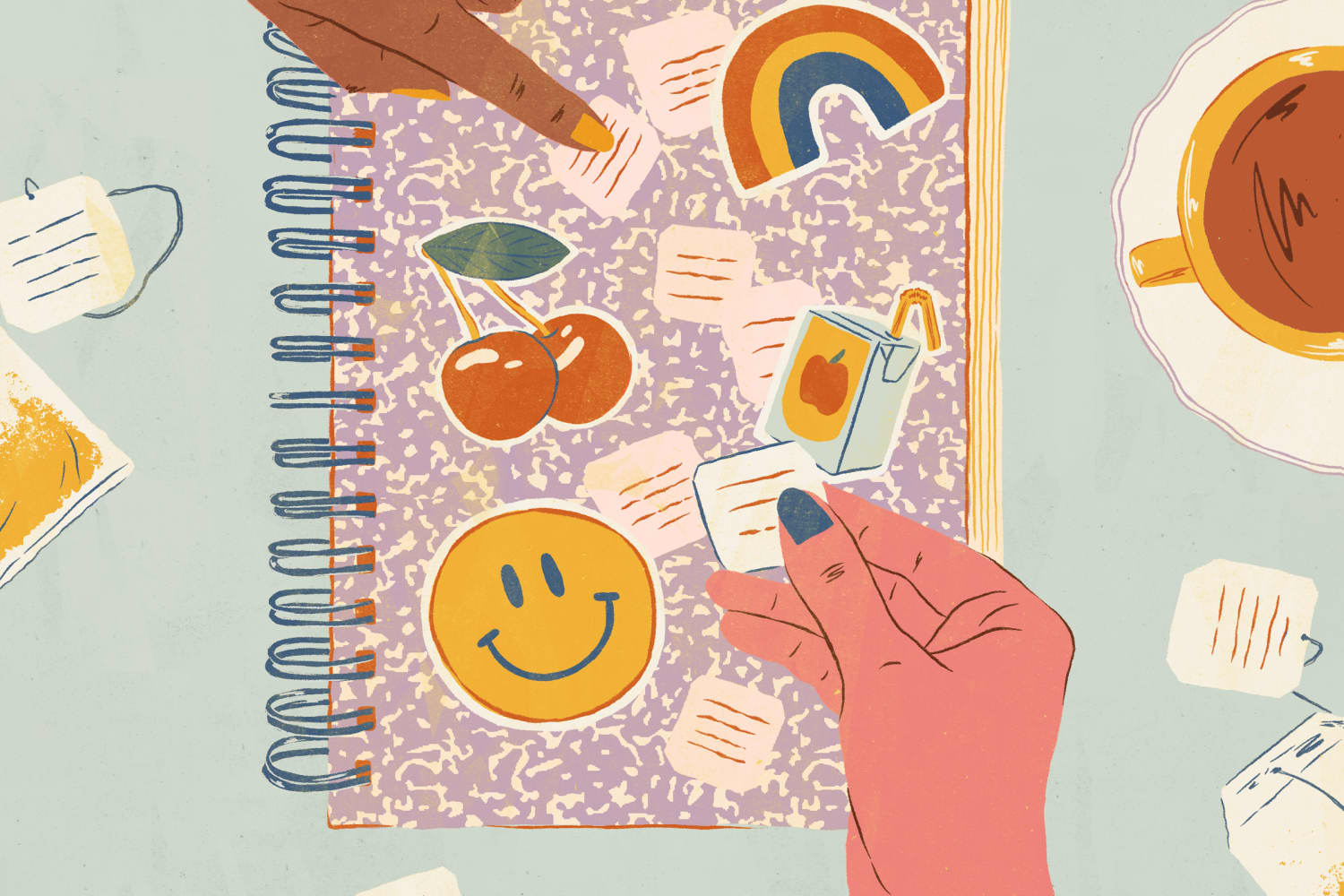 We independently select these products—if you buy from one of our links, we may earn a commission. All prices were accurate at the time of publishing.
At 15, when I probably should have been perfecting my winged eyeliner or watching the first Borat movie (it was 2006, after all), I was seated at the breakfast table of an eating disorder treatment center in a literal one-horse town in Arizona. Along with a dozen other teenage girls, I ate, slept, and slow-walked my way back to a version of myself who wanted to hang around a bit longer.
But first (and most memorably), we all drank many, many cups of tea.
The tea always had to be Celestial Seasonings, of course. You see, we all prized and cherished the now long-discontinued quotes on the tea tags from the company. At each meal, we ripped through our packets in hopes we'd discover new-to-us life nuggets hanging at the end of the tea bag. The frenzy was not unlike collecting Pokemon cards; we even traded them across the table, using the paper quotes to decorate our therapy binders and placemats, reciting the quotes with sarcasm on our walks down dusty gravel roads. These weren't woo-woo self-help-y quotes, either. They were stolid and firm — ones you could really sink your teeth into and chew, sourced from minds like Goethe, Homer, and Henry David Thoreau.
My treatment center party trick was that I knew all of them by heart and could recite them on command. The quotes were delightfully dramatic, too, often ending in extended ellipses that made them all the more fun to perform at length. Like I said, we were all teenagers, it was 2006, and we were only allowed to watch G-rated movies on certain days at the treatment center, so we had to quickly learn how to amuse ourselves. We spun fun out of thin air those months in the desert.
Being a teenager who was also battling an eating disorder meant I'd have to carve a new personality essentially out of dynamite. I hesitate to mention the specific severity of mine, because the tricky nature of eating disorders is they can tend towards being a competition in control where pain gets you the gold. Questions of "Am I suffering enough?" or "Am I even sick enough to warrant help and care?" are constant thoughts that are a means to weigh your own pain — achievable benchmarks you're keeping track of. After all these years, I still believe it's of no use to anyone to describe the depth of it from the bottom. Any level of sickness warrants care.
My eating disorder had left a hungry void where my personality used to be. I spent most days prior to treatment trying to simulate a better life through playing the Sims, obsessively watching cooking shows, and hovering over cooling baked goods I made but refused to eat. That's the irony of disordered eating. To the outside world, it may seem like you aren't eating when, in fact, it's all you do. I didn't speak to many of my friends, nor did I leave my house or listen to music during this time, too consumed with calculating the when, why, and how of my eating.
So it's no surprise that I spent the initial first few weeks at the treatment center just acquainting my face with the couch pillows, protesting the nurses to let me use my crochet needles, and talking as little as possible (aka truly being the worst of all possible teens). My new, goofy shtick as the Tea Quote Poet Laureate was the shaky foundation on which I'd build my new personality.
I used these tea bags as a sort of daily horoscope of sorts, too — a wink from somewhere ephemeral that things would be OK. There was a quote for every day, every emotion. If the next day was a planned "food challenge" (i.e., a supervised, and often stressful, restaurant outing with a dietician that usually features double-stacked rodeo burgers or P.F. Chang's crab rangoon), perhaps you needed Homer's "And what he greatly thought, he nobly dared … " to bolster you. Have a therapy session you're dreading? John Donne's "No man is an island, entire of itself … " might be just right.
Over time, all of us young women were deadly serious about our favorite flavors, too. We'd pass around tea boxes at each meal, all covered in their own adorable fever-dream illustration (a bear white-water rafting on a blueberry river in a blueberry crate, stoic deer gazing at peppermint candies tumbling down a waterfall, a fireside grizzly in a sleeping cap patting his belly). There was a large faction of Apple Cinnamon purists, and those who had divided allegiances to Honey Vanilla, Mandarin Orange, and Sleepytime. For many of us, this ritual brought a joyful autonomy back to dining at the table. To know we could choose something as immaterial as a tea bag felt like an anchoring in an environment void of choice.
As for me, I always chose peppermint, adding a little creamer cup to turn the water slightly murky yet milky sweet. In some ways this flavor combination made me feel like an aspirational, more adult version of myself. I could transcend my lack of personality in each sip and become a new, uncharted kind of woman I didn't know I could choose to be.
A whole lifetime later, the quotes still rattle around in my brain like half-remembered stanzas of the "Star-Spangled Banner" or LFO's 1999 beach anthem, "Summer Girls." Seventeen whole years later, I still find myself rolling the quotes over like the hard-won candy bits of wisdom they are. On one tea bag a quote from Goethe read, "Choose well: your choice is brief, yet endless." To keep continuing the (often thankless) quest of recovery — a movable target in both life and in American health insurance — is the ultimate brief, yet endless choice.
When I lived in New York, I'd often walk by large Arizona tourism ads running in Penn Station on my morning commute. My favorite sign, which was speckled with familiar technicolor purple lupines and perky orange desert globemallow, declared, "Come see what blooms in the desert," which always made me laugh because, ha, wasn't it we who bloomed in the desert all along?