Four Cheese and Spinach Stuffed Mushrooms Recipe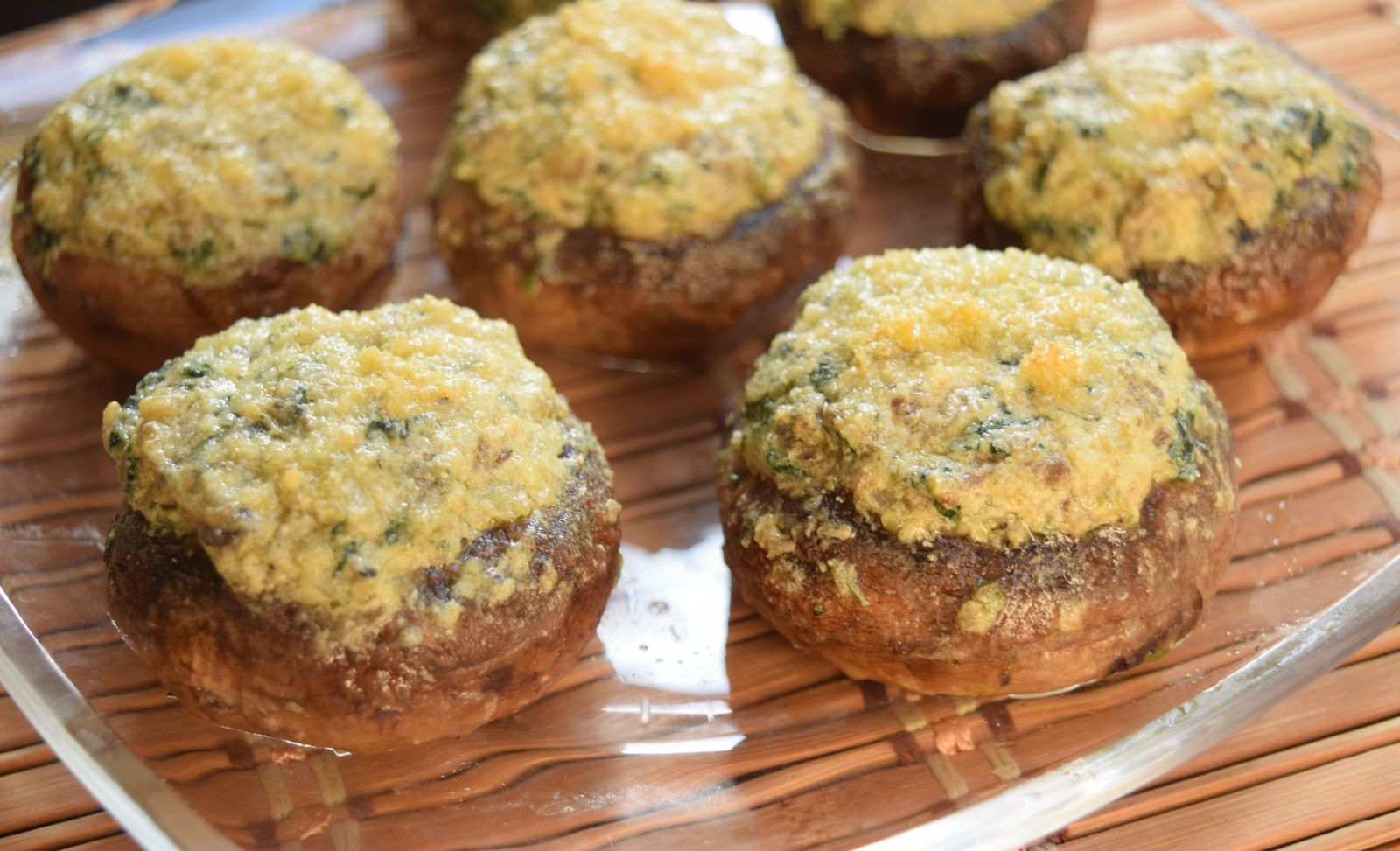 To prepare Four Cheese and Spinach Stuffed Mushrooms, preheat Oven to 375 degrees Fahrenheit.
Grease a Baking sheet with cooking oil spray. Keep it aside.
Gently remove the stems of the mushrooms.
Keep the caps and the stems separately aside. Wash and clean the caps. Pat it dry with kitchen paper towel.
Arrange it on the greased baking sheet, rounded side down.
Bake in the preheated oven for 12-14 minutes.
Finely chop the mushrooms stems.
Heat a pan and add 2 teaspoon oil into it.
When the oil is hot, add the onions, chopped stems and garlic.
Stir fry on medium high heat till the onions and the mushrooms become soft. Mushrooms contain moisture; hence they are cooked at medium high heat to lose the water content.
Add the spinach leaves and the white pepper powder into the pan.
Mix and stir fry until the spinach leaves are wilted. Turn off the heat. Allow the mixture to cool for 3-4 minutes.
In a separate bowl, combine mascarpone cheese, cream cheese, mozzarella cheese, parsley, basil, black pepper, and salt.
Whisk by hand till it forms a smooth creamy mixture.
Add in the vegetable mixture. Stir and mix well.
In another separate bowl, mix the parmesan cheese with garlic powder. Keep it aside.
Take out the baked mushrooms and allow it to cool. Keep the oven preheated for cooking later.
Remove any water or moisture inside and outside the mushroom caps using kitchen paper towel. The mushrooms caps should be absolutely dry.
Fill the mushroom caps with generous amount of cheese-veggie mixture such that they are piled even on top of the mushroom caps. Sprinkle the parmesan garlic mixture over the stuffed mushroom caps.
Arrange these creamy cheese spinach stuffed mushrooms on a greased baking sheet and bake in the preheated oven for 8-10 minutes until the topping begins to brown.
Take it out and allow them to cool slightly.
Serve these Four Cheese and Spinach Stuffed Mushrooms along with other appetizers like Baked Potato Thyme Rolls Recipe and a bread Whole Wheat Bread Recipe With Oatmeal And Flaxseeds on side during tea time or serve it alone as an appetizers.