Designer Tips for improving your IKEA Laundry Room
IKD designer Richard says adding value is easy with an IKEA laundry room.
Some IKEA customers may believe that laundry rooms are solely utilitarian and boring. Not true. There are many options that will not only boost the function and look of your laundry area, but will simultaneously boost the value of your home.And all it takes is some design ingenuity and IKEA cabinets. This according to IKD designer Richard whose worked on dozens of IKEA laundry rooms and who'd like to share some tips for improving your IKEA laundry.
"Laundry rooms are a great way to stretch your imagination. IKEA laundry rooms are a place you can go a little bolder with your design choices; such as adding brightly colored walls, wallpaper, or even a colorful mosaic backsplash or a fun, patterned floor. These are all ways to try some new design choices —choices you might not otherwise make for the rest of your home," Richard says.
These laundry room design choices work well with either IKEA's GODMORGON wardrobe series (if there is a dedicated wardrobe area in the laundry room) or IKEA's SEKTION kitchen system which adapts seamlessly with IKEA cabinets in a laundry room. These choices could include IKEA's LERHYTTAN base and upper cabinets in light gray (complemented by IKEA's ENRYDA brass cabinet pulls); IKEA BODARP doors with IKEA MAXIMERA drawers for extra storage; or even custom options, including Semihandmade's (SHM) Shaker Night Sky door cabinet fronts. IKEA's SEKTION system also works well with cabinet modifications, or "IKEA hacks," which are a signature of IKD's design services — and IKEA laundry rooms are perfect spots for these custom touches.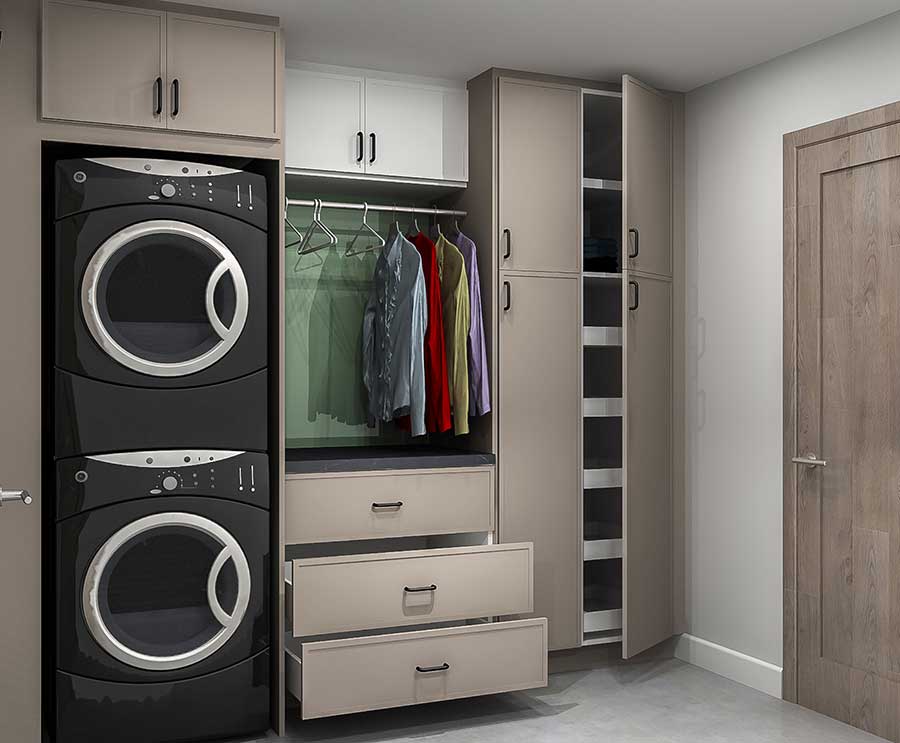 Other options, according to Richard, include placing a cutting board atop a washer/dryer; adding drying racks, such as the IKEA JALL indoor/outdoor drying rack or the IKEA PRESSA hanging drying rack; or other unique accessories such as the IKEA BRANÄS laundry basket; the IKEA PLUGGIS recycling bin; the IKEA DANKA ironing board, and Rev-A-Shelf's Aluminum Bottom Mount Wire Hamper. And the best part? These ideas are very affordable and add flexibility to your layout (and your budget) — as long as you're willing to reconsider.
Let's see how to pull your IKEA laundry room together!
We'll Design Your Ideal IKEA Laundry Room Easily, Affordably, and Online
Our IKEA Laundry Room Design Package is everything you need to complete your new laundry room with confidence.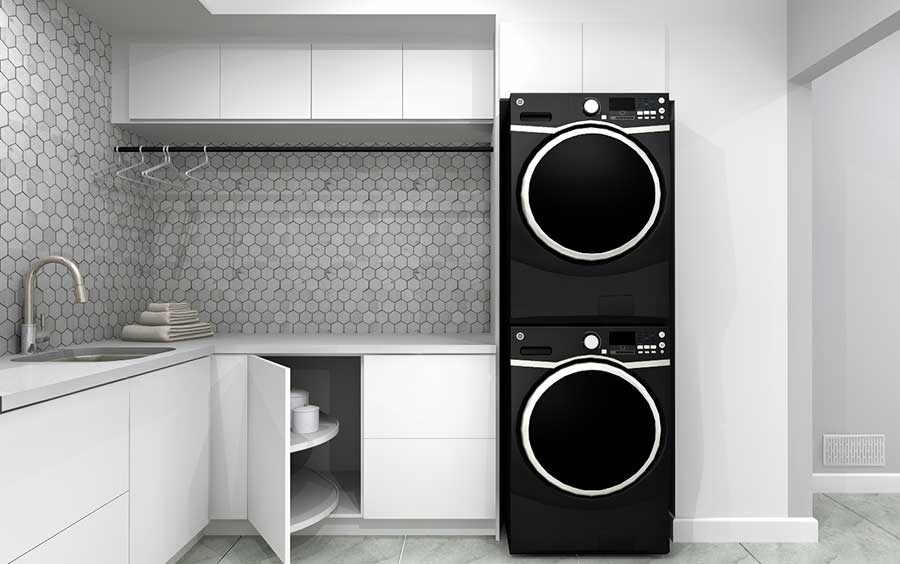 Laundry Room Tips
Regardless of the size or scope of your project, certain tips will quickly improve the look and function of your space.
"Many would agree that the task of laundry could be a bit more pleasant should the spaces be beautiful to work in. By adding a few time savers into your laundry room design,such as handy storage and colorful details, you may never have your wash loads stack up again. You'll enjoy doing laundry that much!" Richard says.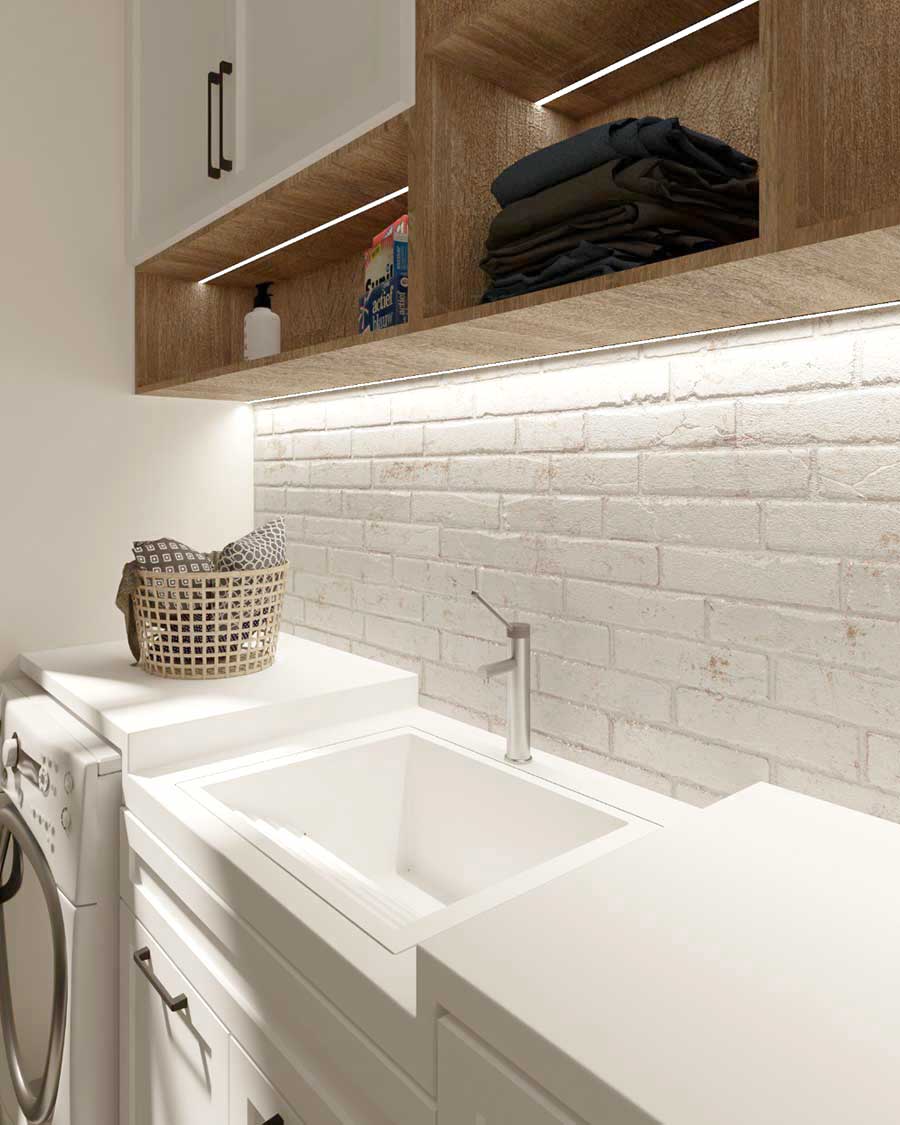 Some affordable tips he recommends:
Place a cutting board atop a front loading washer or dryer to protect the tops from getting scuffed. This also adds a warm element of décor to the space.
A ceiling-mounted ladder is a clever way to get your drying rack off of your floor and out of the way. Vintage stores and salvage yards are great places to find rustic wood ones.
A countertop built over your front-loading washer and dryer is the perfect place to gain a folding station. Butcher block countertops paired with open shelving (such as IKEA's BERGSHULT/RAMSHULT shelving) works well here.
A utility sink is another great addition to a laundry room. It creates a place to work on those stubborn stains and can also be really helpful for other household clean ups tasks like rinsing paint brushes. (Pro tip: This is particularly useful when combining laundry room and mudroom designs.)
You'll also want to improve storage in your laundry design. Concealed storage, such as storing a built-in ironing board, keeps you from having to set up to iron each and every time. It simply pulls out. Here the Rev-A-Shelf Side Mounted, Pull-Down Closet Rod works well, especially when paired with the Rev-A-Shelf CIB Series ironing board (which is concealed in a pullout drawer.
For smaller laundry areas with stackable units, the door is also a great place to gain additional storage space.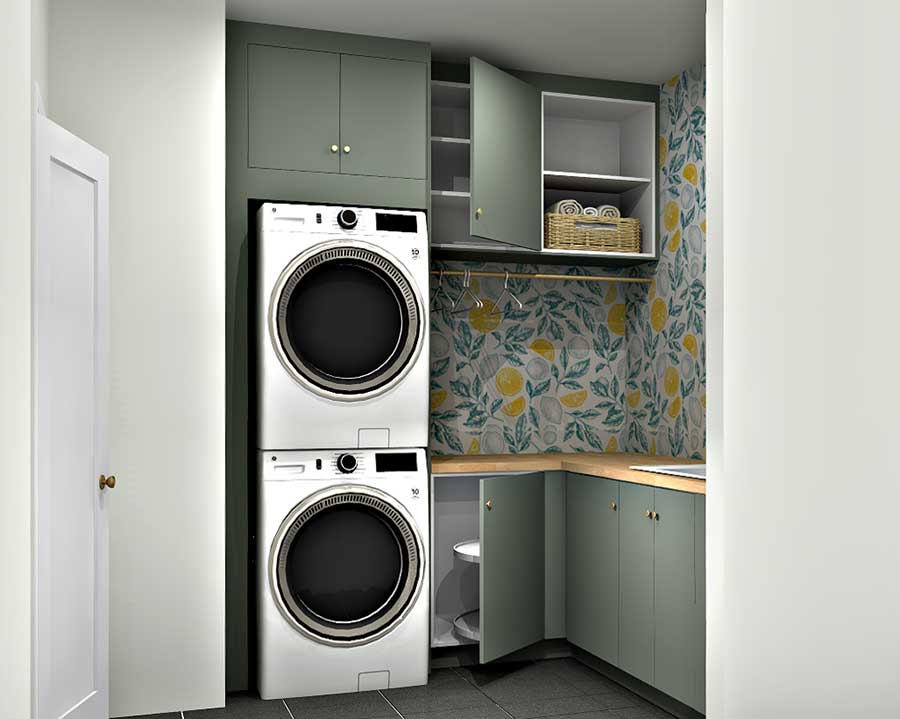 IKEA Laundry Room Design
IKD customers Barbara and Sam from Glen Cove, NY had a recent IKEA laundry room project that reflected these tips.
"Our original laundry room was too cluttered, too inefficient and too depressing! We needed custom elements to add some style and to make the laundry easier.We loved final design with the use of open shelving; the splashes of color fromthe Matte Blue IKEA AXSTAD cabinets and the extra storage options we have now. And we really love that an area was included for our Lhasa Apso'Mindy,' " says Barbara.
The design features IKEA's SEKTION system along with Matte Blue IKEA AXSTAD cabinets on the base and upper cabinets near the washer and dryer. The design also features IKEA VARIERA cover plates, as well as IKEA's STROMLINJE LED countertop lights, among others. IKEA's BERGSHULT/RAMSHULT shelving was used on the walls to cut down on clutter and open up the space. Richard also added an IKEA hack by designing washer and dryer platforms that were modified to house laundry baskets. Other SEKTION pullouts were used for extra storage options. An IKEA KOMPLEMENT hanging rod was included to reduce some of the ironing needs while an additional IKEA AXSTAD base cabinet was modified to create a small food/water dish area for "Mindy," along with a small dog bed area.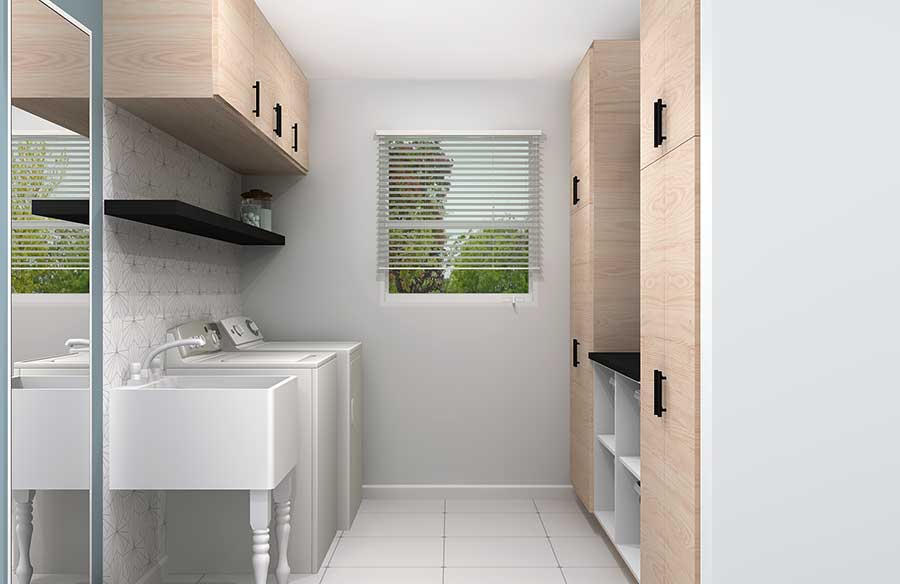 Clearly, IKEA laundry rooms are a space to try some new ideas, like the ones that Richard suggested here.Even just one or two of these tips could very well turn your laundry room from a space you avoid to a space you enjoy. Our team is here to guide you through the product selection and design process. Just have an open mind and we'll collaborate to get the IKEA laundry room you want.
Get a Professional IKEA Laundry Room Design – All Online
Work with our certified designers to get a personalized laundry room designed around your needs and vision. If you're interested in learning more about our service, make sure to check out our IKEA Laundry Room Design Services.