Converting an Undesired Alcove into an IKEA Built-in Media Center
Skilled IKEA design makes awkward nooks and crannies look intentional.
Alcoves and recesses are on-trend—but that doesn't mean everyone loves them. Many people build them into a home to designate areas or break up the space.
What happens when you purchase a home with a feature like this, but you find it awkward instead of enticing?
That's exactly what happened to IKD customer Rebecca. When her family of four was about to become a family of five, she and her husband purchased a larger home. In one of the sections of the finished basement was a 110" recess.
"(The recess) wasn't there for any structural reason that we could tell. The previous owners had it designated as a sitting and reading area. At the time, it was something small that I didn't like about the home and not worth refusing to purchase the property over. But after three years, it was time to make the house our own."–Rebecca, IKD customer
We provide clarity for your IKEA Media Room design journey
Rebecca transformed the alcove into an IKEA media center.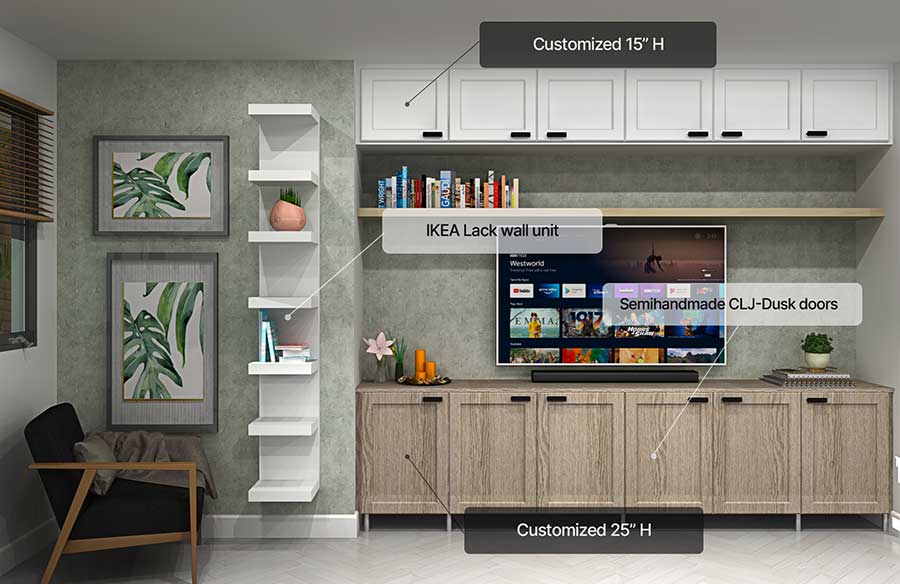 Rebecca's children were ten, eight, and almost three when they reached out to us. The family wanted that part of the basement to serve as a retreat for the kids, with ample storage for the older ones' game systems and the little one's toys.
However, it needed to remain a place where Rebecca and her husband could also entertain adult guests. A few times per month, they liked to have people over to play games or watch sports, and they wanted to stay up late without worrying about waking the kids.
It was clear that the alcove would need an entertainment center and a TV. Beyond that, Rebecca wasn't sure what it needed—just that it needed to please everyone in the family.
"I found myself drawn to built-ins, especially the ones I found on Pinterest from The Closet Factory. However, I couldn't find prices anywhere on their website. I had no way of knowing if I would wind up paying $2,000 for the design or $10,000, and I didn't want to waste anyone's time if I couldn't afford it. I found IKD's website, and they were up front about the design cost. Plus, I was already familiar with IKEA prices, so I knew I had a good chance of staying in a reasonable budget." –Rebecca, IKD customer
The media center design focused on kid storage with an adult aesthetic.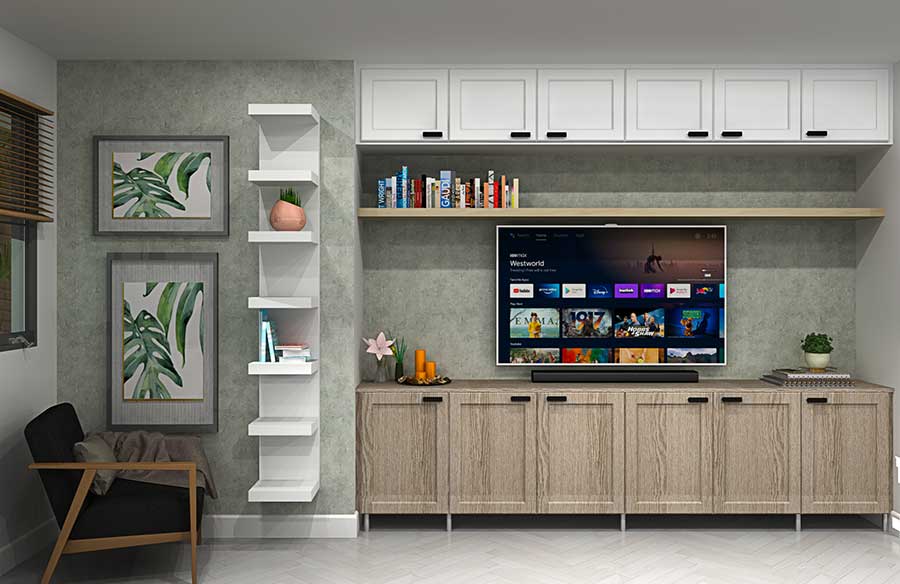 Rebecca's alcove was 110"W x 96"H x 18"D. She preferred a light color palette with natural elements; the space needed plenty of storage, an aesthetic to please all ages, and it had to look intentional.
"We designed a media center with upper cabinets and shelving for Rebecca and her husband to keep board games, snacks, books, and beverages for the adult crowd. Along the bottom, we incorporated four cabinets (two 36"W and two 18"W) for the kids, and we topped those off with a Semihandmade countertop to hold the TV and sound bar."–Meyer, IKD designer
Meyer designed the media center to have AXSTAD matte white wall cabinets along the top, complemented by a wood-grain floating shelf and matching lower cabinets. He supported the lower cabinets using ten ÖSARP stainless steel legs and added HACKÅS handles in anthracite to give the setup a furniture feel.
IKEA design hacks perfected the look of this media center.
"IKEA has great ready-made products, but they don't always fit in the space the way the homeowner or we would like. But if there is one thing a designer knows about working with IKEA products, it's how to hack them." –Meyer, IKD designer
Rebecca wanted six equal-sized cabinet doors (18"W) along the top of the alcove to go with cabinets that were just 15"H. However, IKEA doesn't offer those sizes.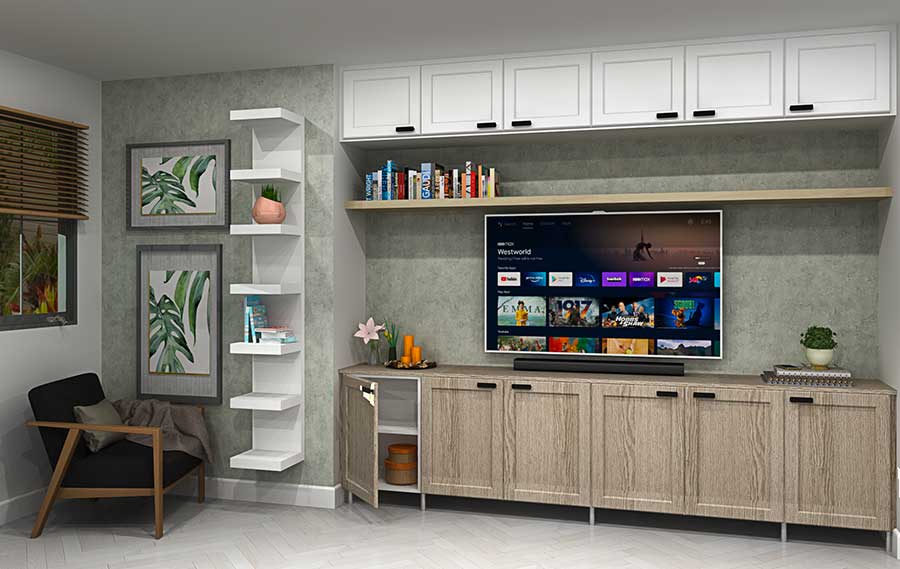 This hiccup was no problem for Meyer. He designed five 18"Wx15"Dx15"H cabinets by cutting down five 18″Wx15"Dx30"H AXSTAD wall cabinets. He also hacked the bottom cabinets, trimming 5" off the height to ensure a 30" height for the TV once the counter was added.
Semihandmade provided the maple floating shelves and the maple shaker doors for the lower cabinets. Meyer included an optional LACK shelving unit in the design as an additional storage option, tying the look into the matte white upper cabinets.
The total IKEA cabinet cost came to$1,281.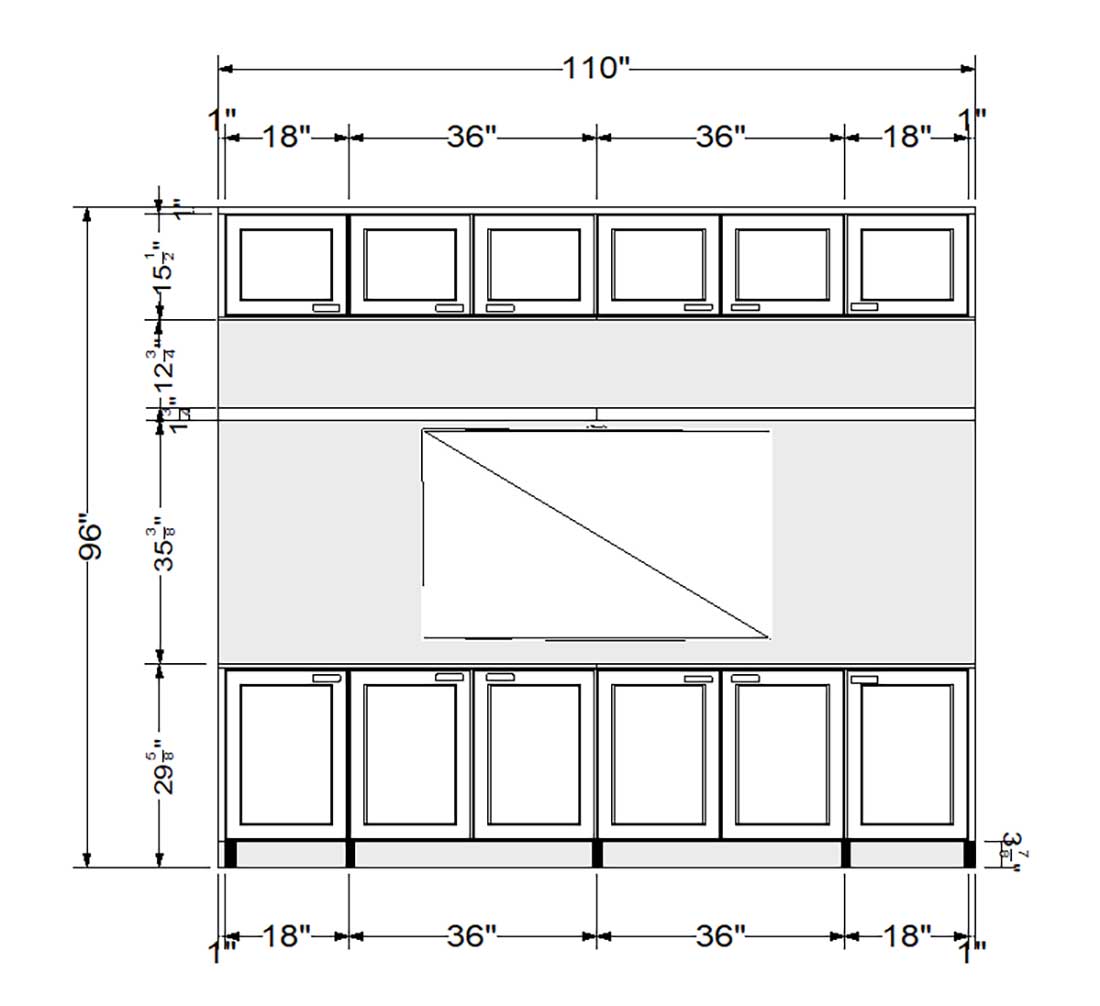 Key Takeaway
With a little help from the right design team, you can turn an architectural "flaw" into a space you love.
"It feels strange that I hated that part of the house for so long," Rebecca says. "Now, the media center is one of my favorite features. We ordered the cabinets and doors from IKEA and Semihandmade, and then we hired a local handyman with a great reputation to cut and install everything. I left him downstairs in the morning, and by the evening, we had our new media center and storage area. Our kids already love it, and I can't wait to put it to use this football season!"
Get a Professional IKEA Media Center Design – All Online
Work with our certified designers to get a personalized media center designed around your needs and vision. If you're interested in learning more about our service, make sure to check out our IKEA Media Center Design Services.