Colorado Kitchen Remodeler Deftly Navigates IKEA Cabinet Delays
With a little help from far-flung friends and family
Remember that brother-in-law who, in 2016, you scored Rolling Stones tickets for? Has he forgotten already? Well it's time to remind him and call in that favor. That's pretty much what Celine from Boulder, Colorado did — she called in favors from a few relatives and was able to complete her kitchen remodel. Or at least that was the start . . .
"With long lead times from other cabinet providers and a limited budget, IKEA made the most sense for our kitchen remodel. But we ran into supply chain delays and IKEA cabinet availability became an obstacle too" she says.
Celine read online that availability of IKEA products wasn't consistent and began to test the theory. She found that IKEA inventory varied by location. So she cleverly (and successfully!) recruited family members in other states to check their local IKEA for the cabinets she wanted. And by using Task Rabbit — an online resource owned by IKEA that matches freelance labor with local demand—she was able to order other hard-to-find cabinets.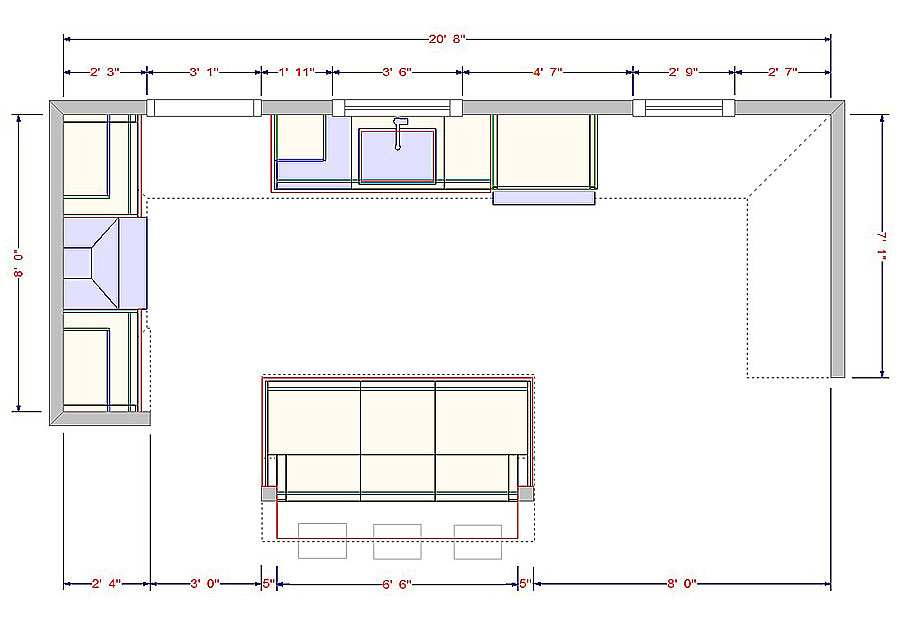 With a budget of $45,000, Celine worked with IKD's design team and a general contractor. Her project scope included: appliances, cabinetry, door hardware, and countertops; plus two new windows, electrical, and upgrading the kitchen flooring.
In total Celine spent $2,372 for her IKEA cabinets and $5,747 for SHM doors.
She combined IKEA's SEKTION kitchen system with Semihandmade (SHM) DIY Shaker-style fronts for the base cabinets and wall cabinets. She chose white paint for the wall cabinets and painted the kitchen island herself a Rosemary color from Sherwin Williams. The product lineup is completed with stainless steel appliances: a DACOR range; GE fridge and a ZLine range hood; as well as MSI Calacatta Monaco quartz countertops; a unique backsplash featuring 4"(w) x 4"(h)Snow White Riad – Zellige Tiles and lighting and hardware from Etsy.
Removing a wall opened up the small layout and created a better flow throughout the room. The space now fits a large center island which she uses for serving meals or for a leisurely game of cards. The result is a light, bright IKEA kitchen that's perfect for entertaining.
Let's see how Celine's kitchen came together!
We'll Design Your Ideal IKEA Kitchen Easily, Affordably, and Online
Our IKEA Kitchen Design Package is everything you need to complete your new kitchen with confidence.
Working Together to Remodel Your Kitchen
Celine was initially overwhelmed by the IKEA remodeling process.
She explains: "We needed help conceptualizing our kitchen remodel and I found it intimidating (and time consuming) to rely on the IKEA Kitchen Planner. IKD offered a reasonable package to render the kitchen re-design and I loved how knowledgeable they were about Semihandmade."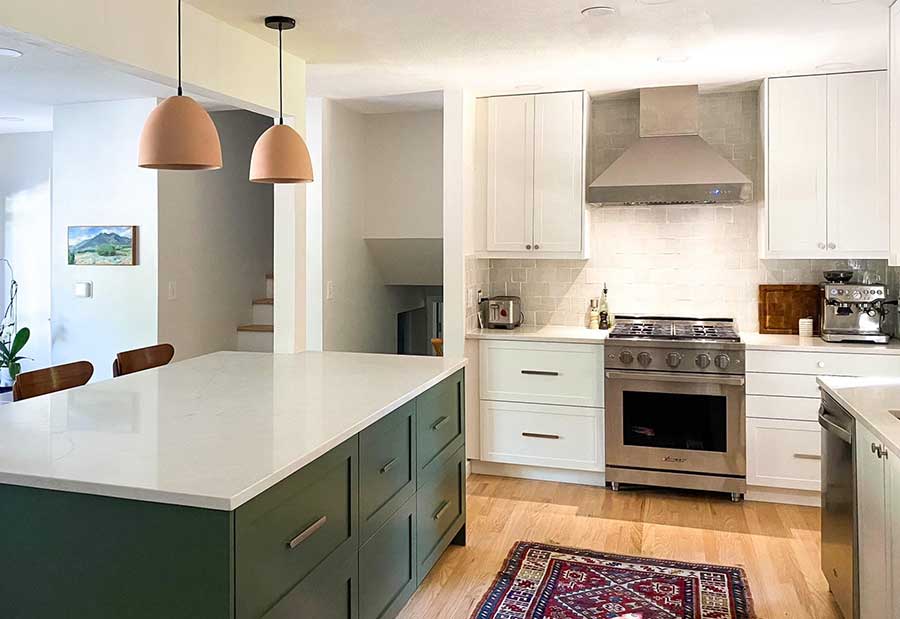 She then hired a general contractor who handled a majority of the installation, since the remodel required moving the electric, layout, plumbing, etc. It also meant keeping the door and window in their original layout position — which limited design options.
Supply Chain Issues
Once Celine ordered her IKEA cabinets she ran into a challenge: Supply chain delays. With some creativity she solved the issue.
She offers: "If the products you need aren't available, try searching different zip codes and try services like Task Rabbit to get the pieces you need shipped to you."
Celine had family in Texas who were willing to receive some of the available cabinets and ship them to her. But there was still one elusive cabinet that was only available in a New Jersey IKEA. She used Task Rabbit and paid someone to visit that IKEA store, buy the product and ship it. Not only did this approach save her money but everything shipped and arrived within a month!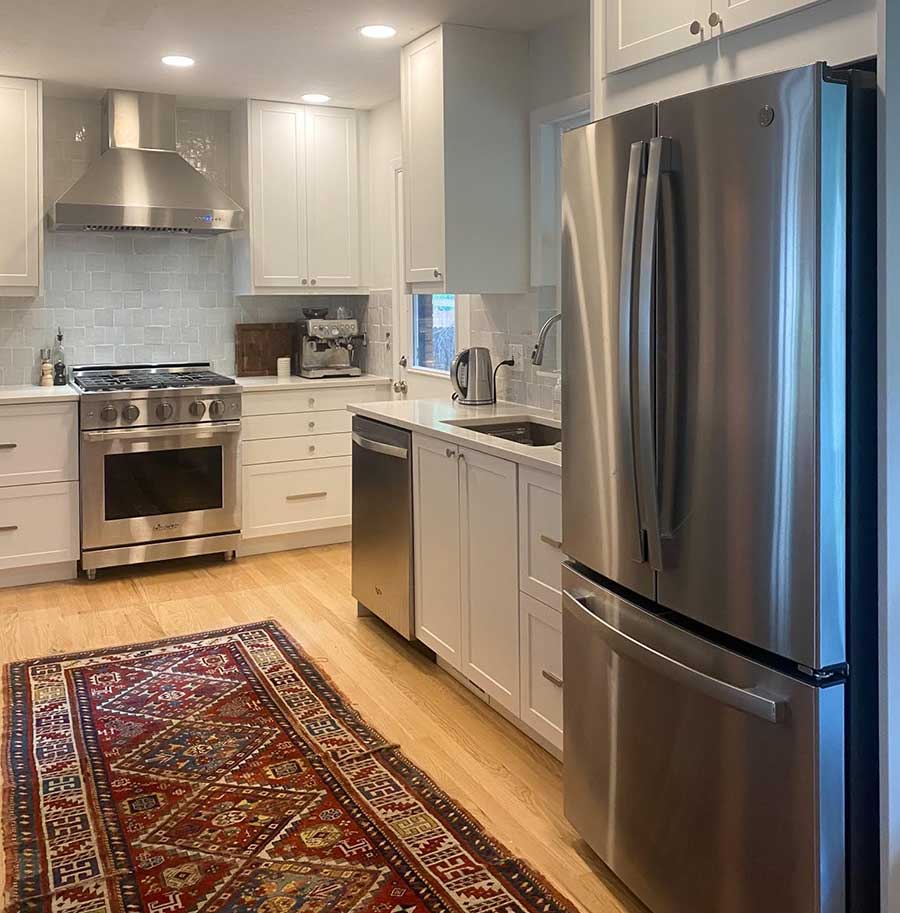 Custom IKEA Kitchen
Celine knew she wanted Semihandmade doors. Combined with IKEA's SEKTION kitchen system she now had custom options for her kitchen.
She explains: "We cook at least five nights a week and have a ton of kitchen supplies, so the base drawers are perfect for holding all of our pots and pans. The layout also makes it easy to access all of the tools and appliances that we use the most."
The white SHM DIY Shaker-style fronts on the base cabinets feature MAXIMERA drawersand are on either side of the DACOR range and under the adjacent kitchen sink. Additional base cabinets are incorporated into the center island, creating an efficient work triangle.
The upper wall cabinets on either side of the ZLine range hood are perfect for storing plates and glassware while the upper cabinets above the GE fridge provide storage for trays and other entertaining supplies.
Open to Ideas
The open concept kitchen balances modern and earthy elements.
"I wanted to give the space more depth by incorporating contrasting elements.[The original kitchen was all-white and very dated].The stainless appliances and sleek hardware needed to be offset by [more rustic] elements like the island pendants and the backsplash tile."
The quartz countertops also provide a neutral palette for items including the stainless steel espresso machine and toaster.
To create the open-concept layout she had the contractor remove a wall connected to the adjacent living room. Two columns and a header were then required for structural support and this new open layout created better flow and accommodated the kitchen island.
IKEA Kitchen Island
Celine says the oversized kitchen island is her favorite part of the design.
She offers: "I was worried the island would take away from the amount of storage we needed. By utilizing IKEA cabinets throughout the island (both drawers and cabinets) we ended up with plenty of storage."
Adding bar stools to the island made it the main hang out in the house, ideal for entertaining and big cooking projects. Celine concludes that she was originally going to paint all the base cabinets a Rosemary color, but decided on white because the island alone provides an element of color.
This IKEA kitchen shows that great results are possible with IKEA cabinets and SHM doors. Along with Celine's ingenuity in overcoming her delivery delays, you can see how this kitchen remodel is one-of-a-kind!
Get a Professional IKEA Kitchen Design – All Online
Work with our certified kitchen designers to get a personalized kitchen designed around your needs and vision. If you're interested in learning more about our service, make sure to check out our IKEA Kitchen Design Services.