Classic Coconut Cream Pie
Coconut cream pie is a show-stopper dessert that will satisfy any sweet tooth! Our made-from-scratch creamy and flavorful pie is just as easy to make as it is to enjoy. Coconut fans – rejoice! You're going to adore this recipe!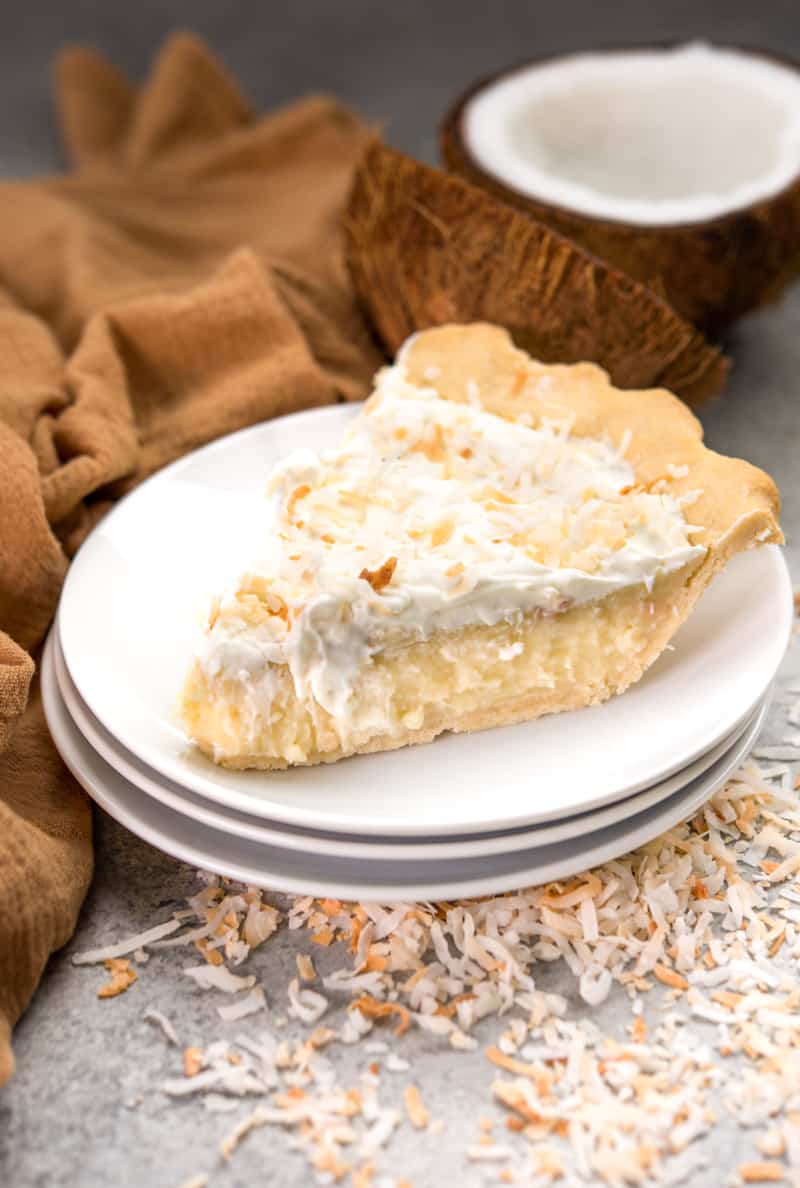 We are firm believers that pie is always a good idea. Had a bad day? Console yourself with pie. Had a good day? Celebrate with pie — even better with a dollop of whipped cream. You get the gist: we simply can't get enough! There are so many types to choose from: fruit pies, vegetable pies (don't knock sweet potato pie before you try it!), and even meat varieties always seem to sneak their way onto our menus. Lucky you, we're always coming up with new pie recipes! Enter: The Stay At Home Chef's perfected coconut cream pie. It's filled with creamy and rich coconut that sits in a perfectly flaky crust. Finished with even more toasted coconut goodness on top and some homemade whipped cream, you won't be able to stop after just one slice.
Do I Have To Toast The Coconut?
While toasting the coconut may seem like an unnecessary extra step, we promise it is worth the effort. Toasting brings out the deep and nutty flavor found in coconut. It also gives a crispy texture that is simply divine. Toasted coconut certainly elevates coconut cream pie to the next level!
Crust Options
As you can imagine, we love ourselves a homemade pie crust. If you're feeling ambitious and want to create one yourself, we highly recommend our fool proof pie crust recipe. If not, that's totally fine. Use your favorite store-bought version instead.
Use High-Quality Coconut Milk
The sumptuous coconut flavor in this recipe comes from coconut milk. We use an entire can of high-quality coconut milk whenever we can. Higher quality coconut milk has a higher fat content, so it does tend to taste better. That said, we know that you may be working with a strict budget. Use whatever you can afford!
What's The Difference Between Coconut Custard And Coconut Cream Pie?
It's all about the cooking methods. Coconut custard must be baked in the oven, while coconut cream pie is not. You will need to cook the creamy filling, but you do so in a saucepan on the stove. Once you're done, you simply pour it into your pre-baked pie crust and let it set in the fridge.
Troubleshooting: How Can I Thicken My Pie?
One of the reasons why this is the best coconut cream pie recipe evere is that the filling is creamy and thick. The key is in the added cornstarch. Just remember: you must stir the filling continuously, especially after you've added that thickening agent. If you don't, the cornstarch will stick to the bottom of the pan. It could also make your filling fall flat. The egg yolks also work their magic on the consistency of this dessert. You shouldn't have to worry about watery results thanks to these added ingredients.
What Is Stabilized Whipped Cream?
Stabilized whipped cream is whipped cream that will hold its shape — it stays "stable." Adding gelatin is key to helping it keep its shape. If you don't want to use gelatin, you can replace it with agar-agar. This type of whipped cream is great for decorating, and we suggest that you pipe it on top for the most beautiful coconut cream pie. You can also simply spread it on with a spatula. Whatever you feel most comfortable with!
Optional Toppings:
You can absolutely serve this dessert as is. But, if you're feeling fancy, consider adding these yummy toppings:
Shaved chocolate
Toasted almonds
Fresh berries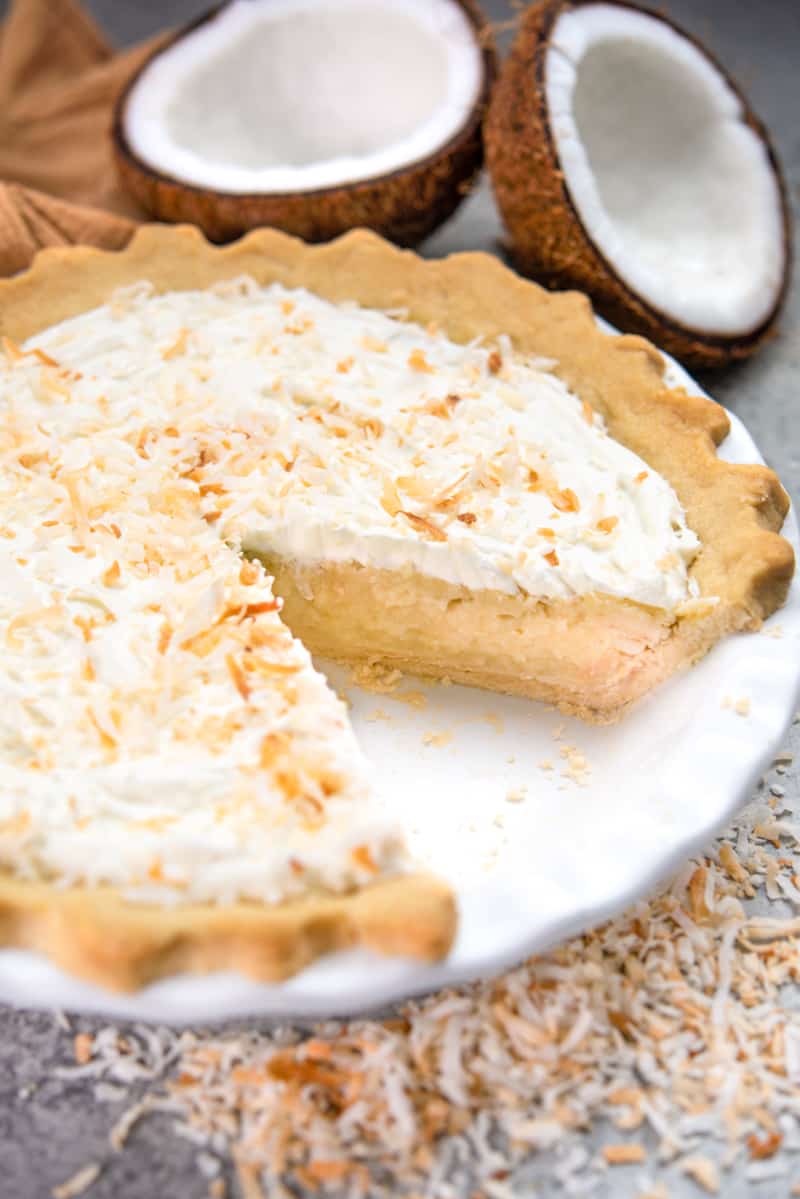 Storage Instructions:
If you miraculously have leftovers, you can store them in an airtight container in the fridge for up to 4 days. Enjoy it chilled — with some extra whipped cream of course!
If you like this recipe, you may be interested in these other delicious pie recipes:
Watch the video below where Caytlin will walk you through every step of this recipe. Sometimes it helps to have a visual, and we've always got you covered with our cooking show. You can find the complete collection of recipes on YouTube, Facebook Watch, or our Facebook Page, or right here on our website with their corresponding recipes.
Classic Coconut Cream Pie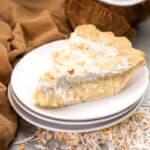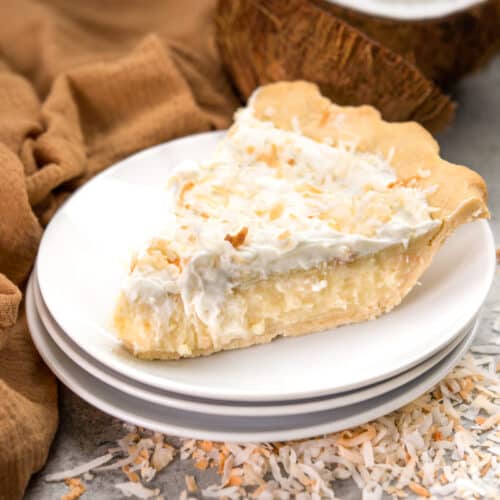 Coconut cream pie is a show-stopper dessert that will satisfy any sweet tooth! Our made-from-scratch creamy and flavorful pie is just as easy to make as it is to enjoy. Coconut fans: rejoice! You're going to adore this recipe!
Ingredients
Coconut Pie
1

prepared pie crust

3/4

cup

granulated sugar

1/3

cup

cornstarch

1

cup

heavy cream

1

(13.5 ounce) can

coconut milk

1

cup

coconut flakes

,divided

3

large egg yolks

slightly beaten

2

tablespoons

salted butter

1

teaspoon

vanilla extract
Stabilized Whipped Cream
3

tablespoons

cold water

1

teaspoon

unflavored gelatin

1

cup

heavy cream

2

tablespoons

powdered sugar

1

teaspoon

vanilla extract
Instructions
Preheat oven to 350 degrees Fahrenheit. Lightly toast the coconut flakes by spreading on a baking sheet and toasting in the oven for about 5-7 minutes. Stir occasionally to ensure all is toasted.

Combine sugar, cornstarch, heavy cream, and coconut milk in a medium saucepan. Cook over medium-high heat, stirring constantly until it begins to bubble. Continue stirring for about 2 minutes until it starts to thicken.

Working quickly, remove pan from heat and pour a little of the mixture into the egg yolks, whisk rapidly, and pour back into to the pan. Cook for an additional 90 seconds over medium heat.

Remove from heat again and stir in butter, vanilla, and 1/2 of the toasted coconut flakes. Pour into prepared pie shell. Let cool for about 15 minutes and then refrigerate until completely cooled and set.
Stabilized Whipped Cream
Make the whipped cream topping by sprinkling gelatin over cold water in a small bowl. Let stand 5 minutes. Then, microwave on high until gelatin melts and liquid is clear, about 5-10 seconds.

Meanwhile, in a large mixing bowl use a hand mixer or stand mixer to whip heavy cream until soft peaks form. Sprinkle in powdered sugar and pour in vanilla extract and continue whipping until combined. Slowly pour in gelatin mixture and whip until stiff peaks form.

Pipe whipped cream onto the top of the completely cooled pie for a decorated effect, or simply spread it over the top of the pie in an even layer. Sprinkle with remaining coconut. Refrigerate until ready to serve.
Nutrition
Serving:
1
slice
|
Calories:
575
kcal
|
Carbohydrates:
42
g
|
Protein:
5
g
|
Fat:
44
g
|
Saturated Fat:
29
g
|
Polyunsaturated Fat:
2
g
|
Monounsaturated Fat:
11
g
|
Trans Fat:
1
g
|
Cholesterol:
158
mg
|
Sodium:
147
mg
|
Potassium:
197
mg
|
Fiber:
3
g
|
Sugar:
22
g
|
Vitamin A:
1054
IU
|
Vitamin C:
1
mg
|
Calcium:
60
mg
|
Iron:
2
mg