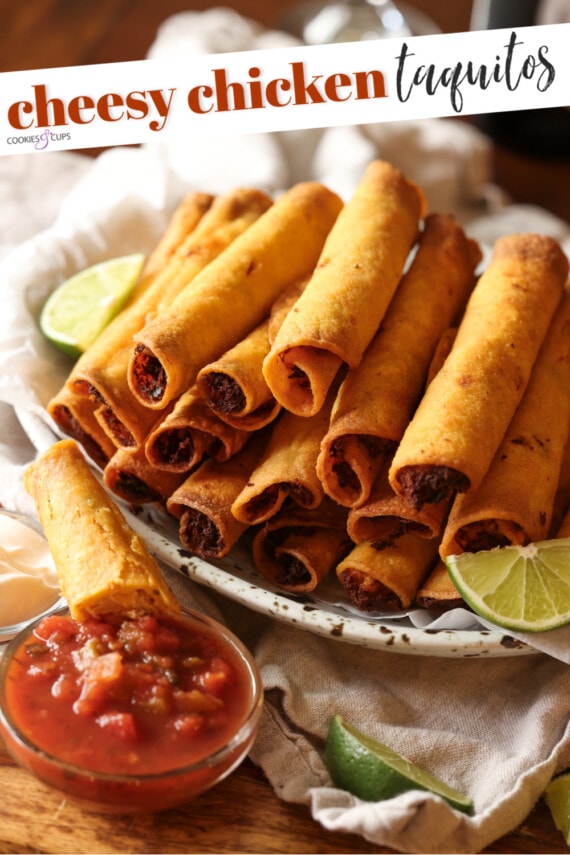 My Cheesy Chicken Taquitos Recipe is a family favorite! Crispy tortillas filled with chicken, cheeses, and seasoning, taquitos area super easy recipe to prep ahead and great for a weeknight dinner, or for entertaining.
Make sure to try my Chicken Flautas recipe too, especially if you are a flour tortilla lover!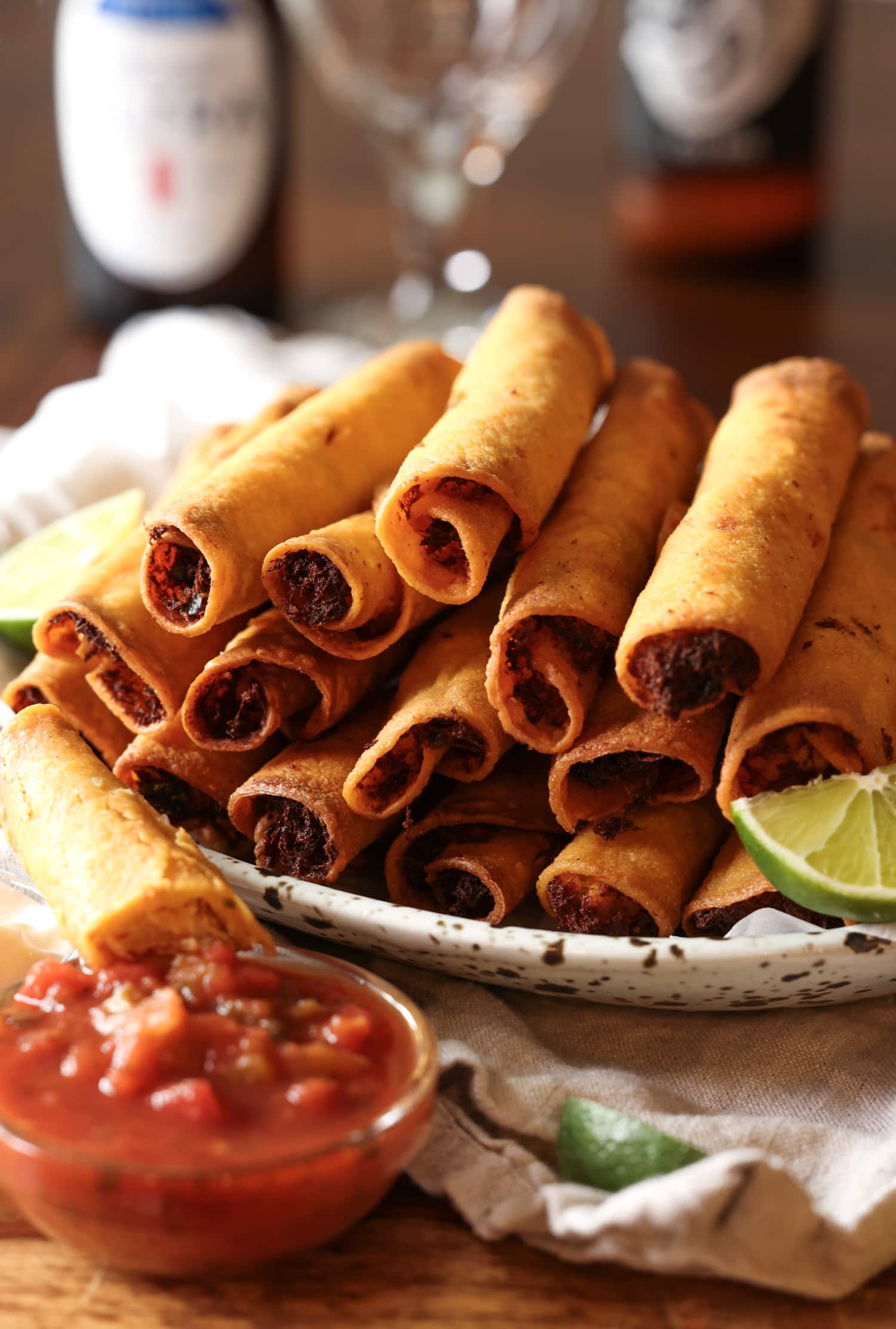 Chicken Taquitos Are Easy To Make Family Favorite Dinner Idea!
Chicken taquitos are a popular Mexican dish that are loved for their crispy texture, flavorful filling, and easy-to-eat size. Taquitos are perfect for appetizers, snacks, or even as a main course. If you're a fan of Tex-Mex or simply looking to try something new, making chicken taquitos at home is a fantastic option. I'm going to walk you through the step-by-step process, and don't be afraid to customize the filling or dipping sauce to suit your taste preferences.
Special Tools You'll Need:
A skillet to fry. I like using my cast iron skillet because it's well seasoned and it heats very evenly.
Toothpicks. These come in handy to hold the taquitos together while they fry. They have a tendency of opening up while they cook you can hold them in the oil with tongs, but I find that toothpicks are much easier.
Damp paper towels. I use these to keep the tortillas warm moist while I am prepping so they don't crack. I have a whole section below talking all about how to prevent your tortillas from cracking!
Metal tongs. I find that metal tongs are the easiest way to grab anything out of hot oil!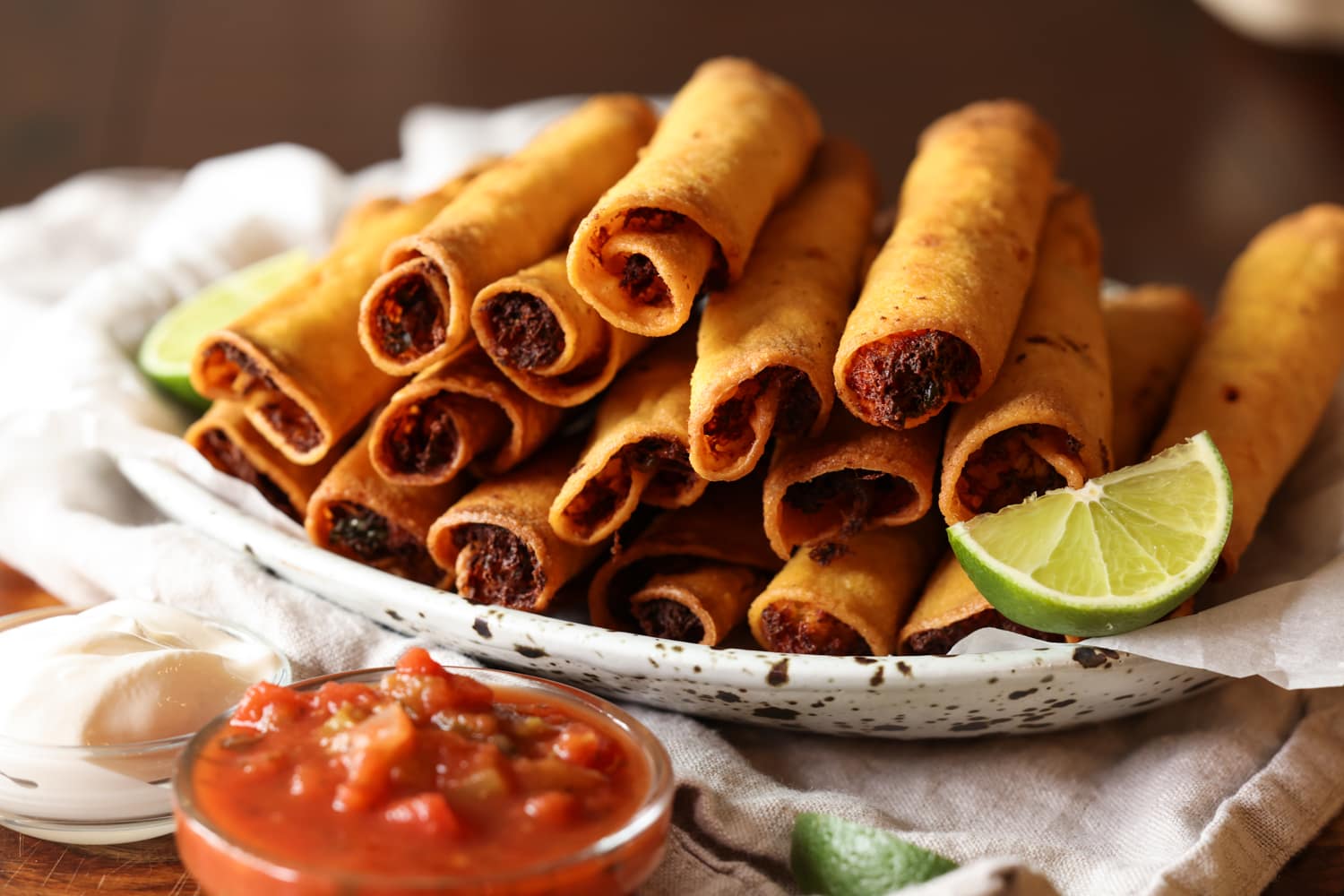 Chicken Taquito Ingredients:
Before we dive into the cooking process, let's take a closer look at the ingredients you'll need to make chicken taquitos:
Chicken: You can use shredded chicken breast or thigh meat for this recipe, depending on your preference. You can easily make your own shredded chicken OR you can buy a rotisserie chicken and shred it! You will need small pieces of chicken for this recipe, as it aids in rolling the taquitos tight.
Tortillas: Corn tortillas are traditionally used for taquitos, but you can also use flour tortillas if you prefer. Look for small-sized tortillas that are pliable and easy to roll. I'm going to include a section below with tips on rolling your corn tortillas so they don't crack!
Spices and Seasoning: A combination of spices such as salt, pepper, cumin, and garlic powder will give the chicken filling flavor, and I really like to add in fresh cilantro! This is optional if you don't prefer cilantro, but I love it!
Cheese: You will use a combination of both cream cheese and shredded/grated cheese. Shredded cheese such as cheddar, Monterey Jack, or a Mexican blend will add creaminess and gooeyness to the filling, and paired with the cream cheese you have a match made in heaven!
Salsa: You will add salsa right into the filling mixture, which is an easy way to season the filling. Use whatever salsa you prefer, but I avoid "restaurant style" that is typically thinner in consistency with more of a watery texture. A thicker salsa works best.
Sour Cream: Adding a little sour cream into the filling makes it creamy. You can't taste the sour cream, so don't worry for anyone who doesn't like sour cream!
Cooking Oil: You'll need oil for frying the taquitos until they are crispy and golden brown. Vegetable oil or canola oil works well for this recipe.
Garnishes and Dipping: Optional, but highly recommended! Salsa, guacamole, or sour cream are popular choices to serve with chicken taquitos. You can even serve them on a bed of shredded lettuce for a version of taco salad!
Step-by-Step Cooking Instructions
Now that you have gathered all the ingredients, let's get into the nitty-gritty of making chicken taquitos. Follow these simple steps for a delicious outcome: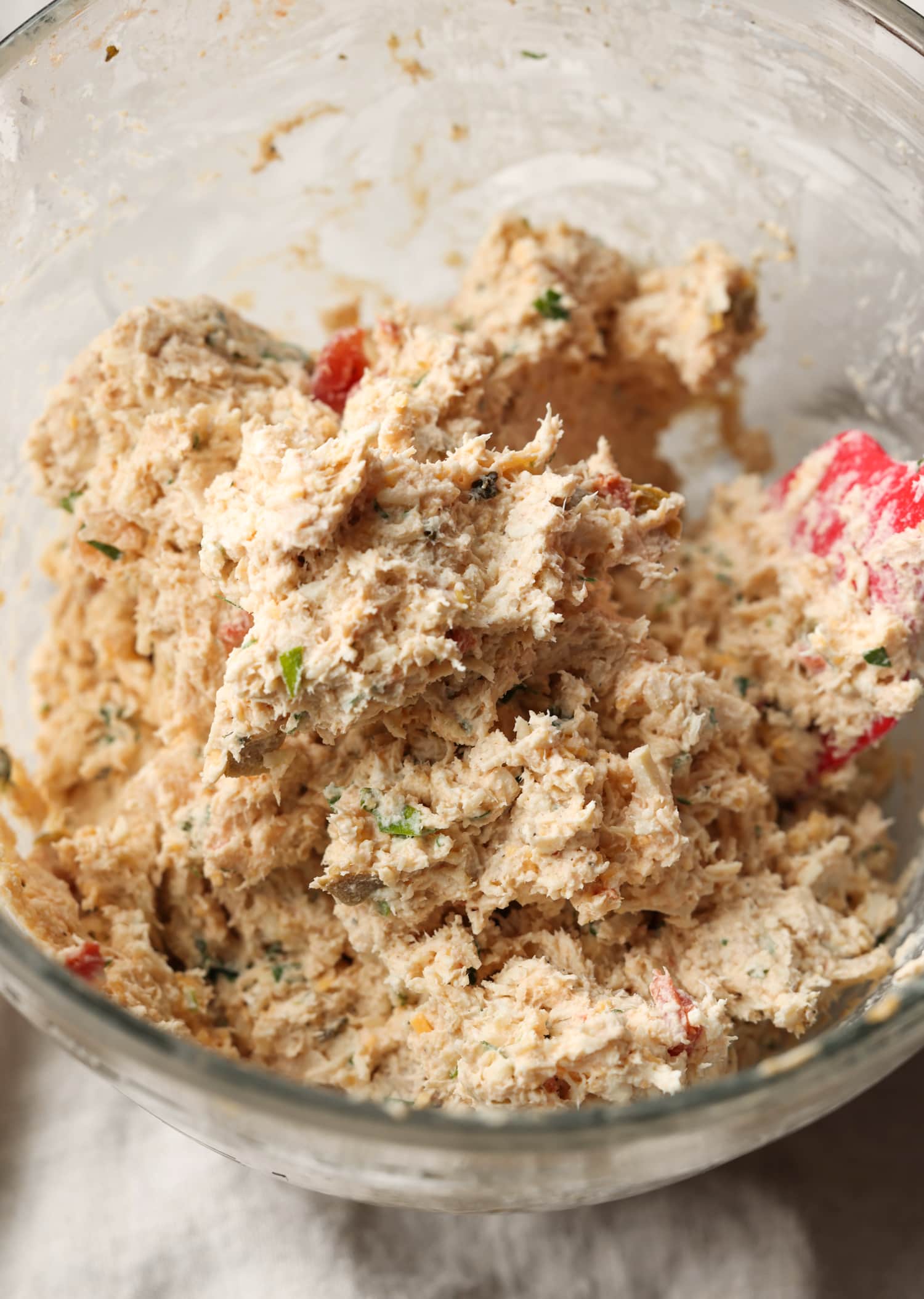 Step 1: Prepare the Chicken Filling
Shred your chicken, breaking or cutting it in to small pieces.
In a large bowl, combine the shredded chicken with the cream cheese, grated cheese, salsa, and spices. Mix everything together until well combined.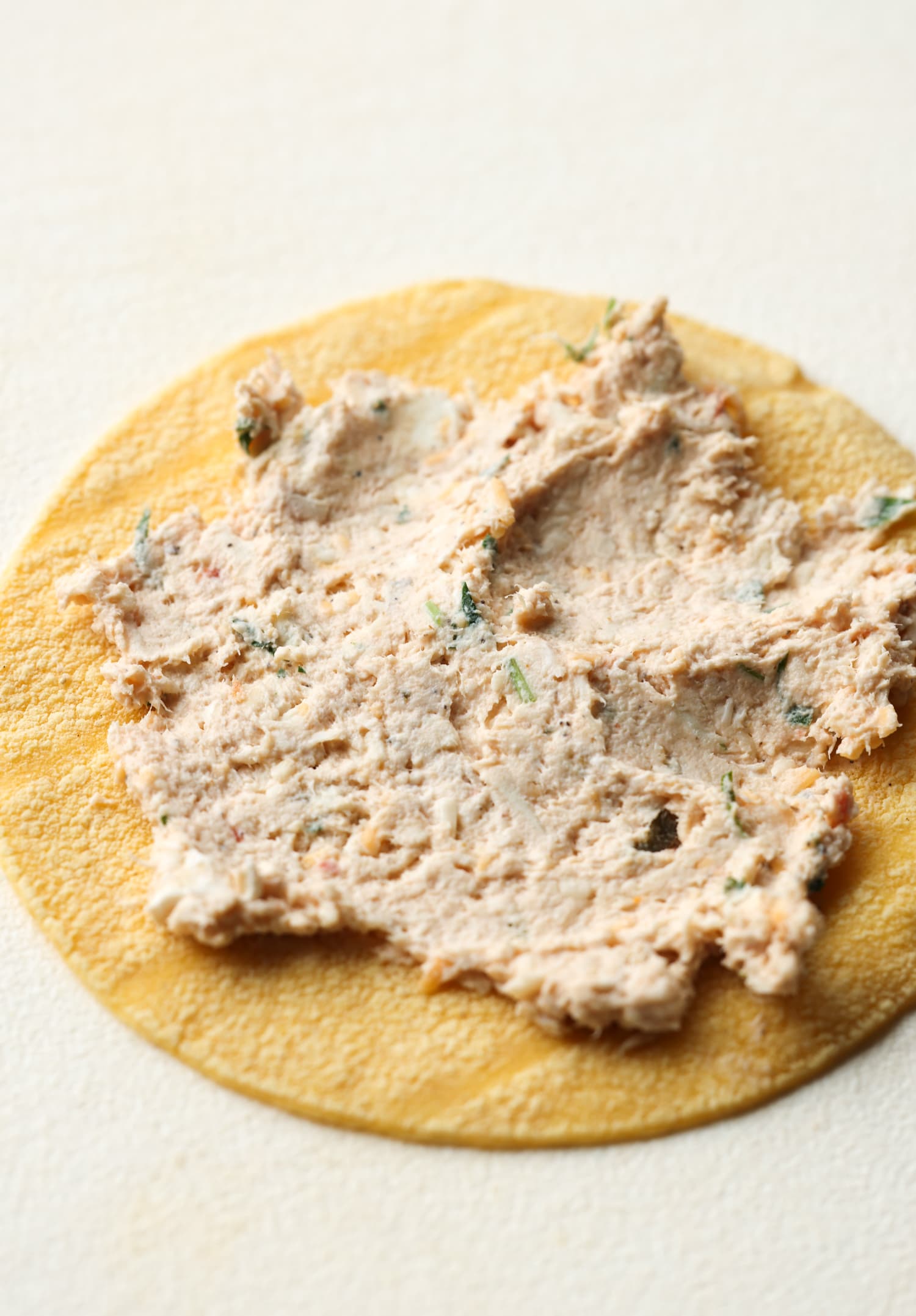 Step 2: Assemble the Chicken Taquitos
Warm up the tortillas in the microwave for a few seconds or on a hot griddle for a few seconds on each side to make them more pliable. (see below for all the tips and tricks for preventing your tortillas from cracking)
Working in batches (6 at a time) place a spoonful of the chicken mixture onto each tortilla, spreading it out but not to the edges. As you roll up the taquitos the filling will spread, but you don't want it overflowing, otherwise it will spill out when frying. I like to do 6 at a time because it's easy to keep 6 tortillas warm.
Roll up the tortilla tightly around the filling, securing with a toothpick if needed and repeat the process with the remaining tortillas and filling until all the taquitos are assembled.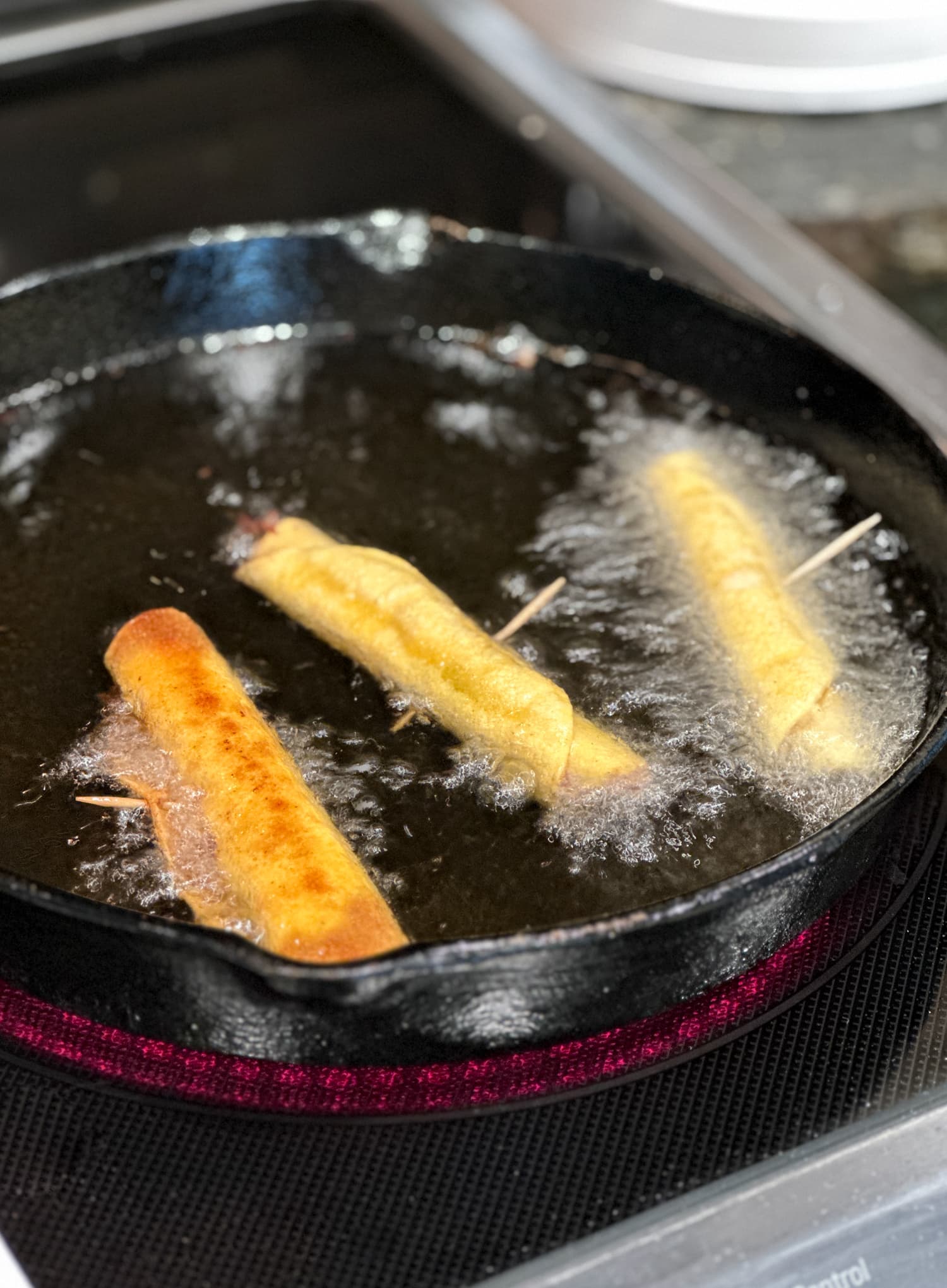 Step 3: Fry the Taquitos
Heat about 1/2 inch of oil in a large skillet or medium-high heat until it reaches 350°F.
Carefully place the taquitos seam side down into the hot oil. Fry the taquitos in the hot oil for about 2-3 minutes per side, or until they are golden brown and crispy. Flipping halfway for even cooking.
Once the taquitos are golden, transfer them to a paper towel-lined plate to drain any excess oil. Remove the toothpicks and enjoy!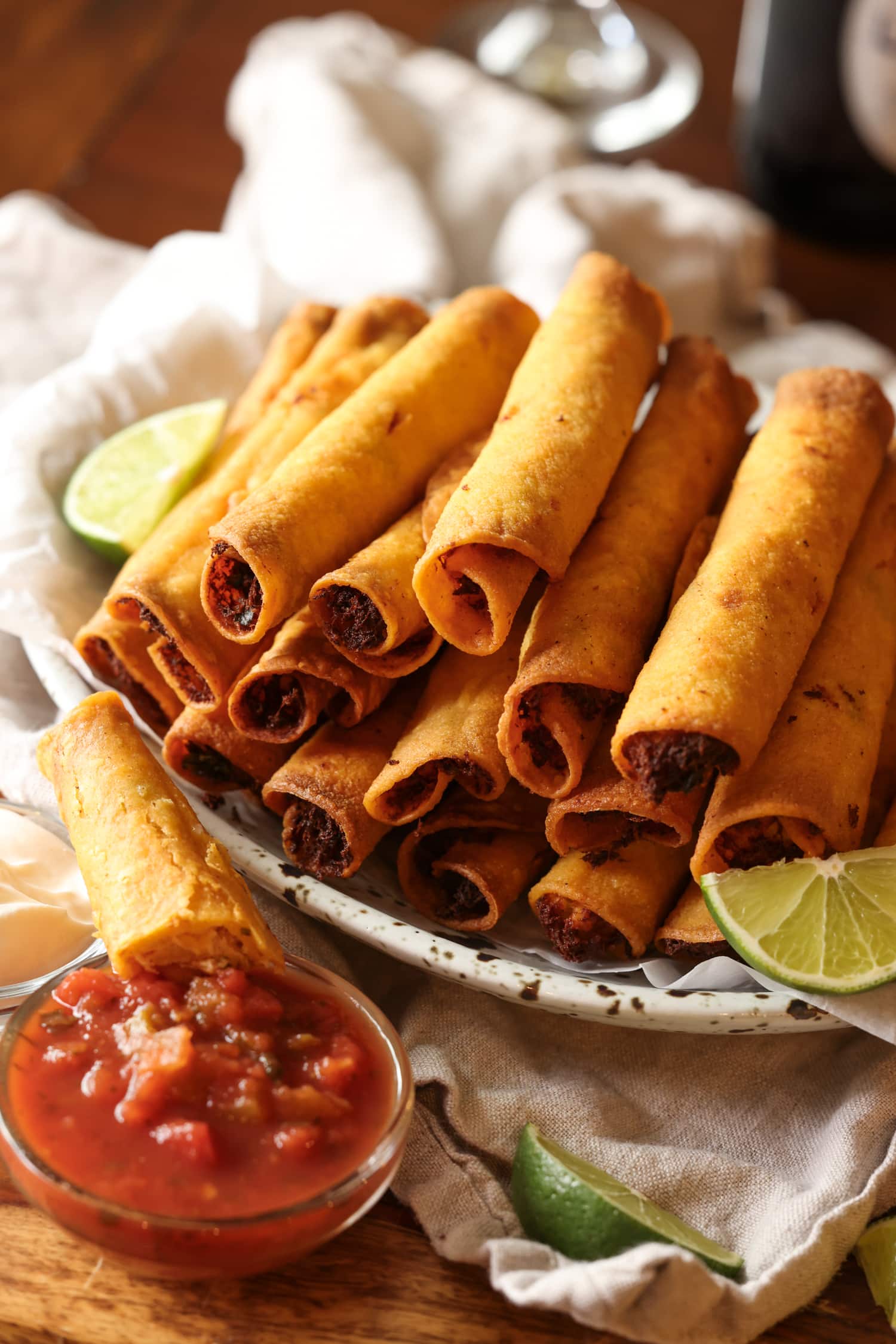 How To Prevent the Tortillas From Cracking
Corn tortillas (even flour tortillas) can be prone to cracking as you roll them up. My stepmom is from Mexico and she has taught me a few ways to keep the tortillas malleable, so as you roll up your taquitos they don't crack and spill the filling!
Warm them up: Cold tortillas or even room temperature tortillas are more likely to crack, so it's important to warm them up before using them. You can do this by wrapping a stack of tortillas in a damp paper towel or a damp, clean dish towel and microwaving them for about 30 seconds… and keep them wrapped as you work. I like to work in batches when making taquitos, because even thought the damp, warm towel provides warmth and moisture, it does cool off, and as they tortillas cool, they can crack again! You can also heat tortillas upon a griddle or in a dry skillet over medium heat for a few seconds on each side. Takeaway: Warm tortillas are more pliable and less likely to crack.
Don't over-stuff: Over-stuffing tortillas with filling can cause them to crack when you try to roll or fold them. Leave some space around the edges to allow for easy rolling or folding without putting too much pressure on the tortilla.
Keep them covered: If you're not using the tortillas immediately, keep them covered with a damp towel or plastic wrap to prevent them from drying out, which can make them more prone to cracking.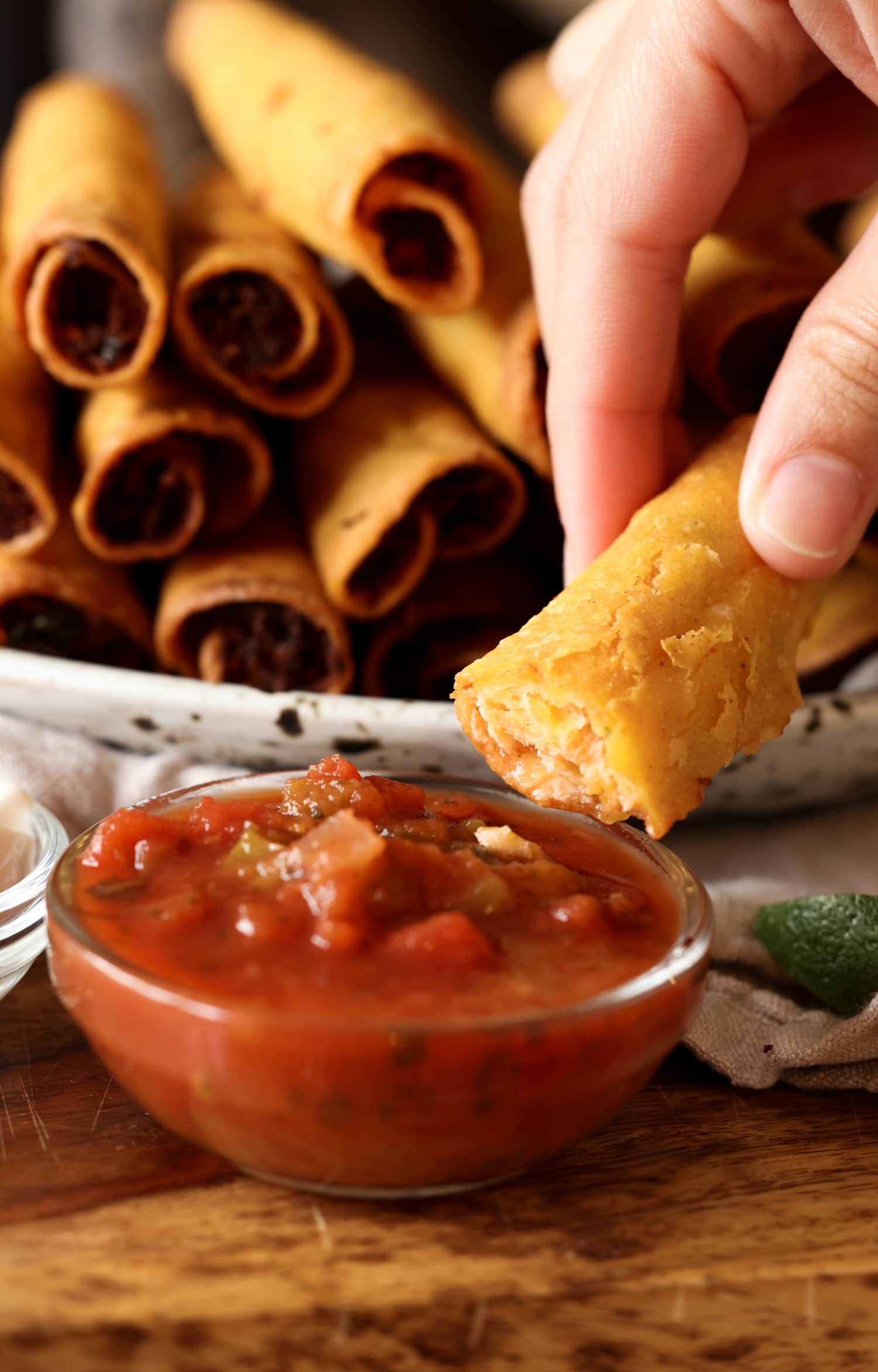 Can You Bake Chicken Taquitos?
Yes sure! Baking chicken taquitos is a great alternative to frying. It lowers the fat and calorie content and also lowers the hands-on time these take to cook. Placing all the taquitos on a large baking sheet can be easier than standing over the stovetop and frying. Although, you and I both know frying just produces an extra crispy and delicious taquito.
Assemble all the taquitos as stated in the recipe.
Preheat the oven to 425°F.
Place the assembled taquitos (with toothpicks to hold) on a baking sheet lined with parchment paper, brush them or lightly spray them with oil or nonstick cooking spray, and bake for about 15-20 minutes, flipping halfway through, or until they are crispy and golden brown.
Cool slightly before serving.
Chicken Taquito Air Fryer Instructions:
Preheat your air fryer to 375°F
Spray the assembled taquitos with cooking spray or brush them lightly with oil on all sides to help them crisp up in the air fryer.
Place the taquitos in a single layer in the air fryer basket, leaving some space between them so that the hot air can circulate properly.
Cook the taquitos in the air fryer for 8 to 10 minutes, flipping halfway through, until they are golden brown and crispy.
Carefully remove the taquitos from the air fryer using tongs or a spatula, as they will be hot.
Tips and Variations
Add Veggies: You can add onions, bell peppers, jalapeños, black beans, or even cooked rice for additional texture and flavor.
Use Different Cheeses: You can also use different types of cheese, such as cheddar cheese, pepper jack or queso fresco, for a unique twist.
Play Around With Spices: Try adding chili powder, onion powder, or smoked paprika. You could even add in a little adobo sauce from a can of chipotles in adobo for a smoky/spicy twist!
Dipping Sauce Variations: Experiment with different dipping sauces to accompany your chicken taquitos. Try a creamy ranch dressing, Avocado Salsa, or a smoky chipotle mayo for a delicious twist.
Can You Prep Chicken Taquitos Ahead?
You can prepare the chicken filling and assemble the taquitos ahead of time, and refrigerate them until ready to fry or bake. The prep time including assembly on this is half the battle, so doing as much in advance of serving makes things really easy and an especially convenient option for parties or gatherings.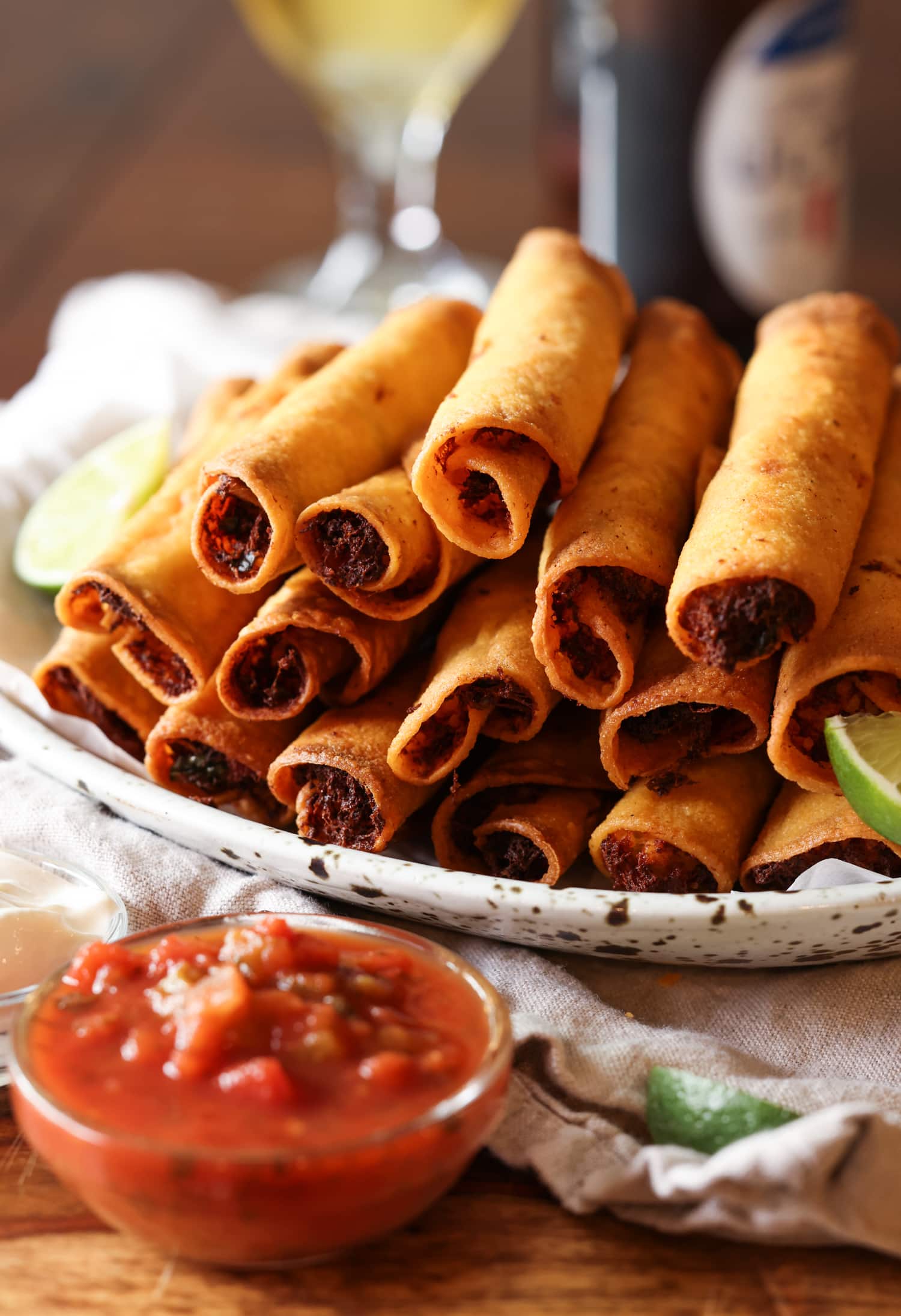 How To Store/Freeze:
If I have leftovers I store my taquitos airtight in a zip-top bag for up to 3 days. You can also freeze them in an airtight freezer container for up to 30 days for best freshness.
How To Reheat Chicken Taquitos:
To preserve the crispy texture of the taquitos, it's best to use the oven or air fryer method or oven as they can help to retain the crispiness. The microwave method is quicker, but the taquitos may be softer. Whichever method you choose, be sure to keep an eye on the taquitos to avoid overcooking or burning.
Oven: Preheat your oven to 350°F. Place the taquitos on a baking sheet and bake for about 10-15 minutes, or until they are heated through and crispy. If the taquitos were refrigerated, they may take slightly longer to heat. Keep an eye on them to avoid overcooking. To bake from frozen just give them a few more minutes in the oven.
Air Fryer: Preheat your air fryer to 350°F. Place the taquitos in a single layer in the air fryer basket and cook for about 5-7 minutes, or until they are heated through and crispy. Flip them halfway through for even heating.
Microwave: Place the taquitos on a microwave-safe plate and heat them in the microwave on high for about 1-2 minutes, or until they are heated through. Keep in mind that microwaving may result in slightly softer taquitos compared to using an oven or air fryer.
Love Tex-Mex? Here Are A Few More Recipes To Try: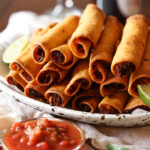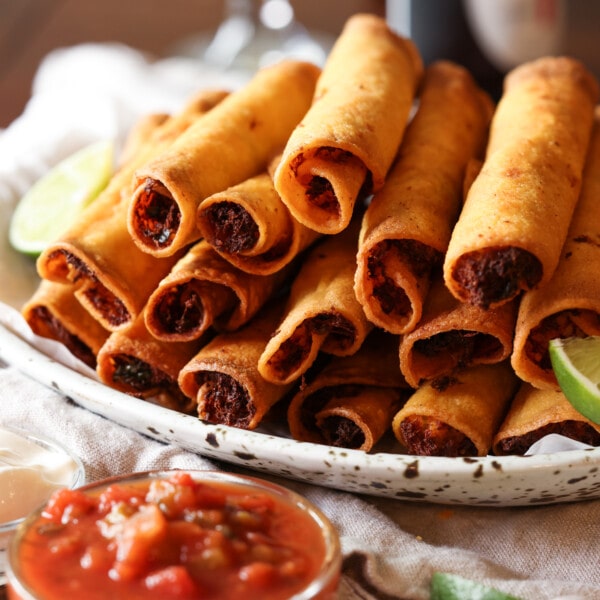 Cheesy Chicken Taquitos

Author:

Prep Time:

20 minutes


Cook Time:

20 minutes


Total Time:

40 minutes


Yield:

24

taquitos

1

x

Category:

Chicken


Method:

Stove Top


Cuisine:

Mexican
---
Description
Chicken Taquitos are one of my favorite Tex-Mex meals. Filled with cheesy chicken and seasonings, these are quick to throw together and always a crowd pleaser!
---
3 cups

shredded cooked chicken

6 ounces

cream cheese, room temperature

1 1/2

cups grated Monterey Jack or Mexican blend cheese

1/4 cup

chopped cilantro

1/2 cup

salsa

1/3 cup

sour cream

1 teaspoon

kosher salt

1/2 teaspoon

cumin

1/2 teaspoon

garlic powder

1/2 teaspoon

ground black pepper

24

(6-inch) corn tortillas

Vegetable oil to fry
---
Instructions
In a large bowl mix together chicken, cream cheese, grated cheese, cilantro, salsa, sour cream, salt, cumin, garlic powder, and black pepper.

Wrap your tortillas, 6 at a time, in a damp paper towel and microwave for 15 – 30 seconds until warmed. Keep them wrapped until you fill each. This helps prevent the tortilla from cracking as you roll it up.

Fill a large skillet with 1/2- inch of oil and heat over medium heat to 350°F.

Add 2 tablespoons of chicken filling to the center of a tortilla and spread it slightly, leaving room at the edge. Roll the tortilla up and use metal tongs to place it seam side down in the hot oil. Use toothpicks to hold the taquito together (*

See note

). Cook until golden brown on both sides, 2–3 minutes per side. Set on paper towels to drain. Remove the toothpicks.

Repeat until all tortillas have been filled, rolled and fried.
---
---
Notes
*You can also add toothpicks to the center of each taquito before frying to keep them in place, or you can hold them in place using metal tongs while frying each one to prevent them from unrolling.
Keywords: cookies and cups, taquitos, chicken taquitos, dinner idea
Want To Save This Recipe?
Find more recipes like this:
PIN for later: