11 Delicious Aloo, Puri & Halwa Combinations For Delicious Weekend Meals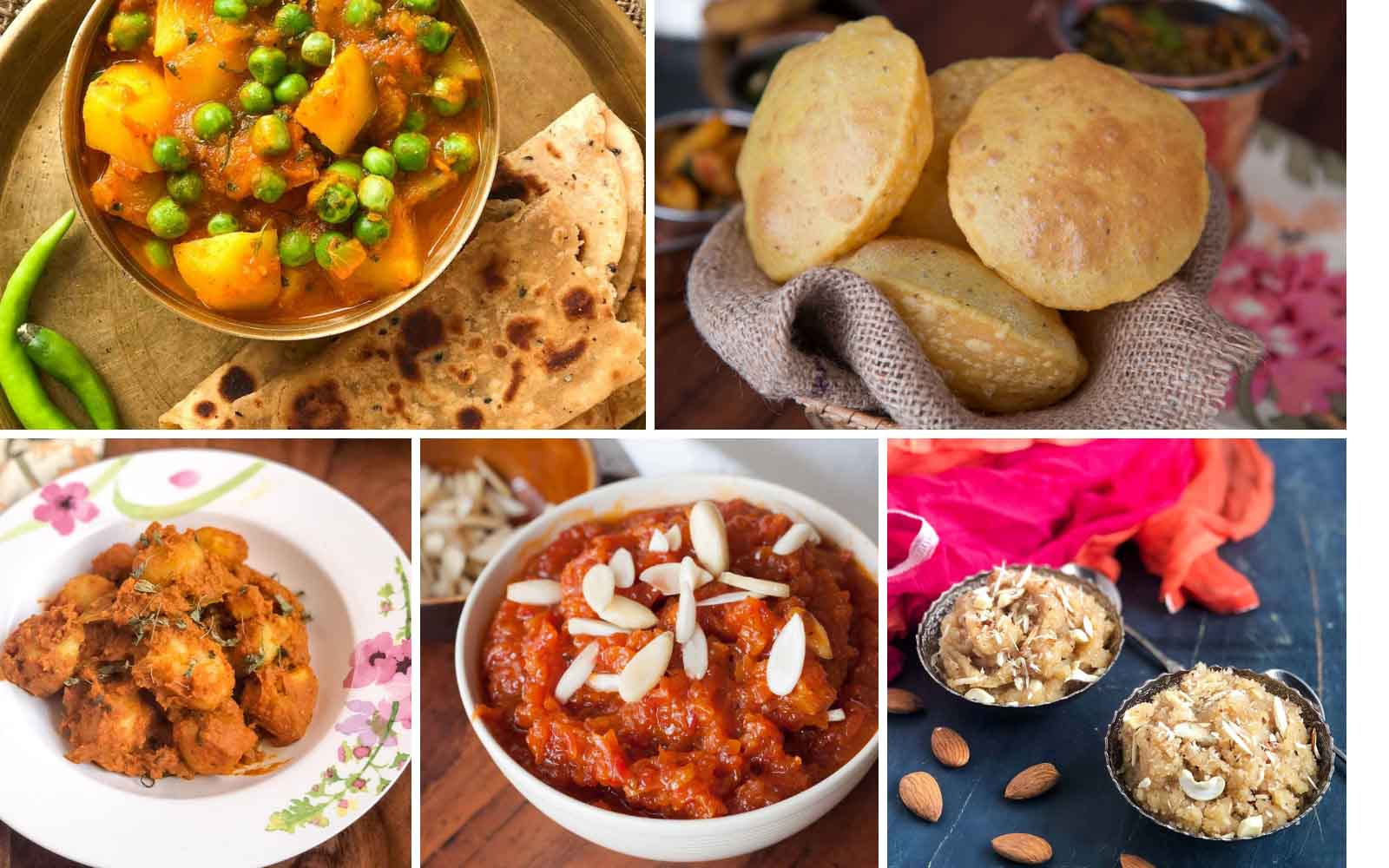 Aloo Puri Halwa is popular savoury and sweet combination across North India and is popular during most hindu festivities and rituals. You can find different versions of Aloo Puri Halwa across India. You have the famous Nagori, Puri Halwa sold in Chandni Chowk of Old Delhi, to Aloo Dum and Bengali Luchi in Bengal to Aloo puri and Kesari Bhath in South India and it is I think India's favourite breakfast meal.
Aloo is the most versatile vegetables, it can be combined with other vegetables and takes up flavours of different spices very well. Aloo Sabzi can be prepared in many ways and it is simple to make. Puri is a deep fried bread and can be easily modified with addition of fresh leaves, dals, peas and potatoes.
Festival season or cold day or lazy weekend and calls for some amazing and delicious Aloo Puri Halwa combinations and so we have lined up some lip smacking Aloo Puri Halwa Combinations from across the Indian Subcontinent. Do give these a try.
1. Jodhpuri Aloo, Hare Pyaaz Ki Puri & Badam Halwa
This Jodhpuri Aloo Recipe is tangy, spicy, crunchy par boiled baby potatoes that are tossed in a sesame, fennel, chilli flakes masala with a dash of raw mango powder. Serve this delicious Aloo Sabzi with Hare Pyaaz Ki Puri and Badam Halwa.
2. Patiala Aloo, Chunni Ki Puri & Mukhadi Halwa
Patiala Aloo Recipe is a spicy Punjabi style aloo sabzi where aloo is pan fried and tossed in spice powders. Mukhadi Halwa is a yummy halwa where semolina and all purpose flour is soaked in milk and roasted along with caramelised sugar. Both of these go well with Chunni Ki Puri which is made with besan and moong dal.
3. Aloo Gobi Ki Sabzi, Bitter Gourd Peel Puri & Gajar Halwa
Aloo Gobi Ki Sabzi is a yummy sabzi that can be made in a least amount of cooking time. Bitter Gourd Peels are full of vitamins and it is combined in dough to make delicious puri. Pair it with the classic Gajar halwa. We are sure this combination will not disappoint you
4. Aloo Tamatar, Matar Ajwain Ki Puri & Moong Dal Halwa
Aloo Tamatar Recipe is a quick and easy potato stew made in a tomato-based gravy which goes amazingly well with Matar Ajwain Puri and Moong Dal Halwa.
5. Bengali Style Aloo Dum, Bengali Luchi & Mohan Bhog
Here is a classic Bengali Aloo Dum sabzi made in a tomato yogurt gravy with , Luchi and Mohan Bhog combination which you can make for your Sunday brunch.
6. Aloo Matar Sabzi, Makki Ki Puri & Dry Fruit Halwa Recipe
Makki Ki Puri is made with maize flour and whole wheat flour and is a healthy and tasty Puri Recipe. Dry fruit Halwa is a delicious quick sweet made from figs, dates, pistachios, almonds, cashew nuts and walnuts. Make these with Aloo Matar Sabzi for a healthy and yummy meal
7. Jeera Aloo Sabzi, Bihari Chana Dal Puri & Papaya and Carrot Halwa
Jeera Aloo is a quick and comforting stir fry that you can make and serve with Bihari Chana Dal puri which is usually made during festivals. Serve this with Papaya Carrot Halwa.
8. Dubki Wale Aloo , Matar Ki Puri & Doodhi Halwa
Dubki Wale Aloo Recipe as it is called in Mathura, Uttar Pradesh, is a spicy gravy of potatoes and is famously eaten along with puris. We have Combined Matar Ki Puri and Doodhi Halwa for a lip smacking combination.
9. Aloo Matar Paneer Curry, Ajwain Puri & Thulli
Thulli is a Halwa recipe which is made using broken wheat with flavours of fennel seeds, saffron and cardamom. This is usually made during festivals and special occasions. Team it up with Aloo Matar Paneer Curry and Ajwain Puri.
10. Aloo Palak Sabzi, Lasun Batata Puri & Besan Halwa
Make this amazing combination of Aloo Palak sabzi, Lasun Batata Puri and Besan Halwa for your next festivities. Potatoes in the puri make these puris flavoursome and you can replace potatoes with other starchy vegetables like colocasia or tapioca to the bread.
11. Dahi Wale Aloo, Rajgira Puri & Singhare Atte Ka Halwa
Dahi Wale Aloo with Rajgira Puri and Singhara Atta Ka Halwa is a great combination which you can make during fasting season and for your festivals. Mixing different kinds of flours in your diet helps bring nutrition and this is a great combination where different kinds of flours ar used.